Kim Jones feather-light Fendi couture collection is an ode to Roman glamour
In a film directed by Luca Guadagnino, Kim presented his sophomore outing as a couturier -- a collection dripping in dramatic embroideries and drapes.
Image courtesy of Fendi
How do you make couture resonate for a digital audience? Put the biggest supermodels in even bigger ball gowns, according to Kim Jones! The British designer showed his second Fendi haute couture collection through a special film directed by Luca Guadagnino, and starring none other than the world's most recognisable faces in gowns designed to grab your attention. Kim is perhaps one of the most savvy designers on the planet (case in point: his recent Travis Scott collab), so he knows that haute couture needs to go big or go home. Although, technically he did both, with the collection set under the arches of Fendi HQ in Rome.
Couture is all about making people dream; stopping them in their tracks while endlessly scrolling. Kim being new to it, you get the sense he's having fun with it and immersing himself in the myriad of crafts, techniques and illustrious archive material available to him in his new role. It 's probably why the collection itself was replete with the most sumptuous textures, ornate embellishments and a strong sense of fantastic surface-level decoration. Nothing was left plain or understated, it is an all-killer-no-filler parade of beauty. Dior Men may be about viral collaborations, but this is where Kim can create his wildest fashion fantasies, and put those Fendi ateliers to good use to rustle up some couture magic.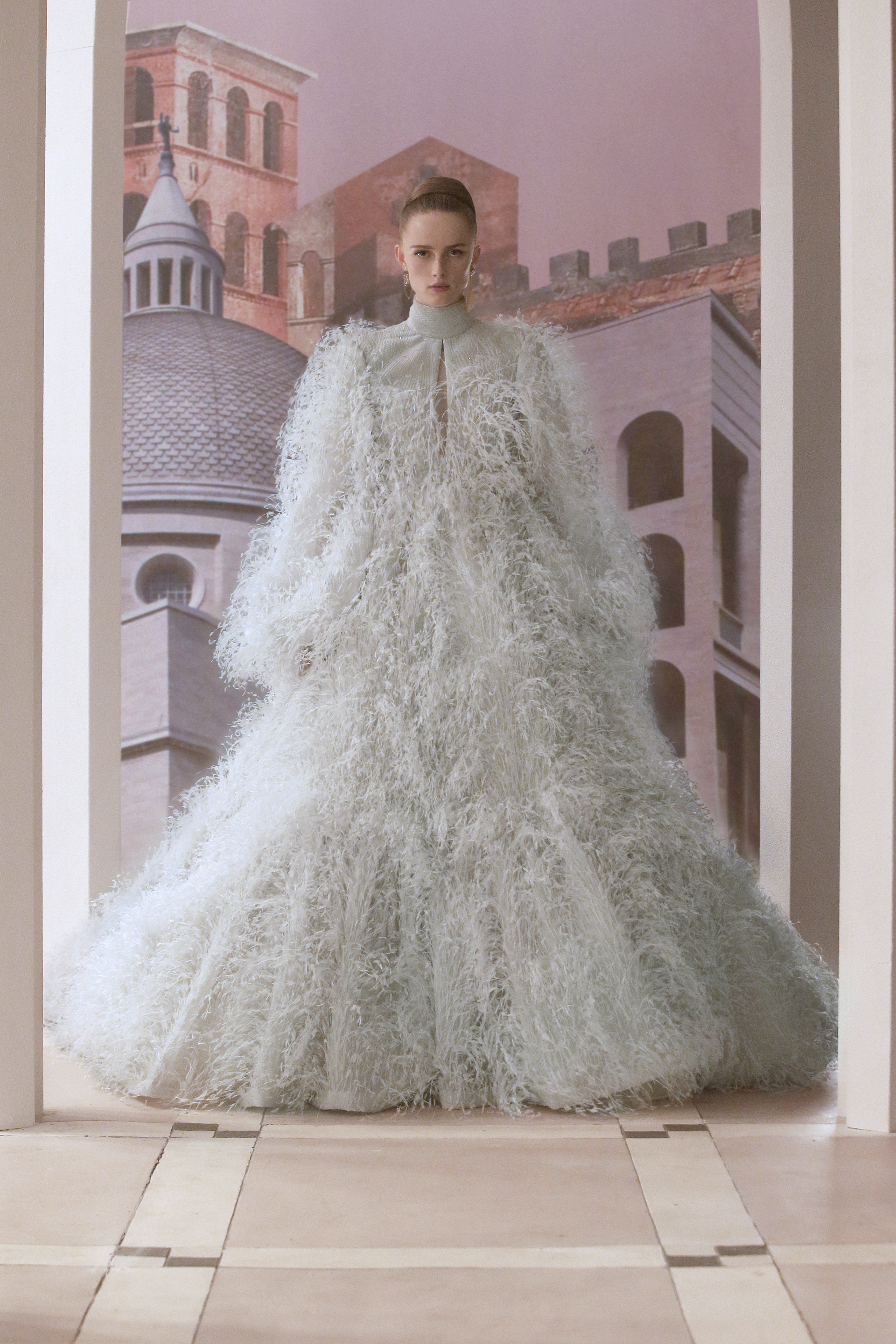 Whereas his debut collection was all about his journey to Rome, via the quintessentially English worlds of Virginia, Vita, Vanessa et al — this was a collection devoted to the Eternal City itself; its white marble statues; its cinematic heritage; its stones and mosaics; its women! Kim said he was inspired by the 20th century Italian director Pier Paolo Pasolini, who was known for his neorealist films. "Pasolini observed Rome become modern – and that is what is interesting to me: connecting eras, the old with the new, the past with the present," explained Kim. "He is something of an outsider in Roman history, but one whose voice remains constant." You can see how Kim could relate.
The result was a slightly eerie film that showcased the insane level of detail within the collection. Lace gloves came with hand-sculpted embellishments fit for a modern-day Medici, leather intarsias resembled paintings and gowns after gowns were given the Fendi factor, toga-draped to create dramatic silhouettes, or embellished, hand-painted and sculpted to make the world's most beautiful women look like Roman goddesses. It was a collection defined by its feather-lightness, even though its materials and ornamentation are anything but. Upcycled fur was hand-cut into tiny tiles and arranged like mosaics onto chiffon, while sweaters and even tailoring came in Persian shearling, and ostrich feathers were deconstructed and embellished to maintain a sense of movement and mysterious sexuality. There were even a couple of menswear looks, like the tailoring worn with the lapels twisted upwards to showcase exquisite leather florals, or, in the case of the final look, a dazzling suit entirely bedazzled in silver-to-black dégradé embellishment.
Considering this was only Kim's second couture outing chez Fendi, you would be forgiven for thinking he'd been doing it his whole life.