Lesbian nun thrillers and A24 sci-fi: the most anticipated movies of 2021
Cannes Film Festival is about to kick off. Here's what everyone's talking about.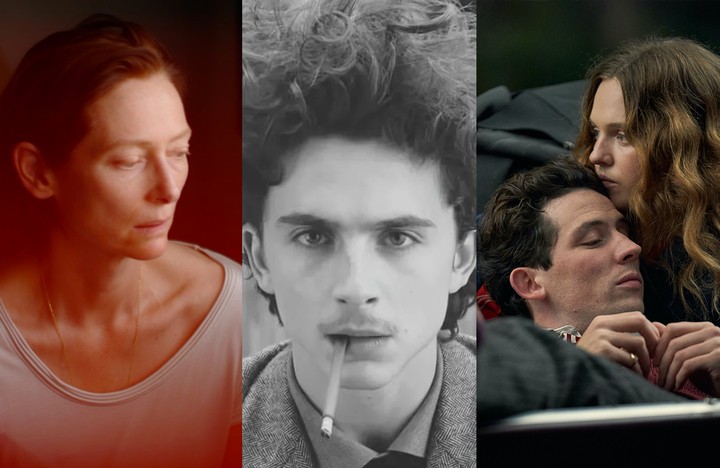 Images via Memoria/Searchlight Pictures/Robert Viglasky
After taking a year out in 2020 due to, well, you know, Cannes Film Festival is back for 2021, and it arrives armed with an outrageous array of talked-about movies that have been patiently waiting to premiere at the world's most prestigious movie event. The festival has been home to some of the greatest modern and classic movies ever made: everything from Parasite to Pulp Fiction, La Dolce Vita to Taxi Driver, has found its first audience here. And it's time for another to win the top prize.
So what's on offer this year? Well, too many to mention them all. So from The French Dispatch (obviously) through to A24's most hyped projects for 2021 (there are four on this list alone!), these are the movies that everybody is talking about at the Cannes Film Festival 2021.

1. Benedetta
Paul Verhoeven hasn't been to Cannes since his last feature -- the sublime Isabelle Huppert-starring Elle -- tore up the festival, but he's back and set to cause equal amounts of hysteria with Benedetta, dubbed a lesbian nun thriller. Based on Judith C. Brown's erotic non-fiction Immodest Acts: The Life of a Lesbian Nun in Renaissance Italy, it's bound to be a controversy-courting study of the real women who, behind closed doors, were sexing up and sinning the world of Catholicism. Sign us up!
2. Mothering Sunday
Now, period dramas are rarely our thing. They're usually dead stuffy and overlong and aggressively posh. But every so often, there's an actor who does a period drama, and you're like, 'Know what? Fair fucks, if you're gonna do it, it's defo worth a watch'. Enter Mothering Sunday, the new drama from French director Eva Husson starring our prince Josh O'Connor. The film follows a covert affair between a maid, played by Odessa Young, and a soon-to-be-married man of aristocracy, Paul (that's Josh). Alice Birch, who wrote the TV adaption of Normal People with Sally Rooney, wrote the screenplay, while Olivia Colman's presence has some crediting this as an early Oscar contender too.
3. Red Rocket
Sean Baker's movies are always set on society's fringes. His iPhone-shot Christmas comedy Tangerine captured a heated goose chase across downtown LA between a trans woman and her boyfriend; 2017's The Florida Project was set in the rundown motels surrounding Disneyland. His latest, Red Rocket, is a homecoming movie about a washed-up porn star reconfiguring his life after he returns to his small Texas town. Simon Rex (who was a porn star before he became an actor) is getting his big break here after a career lull following the Scary Movie franchise. He may, if he plays his cards right, take home the festival's acting prize. A24 will give it a cinema release later this year.

4. Annette
Cannes has a reputation for programming shaky opening films. For every Moonrise Kingdom, there's a Grace of Monaco. The jury is out for this year's opening movie Annette -- not because all signs point to it being bad, but that it's so batshit crazy it could go one of two ways. Leos Carax's first film since Holy Motors is a completely unhinged-sounding musical starring Adam Driver and Marion Cotillard as a comedian and soprano, respectively, whose lives take a wild turn following the birth of their daughter Annette. Fun fact: once upon a time, Rihanna was attached to this project. Leos' film is nearly nine years in the making and will debut in France on the same day and via Amazon Studios or MUBI later this summer.
5. The Souvenir: Part II
Joanna Hogg's slow-burning semi-autobiographical drama The Souvenir was one of the most glowingly reviewed films of 2019, and as is standard for movies these days, a sequel has been spawned! Following on from the original, which followed a young film school student (played by Honor Swinton Byrne, Tilda's daughter) as she fell in love with a troubled older man, the plot for this remains mostly under wraps, but should be something in a similarly melancholy vein. Starring Tilda too, alongside new additions like Joe Alwyn and Harris Dickinson, it seems franchise cinema just got way more high brow.
6. Lamb
In his writing and directorial debut, Valdimar Jóhannsson, known best for his special effects work on Game of Thrones and the Star Wars franchise, crafts what sounds like a strange low-key horror. Noomi Rapace and Hilmir Snaer Gudnason play a couple who live on a remote farm, cut off from the outside world. The pair discover a newborn baby on their land and plan to raise it as their own. However, this falls apart when its presence takes a dark turn. Lamb is premiering in the festival's Un Certain Regard sidebar, which has become a hotbed for new talent who graduate into Oscar-winners in future, and already has that sought after A24 co-sign.
7. Great Freedom
Another feature debuting in Un Certain Regard is Great Freedom, one of the festival's handful of queer titles, which is eligible for the 2021 Queer Palm (a prize last won by Portrait of a Lady on Fire). Great Freedom is set in Germany in the wake of World War II, in which a gay man's liberation from Auschwitz takes him directly to prison for violating the country's anti-LGBTQ+ laws. There, his sexuality may be repressed by law, but he finds liberation within himself. It is director Sebastian Meise's first feature in a decade.
8. Memoria
Another film tipped for Cannes' prestigious Palme d'Or is the English language debut of previous Palme winner Apichatpong Weerasethakul. His movie Uncle Boonmee Who Can Recall His Past Lives won the top prize in 2010; maybe Memoria will do the same. This movie, shot in Colombia and starring Tilda Swinton, has been kept under wraps for some time, but there are some sparing details. Tilda plays Jessica, an insomniac Scottish woman who, while on a long trip to visit her sister in Bogotá, encounters a number of people who could shake her sleeplessness. There may or may not be a supernatural, ghostly element at play here too.
9. After Yang
Director Kogonada's debut film Columbus was a big hit in Sundance in 2017; its follow-up, a sci-fi drama adapted from a short story, might propel him into the big leagues. Produced by A24, After Yang stars Colin Farrell as a father trying to figure out how to fix his familial relationships after the android enlisted to care for his daughter breaks down. It's a dystopian drama about the distance that exists between people and how technology widens that ravine without us even knowing it. Jodie Turner-Smith of Queen & Slim fame co-stars.
10. The French Dispatch
Yep, the one you've all been waiting for! After a year of delays, Wes Anderson's The French Dispatch finally gets its first public screening on Monday 12 July. The movie, set in the New Yorker-esque office of a fictional French city, follows a string of stories as they come to life, bringing together an ensemble that includes (deep breath) Timothée Chalamet, Benicio Del Toro, Léa Seydoux, Adrien Brody, Tilda Swinton, Owen Wilson, Frances McDormand, Elisabeth Moss, Bill Murray, Jeffrey Wright, Willem Dafoe, Anjelica Houston, Saoirse Ronan and Liev Schreiber. Many of them will be present on the red carpet at Cannes -- so get ready for TC's first public event in quite some time.

Follow i-D on Instagram and TikTok for more on Cannes Film Festival and movies.