Images courtesy of A. Roege Hove, Ganni and (di)vision
The seven best collections at Copenhagen Fashion Week SS22
From Ganni and Saks Potts to (di)vision and P.L.N., here's everything you need to know from Europe's first major IRL fashion week in a year and a half.
Images courtesy of A. Roege Hove, Ganni and (di)vision
It's no secret that the global fashion community has been craving a return to the runway. Yes, we have seen the odd standalone physical presentation and, in the case of the most recent Haute Couture Week in Paris, a mix of intimate catwalk shows and fashion films. Last week, though, Copenhagen Fashion Week SS22 gave us the first proper taste of things as close as possible to how they once were, with a full raft of IRL shows.
It is, in many respects, fitting that Copenhagen should be the city to usher in a new era of physical fashion presentation. Why here over one of the Big Four, you ask? Due to the values that its organisers have consciously placed at its core. Of all the global fashion weeks, CPHFW is perhaps the most ambitious, and the most serious, when it comes to implementing ecologically responsible business practices. At a surface level, this manifests in only electric cars being used to shuttle guests between shows venues, and the fact that there isn't a disposable drinking vessel in sight.
Beyond actions like these, though, its commitment to creating a more sustainable fashion week model extends to its relationships with the designers that are part of it. Under the leadership of Cecilie Thorsmark, CPHFW's CEO, it set itself apart as the only major fashion week to have put minimum responsible practice standards in place for all participating designers and brands. "Having worked in the sustainability field for so long, I have witnessed how there's a lot of talk and too little action, and I didn't want to fall into that category with our fashion week. From the very beginning, I knew that we would have to adopt quite a radical approach, which entailed setting clear requirements. My conviction was that we needed to set standards and demands for our participants, and we've given them three years to meet them," she says, noting that the initiative was launched in 2020, and will come into place in 2023.
Meeting these requirements (a full list of which you can read here) is hardly a simple task, requiring major shifts for designers big and small regarding how they approach their crafts. This season, though, what each of those who presented last week managed to prove is that the journey towards building more responsible fashion practices in no way entails any compromise when it comes to the creativity and quality of the work on show. Here, we share some of the highlights of Copenhagen Fashion Week SS22.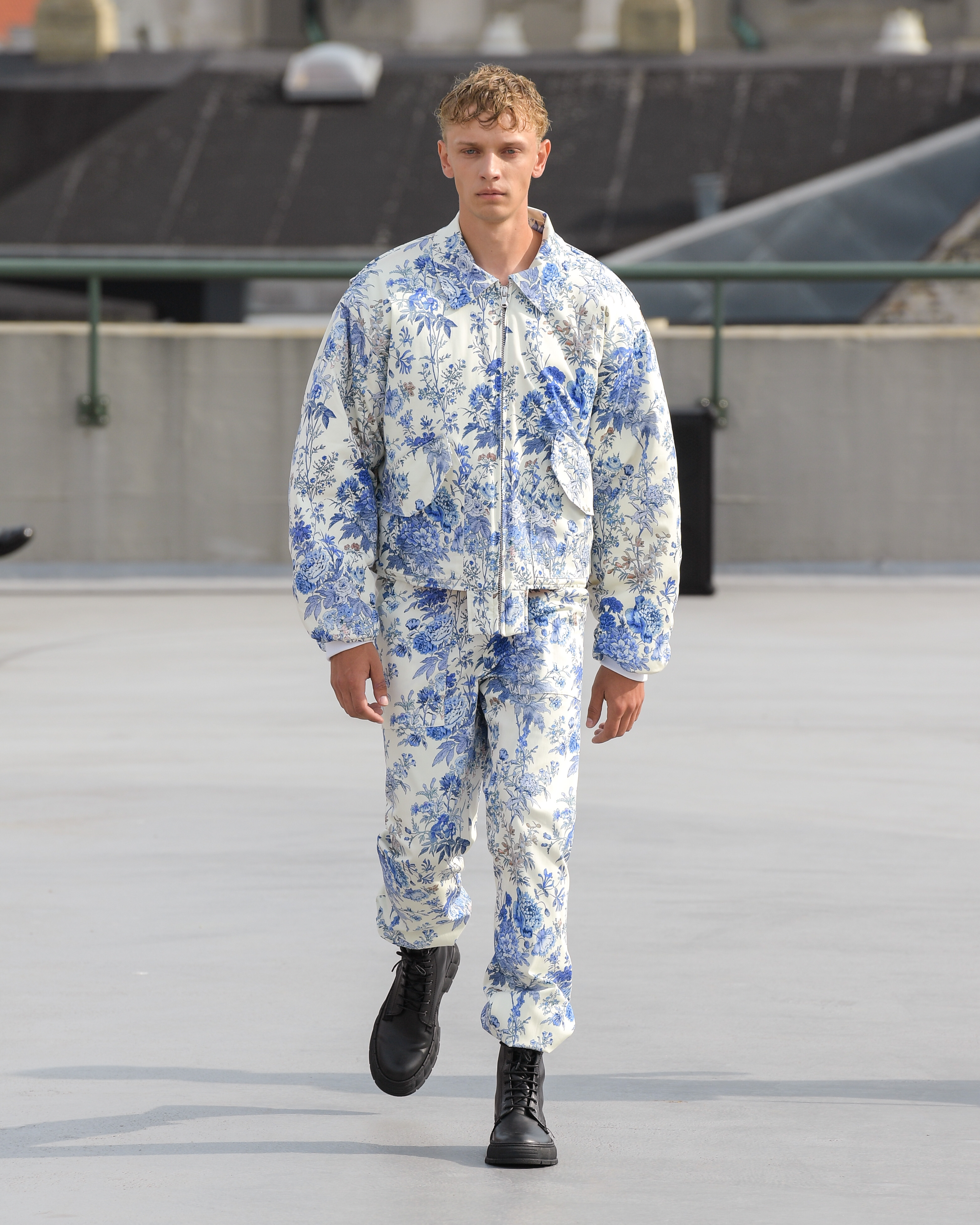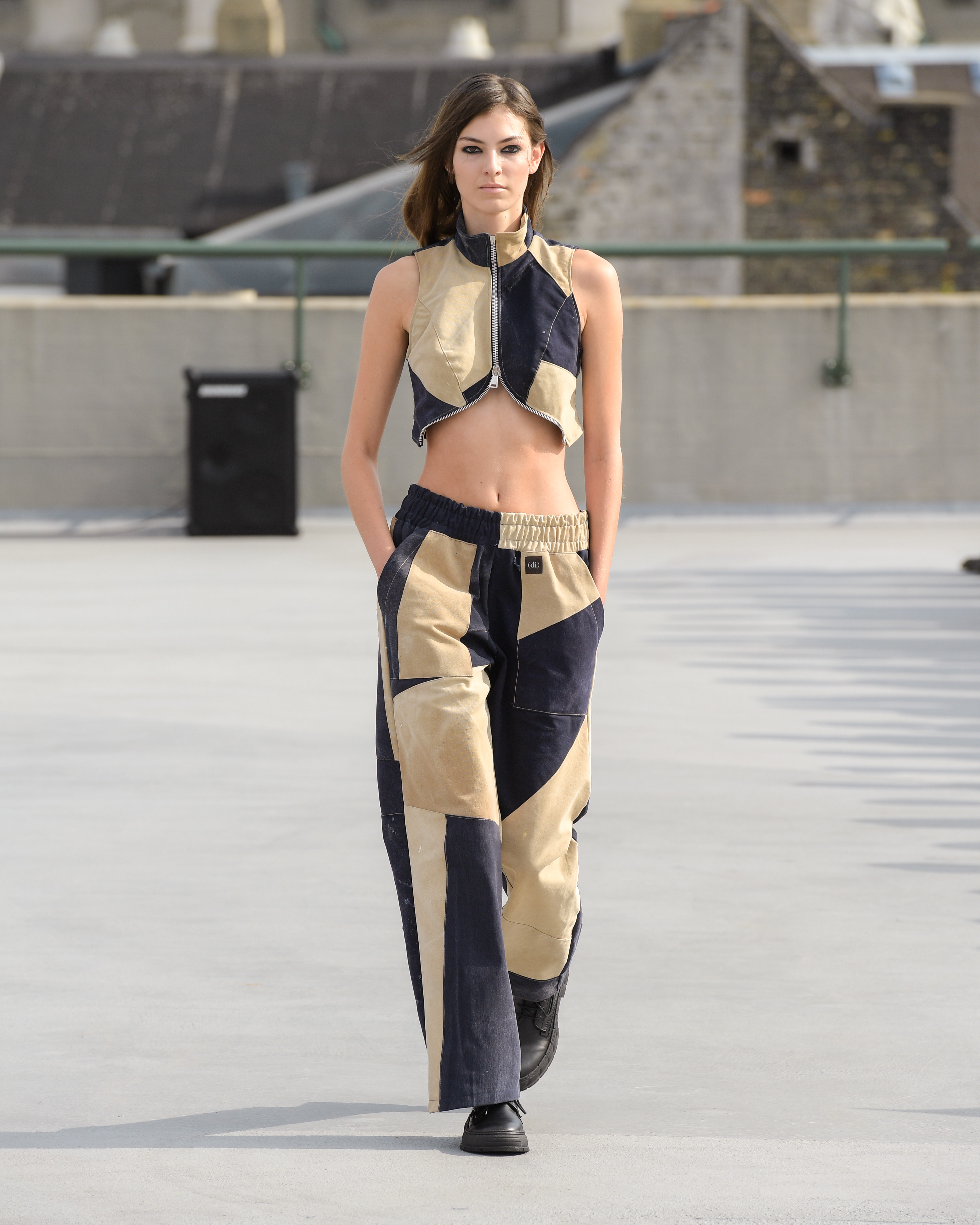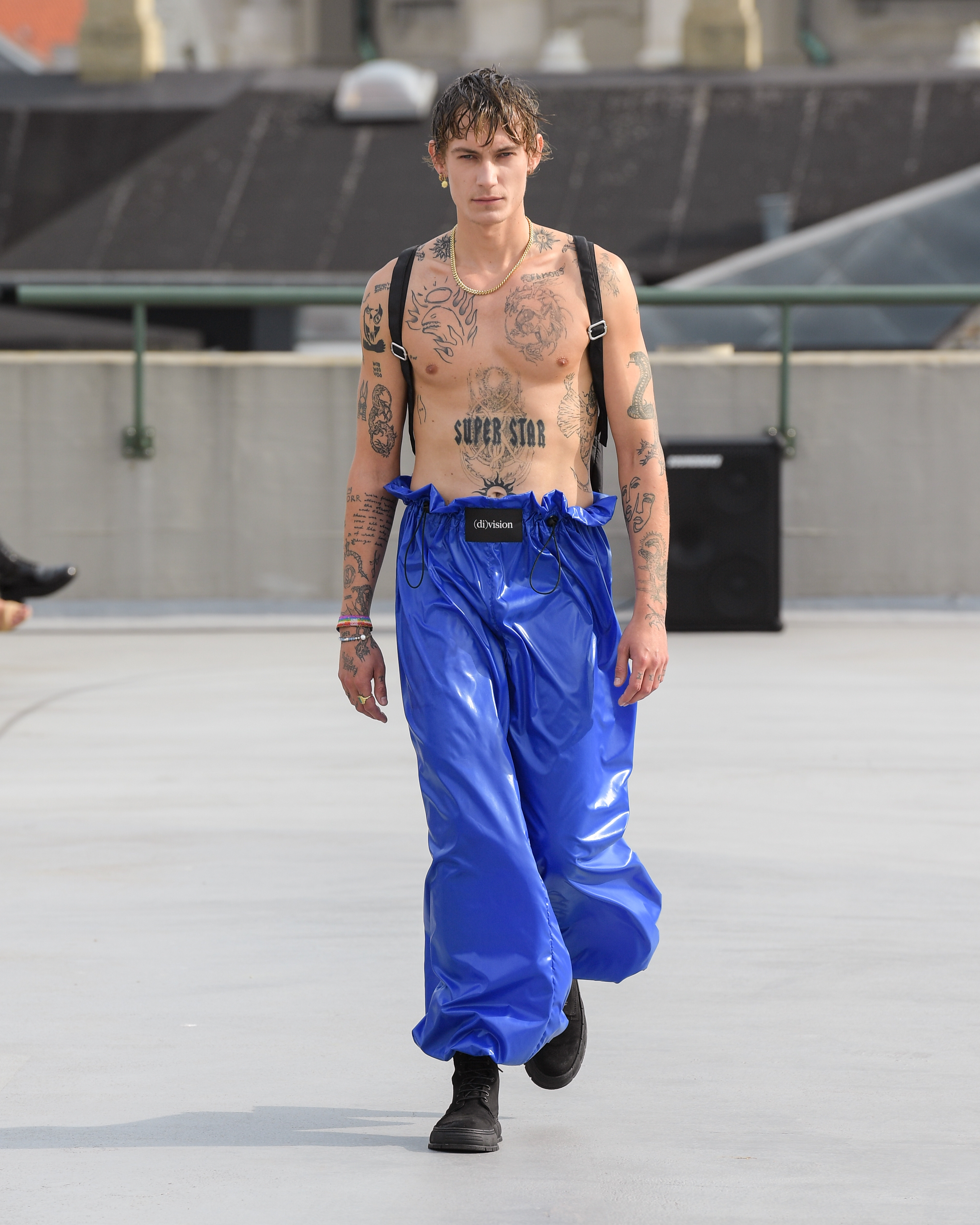 (di)vision
Opening the week's proceedings with a grunge-soundtracked show on the top of a multi-storey car park in the city's centre, (di)vision presented an eclectic, body-conscious riposte to any prim preconceptions you had about Scandi fashion. Taking the comfort-first approach to dressing so many of us have leaned into as a starting point, designers Nanna and Simon Wick brought a fresh vibrancy to easy-wearing staples through clever fabric choices, patchwork details and richly textured prints. Body-cladding dresses and cropped polo neck vests were bricolaged from upcycled swatches of jersey and denim, and baggy, hemmed trousers were cut in electric blue vinyl. A floral print workwear twinset worn by Dior Men's muse Peter Dupont exhibited the relaxed spirit that defined much of the collection's menswear, an energy that was balanced out by the early 00s sexiness of the womenswear — think sinuous knits, torso baring cut-outs and a bomber-bolero sported by i-D fave Mona Tougaard.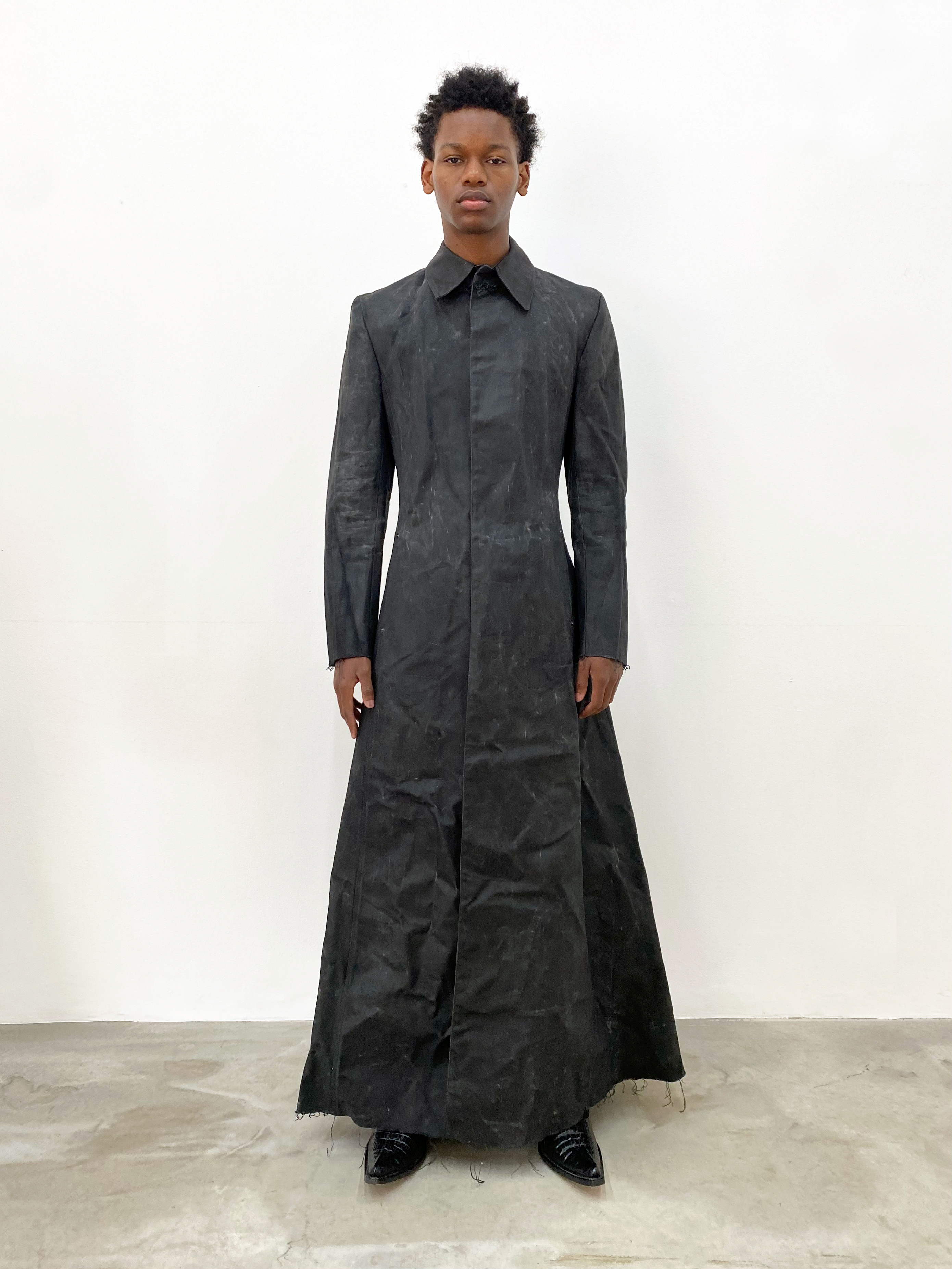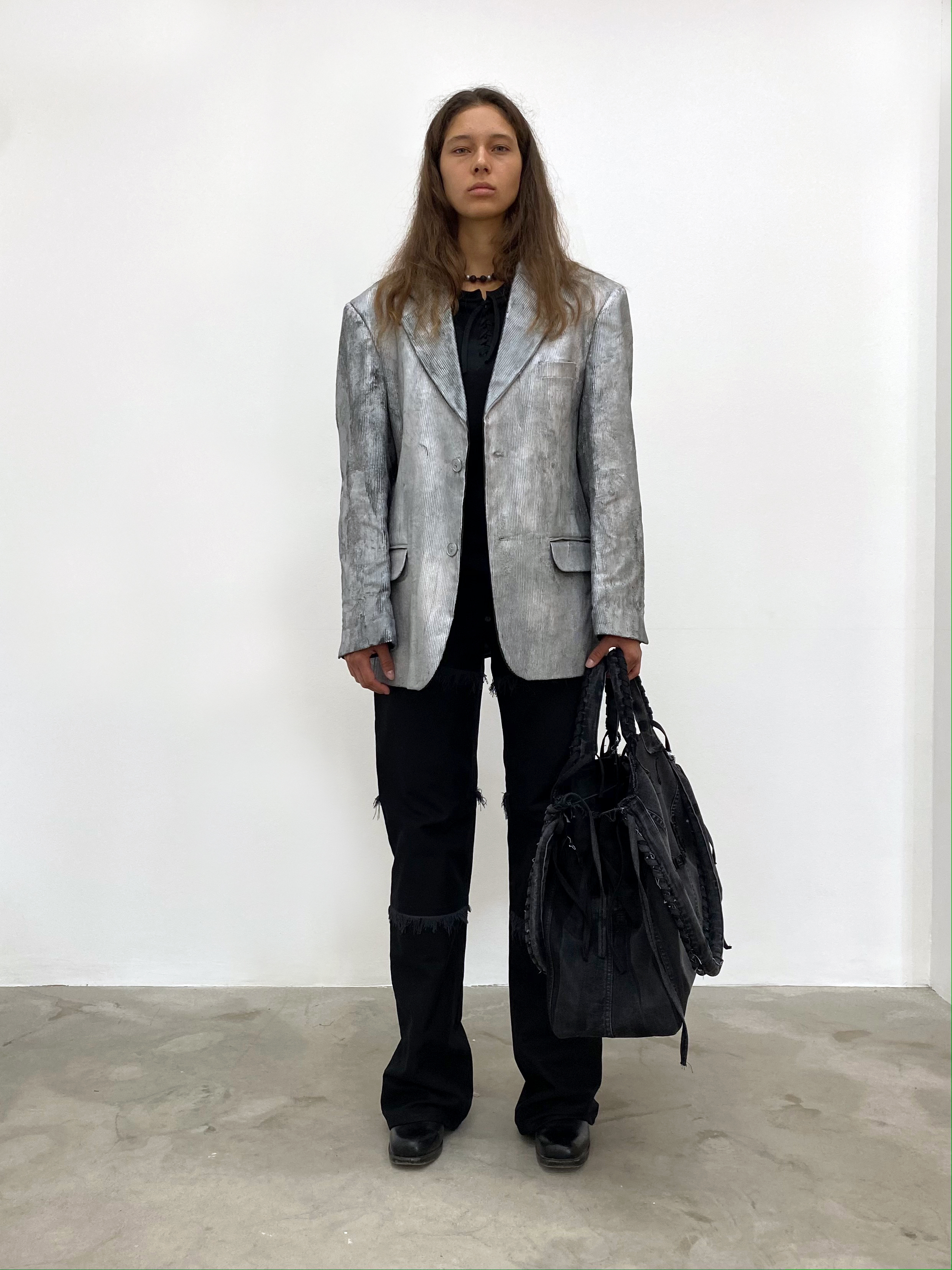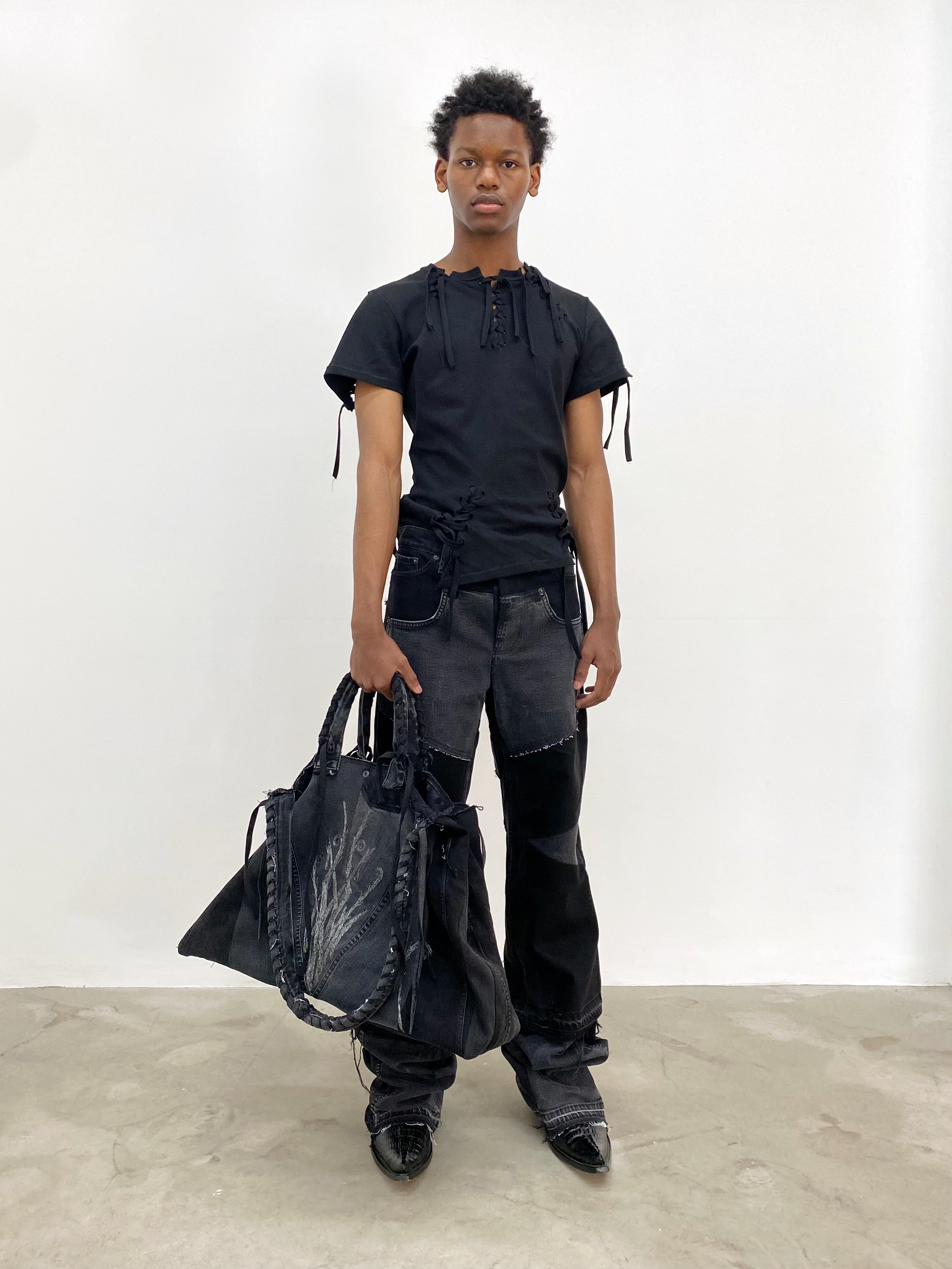 P.L.N.
Any shrewd fashion week attendee knows that some of the most exciting moments are often to be found away from the official schedule. In Copenhagen, the label to prove that right was P.L.N., a new, a-seasonal venture by Balenciaga and Ottolinger alum Peter Lundvald Nielsen. Away from the typical show circuit in a gallery space in the northern district of Nørrebro, he presented a broodily noir 12 look collection that, while certainly melancholic in tone, demonstrated a rare knack for fabric manipulation, taking things far beyond a chintzy all-black-everything cliché. Floor-skimming oilskin canvas coats pulled in at the waist to yield an almost clerical fit, and the beginnings of a gorgeous patina could be seen at the elbow crease. A silvered corduroy notch lapel blazer was given a similarly weathered treatment, while wide-legged jeans were artfully cobbled together from frayed patches of black and grey denim. An indisputable highlight of the collection has to be the voluminous denim tote with whipstitched handles and intricate graphic embroidery by Berlin-based artist and Balenciaga collaborator Tobias Spichtig, whose work also decorates the collection's raw-hemmed culottes and hooded sweatshirts. You heard it here first — P.LN.'s one to keep on your radar.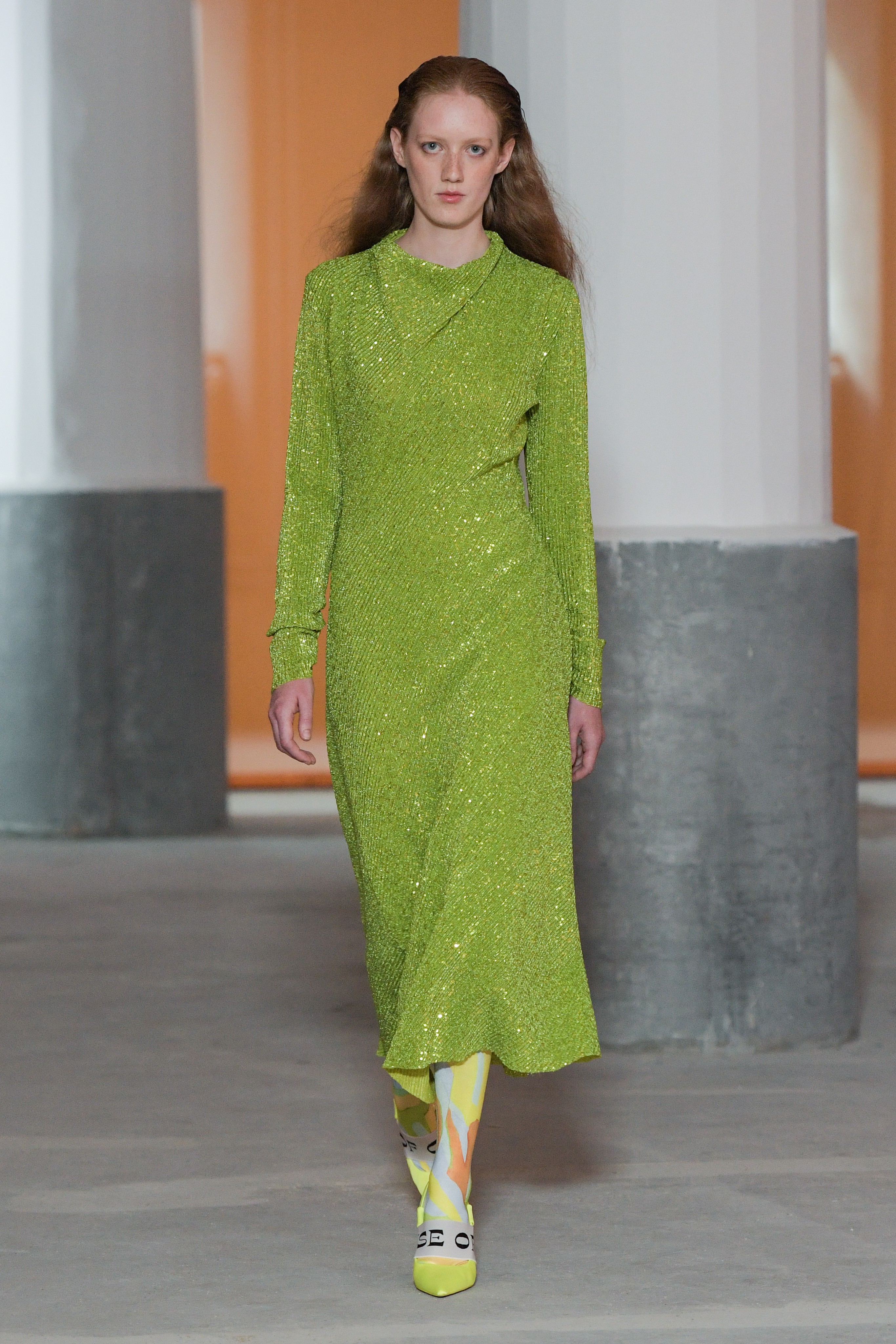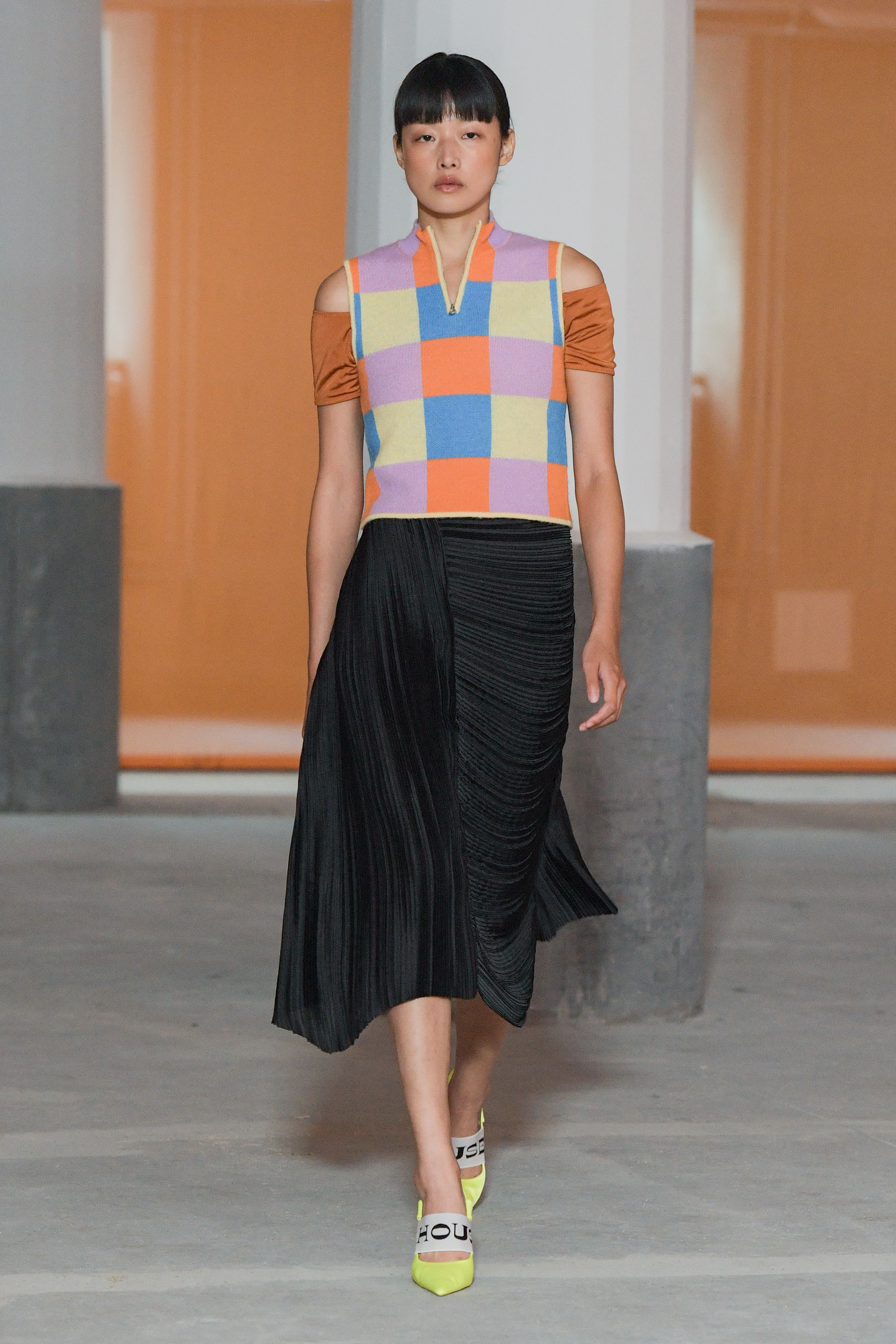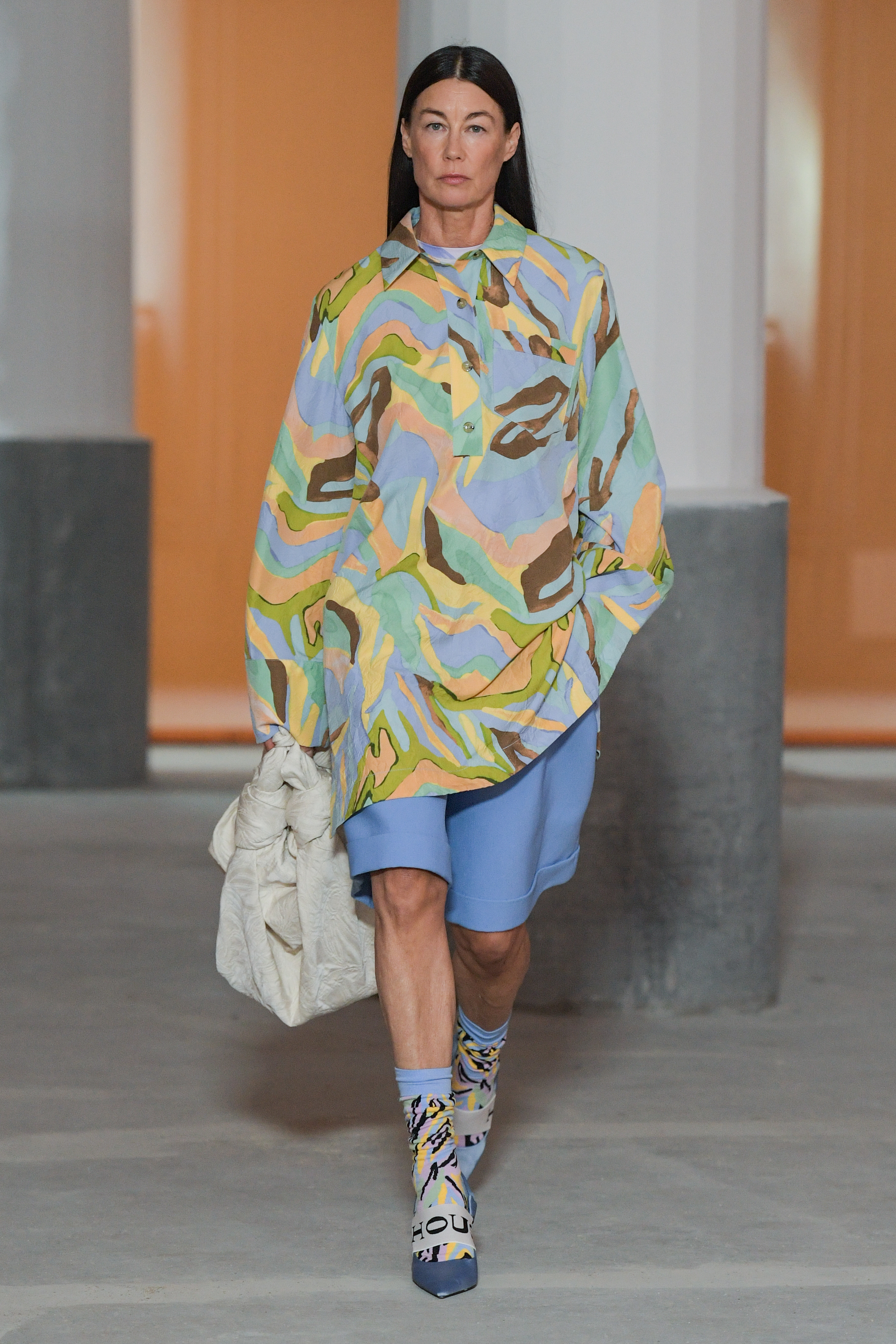 Stine Goya
Something of a hometown hero, Stine Goya has flown the flag for a more romantic, expressive side to Copenhagen fashion since founding her eponymous label in 2006. This season marked no exception, with the designer presenting 'How Much Can We Grow', an off-schedule physical show and on-schedule film of the event produced by London-based visual artist and poet Julianknxx. Turning away from the themes of isolation that have defined so much of the past year, Stine looked to one of the most eminent examples of creative collaboration in cultural history: The Bloomsbury Group. She drew particular inspiration from Charleston, the Sussex country house where the group of artists, writers, and intellectuals would often meet, translating details like building silhouettes, wallpaper details, and ceiling mouldings to painterly jacquards, printed cottons, and needlepoint-embroidered mesh dolly dresses. Cutting through the delicacy and daintiness, though, were pieces that suggested a celebratory exuberance — candy-pop checkerboard knits that have already found favour with the likes of Kendall Jenner and Hailey Bieber, and twinsets, gowns, and cocktail dresses in a ribbed lime green lurex knit.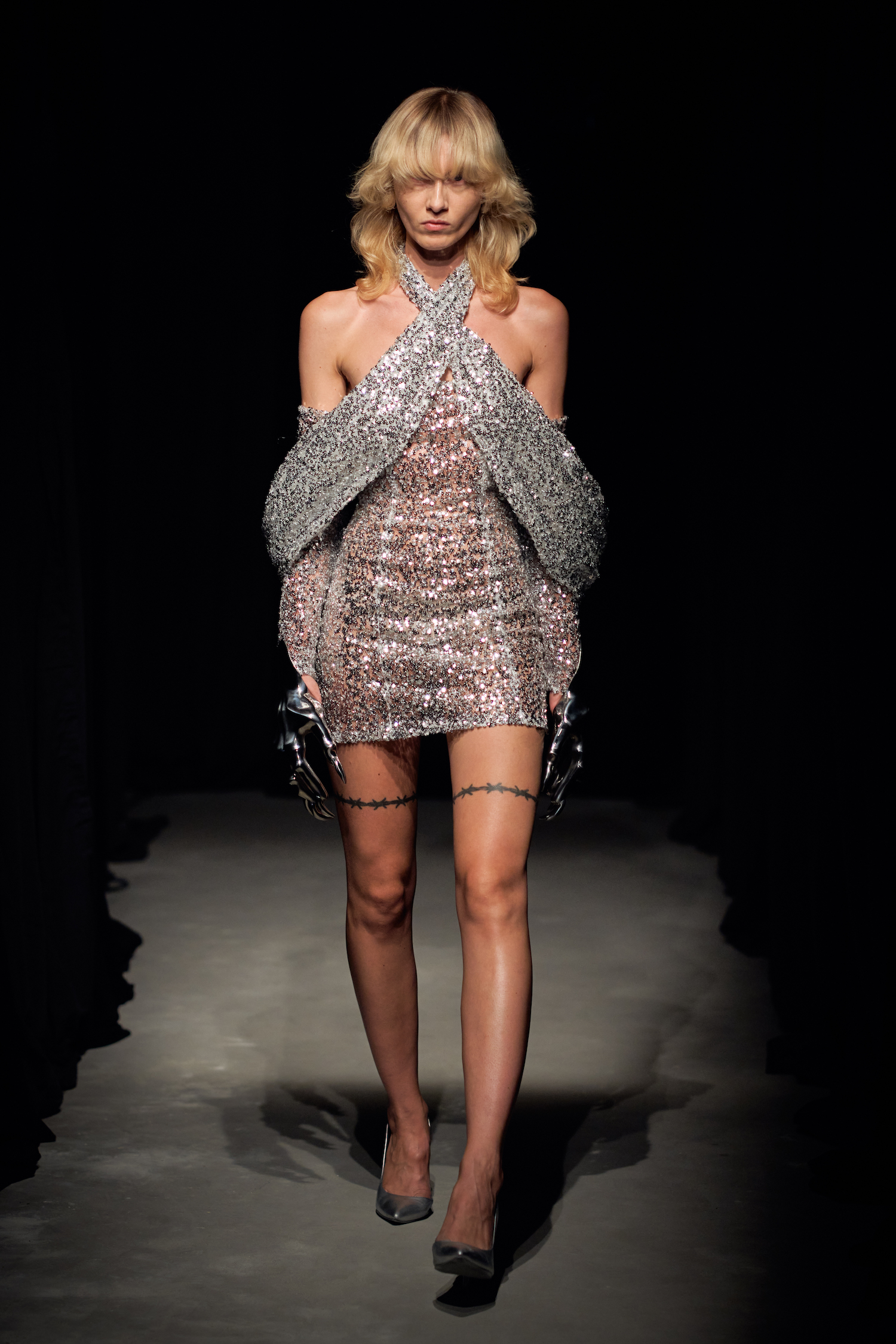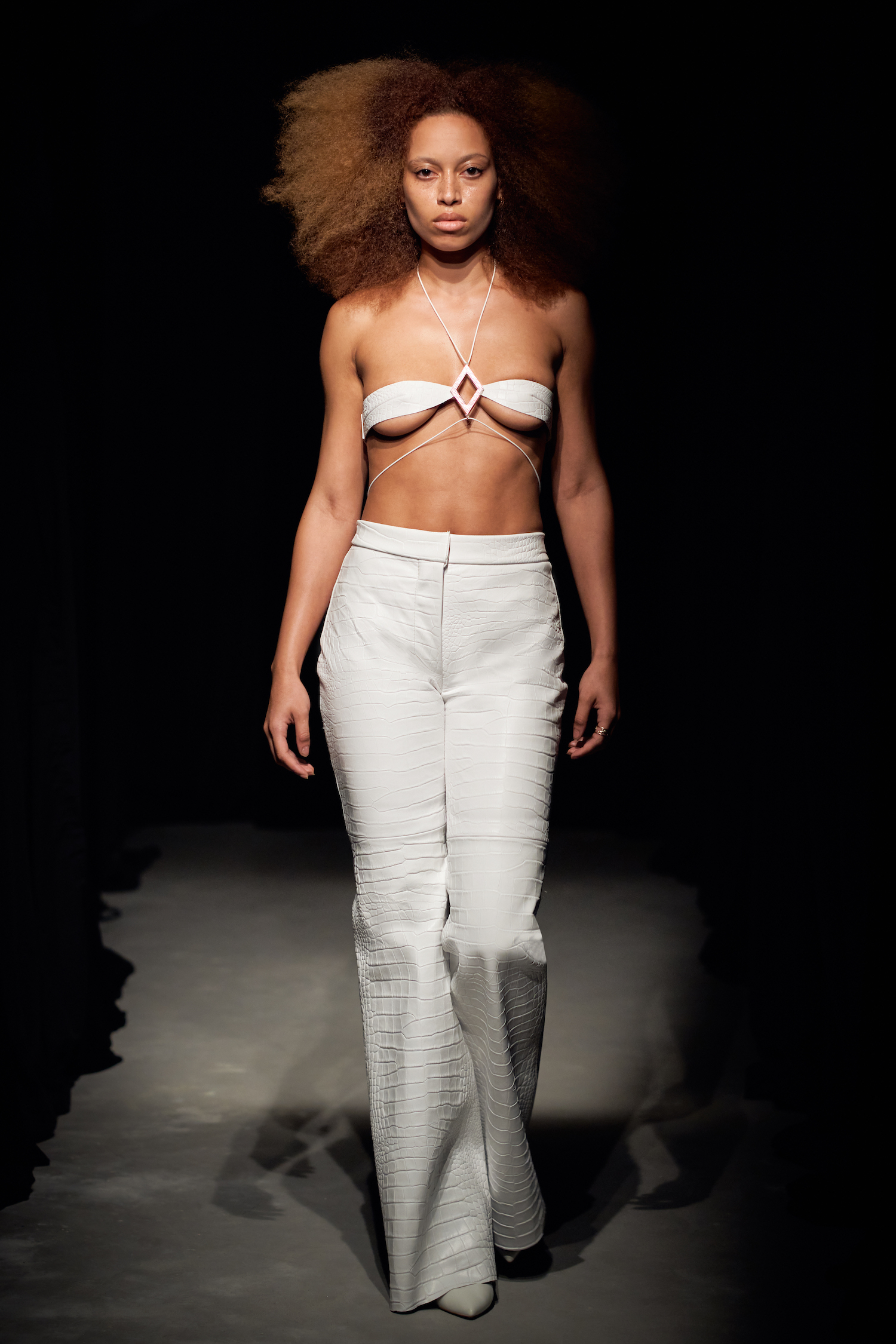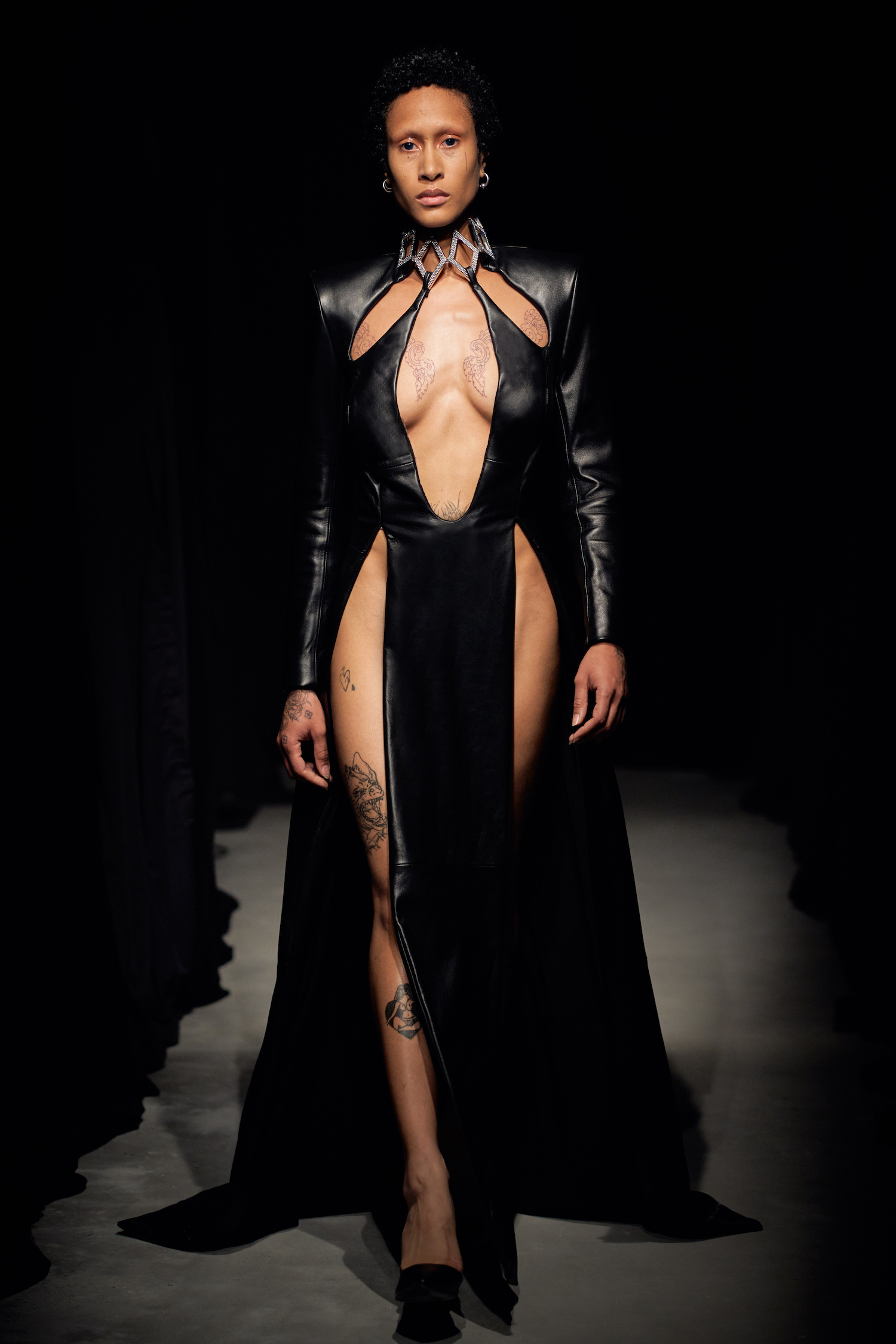 Han Kjøbenhavn
If ever you thought that Danish fashion was all about balloon-sleeved floral dresses, wide-legged cropped pants and cashmere car coats, Han Kjøbenhavn is here to put paid to that. Starting life as an eyewear brand in 2008, it has since blossomed into a mainstay of the Danish capital's scene, with a full ready-to-wear offering defined by an industrially-tinged, workwear-informed take on ready to wear. Presented along a slime-green-lit graffiti-ed corridor, that sense of grunge was kept intact for the label's first-ever womenswear-only presentation. Here, though, workwear influences were supplanted by an overt sexiness and a flair for glamour that we'd not yet seen from the brand. Silhouettes were proudly revelatory and after-party ready — think barely-there bandeau bralettes, lycra bodysuits, and structured gowns with necklines composed of tapered slivers of fabric that clung precariously to diamanté chokers, and waist cutout gowns that dripped with silver sequins.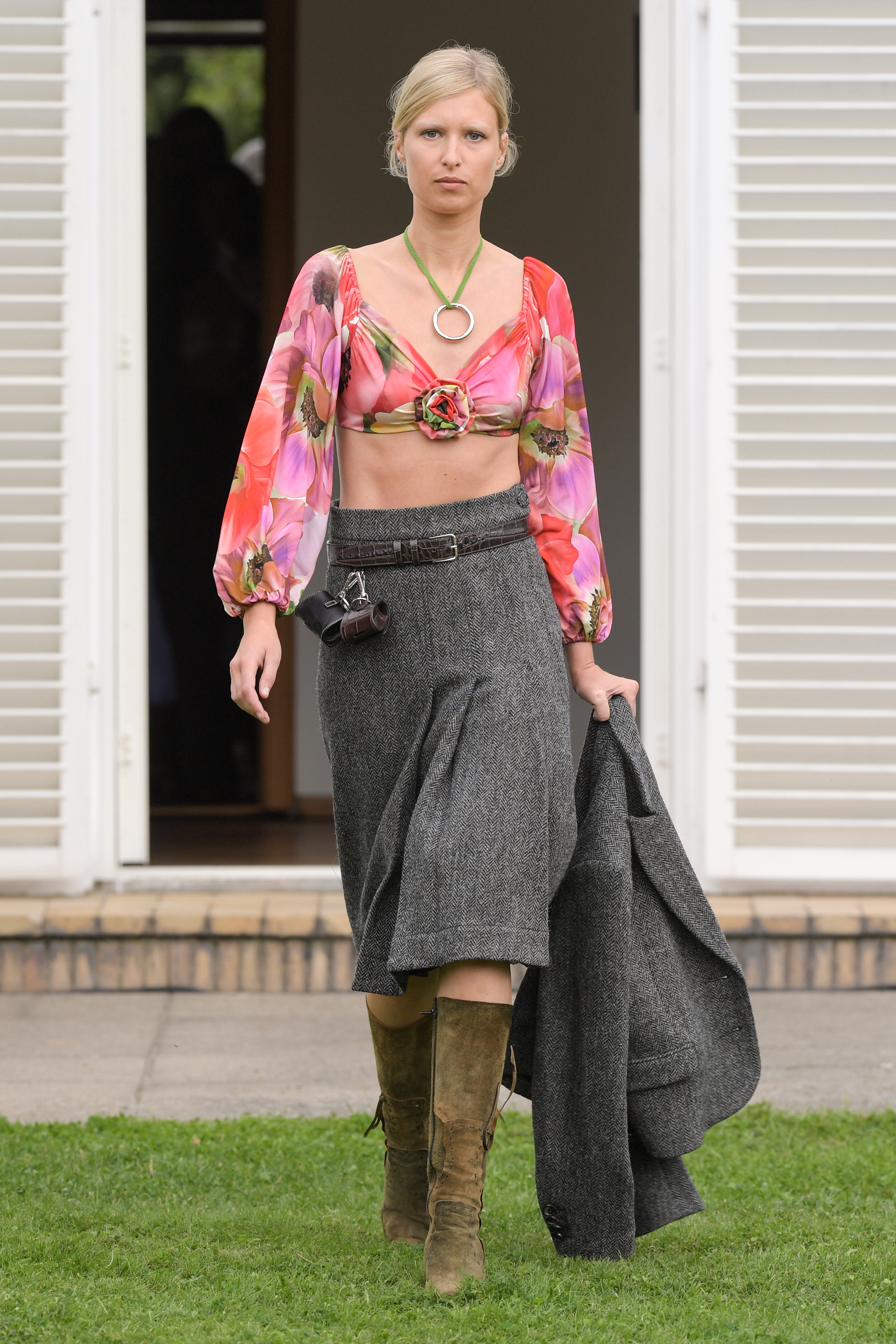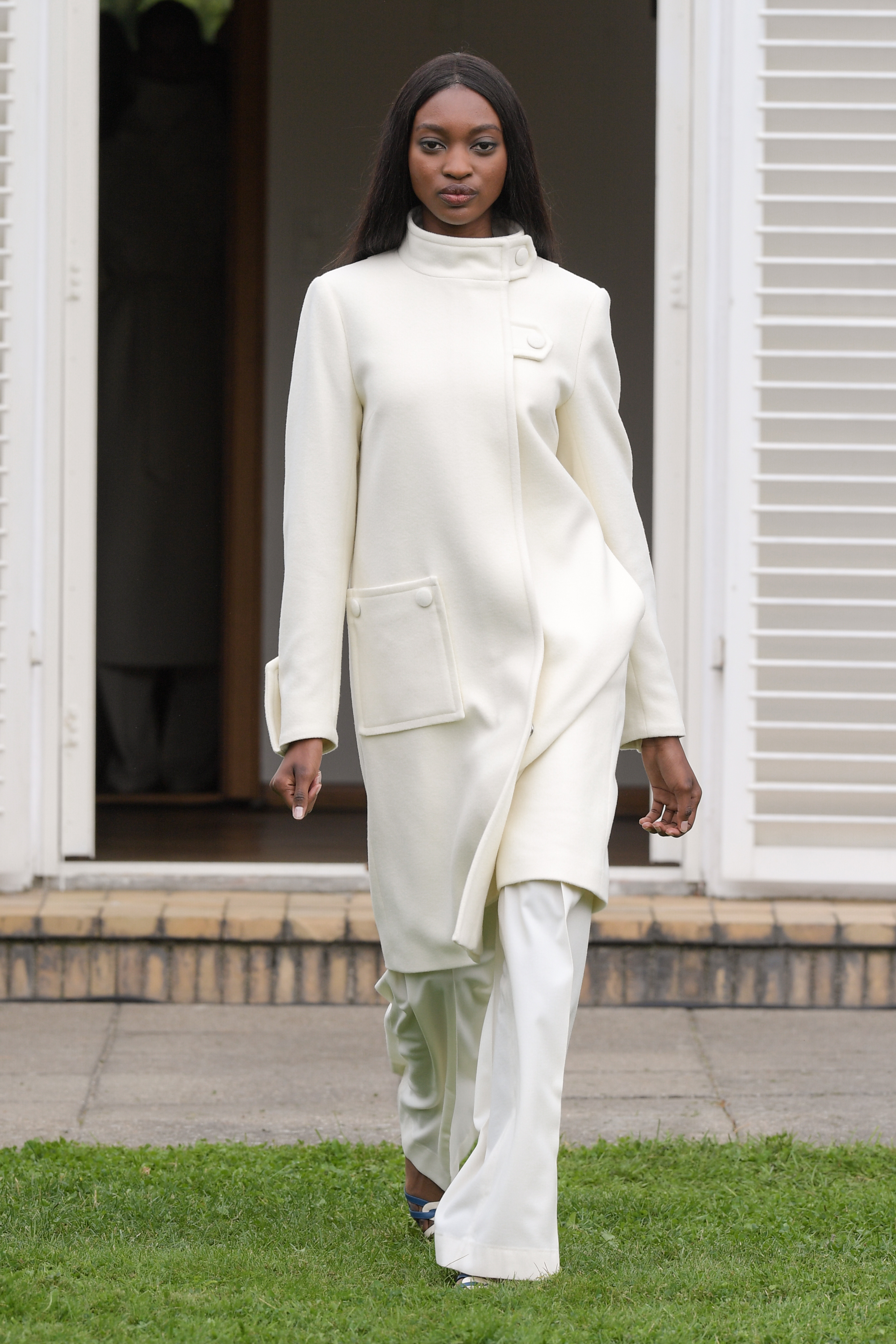 Saks Potts
Saks Potts is a name that the world has come to instinctually associate with a new generation of Danish designers. Best known for their immaculately tailored, shearling-trimmed leather coats, they've won over everyone from Rihanna to Rosalía to Lady Gaga for a poppy take on fashion that's fun and refined in equal measure. This season — which is in fact the label's AW21 collection, available to purchase now — Barbara Potts and Cathrine Saks decided to evolve the template that's now expected of them, and present a new, more holistic vision for their brand. "We both love the coats, and they're something we've really focussed on for a long time, but this season, it was also very important for us to design in full looks — to create a full closet, and offer our customer everything that they need," Cathrine said after their show in the garden of the home of Arne Jacobsen, the granddaddy of Danish architecture. "We wanted to take the most beautiful, sexy parts of the Saks Potts DNA and bring them together to create a full wardrobe," Barbara concurs. What that wardrobe looks like is a carefully thought-out array of more sensual pieces like floral bolero tops and bralettes and orange leather miniskirts with a palpable, perhaps more classic takes on high-end dressing — ribbed merino separates, and coats in buttery, piped leather and Loro Piana wool.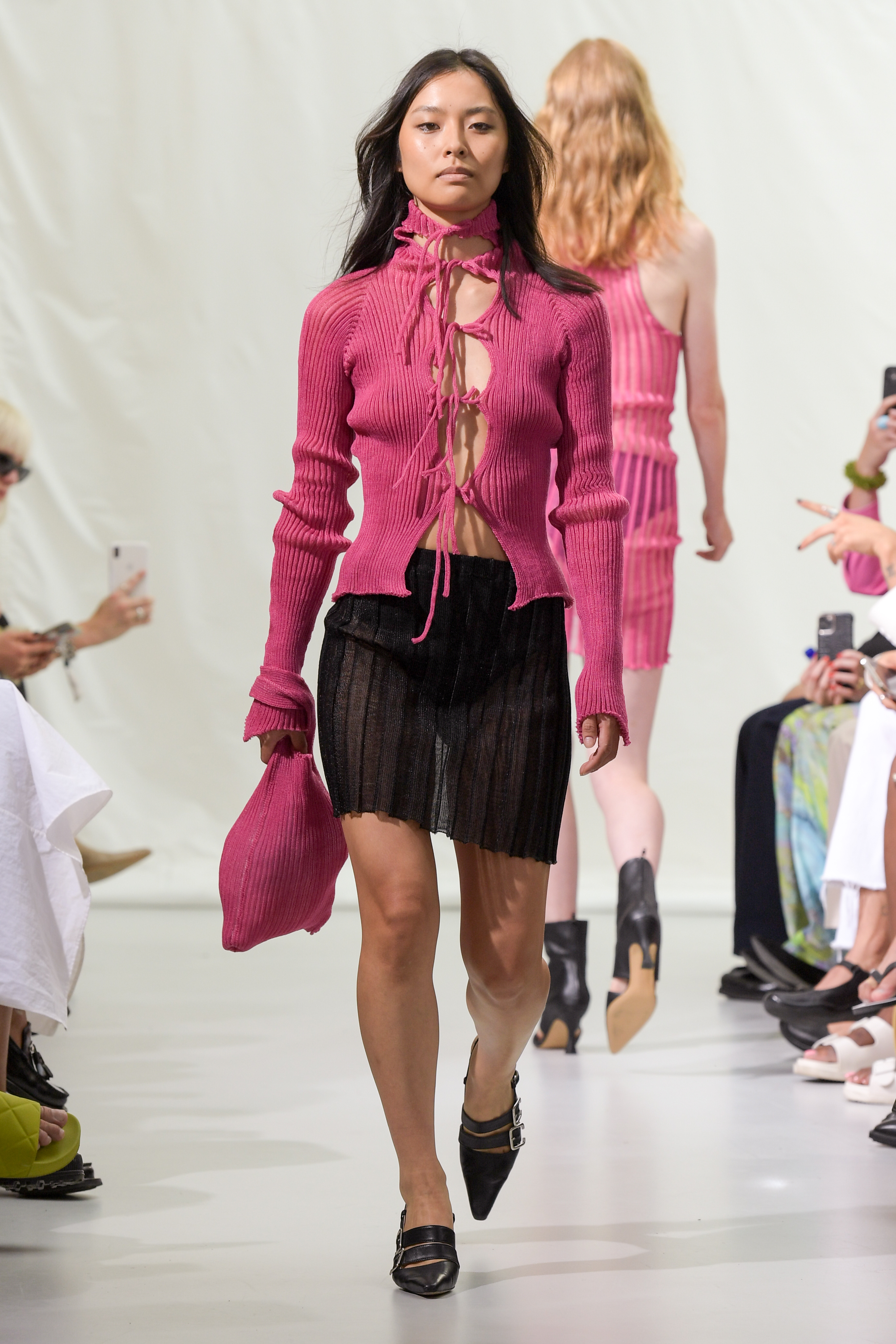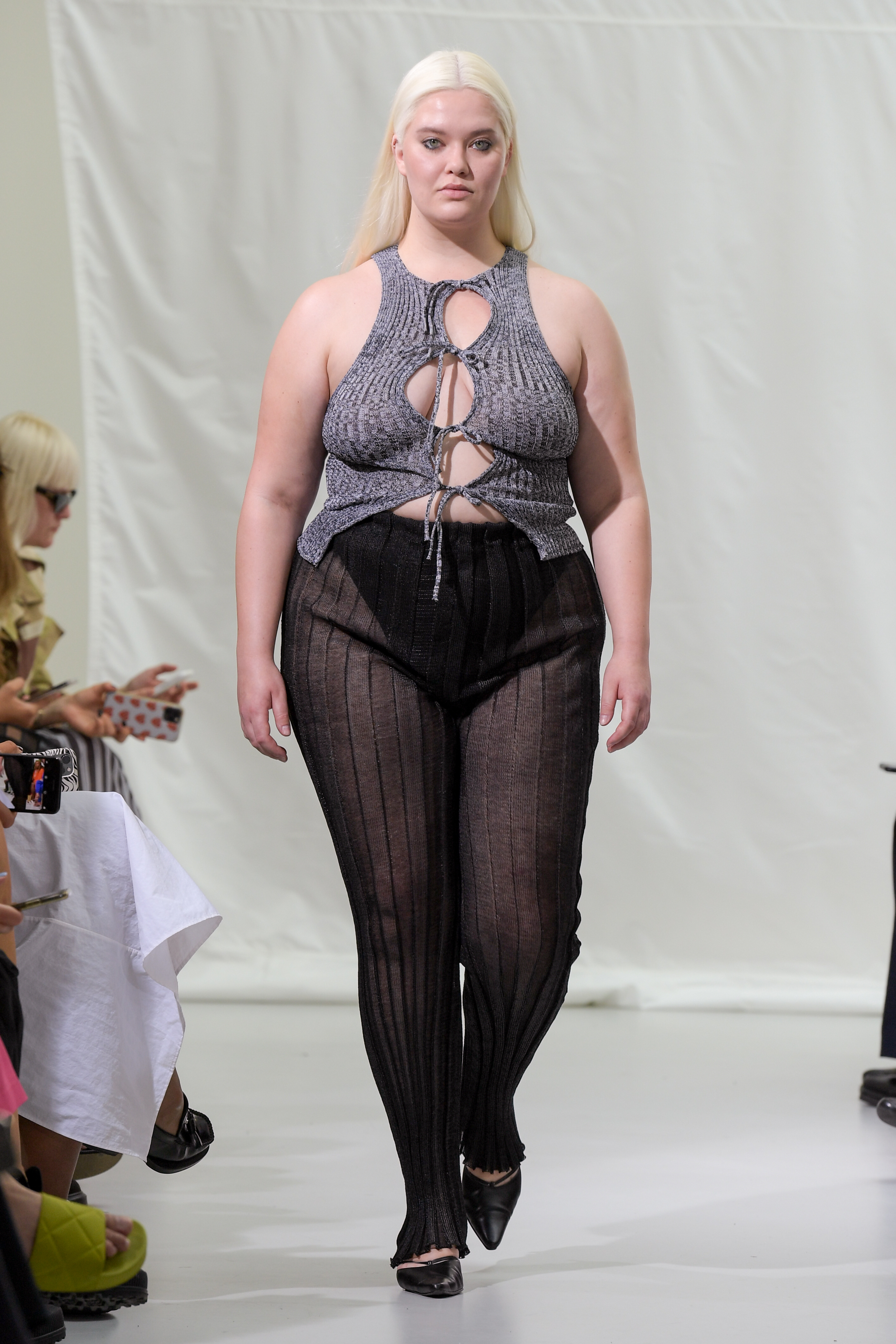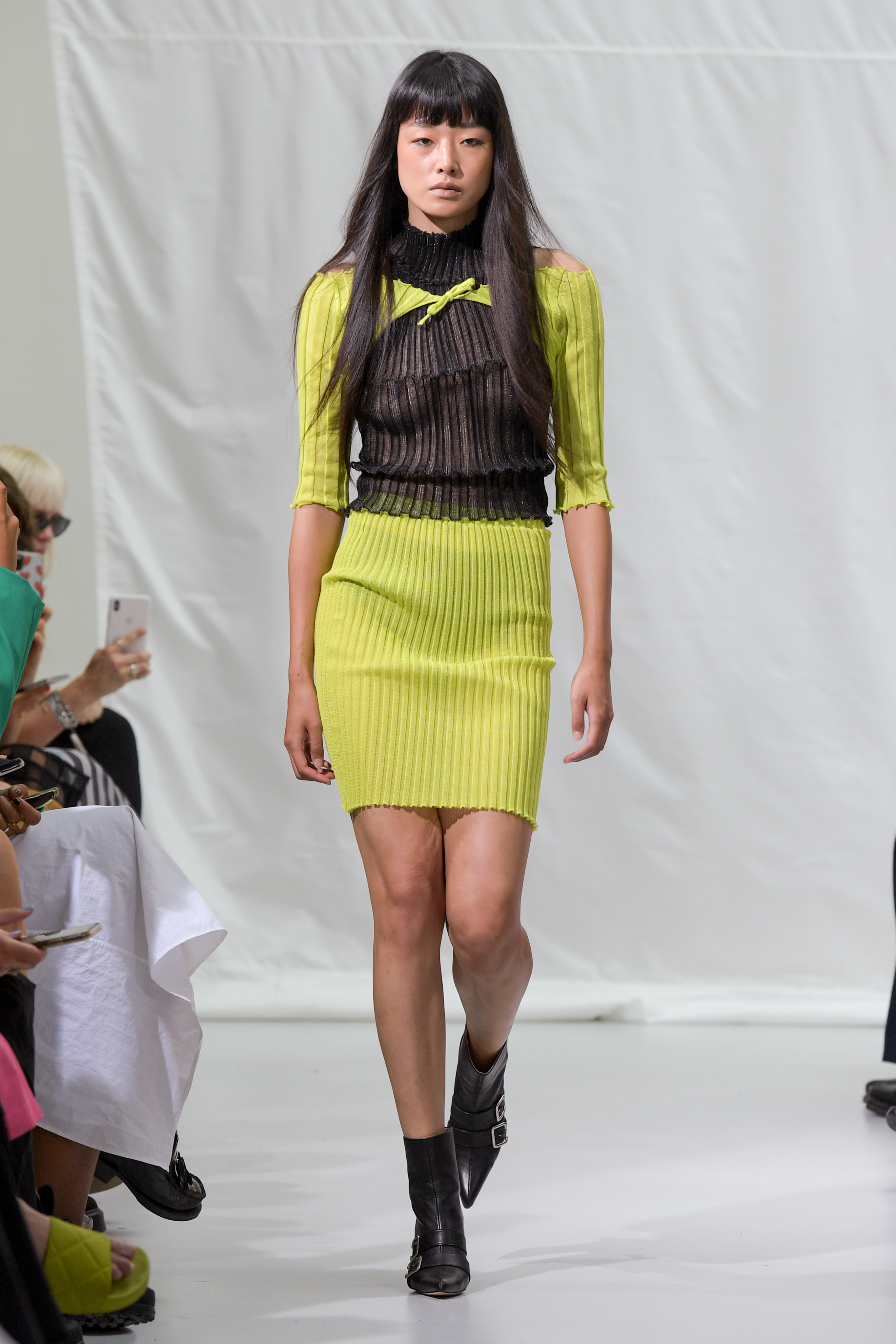 A. Roege Hove
After five seasons spent developing her eponymous knitwear label, picking up the support of retailers like SSENSE and Farfetch along the way, SS22 marked Amalie Røge Hove's runway debut. If first impressions count, then this was a good'un, easily cementing her reputation as not only one of the promising voices in Danish fashion, but also as one of the most exciting young knitwear designers rejuvenating the medium today. The justification for such high praise lies in the versatility that she masterfully demonstrated. Working near-exclusively in a stiff ribbed acrylic knit, here, the young designers demonstrated the sculptural potential of her chosen technique — how it can yield overtly racy silhouettes in the form of spaghetti strap or halterneck dresses, or office-appropriate alternatives as colour-blocked pencil skirts; how it stretches to accommodate a diverse range of body types without sacrificing on how flattering the final look is. More than just a visually appealing collection, Amalie's SS22 collection was a testament to the power and potential of knitwear as a garment-making technology.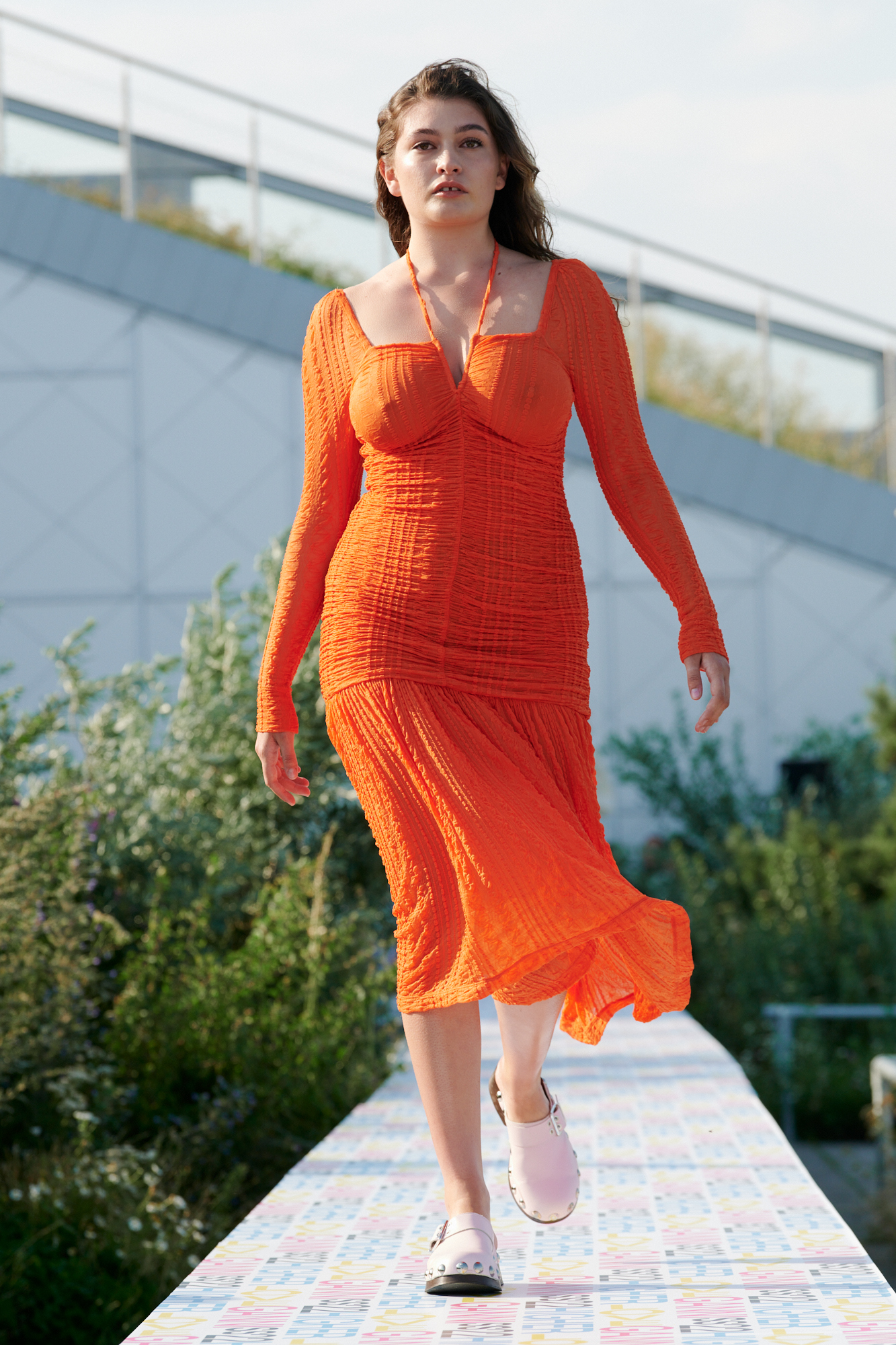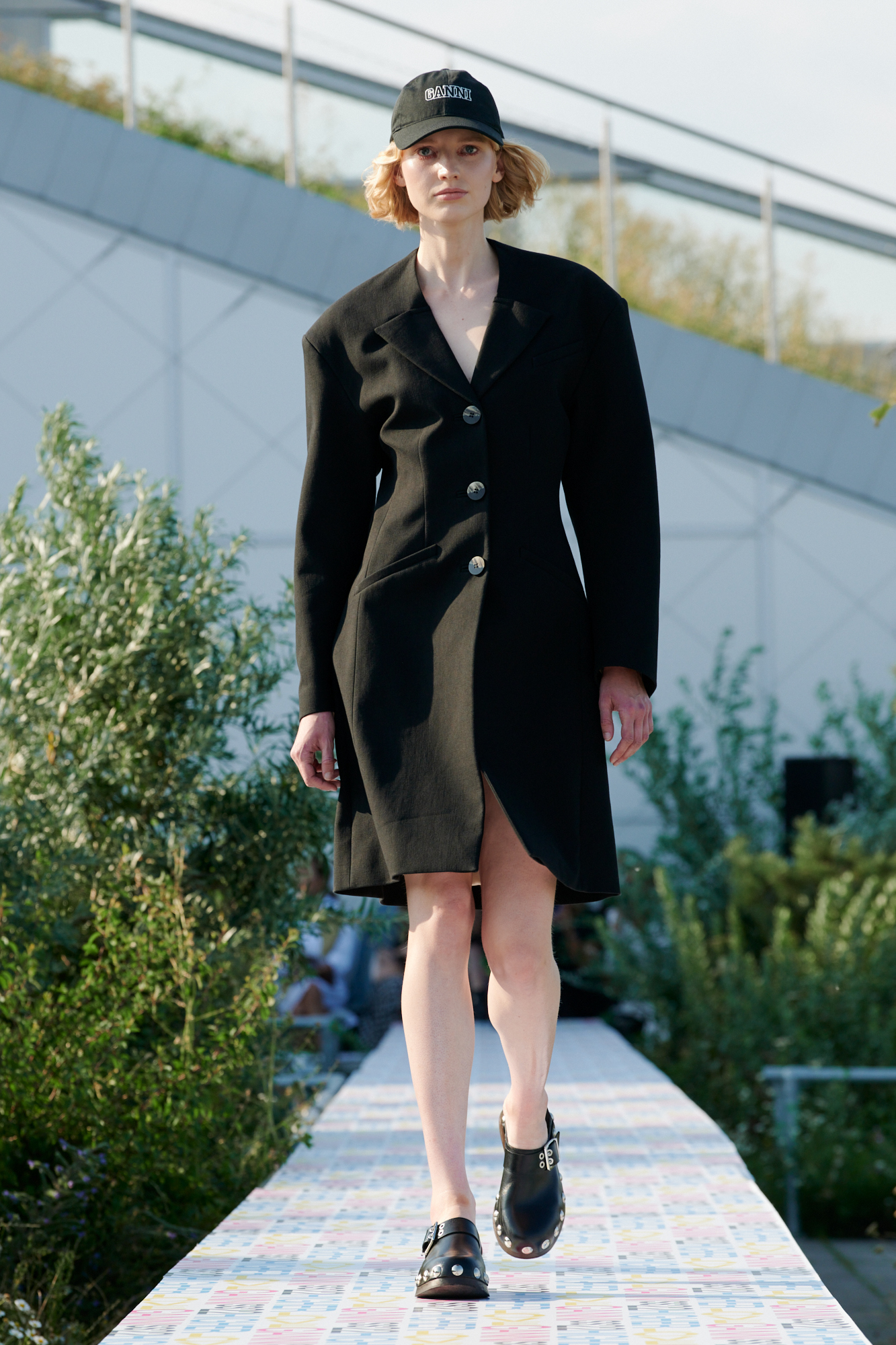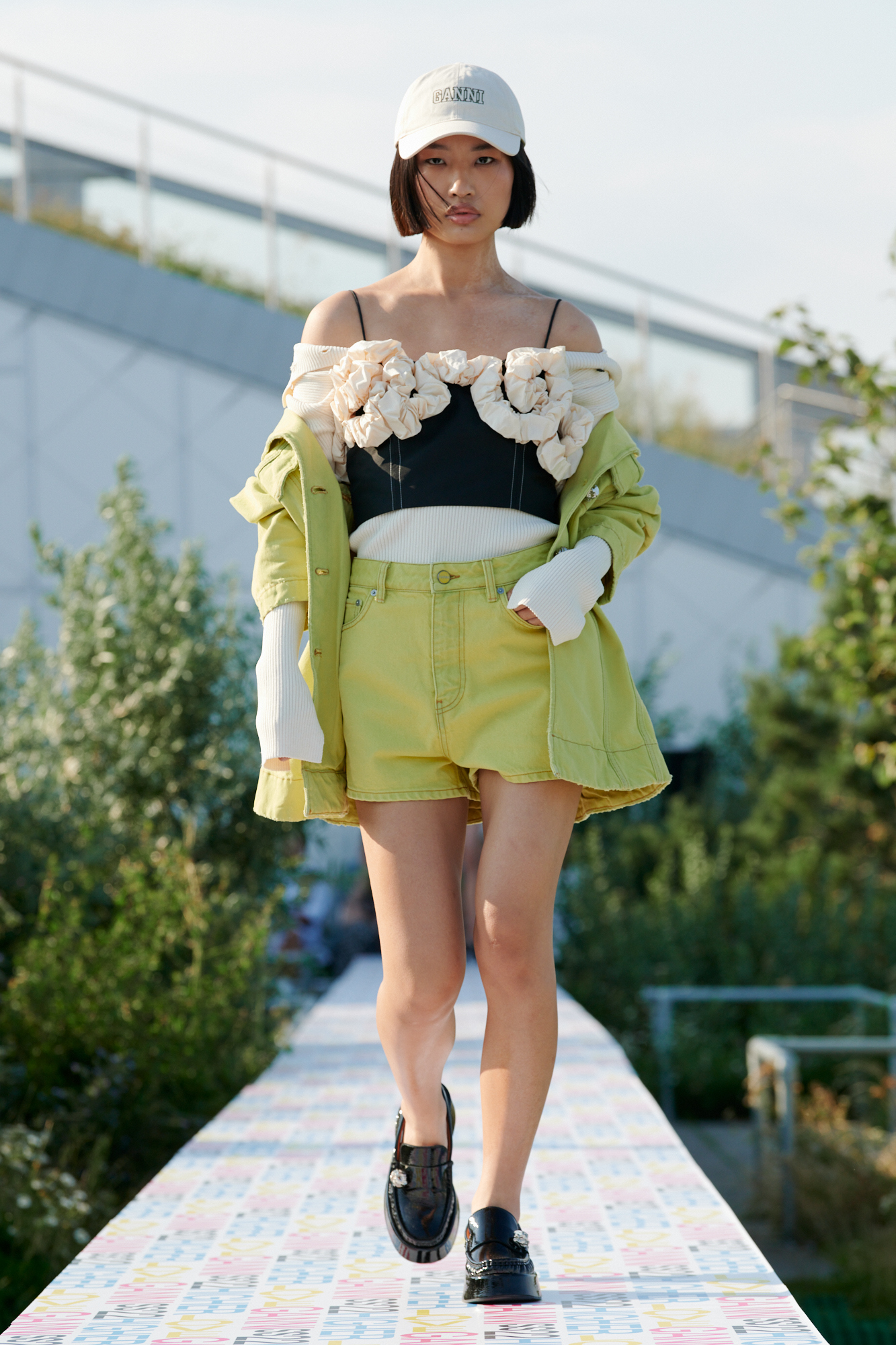 Ganni
It is impossible to speak of Copenhagen fashion without mentioning one name: Ganni. Flying the flag for what's come to be known as Scandi style 2.0 — a unique brand of quirky, effervescent chic — under the creative direction of Ditte and Nikolaj Reffstrup, the label has risen the ranks of the Scandinavian fashion scene to become one of its proudest global ambassadors. Fittingly for a collection titled 'Higher Love', Ganni took to the top of CopenHill, an artificial ski slope on the roof of a Bjarke Ingels-designed skyscraper on the industrial outskirts of the city, where models walked a raised runway overlooking the wind turbines that pepper the Øresund. The clothes — which, as Ditte told us, were born of a desire to celebrate "this idea of a higher love, of saying yes to yourself and to the world, and just embracing what you have and being happy about it" — easily measured up to the challenge set by the dramatic location. The bolshy confidence of a shirred, traffic-cone orange dress was complemented by the reassuring comfort of bright, chunky knits, and the cheeriness of text placement graphics on ruched crepe pieces was countered by the slick severity of a princess-seamed coat in black wool. Whoever you are, and whatever you do, Ganni gave you something to say yes to.