Here's everything we know about Astroworld 2021
Travis Scott's music festival is back.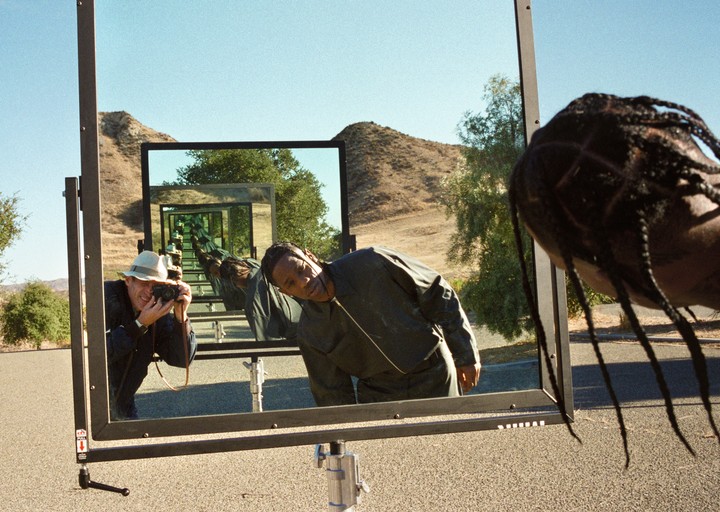 It's officially official — Travis Scott will be resurrecting his Astroworld music festival in just a few months, bringing back his signature vibes to NRG Park in Houston, Texas on November 5 and 6, 2021. Mark your calendars, besties! We can dare to hope that our days of trying to catch gigs on Fortnite are close to over.
The rapper made the announcement on his birthday this weekend, tweeting: "NOVEMBER COME WON'T YOU POP OUT AT THE FEST," a valid sentiment, punctuated by a justifiably excessive three exclamation points. The theme of the festival, according to its organisers, will be 'Open Your Eyes to a Whole New World'.
The poster art seems to illustrate a relatively literal interpretation of this idea: a giant electrified eyeball watches over as three human bodies are pulled into a pinky-purple matrix void, accompanied by what appear to be a couple of planets and some rollercoaster tracks.
The festival's line-up is something of a mystery, though Travis is of course confirmed to headline, and we can safely assume — from looking at the slate in previous years — that his curated guests will be industry royalty. Astroworld's inaugural event in 2018 featured names like Post Malone, Tommy Genesis and Virgil Abloh on the ones and twos; with Kanye, Megan Thee Stallion, and the late, great Pop Smoke in its 2019 line-up.
With no word on the line-up and tickets for the festival going live on the official Astroworld page tomorrow, Wednesday May 5, at 10am CT (4pm GMT), nabbing one will be a leap of faith. General admission is expected to cost around $89, with VIP packages ranging from $250-$550, in accordance with ticket prices in previous years.
Back in February, Travis told us that surprising his fans is the "ultimate ecstasy" for him. So buckle up, folks, it looks like we're in for a ride.