City Girls shocked by their fame, money and nasty lyrics
Yung Miami: "I was like, 'Oh my God, why would I say that shit?'"
City Girls' story originally appeared in i-D's The New Worldwi-De Issue, no. 363, Summer 2021. Order your copy here.
For the past three years, Miami duo City Girls have monopolised rap with their rags-to-riches mantras about money, pussy and scamming. They know the most effective slogans in life are the blunt ones: so lines like "I don't work jobs, Bitch, I am a job" and "Ain't no dick like millionaire dick" transform their records into hyper anthems that centre their desires as women. From their 2018 mixtape Period to their debut album Girl Code and 2020's City On Lock, Jatavia Johnson (JT) and Caresha Brownlee (Yung Miami) have built an ever-growing empire of indulgence around raps about practical pleasures, while honouring their city's tradition of crass humor and bass.
An appearance on Drake's "In My Feelings" remix in 2018 earned them acclaim that led to a deal with the Atlanta-based Quality Control Records. Since then, City Girls have laid claim to the Miami raunch title with mass-appeal singles like "Twerk", featuring Cardi B, and the Doja Cat-assisted "Pussy Talk". And their most recent single, "Twerkulator", has been a stealth hit on TikTok. A few hurdles threatened to break their momentum – JT ended a two-year prison sentence for credit card fraud last year during the pandemic. But with a seemingly endless outpouring of aphorisms ("Don't nothin' but this cash make this pussy talk," etc.) and ventures, the two friends have secured more than a few bags.
Where are you two calling from, Miami?
JT: Miami.
What vibe were you going for with City On Lock compared to your previous projects?
JT: It was supposed to be a fun mixtape that led us up into a serious album, but then Covid struck, and a lot of other tragedies happened in 2020, so it wasn't a fun year. City On Lock got leaked, so we were like: it's an album.
If you had to make a mood board for the album, what would you put on it?
JT: I would put a boat, drop-tops, long nails, a lot of money on that moodboard. Niggas with money.
Uncle Luke once said Miami is all about "Long live the almighty dollar." Where does that money mentality come from for you guys?
JT: The struggle.
Yung Miami: Yeah, I was gon' say the struggle. We really from the hood, so all we did was hustle to get by. All my mom did was hustle, she never had a job, so it comes from struggling and seeing our parents struggle. It's like, bitch, where the bag at?
When did you realise the value of money?
Yung Miami: As a kid, I never knew the value of money. Being an adult and having responsibilities made me understand the value of money because I got kids, so I have to be responsible.
JT: Shit, I knew the value of money early. 'Cause when you in school, you wanna go to the book fair. You wanna do different shit. You always needed money to go to the ice cream truck. But as you get older, you know that money isn't just a piece of paper and you gotta know how to like… you can't just… I'm trying to sound smart, but I just always needed money [laughs]. Money empowers women. When you ain't got no money, you just be depressed and hating.
What is the anatomy of a good strip club song?
JT: The strip club is about finessing. It's all about making everyone in there feel like they need to spend they money like they a big baller. You need a hot beat. You need to talk good about niggas with money in the song. You gotta be like, "Where the niggas who spend money?" And then the beat gotta go crazy so they can throw the money and shit.
Yung Miami: I like to shake my ass everywhere I go, so if the beat is real good and I could twerk, I'ma be on the flo'. You need a turnup song that's gonna make you wanna dance. You need a song that's gonna make you feel like "I'm that bitch".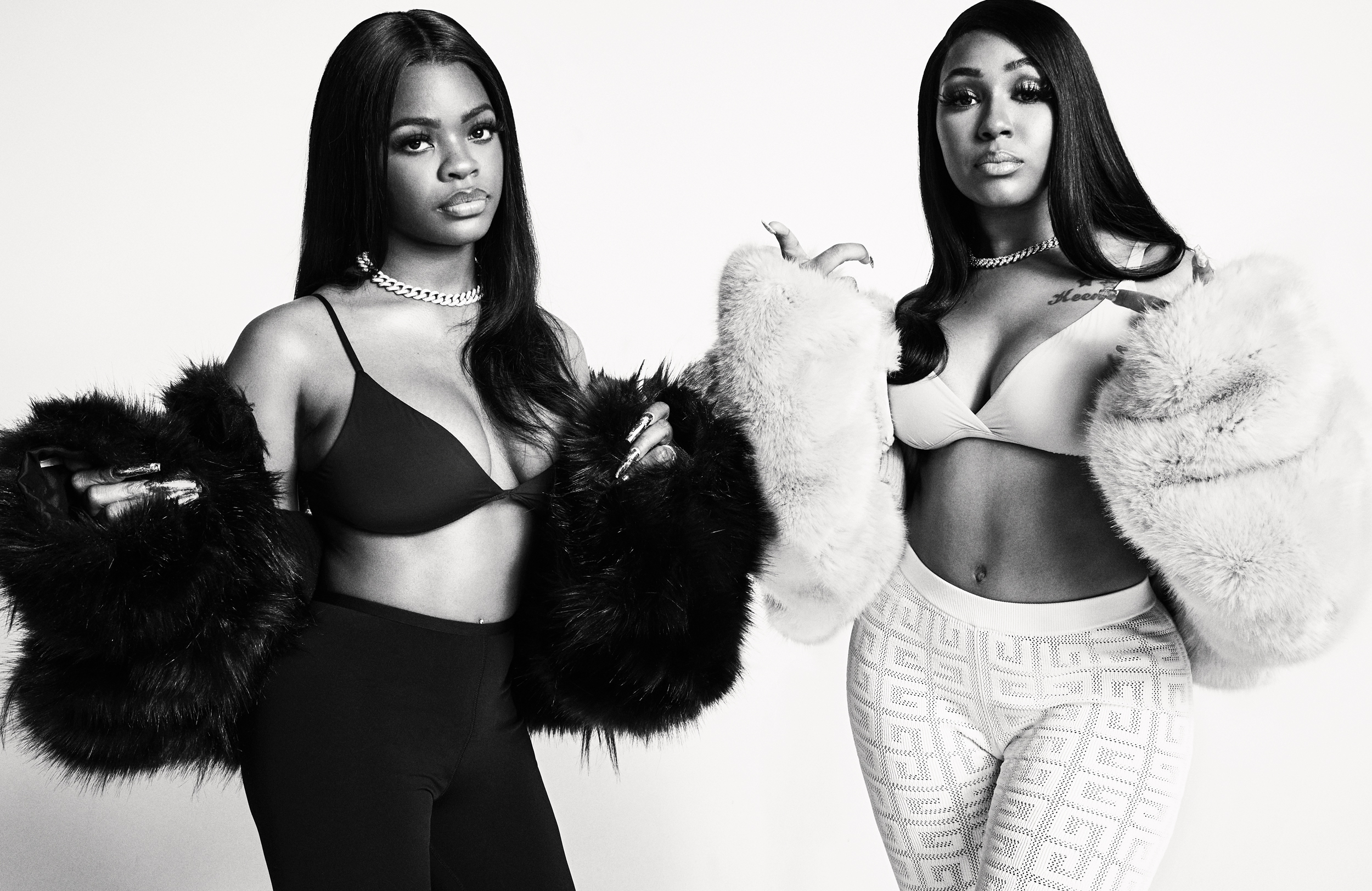 Have you ever shocked yourself with one of your lyrics?
Yung Miami: When I was like, "Pull it out, make it drip, put it straight up in my ass." I was like, "Oh my God, why would I say that shit?" 'Cause I don't even have sex in my ass, for real [laughs]. Like, "Girl, why would you even rap and say that?" That was a shocker.
What were you like in high school?
Yung Miami: I cheered my whole life, so when I got into high school, I was a cheerleader. I was the popular girl. The It girl.
JT: I was sick of school in high school. I was over it. I was skipping school, I ain't gon' lie. By the time I got into high school, I was on my own. Life was getting real. I didn't have time to go to class. I started skipping it. But then I went back, I graduated, and that was it.
How did your first mixtape Period come together?
JT: Me and Caresha just having fun. We had like a month to make that mixtape because we were in hot water for not working at all. We got signed, we got excited, and we weren't working, so P [Quality Control co-founder Pierre "P" Thomas] put us on a time limit. And it's one of our best bodies of work to me. There was no precedent, though. It wasn't about charts. It was just: You can do whatever you wanna do, say whatever you wanna say, nothing to lose. We just put it out, hoping the world sees it, and they did, and now we are the City Girls.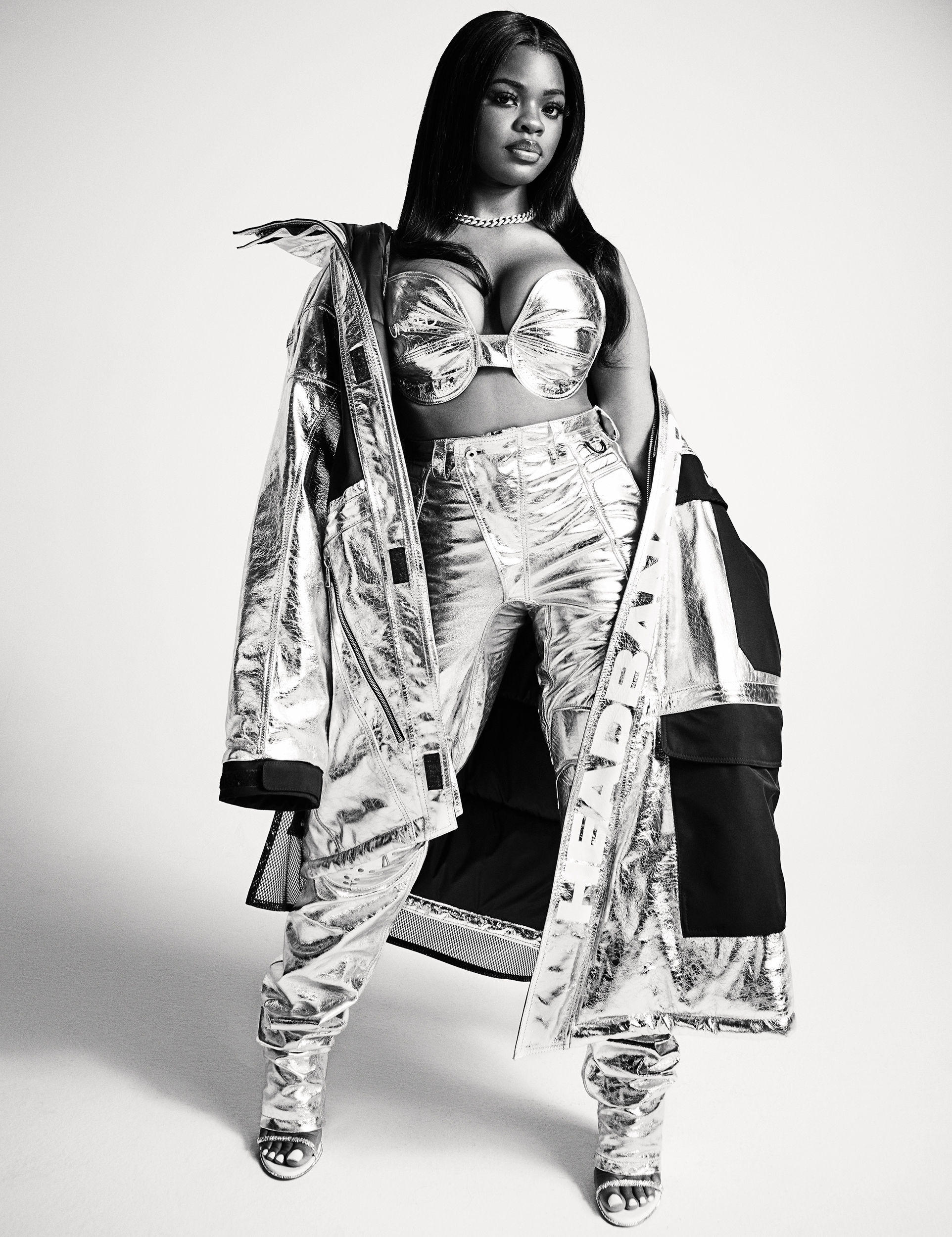 How have you adjusted to having more than you had growing up? Is it overwhelming?
JT: It's a good feeling for me. I was scamming, and I also worked a lot of jobs. Burger King, Whole Foods. I worked at a call centre. But it wasn't making me enough money, so I started scamming, and then I got in trouble and I wasn't able to really do what I wanted to do, for a period of time. Because we got signed right after that. Struggling, for me, was always having to work hard for things. And it's a beautiful thing that we can just make money off being ourselves and making music now. We don't have to work so hard.
It's easy to get boxed into one style of rap. Are you guys worried about not being recognised for your other sides?
JT: People like us for different reasons. Every time I do a verse, I'm thinking about versatility. I'm thinking about being myself or whatever mood I'm in, not what people wanna hear. Nobody can box me in at all. We have so much more to prove. We have so much more to do. We been locked down. I been locked up. We got this song on "City On Lock"; it's the last song and it's kind of a personal song. Our real fans know that we do have those records. We do talk about real shit.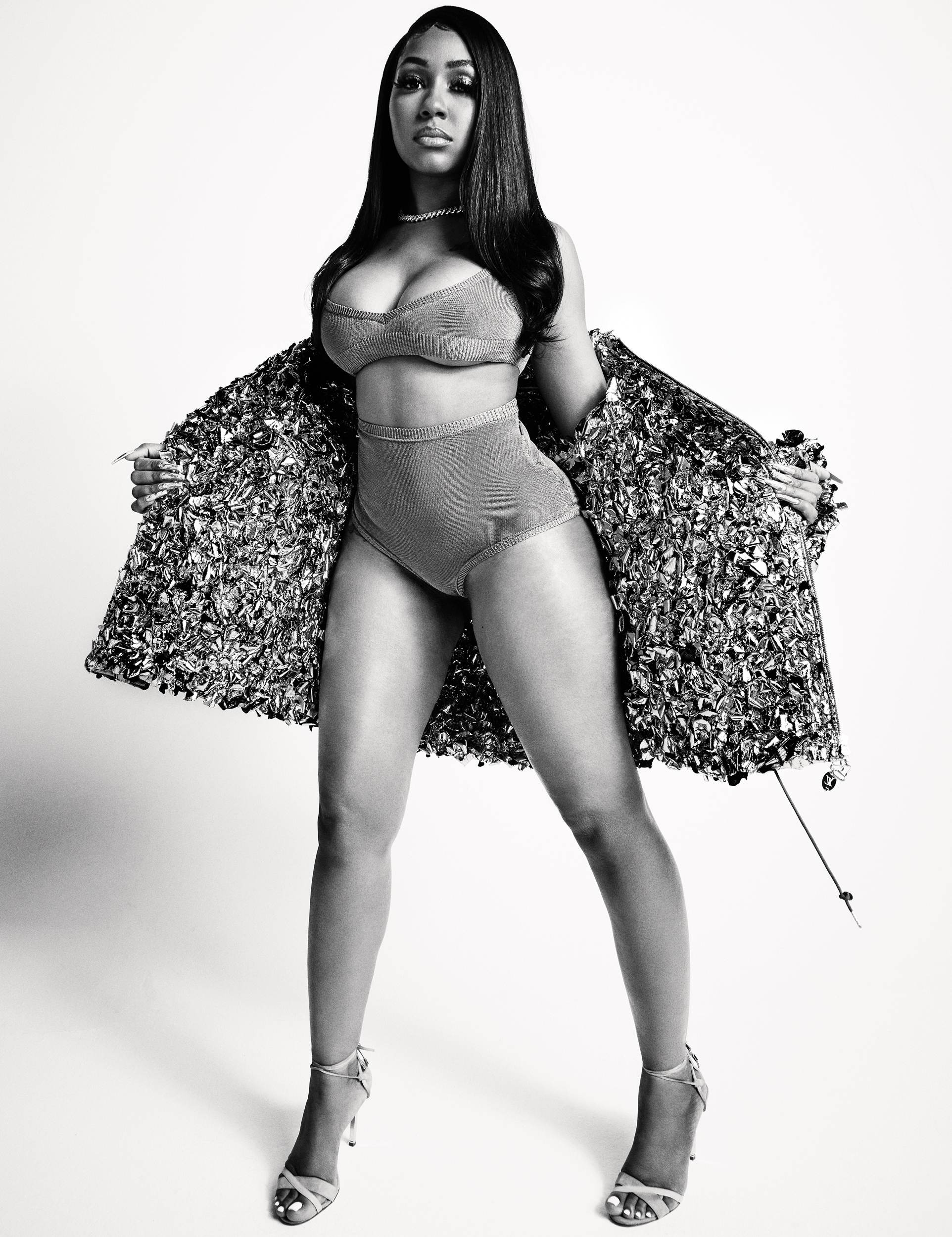 What's the key to getting along as friends in the business?
JT: We give each other freedom to be whoever we wanna be. We both do our own thing. And then we come together when it's time to make our music. But she not clocking me, and I'm not clocking her so it's not…
Yung Miami: It's not aggravating.
JT: Yeah, I'm not controlling how she raps. She's not controlling how I rap. Sometimes, groups fall apart because somebody in the group think they a boss. We don't do that. And we respect each other. What do fans get wrong about you guys and your music?
JT: Man, lemme tell you something. Put this in the magazine. At this point, I don't give a fuck what nobody think. Dead ass. These people gon' make up what they gon' make up anyway. They don't know me. They damn sure don't know her. So I don't care what they think. Twitter and the internet world have got out of control. Period. It's out of control. People gave the internet an inch, and they done took a motherfucking mile. People doing things for tweets, viral moments, comments. It's not even genuine hate no more.
Yung Miami: You could give a million dollars, and they be like, "All you donated was a million dollars?" You could be a fucking perfect person in the world, and they still gon' pick out something about you that they don't like. At the end of the day, it's your life. You cannot live to make other people happy.
What other platforms are you considering beyond music?
JT: We are the It girls. We could be made into anything. We could be made into movie stars. We could be made into fashion icons because we're beautiful girls, and we're trendsetters, and people love our lingo. People love us. I see us in movies, on runways. I see us on the cover of magazines. Everywhere.
Yung Miami: I wanna do acting 'cause I watch movies a lot and I'm like, "Damn, I could've played that role". I wanna model. I wanna be every fucking thing. I wanna be like Rihanna. I wanna be able to do a clothing line, a lingerie line. There's no limit.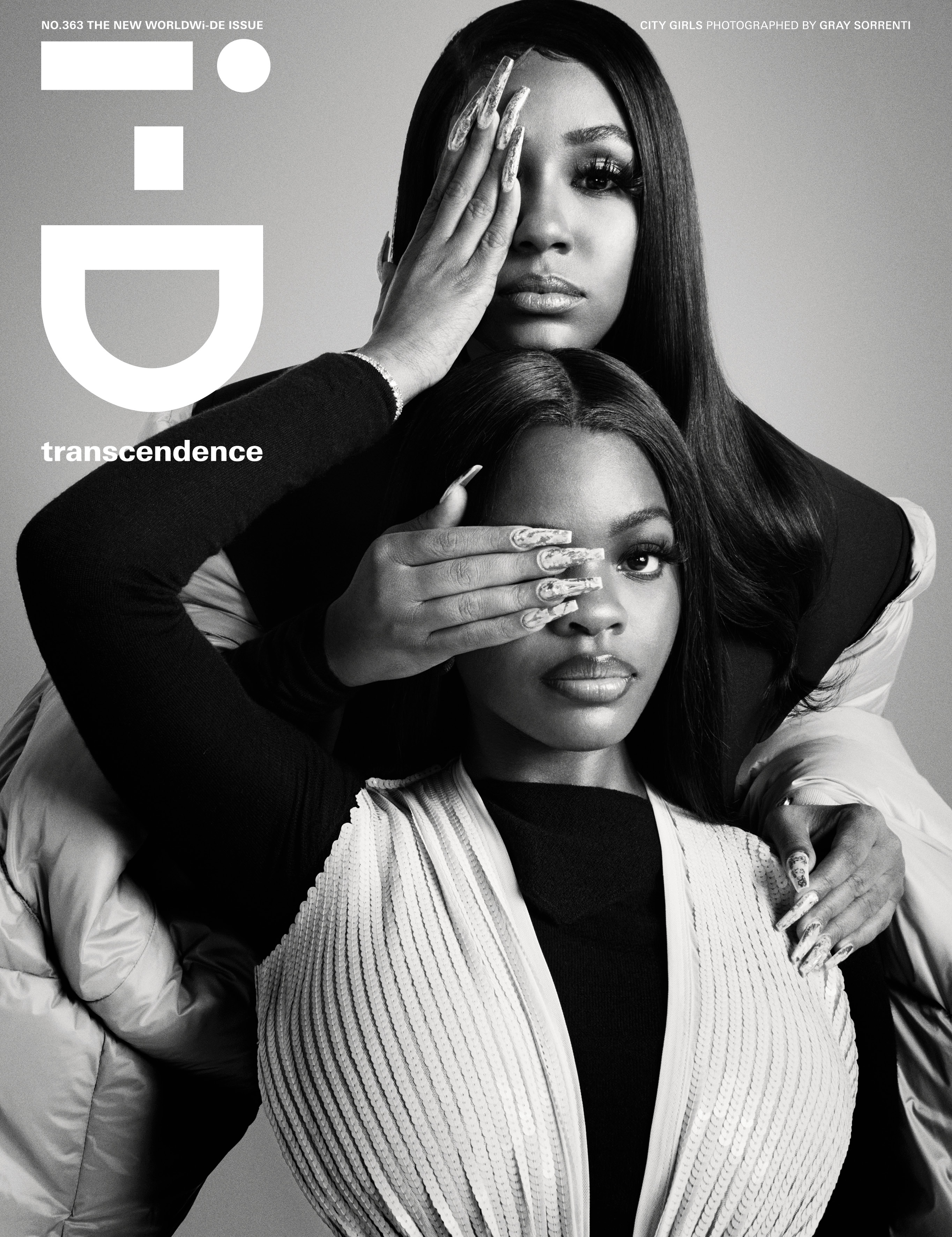 Credits
---
Photography Gray Sorrenti
Fashion director Carlos Nazario
Hair Jawara at Art Partner using Dyson and Fekkai.
Make-up Frankie Boyd at Streeters using Pat McGrath Labs.
Nail technician Tenille Daly at Moya Moya Sea Of Creations LLC using Aprés Nails Official.
Photography assistance Jared Zagha and Jose Arizmendi.
Digital technician Carlos Rojas.
Styling assistance Christine Nicholson, José Cordero, Alexa Levine, Jennifer De La Cruz and Cari Pacheco.
Tailor Thao Huynh.
Hair assistance Matt Benns and Terrie Comrie.
Make-up assistance Meghan Yarde.
Production JC Brillembourg.
On set producer Lissandra Giangrandi.
Production assistance Andres Montbrum.
Casting director Samuel Ellis Scheinman for DMCASTING.