What to watch now that you stan Sydney Sweeney
The 'Euphoria' star has well and truly won us over this season. Here's her other must-watch movies and TV shows.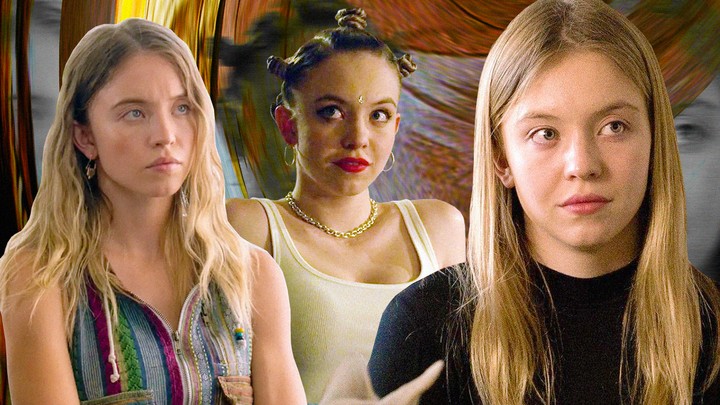 Sydney Sweeney has been grafting for over a decade in movies and television, but it's only in the last year that she's started to really make a name for herself. Euphoria season one felt like her breakout smash, but even then, her heavy storyline — about slut-shaming and abortion — garnered less attention than the stories of characters played by Zendaya, Hunter Schafer, Alexa Demie and Barbie Ferreira. But following her role in the hugely successful HBO miniseries The White Lotus last year, and her iconic moment in episode one, season two of Euphoria — in full meltdown mode as she hides her illicit hookup with Nate from her bestie Maddy — it feels like Hollywood is Sydney's for the taking.
So now you're j'obsessed, what else has she been in that's worth watching? Well, lucky for you — quite a lot actually. Here's a rundown of our favourite Sydney Sweeney projects you can stream right now.
The White Lotus
Of course, the current Sydney Sweeney moment really started last summer, when The White Lotus dropped on HBO Max. The Mike White-created satire chronicled the disparate lives of staff and guests at a holiday resort in Hawaii, and Sydney's character — alongside our queen Jennifer Coolidge, who's returning for a second season — stole the show. In it, she plays Olivia, the cold, calculated college sophomore daughter of a tech CFO. The show's anthology format means she won't return for the next season, so here's six episodes of discomfiting, smart television that she dominates.
Clementine
At the same time Sydney was deep into work on Euphoria, before the mass hysteria, Clementine premiered at the Tribeca Film Festival. The movie, a slow-burning indie drama, sees Sydney play the young love interest of a woman escaping her unhappy life and marriage in LA, before meeting Sydney's character in an idyllic setting in the Pacific Northwest. But the relationship isn't so straightforward; this queer drama becomes something of an erotic thriller.
Under the Silver Lake
In early 2018, Sydney's career was formally kicking off. She'd spent a few years doing guest spots in TV and appearing in short films, but David Robert Mitchell's Under the Silver Lake was a starrier, buzzier festival movie. Her role in this is something of a 'blink and you'll miss it' turn — she plays Shooting Star #2 and her name was even misspelled in the credits — but as a taster for the pulpy, culty stuff she'd soon become a part of, this LA-set neo-noir starring Andrew Garfield is an interesting step in her trajectory.
The Handmaid's Tale
2018 also saw Sydney step into her first big television role, as a supporting character in the second season of The Handmaid's Tale. The show — which you'll know, takes place in a dystopian reality in which fertile women are forced into child-bearing slavery — had just won a handful of Emmys, and was one of TV's hottest properties. Sydney plays Eden Blaine, a teenage girl and so-called 'econowife' to Max Minghella's Nick Blaine.
Once Upon a Time… in Hollywood
Compared to the other sun-bleached LA movie she played a part in, Sydney had a little more to do in the most recent Tarantino. Set in the 60s, Once Upon a Time… in Hollywood follows the intersecting lives of a down-and-out actor and a stunt double, all while the city goes through a moment of change. There's a subplot, too, exploring the Manson murders, which is where Sydney's character Snake comes in. Based on the real life Manson girl Diane 'Snake' Lake, she's seen trying to hitchhike with Margaret Qualley's character Pussycat.
Everything Sucks
Before she took over the hallways of Euphoria high, Sydney made her Netflix debut in this 90s-set series. Everything Sucks is set in an Oregon town called Boring. It follows a group of nerdy AV club (that's a film group for any non-USers) and drama students as they try and prove their worth in the school's social standing by making a movie together. Of course, it's never straightforward, and the show captures the creative and personal ups and downs of these 16-year-olds as they navigate love, queerness and friendship. Sydney's Emaline finds herself at the centre of it.
Sharp Objects
The late Canadian director Jean-Marc Vallée's final directorial project was a television adaptation of Sharp Objects, a psychological thriller from the writer of Gone Girl. Amy Adams played the lead, a journalist named Camille grappling with her own spiralling psychosis as she heads back to her hometown to report on a murder. It leads her to a place where she meets Sydney's character, Alice, and together they bond over a shared, morbid experience — to say more would spoil the show.
Follow i-D on Instagram and TikTok for more on Sydney and Euphoria.
Tagged: