Check out Bottega Veneta's new platform for creative encounters
Ahead of Matthieu Blazy's debut show, discover the spirit of the Milanese house wherever you are.
|
25 February 2022, 1:11pm
Image courtesy of Bottega Veneta
If you've found yourself here, then you are no doubt just as excited for 7pm GMT on Saturday 26th February as we are. If that's left you scratching your head, though, then we'll let you in on why: in just two days' time, Matthieu Blazy will be making his debut at the Bottega Veneta!
Of course, it wouldn't be a big event without ample build-up. Accordingly, in anticipation of the main event itself – which marks Bottega's return to the Milan Fashion Week schedule after three seasons' worth of intimate Salon shows staged in London, Berlin and Detroit – the iconic Milanese house has rolled out a series of activations that allow you to bring Bottega to life wherever you are.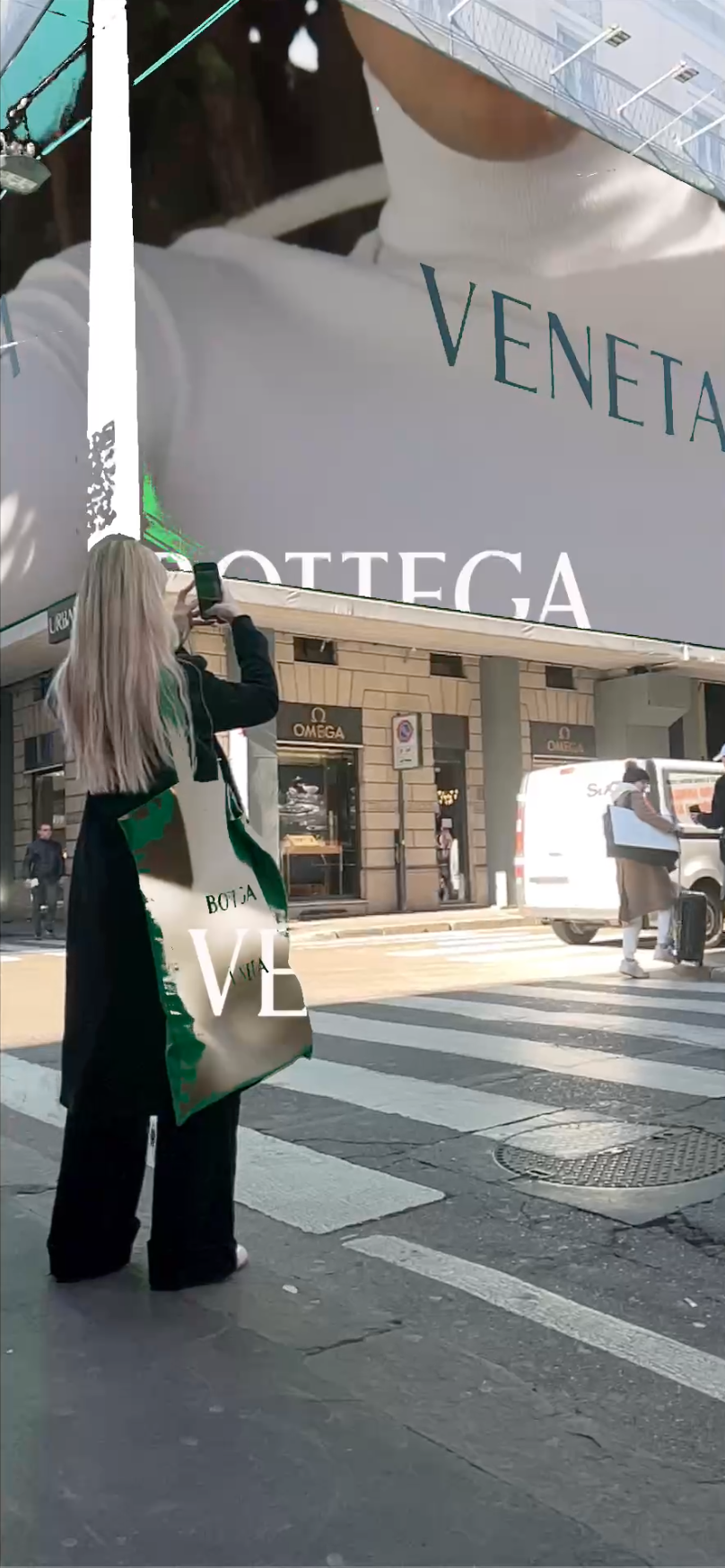 Sounds exciting, right? Well, it becomes even more exciting on finding out that all you need to do so is your phone and access to the App Store or Google Play. There, you can download and activate the label's custom-built platform for creative encounters, and bring the spirit of Bottega Veneta to life.
How, you ask? Well, just look around! Wherever you spot a flash of Bottega Veneta's signature parakeet green, open the house's digital door to creativity, point your camera, and you'll see an exhilarating stream of photography, film, music, movement, and sound appear before your eyes – it's regularly updated, too, so all the more reason to keep checking it out!
Though it'll live on beyond Saturday's show, It's also where you'll be able to tune into a livestream of Matthieu's much-anticipated debut. If you find yourself in Milan in the run-up, a couple of tips on where to try it out include the house's billboard on Via Montenapoleone (just around the corner from the flagship store, FYI!), the green-blocked windows on Piazza San Fedele, the many bus stop advertisements you'll spot around town, or even the seats of the city's trams!
You don't need to be in the house's hometown, though. Whether you're copping a pair of parakeet green Puddle boots or lounging on a verdant lawn, let Bottega Veneta transform the world around you into a literal green screen. See you on Saturday!
Tagged: