Photography Mario Sorrenti
Meet Violet, the progressive global skate crew
The international collective, led by Bill Strobeck, represents an evolution in skateboarding.
Photography Mario Sorrenti
This story originally appeared in i-D's The Out Of Body Issue, no. 367, Spring 2022. Order your copy here.
One autumn evening last year, Efron Danzig had just wrapped up an UberEats delivery. She biked over to Muni – "the plaza in Philly where everyone skates" – to say what's up to some friends. Legendary skate videographer Bill Strobeck happened to be there, too. She'd seen Bill at Muni before. He'd even filmed her trying a trick over a trash can (she landed it after he'd stopped filming). That night, she wanted to try again. Bill was down. "Efron and her friends are like an 80s movie crew to me – like something out of River's Edge," Bill says. "She's flawless at skating and so fun to be around. The first time I saw her, I was automatically like, 'What's up with her? How has no one been filming her every day of her life?'"
At that point, though, Efron didn't know it. "I'd barely talked to Bill at all – plus I still had my delivery bag on, and didn't have my board," she says. "It was getting dark, so I called my friend and begged him to bring my board over to Muni." He did, she landed the trick, and Bill got the clip.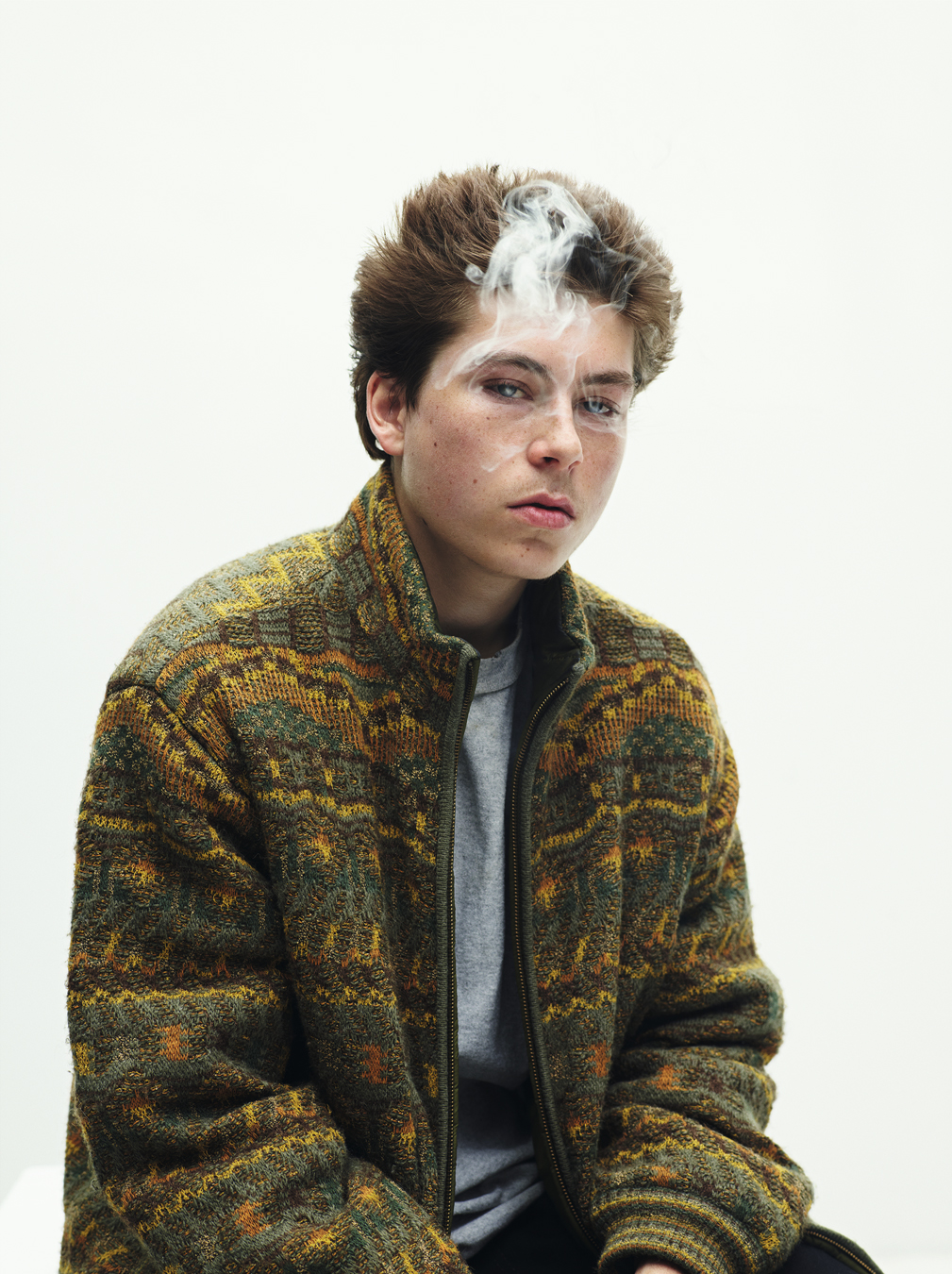 Just a year after their chance encounter, Efron is one of seven exciting young skaters – Auguste Bouznad, Troy Gipson, Seven Strong, Kris Brown, Patrick O'Mara, and Kyle Teh – who Bill has brought together under his new board company, Violet. "They've all got different personalities and styles of skating, but I had that same automatic feeling with each one," Bill says. "I can't explain it – I just want to show people what this crew is about."
Although the team is spread across New York, Philly, L.A., and Paris, there are some deep roots which pre-date Violet. Efron and Kris went to elementary school in Philly together; she says he's one of the most motivating skateboarders in her life. Seven has known Patrick and Kyle since they were eight years old and just learning to skate in L.A. Other friendships are brand new. Auguste first linked with Seven and Troy while filming in Milan. Kyle hadn't met Efron before a recent team dinner, but says he saw a lot of his personality in hers, and they connected off-the-bat. "When they're all together, the energy is vibrant," says Bill.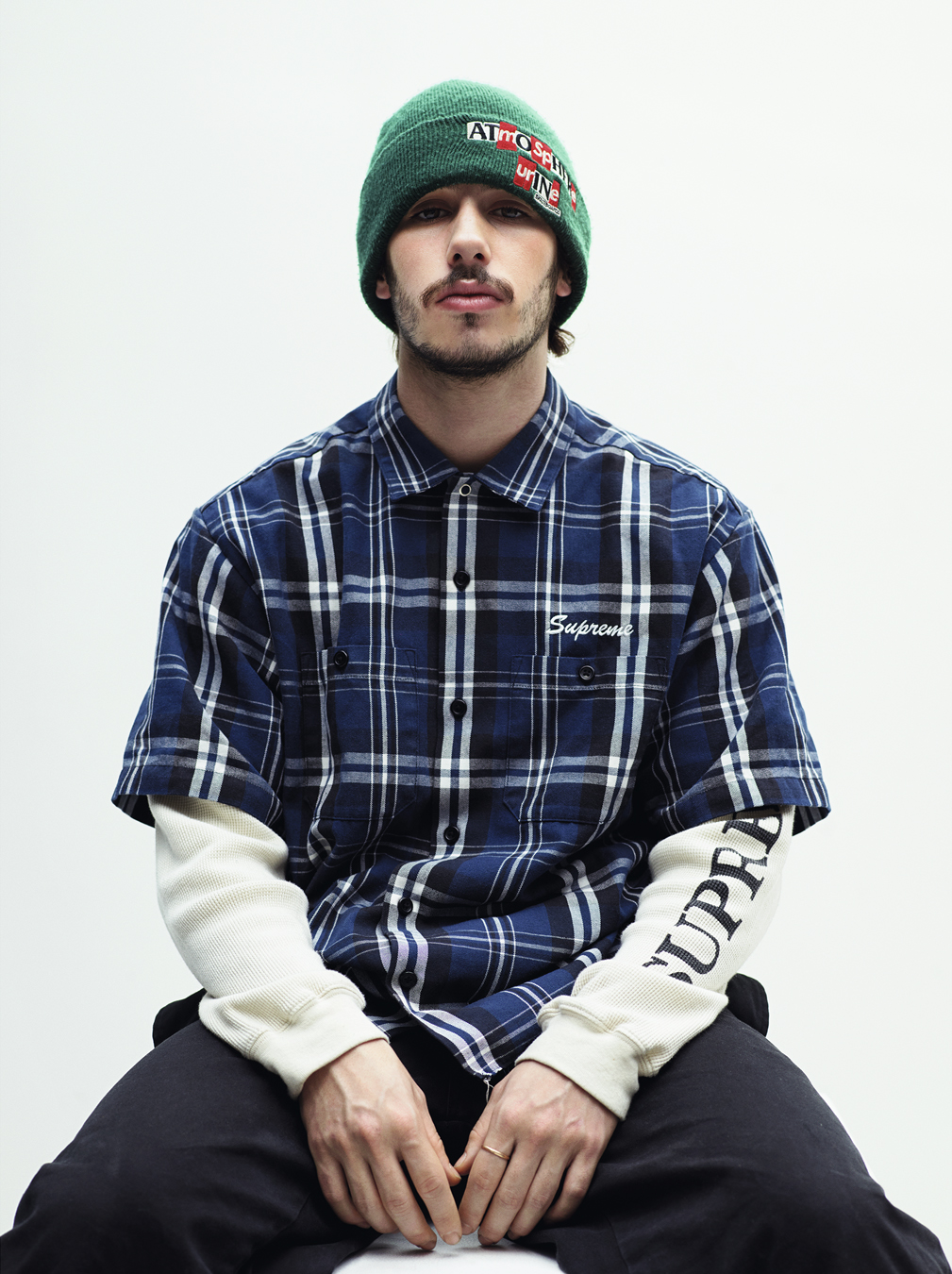 Bill has been filming for nearly 30 years, and has worked with some of the most influential companies in skateboarding's history. Over time, he's developed a distinctive aesthetic and a killer instinct. His best-known work is 2014's "cherry", his full-length debut for Supreme. "cherry" is packed with footage from icons like Jason Dill, Mark Gonzales, Dylan Rieder, Alex Olson, Eric Koston, and Paulo Diaz. But its legacy is introducing the world to a wildly compelling crew of kids that have since become some of skateboarding's brightest stars: Tyshawn Jones, Sean Pablo, Sage Elsesser, Aidan Mackey, Na-kel Smith, Kevin Bradley, and Ben Kadow.
In the years that followed, Bill has documented Supreme's expansion across Paris, San Francisco, Milan, and Berlin with Pussy Gangster, Candyland, Stallion and most recently, Mind Goblin. These videos feature Supreme's ever-expanding roster of skaters trying tricks at each city's storied spots, as well as new crews of local kids who make their scenes feel fresh. Bill's ambitious full-length follow up, 2018's "BLESSED", is a world tour of Supreme's familiar faces.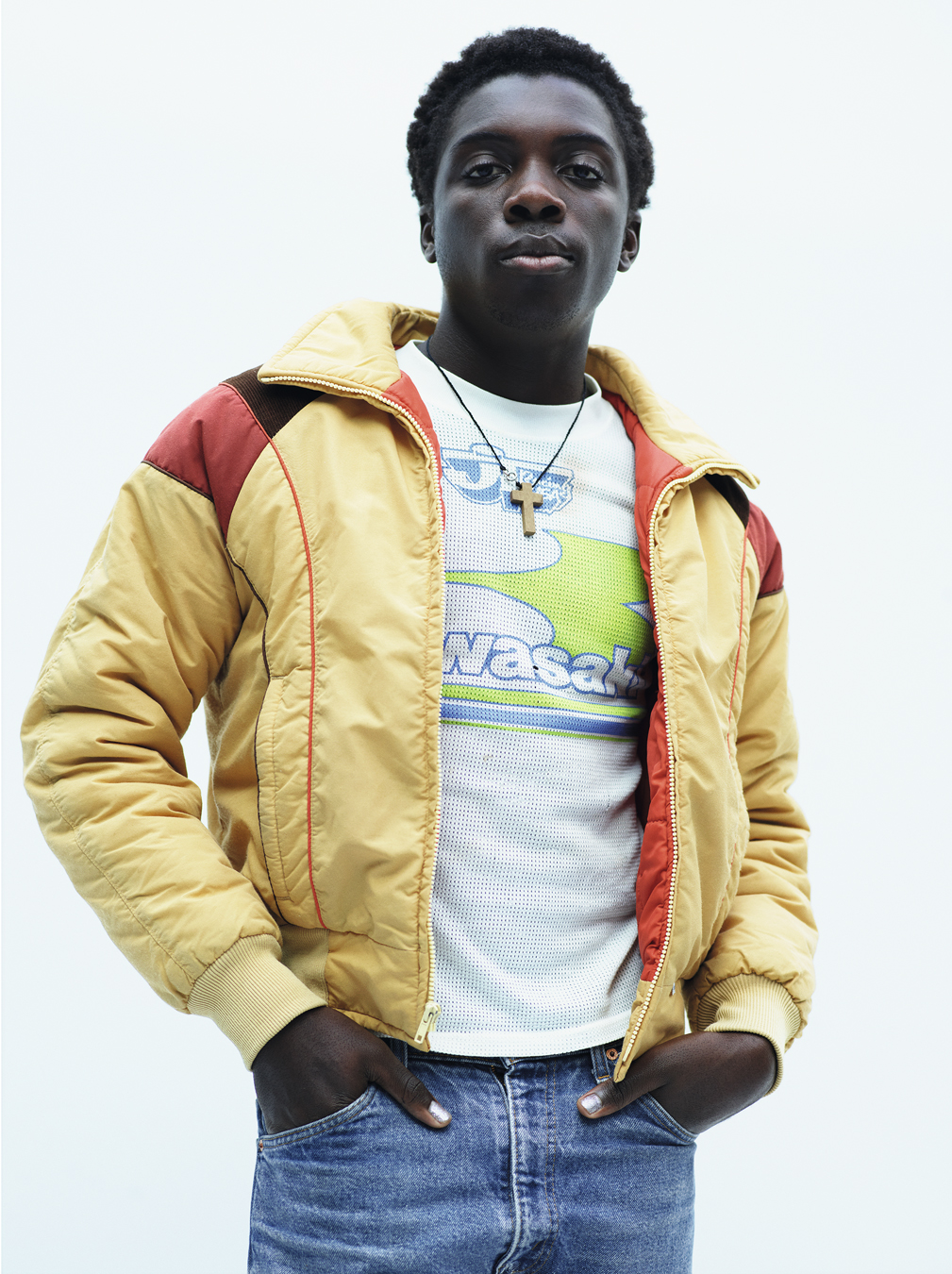 "That time filming "cherry" was really special for me," Bill says. "It felt like it was us against the world – like it was our clubhouse. The fun for me is that Violet feels low-key like "cherry" was." It seems fitting, too, that the company has roots in Philly, where Bill's career began in the mid-90s. Across the street from Muni, at the since-shuttered LOVE Park, Bill filmed Josh Kalis, Stevie Williams, and Anthony Pappalardo. By spotlighting his friends, Bill helped shift skateboarding in a new direction.
"That place oozed what I thought street skating was, and something about Philly still feels grimy and raw," Bill says. "The way people skate there is plaza-style, so there's a bunch of kids hanging out at one spot. A pack of friends over here, some over there," he explains. "You get more than just skating by hanging out at those places. You're living and breathing what a skateboarder is, what the lifestyle is. There's fuckers down there with dirt bikes, there's music playing, there's fights," he laughs.
"I'm looking for positivity in the chaos of the world right now, and that's what the energy of Violet feels like." William Strobeck
Take Stallion, for example. In one clip, Tyshawn leaps up a massive two block before immediately ollieing over a trashcan. In the ending scene, a pack of Milanese teenagers lounge on the same two-block, pass joints and toss their empties into the same trashcan. "That style of everyone being in one place, and everyone's different from each other, laughing and talking shit, is why I even do what I do," says Bill. "It's entertaining." This eclectic ethos guides Violet, too. Bill sees the company as a platform to showcase all facets of its team. "When I was younger, you picked one thing and stuck to it. But the youth today don't limit themselves. They want to do everything. And everything is pretty accessible now, so they can try and see."
"There's a system to skateboarding, and to determining who 'deserves' to be pro," he explains. "Some of the kids on Violet are real mellow with the skate thing, but to me, they deserve what everyone else deserves. They deserve sneaker sponsors, they deserve to be on a company that they like – one that feels like it's their thing. They deserve that just for being themselves. In my mind, that's how the early Supreme dudes did it. Any party that the whole crew rolled up to, they were in. I want that for these kids."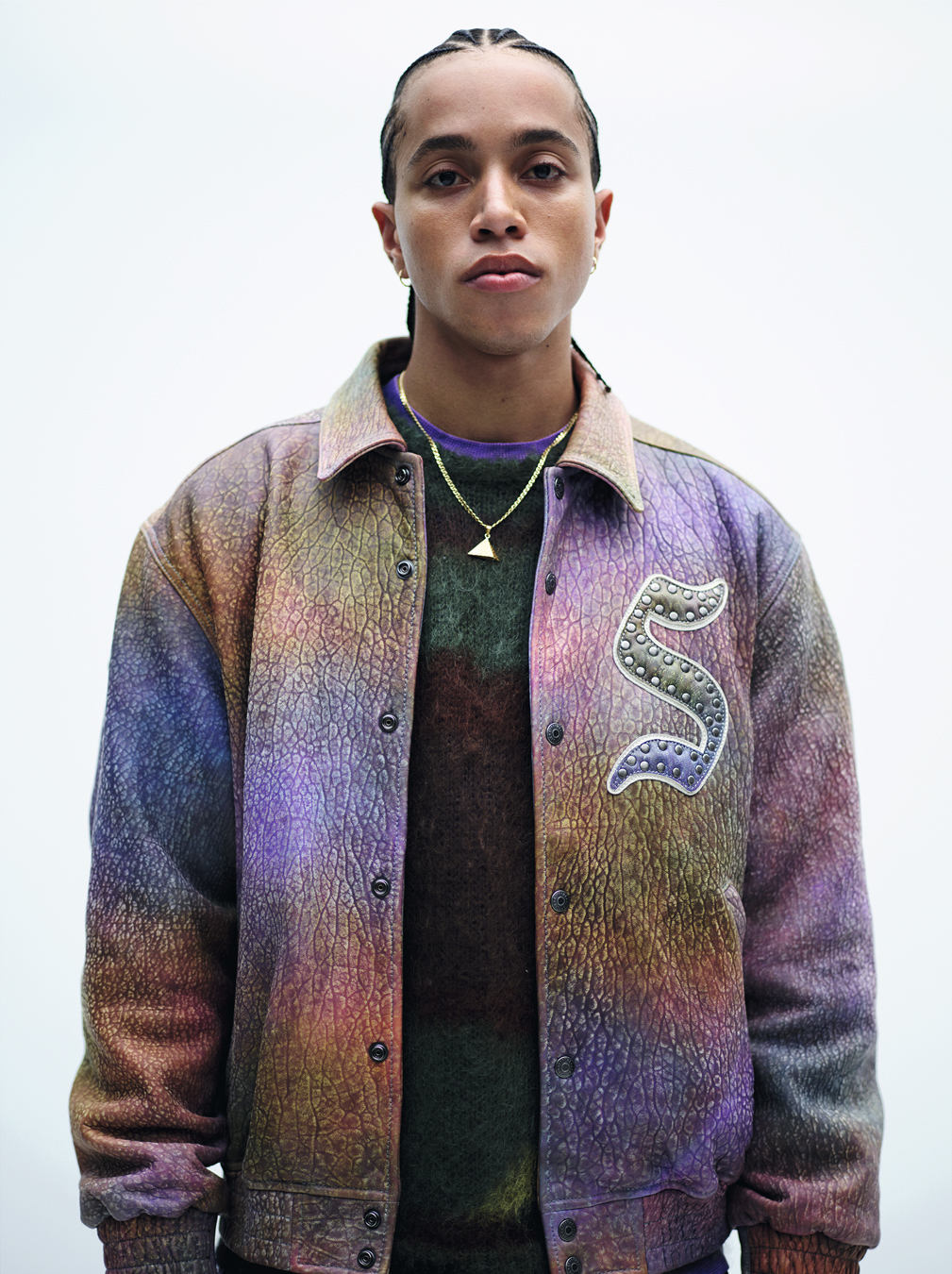 "Being in New York, Bill is surrounded by people who are doing different things in art, in fashion, in music," Kyle says. "So he's been super accepting of me not only being into skating, but also wanting to move in other directions with art or fashion. Everyone else on Violet is doing something that's not just skateboarding, too. To me, it's a progressive skate company."
"I've been thinking of it more as a creative outlet rather than a skateboarding company," Seven reflects. "Everyone on Violet has amazing style on and off the board. And Bill gives us a lot of input – if we want something made, he figures out how to make it happen." "Our words have weight," Efron adds. Bill is reluctant to confirm exactly what Violet product or video projects he's got in the pipeline (when we talk, the first run of decks is somewhere piled in his East Village apartment – he says they turned out better than he imagined). He likes to keep things mysterious for others, and surprising for himself.
"I'm looking for positivity in the chaos of the world right now, and that's what the energy of Violet feels like," Bill says. "With all the grim shit going on, I'd like to try to do something that originates from that positive place, and showcases this crew along with it. Violet will be shared ideas between all of us. If they wanted to make something that wasn't what I would ever wear or skate, I'm not gonna be closed off about it. I'm down. I want the world to have what they come up with as well. Let's see what happens."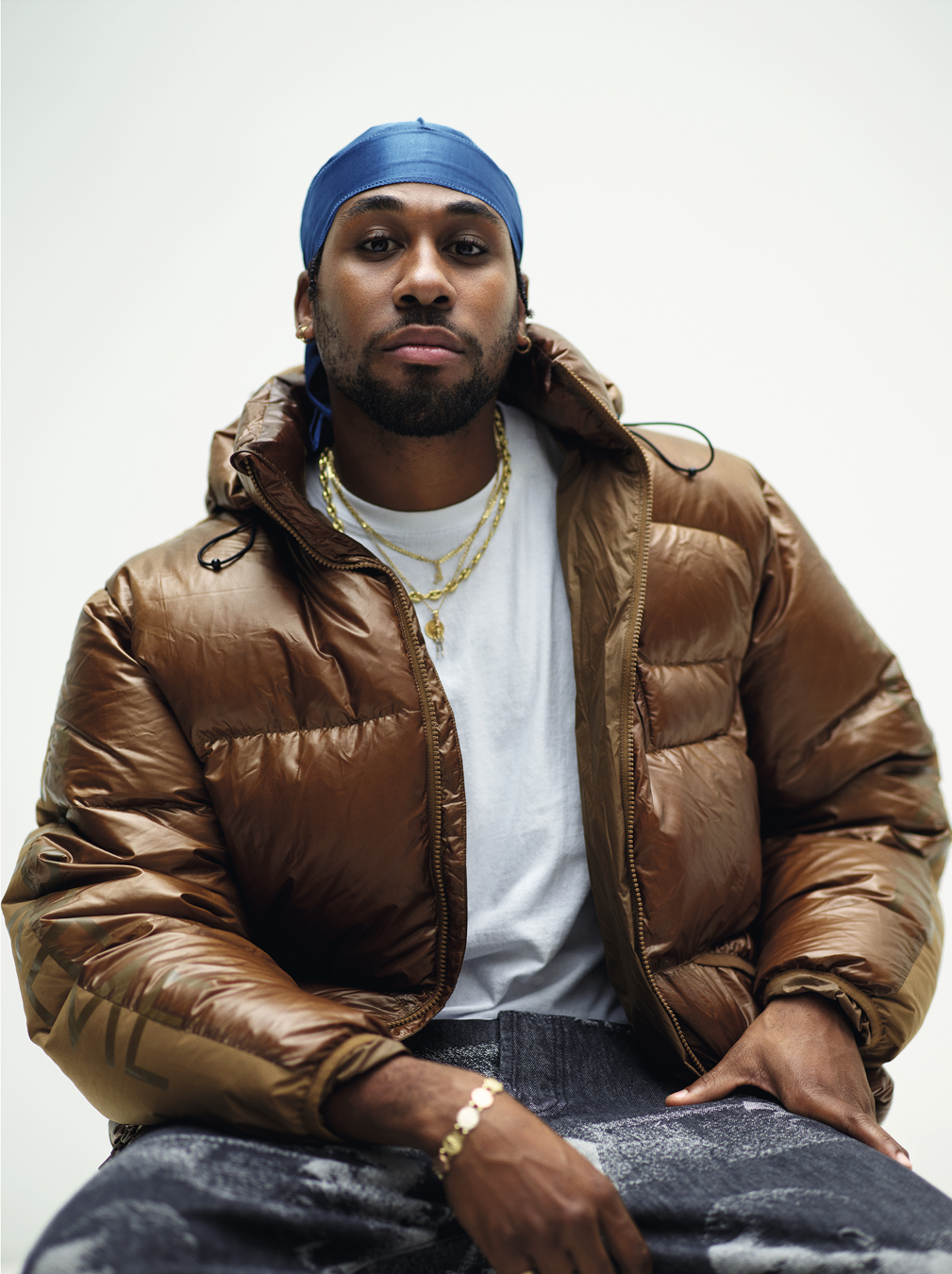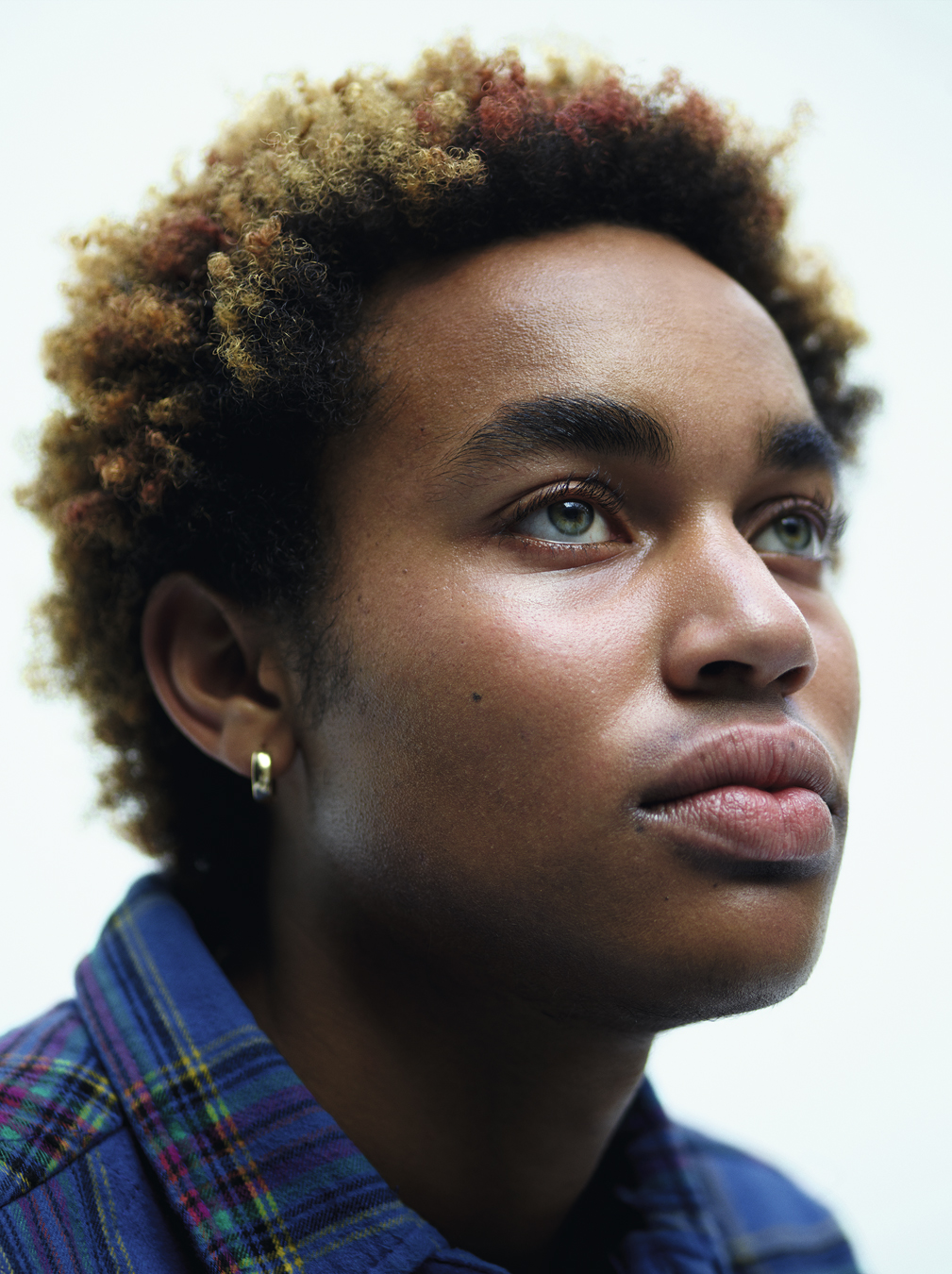 Follow i-D on Instagram and TikTok for more on skate culture.
Credits
---
Photography Mario Sorrenti.
Grooming Kristian Kanika at The Wall Group using 111Skin and Oribe.
Photography assistance Kotaro Kawashima and Javier Villegas.
Digital technician Chad Meyer.
Production Katie Fash, Layla Néméjanski and Steve Sutton.
Production assistance William Cipos.
Models Patrick O'Mara, Auguste Bouznad, Kyle Teh, Seven Strong, Efron Danzig, Kris Brown, Troy Gipson.
All clothing models own.