Natasha Lyonne and Humberto Leon talk art, friendship, and The Linda Lindas
The Opening Ceremony co-founder directed a cat-inspired music video for the band's single 'Growing Up'. Watch an exclusive cut of the film here.
Photography Sandy Kim
In the summer of 2014, Natasha Lyonne needed a dress. The actress — who made her first on-screen appearance aged six — was starring as fan-favourite Nicky Nichols on Orange Is the New Black. The buzzy, groundbreaking Netflix show had been nominated for five Emmys, and she needed a red carpet outfit that would make her feel confident, comfortable, effortless.
"I think she could have gone to so many people, and she decided to come to a friend," says Humberto Leon, founder of Opening Ceremony, former creative director of Kenzo, and one of Natasha's best buds. Over the phone, the designer recalls the start of their relationship: the pair met "through Chloë Sevigny originally," running in overlapping, high-brow creative circles in 00s New York.
Despite custom looks not generally falling under OC's remit, Humberto was thrilled to be part of the start of this new era in his friend's life. "I put her in this navy blue fishtail dress," he says. "Natasha has an amazing knack for the classic and the kooky, and I was so excited to make it for her." Nearly a decade later, Humberto is at the beginning of his own period of creative transformation. Having made his vibrant directorial debut with the iPhone-captured, cat-filled music video for "Growing Up" by The Linda Lindas, the legendary fashion designer is looking to broaden his artistic horizons even further.
Natasha couldn't be more excited to see him grow and thrive in a new field. So when we conference in to talk about the extended cut of the film, today premiering exclusively on i-D, she can't help cutting me off. "Sorry," she says in her characteristic New York rasp. "I'm going to steal your question."
Natasha: So Humberto, how did it feel getting behind the camera for the first time? For The Linda Lindas, no less.
Humberto: You know what? It was really fun because I wanted this project to be done in collaboration with the girls; I really wanted to use this opportunity to blow their minds. Whether it was asking them who their favourite designer was, bringing those references to life, getting them to design clothing for it — it was amazing. Telling the story with them was just super, super fun.
N: Can you tell me a little bit about that? Because Shirley Kurata was the costume designer, right? And you guys have a long existing relationship. Is that true? Am I making that up?
H: No, it's true. I mean, the girls are these punk rock teenagers that are just amazing people. Shirley and I share the same kind of cultural, music background. It was really easy for us to talk and just give them some aesthetics that we thought would be fun for them. When I asked the girls who one of their favourite designers was and they said Batsheva and Rodarte. So I got the girls to design clothing for Batsheva, and they made all the jumpsuits and things in the video. It was the first time the girls had ever designed clothing, and saw it come to life. And then Bathsheva made matching cat outfits for the cats.
N: Can we talk about the cats? Specifically, the cat berets. How did you even get those tiny little berets on those tiny little cats?
H: Oh my god, those cats were professionals. They were probably among the most professional people on set. I have this theory that cats stay with you for life until they pass away. With kids, when they grow up, they leave you. So I really wanted this analogy where the girls are feeling jealous of the cats because they get to stay in this one home forever. And I wanted the cats to be jealous of the girls, because the girls get to see the world instead.
N: Will you tell me a little bit about your production designer and your cinematographer? I mean, I know that you shot it on the iPhone 13 Pro. It has this really DIY style that looks so great when we see it, but it obviously takes a ton of work to make something feel so special, homemade and personal.
H: The first person I wanted to work with was Jeff Leeds Cohn, and he was my DP on this. And the first thing he said was, "What do you want?", and I said, "I really want you to act like a cat. I need you to be nimble, and I want everything to be shot from a cat's point of view." And so the iPhone 13 Pro was, for me, one of the key ingredients. Because I needed him to be able to move around. I mean, he was on the floor jumping up onto a bed. So we were really trying to get him into these weird positions to be cat-like, and that was so fun. He was super game, which was so great. For the production design, I really wanted to embrace the girls' energy. So [Hanrui Wang and I] basically brought out a magical version of the girls' home. It was using a lot of their own personal stuff to make that video come to life.
N: How did you first come upon The Linda Lindas? For me it felt like my algorithm just really knew what I would like, which is both harrowing and, I guess, positive. Or maybe I first saw them on Carrie Brownstein's Instagram or something.
H: You know, I think it was during the whole Asian hate thing that was going around. They wrote this song that was super powerful and super punk rock called "Racist, Sexist Boy". And it was about a personal experience that the youngest girl, Mila, had with a schoolmate where he said to her, "Don't hang out with Chinese people. They're gonna give you COVID." And she was like, "I'm Chinese, and I'm gonna write a song about this." It was that sentiment that made me think, "Fuck, these girls are so badass." They had said everything that I had been wanting to say, and I just wanted to do whatever I could to be a part of their world. So I invited them to my restaurant — they live in my neighbourhood — and they came by. Right when they sat down, I said, "I want to make a music video for you." And they were like, "Oh my god, we have an album coming out. Perfect timing!"
N: Well, the video really feels like such a special moment in time, probably because we know that they're just gonna grow up into legends. It's capturing them at such a special moment. Also, I love your restaurant. But I really, really love the video and how you captured them. I wish it was a whole movie. Do you want to continue making music videos? Where's your head at with directing?
H: I've been having a lot of fun just doing things that I feel like! I made a commitment to retire the "old me", which was just having a one-track view on life. And my "new me", that I've rebirthed, is trying everything that I don't know how to do, and in a manner that is naive and fun and silly. I'm just really kind of checking off things that I've never done before. I want to do more music videos, I love the idea of writing a feature. I'm just kind of playing around with all these different things that are all storytelling, so they all feel similar to me.
N: Well, unfortunately, you're so brilliant and precision-oriented and such a visionary, I think it can be very tricky for you to retain that sense of naïveté. But I admire that life approach, of doing new things. It does feel like everything you touch turns into something so incredibly special, specific and personal. It's really something, to see how limitless the scope of your creativity and vision is, and how organically it touches any media you find yourself interested in.
After I was in Carrie [Brownstein's] short for you at Kenzo, you were just like, "Well, now you should do this." And I was always so terrified of directing. But you were just sort of insisting that it made sense for me to do it. And you were so convincing that I called Maya [Rudolph] on the phone and said, "Hey, I guess I should direct right?" And that was my first short film ever. You're such a natural collaborator; understanding how things should make sense — it's incredible what that inspires in people. Even hearing what you're saying about The Linda Lindas, you really seem to know exactly what buttons to push to get people to realise their own potential.
H: Oh, thank you. Being so close to you at that time when you were working on all these projects and bringing them to life — that alone felt really inspiring for me. The work that we created, and that film that we created is so special that it'll live on. And it was so cool to see Russian Doll come out after that… All this cool stuff was coming out and I was living it in the moment with you.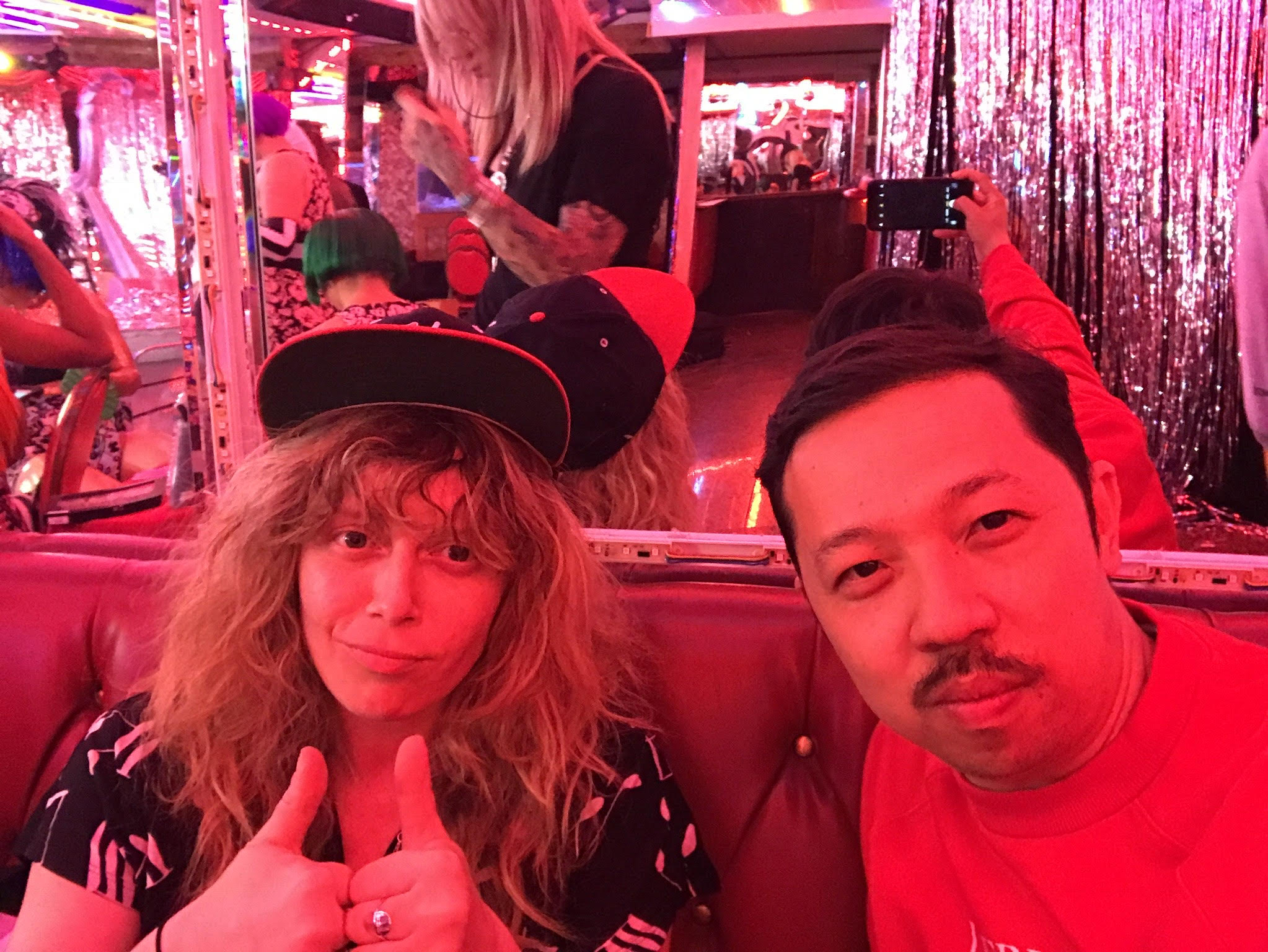 N: Poor Chloë [Sevigny], I remember that I made her watch the Kenzo movie that we did maybe 40 times. Do you have an inner circle like that? Obviously you know Chloë as well, and we know each other. But is Spike [Jonze] like that for you?
H: I do, yes. Spike is one of my go-tos for any advice I need. Anything I work on, I show him everything along the way. He has been an amazing mentor who really pushed me to do things differently; to really question everything in the right way. So I think I have that too. And I'm lucky I have you and Chloë to bounce ideas off of. I feel like we have a very special community.
N: I know, it's true. And I'm very excited that The Linda Lindas are now part of our community, because they're just extraordinary. I was so struck by that song, too. I mean, they're just like rocketships. Who are these extraordinary young women? I'm so excited to see what they're going to grow into. Sometimes it just feels like everything is so bleak, but then you see this other potential future, the opposite of a dystopian one. It's like, maybe the kids are alright, and we might be okay.
H: So true. I mean, I have kids too and I'm so inspired by them. And I would love my kids to be inspired by [The Linda Lindas].
Tagged: