Photography Greg Kessler. Images courtesy of Peter Do
Peter Do lays its foundations anew for AW22
The buzzy New York label presented a collection that served as a manifesto for its design ethos, while keeping sights firmly focussed on the future.
|
16 February 2022, 3:10pm
Photography Greg Kessler. Images courtesy of Peter Do
Peter Do is done with the past. That may sound like a stern about-turn from the mood that coloured his namesake label's SS22 show, a rumination on its stratospheric rise to becoming one of New York Fashion Week's young flagships, and nostalgic memories of family pho-making rituals and lost loved ones. For AW22, however, the designer's sights are set firmly ahead. "I wanted to cement last season as a moment of arrival," Peter said in a pre-show preview. "With this collection, though, I'm thinking about the future. I'm not looking backward."
Titled 'Foundation', the collection essentially serves as a grounding manifesto – the "preparations for building a house from the ground up," he says – reiterating the signatures that have earned the brand one of the most avid cult followings in fashion right now. Presented against a suite of ambient Rothko-hued giant screens at Genesis House – the New York flagship of the buzzy Korean electric car manufacturer – the show's set was a notable departure from the cinematic romance of the soaring Manhattan skyline that set last season's stage. "It almost feels very Blade Runner," Peter muses.
That techy, neo-noir spirit permeated the clothes themselves. Supplanting last season's blush-hued embroideries, the hand-placed crystals, the swooning contours were hard graphic lines, crisp, collarless pleat-fronted shirts styled with armour-like leather boleros, boxy tailoring in diagonally-placed black and white blocking, and chunky triple-belted waists. "This season was really about presenting who the Peter Do woman is for me," Peter said. There's a strong sense of self to her — a singular point of view."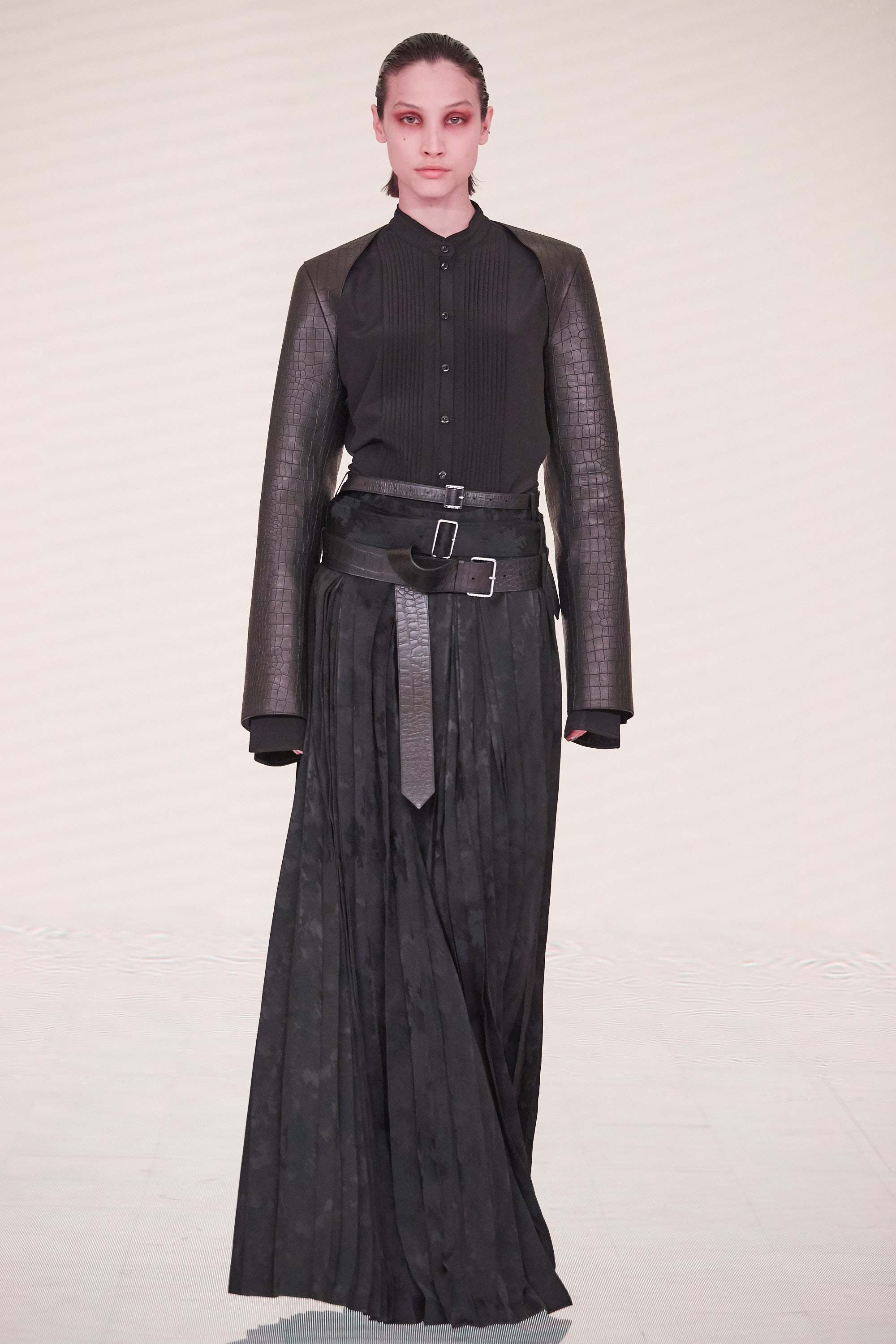 Sharp as that perspective may be, here, it was tempered by a svelte sensuality visible in trailing backless halter vests in dry wools, buttery leathers and fuzzy shearlings — all doubling as scarves — and column dresses slashed down the décolleté in shimmering sequin-bonded jersey — despite the shimmering night-time glamour it exuded, wearing it "feels just like you're wearing sweatpants," Peter assures.
While this season may have been about laying a fresh foundation upon which to build, that's not to say that it entailed a total wardrobe overhaul for the Peter Do girl. "We always take out things that we've done in the past and restyle them into the new collection," Peter says, with examples this season including shirts once issued in stiff wools that were subtly tweaked and reimagined in satin, and the return of the label's emblematic pleated-skirt-over-wide-legged-trouser silhouette. "The Peter Do woman is definitely an outfit repeater and this is a collection cements that idea," he continues. "It's about exploring how you can play with familiar garments a bit more, rather than constantly seeking for newness"; asking: How do you tweak a familiar garment to just the right degree that it feels fresh?
Ultimately, though, while the collection marks the turning of a fresh leaf, it's still a bold vindication of the work that Peter has been doing since founding the brand in 2018. As ever, it's a body of work that comprises pieces that are irrefutably elevated, but that don't feel out of place when brought to life in the real world. "The end goal for me is always that I want people to wear this product," Peter says matter-of-factly. "I want these pieces to have a place in the world — that tread a fine line between not being boring, and being things that you can wear all the time. With this collection, we're just scratching the surface of what that can be."