Where Do the Noses Go by Xinyi Cheng
These sensual paintings explore the complexities of intimacy
Chinese artist Xinyi Cheng tells us about her new show 'Seen Through Others', painting portraits of her boyfriend and why art should be dangerous.
Where Do the Noses Go by Xinyi Cheng
The Chinese artist Xinyi Cheng telescopes interpersonal connections. Her exhibition Seen Through Others — on view at Lafayette Anticipations in Paris (March 23-May 28, 2022) — brings together some 30 works made between 2016 to 2021, featuring figures with inscrutable expressions placed in enigmatic contexts. Her characters wield burning cigarettes, sport elegant mustaches, lollygag in leopard-print boxer shorts, show off errant nipples and dip their fingers into wine glasses. She spotlights friction between itchy toes with the same level of interest she applies to lips searching for each other. Yet when she portrays physical closeness, it's never quite clear how much it conveys authentic intimacy. Her paintings' moody lighting and featureless backgrounds are suspended from any particular present tense, ambiguous and bereft of obvious signifiers.
Xinyi studied sculpture in Beijing, then painting in Baltimore, followed by a residency program in Amsterdam before she settled in Paris, where she's been based for four years. Her work has recently been included in group shows at Collection Pinault — alongside Lynette Yiadom-Boakye, Claire Tabouret and Kerry James Marshall — and in Palais de Tokyo's collective exhibition Anticorps.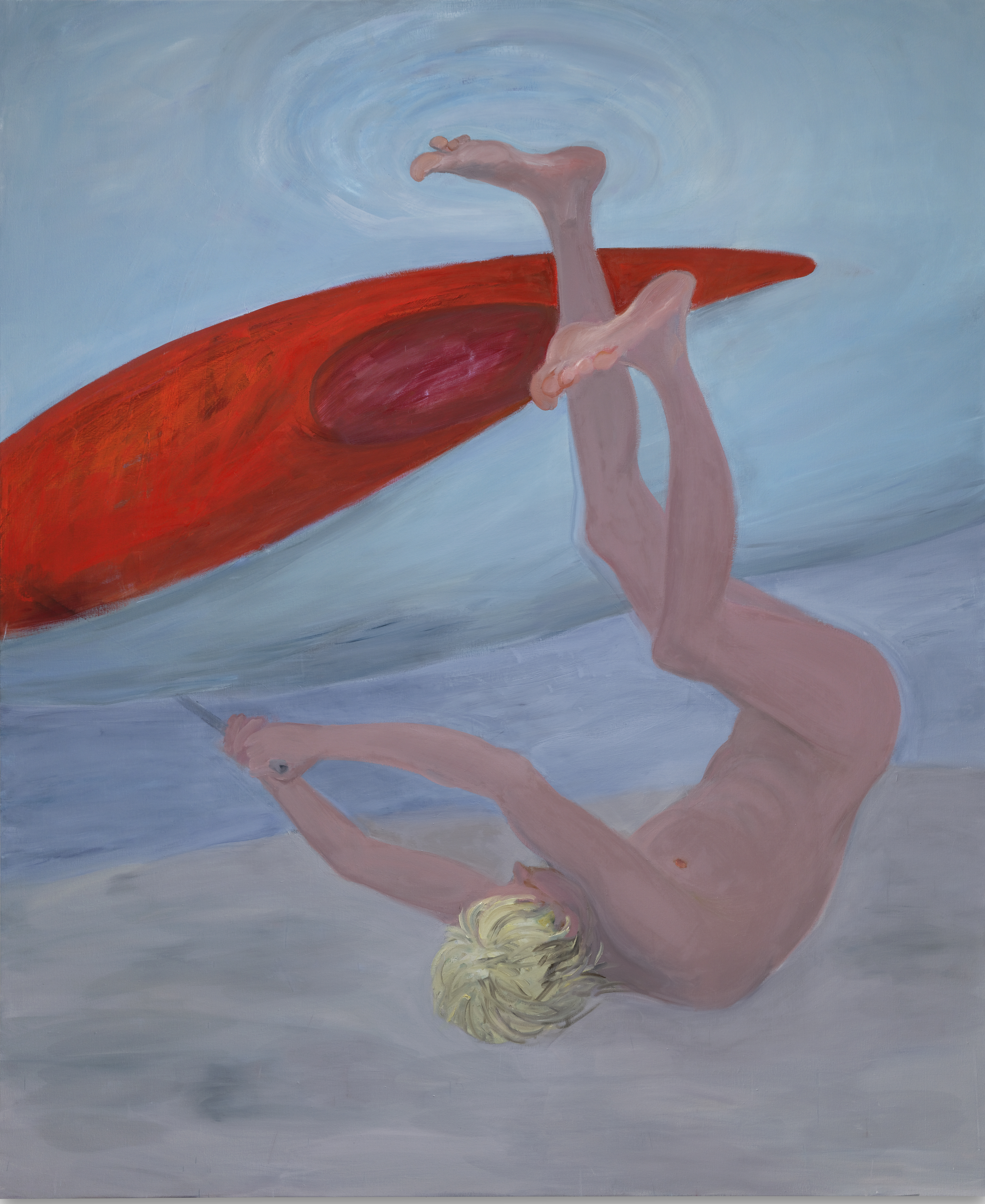 Standing amidst her paintings — namely a naked blonde man capsizing in Red Kayak, and two lean white dogs paddling in Swimmers — we spoke to Xinyi right before the opening of her new show Paris.
How do you land on which micro moments feel worth extracting and fixating on? Do you recognize a worthwhile moment as it's happening? Or is it about what stays with you?
I always have my iPhone with me, and whenever I have the impulse to take a photo, I always do. Over time, I revisit photos I've taken. From everyday objects or moments, I want something specific. In the still lifes I've made, every single thing represents so much of the people [the items belong to]. The new direction I want to take is to work more with my imagination than with photographs. I still need photography as a tool to capture things, but I want [to pursue something] more unreal.
The title of the exhibition is reference to Virginia Woolf. Does reading inform your painting?When I'm painting something, the ideas are small, and I'm looking for the meaning while I'm making it, so sometimes reading helps me to understand what I'm doing, rather than providing inspiration. But I'm a very visual person. I get inspired by encounters, or I look to other paintings to make me want to paint. I always enjoy looking at Otto Dix. I love how he painted details — how he layered paint.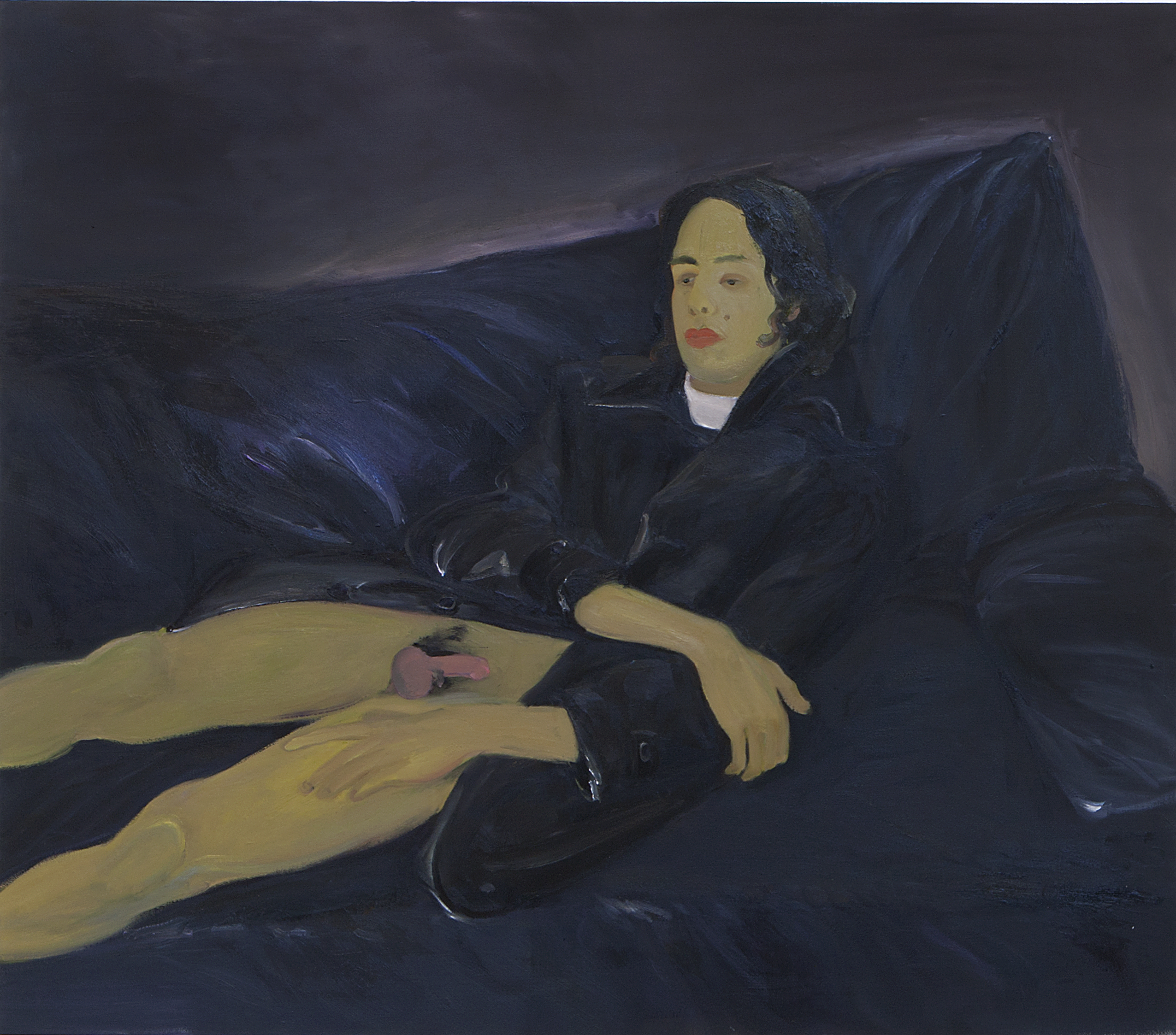 Dix has such a darkness. Would you describe your work as dark?
Yeah, I want something to be disturbing. I think if I can really get very close [to something dark], that's really interesting. I think it's somewhere dangerous. I want to have that challenge.
Why is it dangerous?
Because making a bad painting is a failure. So, there's danger in that.
What is a bad painting? Do you have work that you don't show, or can you always fix your work?
I always want to fix the painting; I will not really throw anything away. I think, at times, I know this painting cannot really be a great painting, but I just want it to be above mediocre.
When I start, I usually think a lot about if this image — this idea — is interesting enough. Going through the process is quite a commitment, and I don't want to give up.
You've lived in several countries. How has place influenced either your aesthetic or your process? Has it evolved as you've changed locations or is painting in a way 'untouched' by where you are?
I'm probably influenced by where I am, but I don't know how to talk about it. I live in Paris and there is really beautiful, beautiful light. And I can go to the Louvre. Visual experiences are really important for me. I can't just breathe in the air without absorbing what's around me.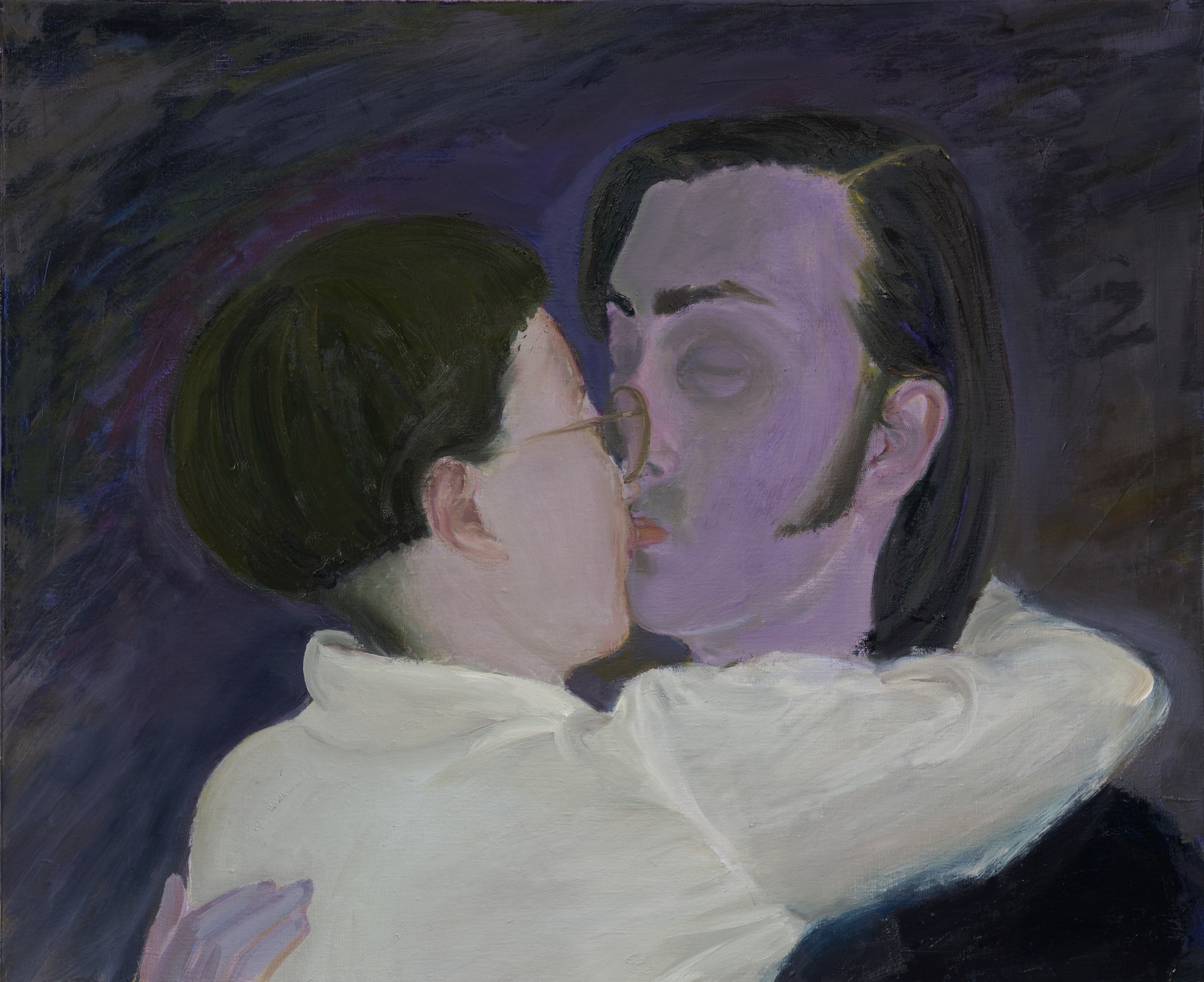 I read that you saw several exhibitions to think creatively about your own. You mentioned going to the Georgia O'Keeffe show at the Centre Pompidou. What other exhibitions made their mark on your preparation process?
I really loved the Josef and Anni Albers show. It was such a beautiful one: I went there four times. I also went to the Goya exhibition at the Fondation Beyeler in Basel.
How did those visits translate into what you did after?
I don't think it's a direct translation; it puts me in a mindset. I love a painting by Watteau in the 18th century gallery at the Louvre — I love how he painted this white costume. When I made "Midday Troubles", I really went to the Louvre to see how he painted. So that's a direct translation. But sometimes, I just really wanted to see a great painting and just feel elevated.
You use photography as a work tool. Would you ever consider your photography as an art form unto itself?
I think so. There are photos in my catalog. Did you see those postcards? There are like five randomly inserted postcards. Those are my photography work. I want to develop it… I don't know how, but I keep thinking about it. I only use my iPhone, because it's quick; I don't want to think too much about the technique.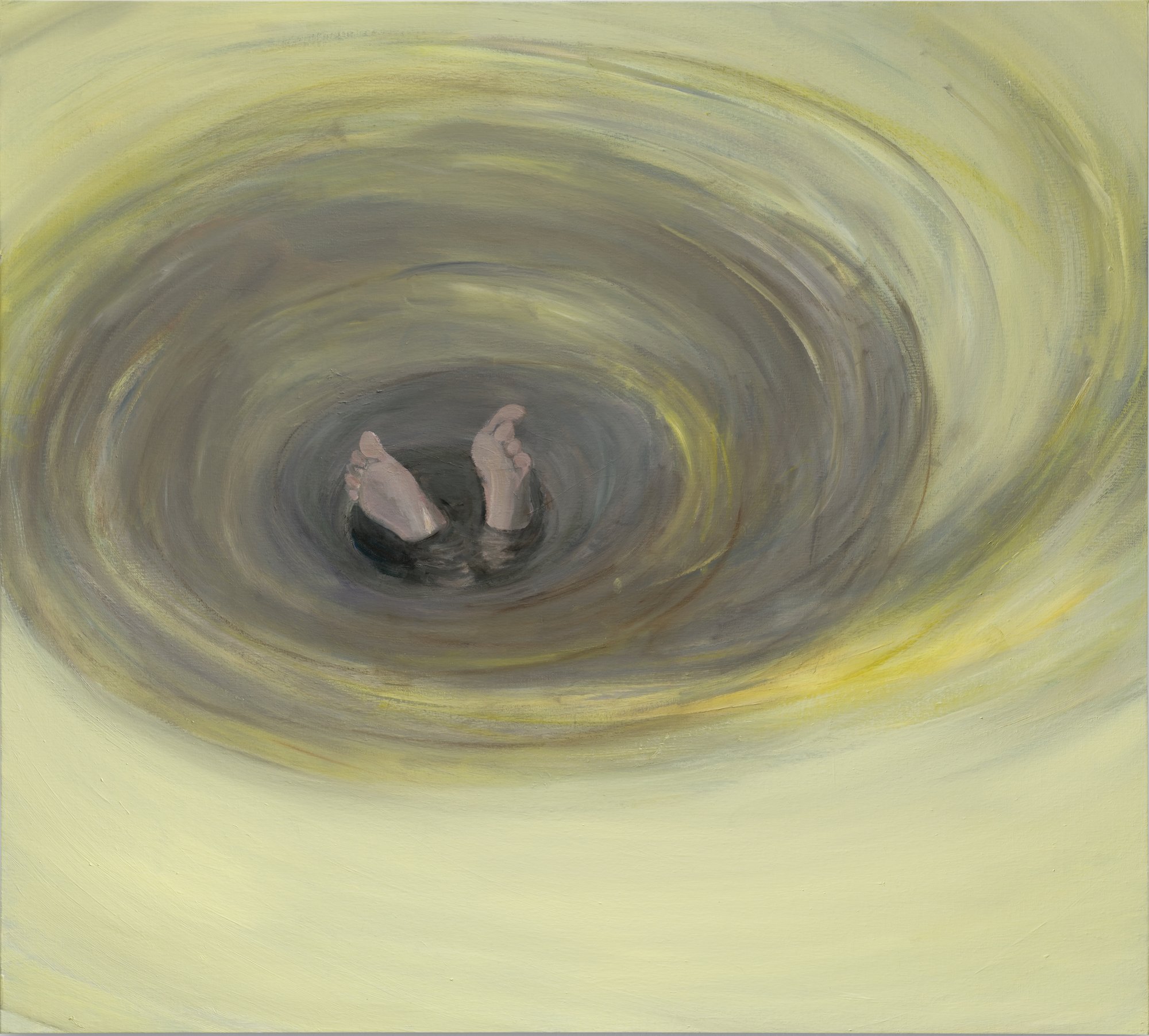 One subject depicted is your boyfriend. Another is a portrait —three versions of the same friend with different facial hair over time. Are the subjects always someone in your circle?
I paint people around me — I need to know the person. Because when I start a painting, that means many hours of me staring: I need to think about this person, I need to relate to this person. That's why I cannot paint celebrities because I don't have a personal entry point to that person's life. For "Incroyable (En Route)", it's about a journey: I painted Thomas over [a period of] ten years.
In terms of naming the paintings, do you always do so after they're completed? Or do you tend to have a name, and then find a visual that goes with it?
Sometimes I have a word in mind very early on, even before I start painting. But there are also times when I cannot find a good title, I have to ship a painting or it's going to a publisher, and I just have to come up with something. So it depends. Ideally, I really want the title to bring a new dimension — but also something that doesn't really explain the painting. I want people to feel it could be a twist on something else.
You've been in Paris for four years and have some French titles; how does the local language influence you?
I don't really speak French well, so I kind of still have my fantasy about Paris. I watch people but I don't really know what [exchanges are about]. Because I don't really know what's going on, their expressions, their body language seem so present and so expressive. I always have to imagine what's going on — I think this gap is what I'm interested in.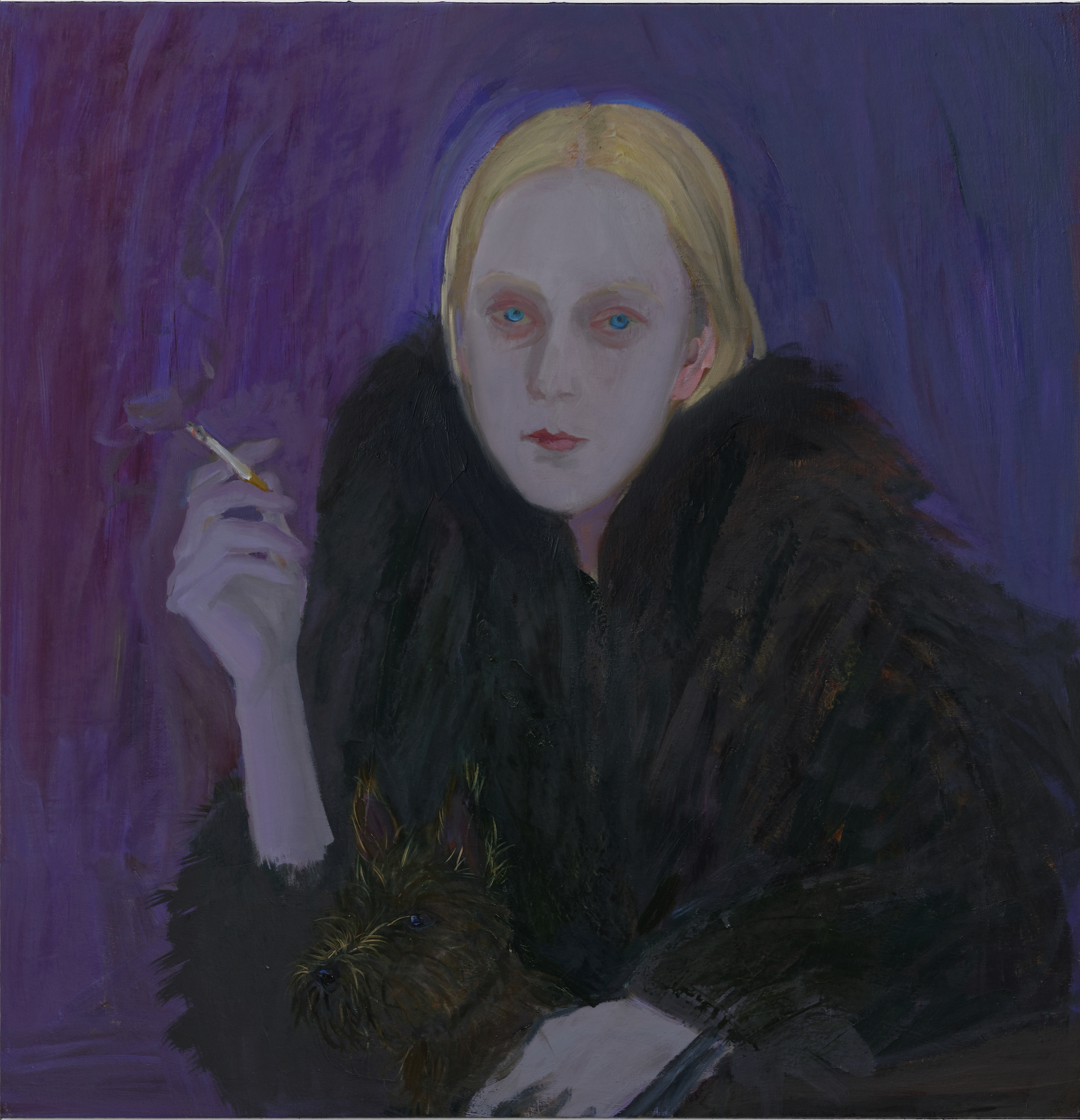 It makes you a sharp observer of other communication — that's interesting. In the catalog, you express being worried about repetition but then, at a certain point, embrace that you're just drawn to certain things. Would you say it's getting comfortable with obsession?
I was really afraid of repeating myself and being boring. But I went to Norway last year, and I saw some Edvard Munch paintings. I think I made peace with myself when I saw he kept coming back to the same subject—you even have almost same compositions. I thought maybe it's okay, maybe in my lifetime I will also just be interested in very specific things. And every time I make them, I know it's not the same: I want to make something new, and it's still meaningful to me. So I don't want that to be a burden, or stop me from thinking what I want to say.
Right — and this draws on the idea of "seen through others," the way another's gaze shapes how we act.
Exactly.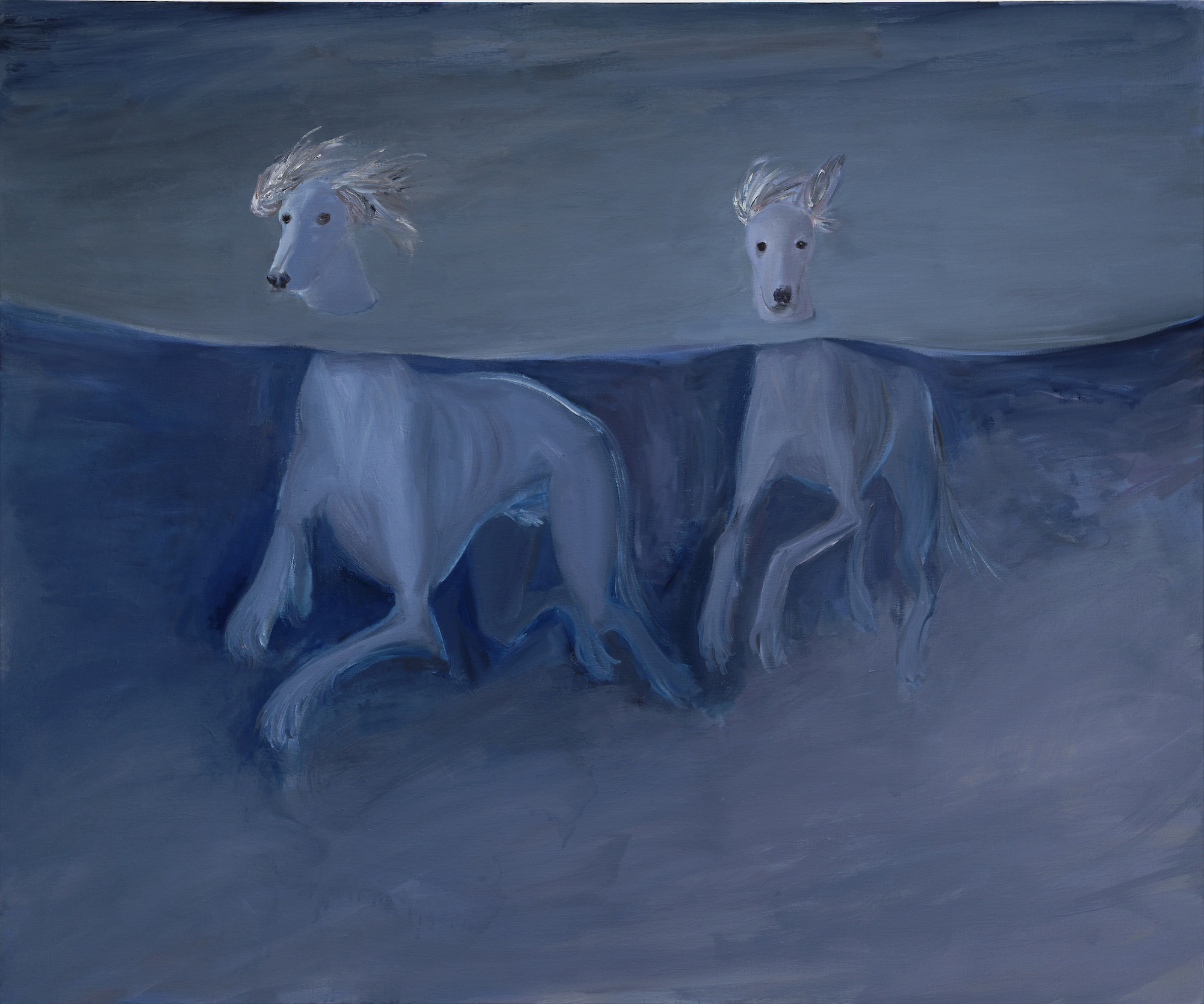 So do you think that it is mostly a burden, this idea of being seen through others? Or is it validating?
I didn't really think about that in terms of my paintings. But I'm very interested by people. Ultimately, I would love to know what's happening inside their heads, I would love to know about their inner life — but I think I will never be able to reach there. Inner life and public appearance and how these two are manifested and perceived…
Would you say that you're a skeptic about the possibility of connection?
I think there's no way not to be skeptical. Only in a book by Virginia Woolf could we hear monologues from other people's heads. I think there are limits to the accessible parts in everyone's life. But that's okay. I also imagine them and then they become characters.
Would you say you're drawn to youth culture, or does a specific generation characterize your work?
I don't know. I'm curious how I'm going to paint an older person, or how I'm going to paint when I get older. One friend, who is in "Midday Troubles" (2021) has a really ageless face. I'm very drawn to that. I don't see this as a generation though. Like in ten years, we all change so much. It's more that I follow the journey.

Follow i-D on Instagram and TikTok for more art.
Credits
---
All paintings by Xinyi Cheng