Why skinny eyebrows are more than just a y2k throwback
From mall goths to club kids, cholas to drag queens, there's more history to the trend than you might think.
|
23 November 2021, 12:28pm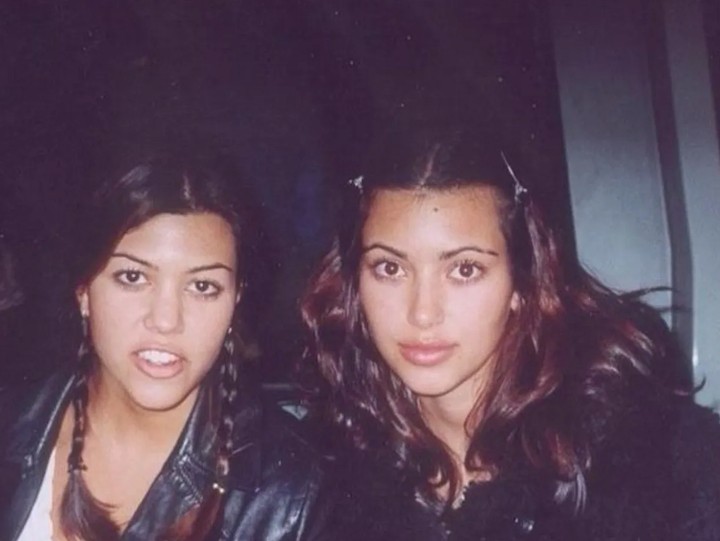 Image via @kimkardashian
Back in 2018, Rihanna appeared on the cover of British Vogue's September issue with a dark glossy lip, flower crown and black, pencil-thin eyebrows. "And just like that, skinny brows are back," proclaimed one Twitter user.
Ok, maybe it wasn't that instant, but they had a point: skinny eyebrows have been creeping slowly back into public consciousness ever since. Bella Hadid, poster-girl for the y2k renaissance, has been making headlines with tiny, minimalist brows that give early Tyra Banks, Kate Moss or teenage Kim and Kourtney -- a notable departure from the thick brows of Cara Delevingne that were celebrated through the 2010s. Meanwhile, new-gen makeup artist @urgalsal_ and drag artist @bo.quinn have been experimenting with graphic beauty looks that increasingly feature super-thin brows; with Gen Z TikTokers busy lusting after 'goth brows' or using the time-warp filter to shrink their own.
Those who are old enough to have been here before are warning against the long-lasting impact of over-plucking. But it seems the deal is already sealed — one of the UK's biggest beauty e-commerce sites recently reported that searches for 'thin eyebrows' have quadrupled in 2021 alone. And it makes sense that the trend would return. After all, it's the latest chapter of a 90s and 00s revival that shows no sign of letting up. Plus, thick brows have reigned supreme for over a decade now, seeing modern classics like the Insta brow, the soap brow, or (lest we forget), the scouse brow, take their turn on the throne. As Gen Z comes of age, bringing new attitudes with them, thin brows offer the perfect antidote to stale millennial favourites.
But, as we'll explore, skinny brows are more than just a rejection to tired trends, or a straight-up throwback to y2k trends. A look back at their history shows an unlikely role as a hero of counter-culture beauty. Take the flappers of the 1920s. Mobilised by a rapidly changing post-war society, young women began to reject conservative ideas of class and gender in favour of sexual and political liberation. Their style — short skirts, even shorter hair, heavy eye-makeup and sharp, pencil-thin eyebrows — was an unapologetic 'fuck you' to the status quo. "A rounded thin brow is not super sexual though," makeup artist Georgina Graham tells us. Instead, much like today, they were considered a subversion of the beauty ideals of the era. According to an article in The New Republic back in 1925, flapper makeup was intended "not to imitate nature, but for an altogether artificial effect".
There were practicalities at play too: drawn-on eyebrows can be shaped to exaggerate facial expressions and leave more room for the kind of dramatic makeup that was as perfect for performing as it was partying. It was stars like jazz icon Josephine Baker (who, as the daughter of French immigrants, navigated a segregated America before finding international fame as a dancer and civil rights activist); or silent-film actress Clara Bow (who survived an abusive upbringing to become the It Girl of 1920s Hollywood) whose larger-than-life performances popularised both flapper makeup and a punk attitude to boot.
Politics and performance have followed the thin eyebrow ever since. 1970s makeup pioneer Richard Sharah paved the way for the experimental aesthetics of the 80s New Romantics and 90s club kids, with avant-garde looks that featured abstract squiggles where brows should be. These underground queer scenes referenced pirates, post-punk, sad clowns, ravers, in looks that rejected both gender conventions and ordinary facial features.
For club legends like Leigh Bowery and WaltPaper, eyebrows were just another feature to play with, and it's this emphasis on creativity above conventional beauty that is seeing a resurgence in the drag and makeup communities today. Take these abstract club kid-inspired makeup tutorials from Lucy Garland and Reddit user Testudinaes, for example; or the thin brows of drag stars like Bimini Bon Boulash, which add drama to more traditional glam. "We've just come from a trend with graphic eyeliner," Georgina says. Now, as experimentation steps up a notch, "it's almost like brows have become more graphic too".

For the Mexican American cholas of the 90s, their iconic makeup style -- featuring, you guessed it, dark pencilled thin brows -- came to represent their feminine power in the face of a hostile society. Just like the flappers and club kids, cholas' eyebrows rejected the status quo. Chola style "conjures a subversive and feminine fierceness", as VICE reported in 2015, something which made them appealing to pop-culture appropriators like Gwen Stefani.
Thin eyebrows, it turns out, can create a powerful sense of community for those who don't feel at home in the mainstream. 80s goth pioneers like Siouxsie Sioux and Jonathan Batcave have influenced the 'alt brow', which inspired Gen Zers to shave off the tail of their eyebrows and redraw them at a sharply angled point. But now, thanks to the more accessible style of 90s mall goths, thinner, more elongated 'goth brows' are trending; with the 2020's alt community embracing the style as a means of belonging. "It's quite nice for the alt community to have its own niche," says Courtnie, a 19-year-old from the UK who wears the style. "What's so great about skinny eyebrows," says Lei, a makeup artist with skinny brows and an ever-growing following TikTok, "is that they fit into so many different subcultures and look great in all of them!"
So yes, the 90s and 00s helped bring skinny eyebrows to us today. But they deserve more than to be labelled as just another y2k trend. Thin eyebrows are tied up in a complex web of politics and identity. "They are so easy and I feel like there's still a lot you can do to make them unique," says Courtnie. Be it glam, androgynous or avant-garde; thin eyebrows stand for freedom of expression in all its forms and Gen Z's coming-of-age has ushered in a whole new mood.