KNWLS AW22 and the Woolmark Prize: What's in Fashion
Your one-stop-shop for this week's fashion news to know.
Instagram @knwlslondon
Icons, it's the first weekend of May which means the celebrities du jour are currently making their way over to New York to get fitted in some stunning Gilded Glamour regalia so they can walk into the Met Gala and we can toot or boot the looks they're wearing on social media. It's tradition! Before that, though, we have a host of fashion goodies for you to salivate over before Monday. There's new collections from it-girl brand KNWLS and Victoria Beckham, a fun new footie-meets-fashion mag from i-D alumni, and a photobook that celebrates the legacy of a Ralph Lauren staple. Of course we also have a host of fun collabs and link ups as well as a toast to the winner of the esteemed Woolmark Prize. Here's what's in fashion!
Graffiti artist André Saraiva is emoji-fying Longchamp bags
It may as well have been a collaboration written in the stars because when Longchamp moved into one of their first-ever showrooms in Paris, on the back of the door was the spray-painted face of Mr. A, the cute smiley motif that previous tenant, graffiti artist André Saraiva, is famed for. Now, many years later, the French leather goods brand has recruited André to remix some of their bags, most notably their foldable piece, Le Pliage. 200 handhelds from the brand in recycled polyester canvas and a variety of bold tones will have their very own unique customisation of Mr. A, maybe cheekily with his tongue out, happily in love or contentedly smiling. Having launched earlier this week online, why not buy a few and carry them around to express your current mood at any given time. Can we get one that expresses, like, hot main character in their bimbo era? TG
Elgar Johnson's new magazine hits a home run
It's no secret that the intersection of sport and fashion has been white-hot of late, with some of the best celebrated athletes around the world stepping onto magazine covers (hello, Phil Foden!) and earning lucrative brand ambassadorships. Until now, however, there hadn't been a publication that catered explicitly to this cultural crossover. Well, enter Circle Zero Eight, a new print magazine spearheaded by former GQ Style Deputy Editor and Fashion Director – and former i-D TKTK – Elgar Johson. Founded with the intention of "[spotlighting] the unique power of sport to thrill and entertain as well as overcome prejudice, intolerance and discrimination", a release reads, the first issue – taglined "FRESH" – coveys that message through powerful fashion imagery. For Circle Zero Eight's inaugural book, Elgar selected three era-defining sportspeople that he felt spoke to the values at the magazine's core. West Ham midfielder Declan Rice – a person who "exudes brilliance, talent and professionalism" and "one of the most exciting footballers in world football", Elgar says – was shot in Prada. Sprinter Annie Jill Tagoe brings "incredible energy and beauty" to her image series. Then, 9-time gold medallist Carl Lewis, "arguably the greatest living Olympian", Elgar says, features on the final cover. "The impact Carl had on me as a child growing up was immense," he continues. "Watching him break records, dominate, run faster and jump further than anyone else made me want to get up and do the same." While sportspeople may be the ostensible focus of the issue, rest assured that you don't need to be a sports fan to engage with and enjoy it. More than anything, this is a magazine that "joins the dots to see how sport intersects with so many things," and demonstrates how powerful a cultural instrument it is. Now, get your kicks on and go grab a copy! MS
Game, set, match! Michael Kors x Ellesse serves tennis but make it fashion
We adore a tennis aesthetic. Will you ever catch us on a court? Absolutely not, but we'll happily put on summery tennis whites, trainers and a sweatband across our forehead as if we're going to do anything except sit and eat strawberries in the crowd and maybe periodically clap to make it look like we're engrossed in the game. Here to add to your sporty wardrobe for this very activity is Michael Kors' collaboration with Ellesse. The 70s style 24-piece athleisure collection offers track jackets and pants, chunky sneakers, slides, swimsuits, bucket hats, shorts and more that are then glammed up with a hybrid-insignia of the two brand's logos. Fashion photographer Lachlan Bailey then captures the pieces as they adorn the bodies of Emily Ratajakowski, rapper Jay Critch and their squad of models and musicians all under the Miami sun in a set of fun campaign photos. With the collection dropping in May, keep an eye out at Michael Kors stores and online for when it drops. TG
KNWLS' AW22 is here — and it's just precious!
Ok, we know that fashion month has long since passed, and your capacity to take on another new collection is probably pretty stretched, but this one is well worth paying attention to. KNWLS – the buzzy London label beloved by modern-day femme fatales like Bella Hadid, Beyonce, Megan Thee Stallion and Dua Lipa – have dropped "Precious", a knockout AW22 collection presented by way of one of the best digital presentations we've seen in some time. Seen in a film directed by Jordan Hemingway — which nods to the cinematic grunge of old Nine Inch Nails music videos, vintage horrors, and the original Ghost In The Shell anime — KNWLS latest collection flits between the cutesiness of cat-ear hats, floofy sea anemone knits and gradient brushed mohair knits. Then there's the no-fucks-given edge of an abraded leather bodice jacket worthy of a final fantasy heroine, hefty pastel shearlings, and studded platform stompers. As ever, lingerie and corset details serve as the architecture for body-conscious silhouettes, as well as an abundance of mesh pieces – from the label's iconic leggings in trippy, bleached out prints to frayed minidresses. This season also sees the return of collaborations with Paris-based jeweller du jour Marco Panonesi on mottled serpentine earrings, and sunglass maker Andy Wolf, who's responsible for the collection's distinctive mirror-finish sunnies – an instant must cop! If clothes for bona fide it-girls is what you're after, then these, my dears, are it. MS
Spice up your wardrobe with VB Body
If you wannabe a style icon then you should really be following the style of Victoria Beckham. The fashion designer has not only been a mainstay of women's attire across three decades, she has an array of iconic outfits herself. But now, Victoria is launching a new permanent capsule collection of shapewear entitled VB Body. The new drop consists of seven different silhouettes for different women and different needs but all go back to the original VB aesthetic of sensual femininity. The great thing about each piece in the minimal monotone collection, though, is that they work as undergarments whilst also being stunning on show. From the one-sleeve bodysuit with low-flair legs and a strappy boxy bra top, to a svelte cut-out mini dress and a thong bikini, each item comes in neutral tones of black, white, blush and chocolate brown, alongside vivid and sensual burnt red offerings. Currently available in-store and online, go check it all out now and channel your inner posh spice. TG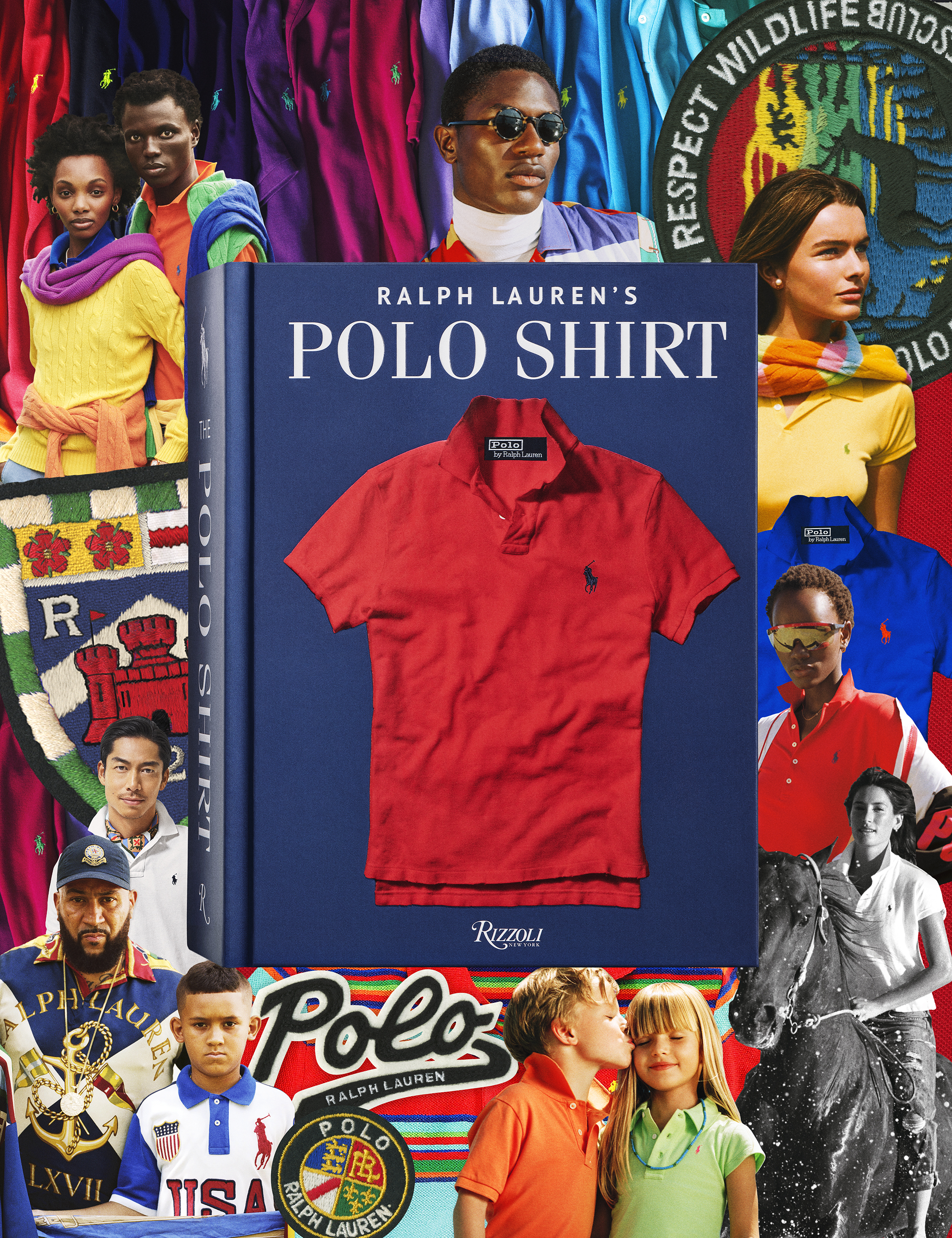 Ralph Lauren's new book celebrates the polo shirt's cultural impact
Whether it's adorning Tom Cruise in Risky Business (1983), Leo DiCaprio in Wolf of Wall Street (2013) or – and most importantly – Timothée Chalamet in Call Me By Your Name (2017), there's a simple sexuality to the polo shirt. Perhaps it's down to the 80s sports aesthetic and its preppy boarding school vibes that is then heightened with a strong dose of zaddy energy. Commemorating the garment is a new photo book from Rizzoli and Ralph Lauren, the latter an iconic pioneer of the polo, that explores its cultural impact, American legacy and its power historically as a "canvas for self-expression". Also collated within the book, that is now available to buy online, are both famed and rare photos of stars, politicians and fashion models wearing the garment. Our personal faves are early One Direction era Harry Styles and Niall Horan in tight-fitting polos, Gigi Hadid matching an orange one to her leather maxi skirt, and a young Kanye discussing the impact the garment has had on him. It's a pretty impressive legacy. TG
MM6 x Eastpak has arrived
If you're in the market for a drippy collab, then look no further than the latest link-up between MM6 Maison Margiela and Eastpak – and we mean that literally. For the latest iteration of the collaboration between the French Maison and the American accessories brand – responsible for that iconic backpack – a selection of Eastpak's most iconic shapes have been subjected to a characteristically surreal MM6 makeover. The Pak'r backpack has been skewed to look as if it were melting, while the Crew wallet has been blown up to full bag size, and MM6's triangular Japanese bag has been reimagined in Eastpak's trademark colourways and canvas. MS
And the winner of the 2022 Woolmark Prize is…
We all love to see a good guy win, right? Well if you were following the 2022 Woolmark Prize, then you'll know that's exactly the result that we got. In a year with a roster of finalists who were all deserving winners in their own right – Ahluwalia, Peter Do, Rui, Saul Nash, Jordan Dalah, Mmusomaxwell and Egonlab – London-based Saul Nash was announced as the winner of this year's grand prize, with Johannesburg-based Mmusomaxwell taking home the Karl Lagerfeld Prize for Innovation. Pocketing $200k AUD and $100k AUD respectively, the designers were lauded for their innovations in working with merino. Saul in particular was commended for working with the fabric in a way that facilitated active movement – a design hallmark of his that he's been honing since founding his brand in TKTK. Cheers to you both! MS