Eri Wakiyama's surreal, manga-inspired paintings reflect her inner world
The artist's new show at the Heaven by Marc Jacobs gallery features her signature, fairy-like figures floating in space and feeding pet monsters.
Photography Ava Nirui
Eri Wakiyama's New York bedroom is covered in stickers. There are those left behind by her friends who work in fashion, repping various cool brands and downtown labels, random adhesive souvenirs she's collected over the years, and 90s throwbacks to Lisa Frank and Hello Kitty. Her latest solo-exhibition, which is currently on view at the Heaven by Marc Jacobs gallery space in Los Angeles, also mirrors the nostalgic, angsty, teen-at-heart space: glow in the dark stars and butterflies are mounted on the walls, surrounding her surreal paintings.
The show is called Because I Can't Stop Thinking, and is comprised of large scale works that Eri made while reflecting on our current moment, her personal experiences and pretty much anything and everything that she can't get out of her head. The paintings feature her signature girls, all moody and fairy-like, floating in space, feeding pet monsters and crying over heartbreak. While Eri has always been inspired by Japanese manga cartoons, she's honed her unique style by way of an MFA in Fashion Design from Parsons, and by collaborating with the likes of Miu Miu, Supreme, X-Girl and more.
Here, we sat down with Eri to chat about her super cool new paintings, how art can help those struggling with mental illness and her signature, bright orange hair.
Tell me about your new exhibit in LA.
It's at the gallery next to the Heaven by Marc Jacob store. It's quite new; their last show was with Sofia Coppola. I've done a few illustrations for them before, so that's how it came to be. It's not a huge space, but it was perfect because I had nine paintings that I did in a matter of three months. Ava [Nirui] allowed me to do whatever I wanted, which was super cool. I put all these stickers on the wall and painted on the wall. It happened pretty naturally, but it was a huge success.
It just seems like a natural fit to me, too, your work and Heaven.
Yeah. And actually, I came back home, and the space resembled my room. My room is basically like a teenager's bedroom. I have all these toys, little current lights and like, stickers everywhere. So, in that sense, I wasn't thinking but just doing it subconsciously. The only major difference is I don't have a separate studio, so I do everything in my living room. And the more I paint, the more stuff there is in my room. I wasn't able to tell if the pieces would be harmonious together until I got there. I was really happy with that result, even though in my room it was kind of just chaotic.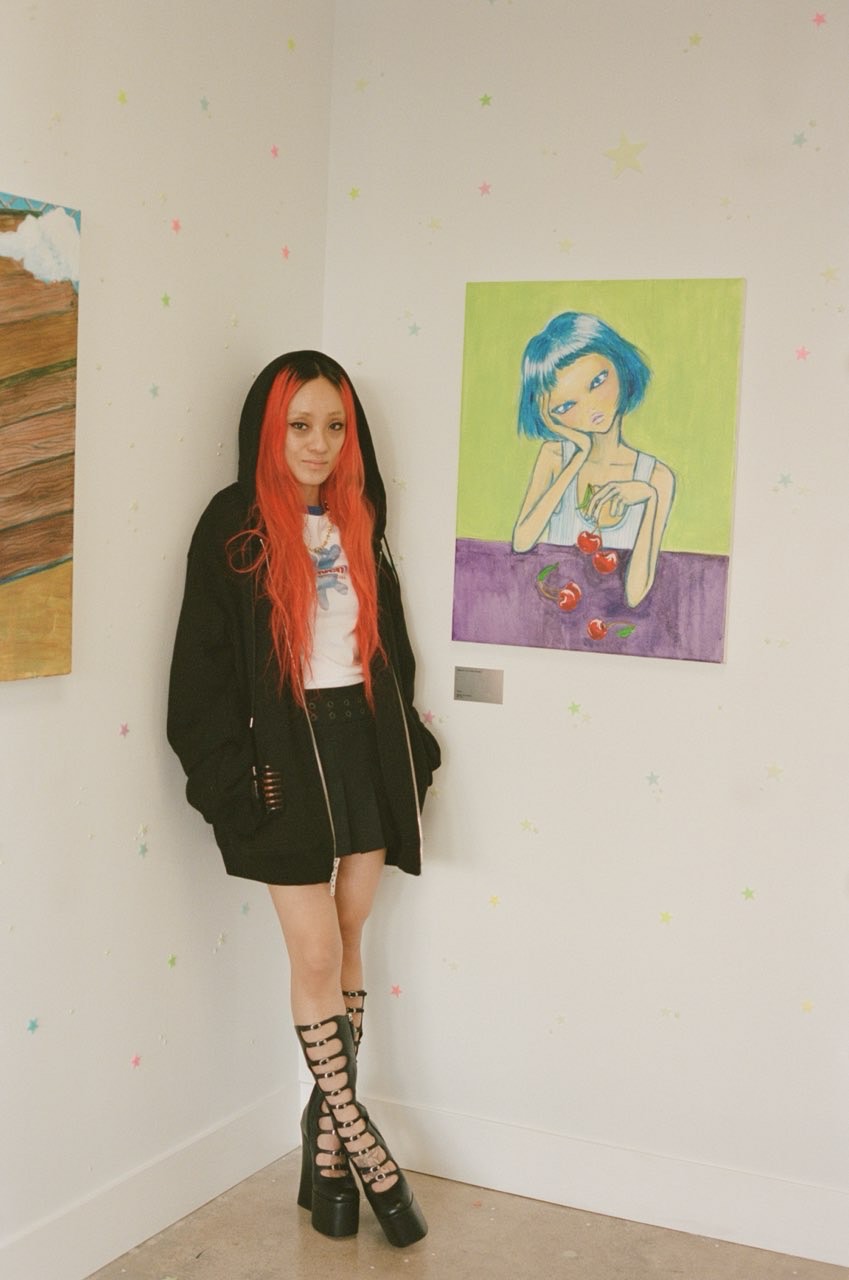 In putting together the exhibit, were there any topics or themes wanted to explore?
I just started painting on a bigger scale. My characters, typically, they were on paper with pencil or ink. A lot of them were portrait style. So, I'm exploring more landscapes. There's not really a theme, it's just whatever I was thinking or feeling in the moment. It just comes out.
I love the painting that you did where the girls are throwing these smiley faces around. It reminds me of a snowball fight.
I was thinking about these old Calvin and Hobbes series where they always be having snowball fights. It's based on war, as well. When I was painting there was just so much hate in the world. I was getting very overwhelmed by just the news and politics. I just wanted peace. I was just like, why can't people be fighting for happiness instead of because of hate? That's why there's these little smiley faces on the balls. If they get a hit, instead of getting hurt they get happier, you know. But the girls are also in this gear – wearing these cleats spiky bottoms and knee pads. They have headbands. I wanted to make it seem like they're just playing flag football or a game. Like, let's just quit fighting.
In what ways are the characters reflective like your own experiences or emotions?
When I look back at journals from 10 years ago, I have similar themes that I draw upon. It's kind of hard to talk about. Influences come from the past, present and future. At the end of the day, I think it is my way of just speaking. Art almost teaches me.
I have PTSD from my childhood, and I'm still having to deal with it as an adult. Flashbacks of feelings that were put away seem to come out of nowhere. As an individual struggling with mental illness, I think drawing has always been a way to temporary cure some problems. My household did not speak about feelings, so it's very hard for me to articulate it in words. I'm really lucky to have a skill that lets me express the never-ending turmoil that goes on in my head. I also think my drawings and paintings take me to a different place, as it's sometimes hard to be present in reality. Obviously, I need to like the stuff I create, but when others can relate to it, and it can help them feel better, feel more free, feel less burdened, it makes me so so so so happy.
Over the years, you've honed a very specific style and character. Who is she?
All these girls are, in the end, the same kind of girl. I don't mean to draw myself, but a lot of my friends that see my art they're like, that is so you. I've been drawing forever. I used to make these characters that were all just friends with each other, and make character profiles out of them. I used to read manga, anime, Japanese comic books. They would always have profiles in the beginning for each character that's in this storyline. So, every time I would draw a character, I'd be like this is her name, this is her blood type, this is her favorite sport. When I ended up majoring in fashion design, we'd have to design clothes on figures a million times for homework. I feel like I really started to develop my girl there too.
Are there specific mangas or other cartoons that inspire you?
There's one manga artist, Yazawa Ai. She's my favorite manga artist of all time. Her characters really resonated with me and they were also really into fashion. But also, I just really sucked at reading books all my life, so I would always have Calvin and Hobbes, Garfield and Japanese comics just hidden. My dad would also bring back these thick monthly comics every time he went on a business trip. They're quite old school, but they'd have 20 different mangas in one printed issue in each month. I needed something visual.
What made you want to take the leap from fashion design to the art world?
I really wanted to be a fashion designer. I grew up in a town that was really suburban, everything was quite boring. I'd go read magazines and look at runway images. If I wore something a certain way, I thought that was my creative outlet, not drawing. I majored in fashion design and I was really into it. I still love clothes and a lot of designers inspire me. When I graduated, it was the recession so there were no design jobs available. Like I could not live off of it. I still worked in fashion, but not in the design aspect of it. I have more time to just draw on the side by myself, and I still do both.
What was your relationship like with art or fashion growing up?
My parents were really strict, so I wasn't allowed to shop a lot. I had to do it all myself, rebelliously. Right now, I have orange hair and they would have died if I had orange hair growing up. The town I grew up in was also really conservative and everything was the same. In the Mean Girls era, everyone was wearing miniskirts and Uggs, which doesn't even make sense. Everyone dressed like each other. I really didn't like that. I wanted to be different.
Your Instagram handle is @mermaidhair. How long have you been dyeing your hair orange?
I think orange has been my longest color now. It's probably been over five years, but I've had every other color. When I first dyed it I was referencing The Fifth Element. Was it Leeloo? The character? That was the orange I wanted.