A Gwyneth Paltrow stan reviews The Goop Lab
The Netflix show extension of her multi-million dollar wellness company has courted controversy -- here's what a Gwyneth 'ride or die' took from it.
As we all expected, Gwyneth Paltrow's latest show The Goop Lab, which lands on Netflix on 24 January, already has her critics up in arms. In the wellness world, there's no one as polarising as G.P. (as her friends call her): some consider her a Messiah, shelling out upwards of £1000 to hear her speak on live panels, while others frame her as the Queen of pseudoscience, and are quick to denounce every claim the Academy Award-winning actor-turned-entrepreneur makes.
For every enemy she's gathered (mostly scientists, Martha Stewart and the defendants in the infamous Jade Egg lawsuit), there is a greater oppositional force that matches them: according to The New York Times, Goop is valued at £190 million, and it shows no sign of slowing down. The brand recently announced that their beauty and wellness products would be available in Sephora stores as well as online., People may be mad at Apple and Moses' mum, but she is, unequivocally, still in her bag!
So over a glass (read: bottle) of organic Chardonnay, I watched the show myself. In the interest of science, this is my entirely unscientific review of the show.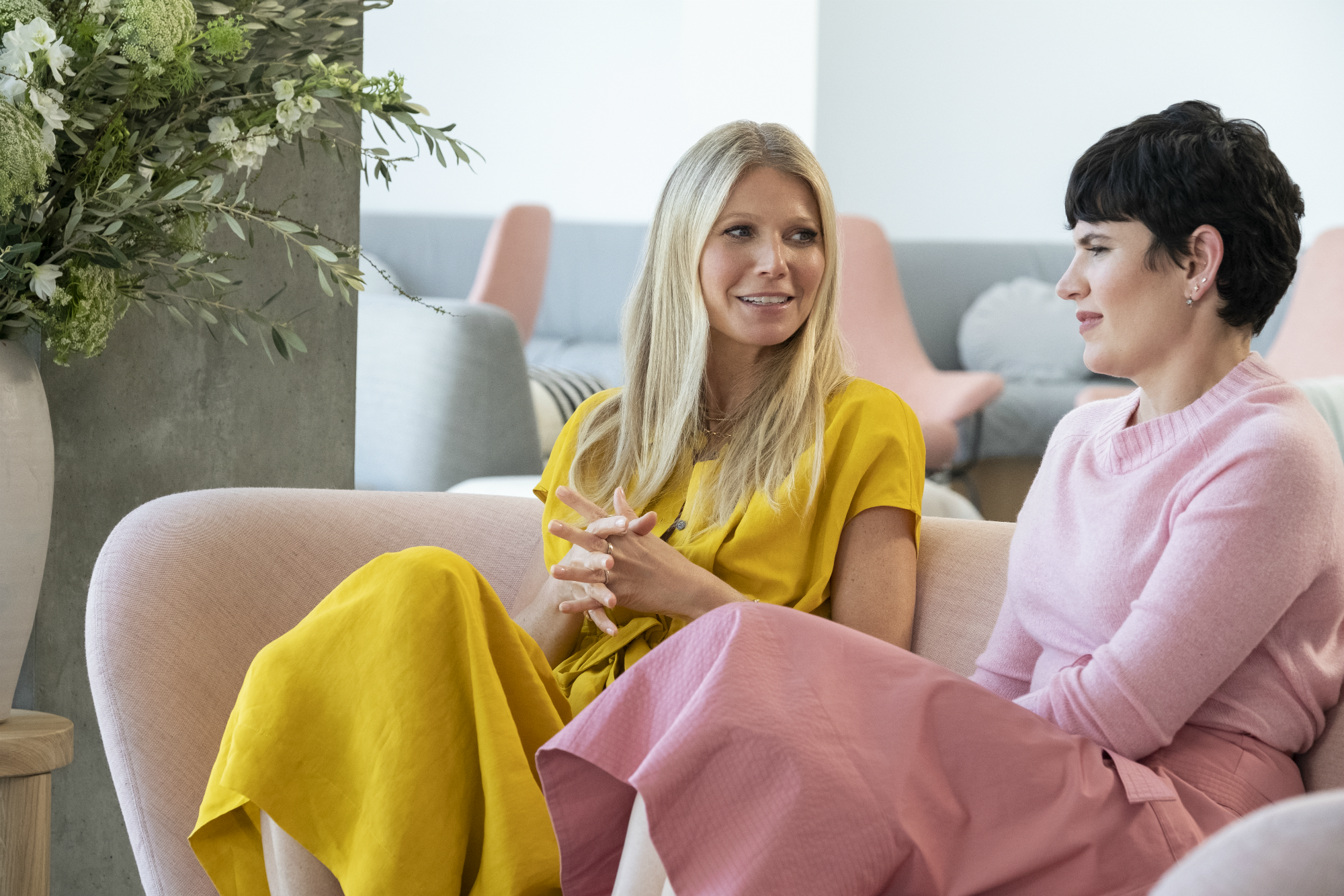 Before it launched the press were not sipping the tasty, paleo Kool-Aid Gwyneth has been serving to the wealthy elite Goopers for the past few years. Headlines have highlighted how the show "pushes flimsy wellness trends, but [is] strong on vulvas" (Vox), is a "high-end infomercial" (Time) and has "capitalised on vaginal shame" (The Guardian). Was I disappointed? A bit. Was I surprised? Certainly not. Tellingly, each of the six episodes of The Goop Lab starts with a frame that reads: "The following series is designed to entertain and inform -- not provide medical advice. You should always consult your doctor when it comes to your personal health, or before you start any treatment." Cue Gwyneth and Goop's Chief Content Officer Elise Loehnen interview specialists on energy healing, cold therapy, vampire facials, mediums, sexual health, and shrooms, while the Goop team act as guinea pigs trying out the various treatments, with case studies to help enforce the specialists' claims. Elise is considerably more "Goopy" than Gwyneth. I realise this in the second episode when Elise gleefully says: "It would have been amazing to take the Goop staff and shoot them full of endotoxins – but Netflix legal said no!" Gwyneth laughed. I was not under the impression that Elise was joking.
Despite my better instincts, I have to admit... I like Gwyneth and a silly, sample-size serving of Goop every so often. In the age of the relatable celebrity, she is not -- and never will be -- the first person that comes to mind. But in the weird world of wellness, she's said things that make her seem at least somewhat normal. She drinks a glass of wine every day (I do too), and in the show, she admits to smoking a few times a year (which I at least tell myself I do).
She's also in tune to what might make headlines, and I'm intrigued by how she dances between being both in-on-the-joke and completely oblivious as to why people are outraged at something she's done or said. She's one of the few people whose ridiculous public persona makes her both likeable and vilified; charming to some and slightly irritating to others. Not that she seems to care, though. Recently, in line with the Goopy way her life is unfolding right now, she's always playing into a version of herself with warmth and irreverence, like her meta performance as a wealthy matriarch in Netflix's The Politician.
She taps into that wine-loving relatable queen Gwyneth in "The Health Span-Plan", an episode in which she admits, rather iconically: "I have basically been running off no sleep, coffee, and alcohol for like two years". My twin! In the same ep, she goes on a seven day fast-mimicking diet to test if her biological age will decrease. Maybe it was delirium spurred on by the fast, but at one point Paltrow asks her crew: "How old am I?" I spat out my Chardonnay. A forgetful queen. I guess Gwyneth continues to stay on brand after, on a talk show with fellow Marvel star Jon Favreau, she forgot she was in Spiderman last year. She also forgot, during a brief fangirl moment in Zendaya's Instagram comments, that she and the Euphoria have had something in common long before they both recently wore the same hot pink, metallic Tom Ford breastplate; Gwyneth on the cover of Harper's Bazaar; Zendaya on the Critics' Choice Awards red carpet. (Yes, Zendaya was also in Spiderman.)
But the real jaw-dropping stuff -- the kind that makes us Goop obsessives in the first place -- comes when the company's staff participate in workshops with the psychic medium, Laura Lynne Jackson. They gather in circles, "directing energy" and "sending vibrations' to a singled-out staffer as eerie music plays in the background. It is peak witchy shit and makes very little sense, but we stan regardless.
Despite the sort of batshit goings on, there are some moments that try and unpack the important stuff. In "The Pleasure Is Ours", we meet 90-year-old Betty Dodson, a sex educator and author giving her clients a proper education in the vulva, whose mission is for women to be able to "run the fuck". Dodson has coached approximately 7,000 women to date . "I can walk, I can talk, I can see. I still can have orgasms, so why would I want to complain about a wrinkle or whatever?" the 90-year-old says, encircled by naked women. Reminding women to celebrate themselves and their bodies? Important! Making them all gather together in a nude circle for a Netflix series? Sort of insane!
Despite the questionable nature of Goop's practises, the show is, of course, not without its more unambiguously tone-deaf moments. "The Healing Trip" shows a group of all-white Goop staff travelling to Jamaica to do shrooms for therapeutic purposes (an excursion run by white people) , which was a little off-putting. And preventable, considering Goop seems to have many staff of colour. Why they didn't get the invite is mind-boggling. The optics, at times, are bad.
But realistically Gwyneth and the Goop team knew there would be controversy coming from all sides. Part of me wishes they played into the absurdity more and had the last laugh. For season two, here's a suggestion: I want Gwyneth to get her L.A mom friends -- Cameron Diaz, Nicole Richie, Busy Phillips, Kate Hudson -- to all come together and test out the zaniest and most expensive health treatments instead. Like 2 Chainz' Most Expensivest but for fair trade colonics.
The Goop Lab streams on Netflix 24 January