7 of Studio 54's Iconic Style Moments
Dolly, Graces Jones and David Bowie appear in a new exhibition at the Brooklyn Museum, which chronicles the club's impact on art, fashion and music.
Studio 54: Night Magic was originally scheduled to be on view from March 13 to July 5, but the Museum is closed until further notice because of COVID-19.
Although the iconic Studio 54 closed its doors four decades ago, after being open for a little less than three years, its influence on culture is still palpable today. A new exhibition, titled Studio 54: Night Magic, which opens up at the Brooklyn Museum March 13th, explores the historic nightclub's everlasting impact on music, art, fashion, and beyond.

Started by Brooklyn-born entrepreneurs Ian Schrager and Steve Rubell in 1977, Studio 54 not only was a place where people could dance, drink, and party, but was also a space for complete self-expression. "Many Studio 54 habitués and employees have expressed that [the club] was the source of sexual, gender, and creative liberation," said exhibition curator, Matthew Yokobosky, during the show's opening remarks. The converted opera house and television studio, oftentimes transformed for themed parties and events, attracted an endless list of famous clientele, including Cher, Elton John, Diana Ross, Andy Warhol, Truman Capote, Bianca Jagger, John Waters, and Grace Jones, to name just a few. Beyond being the place to party, the club acted as a refuge during bleak times — New York City was on the verge of bankruptcy and the struggle for gender, racial, and sexual equality was still tirelessly being fought for.
Forty years later and the influence of Studio 54 is still felt, especially in fashion. Countless designers, until this day, reference Studio 54's glamorous era of clingy dresses, gold pleated gowns, and elevated jeans — cementing the notion that disco never dies.
To celebrate the opening of Studio 54: Night Magic, i-D takes a look back at some of the most iconic style moments that happened at the legendary club: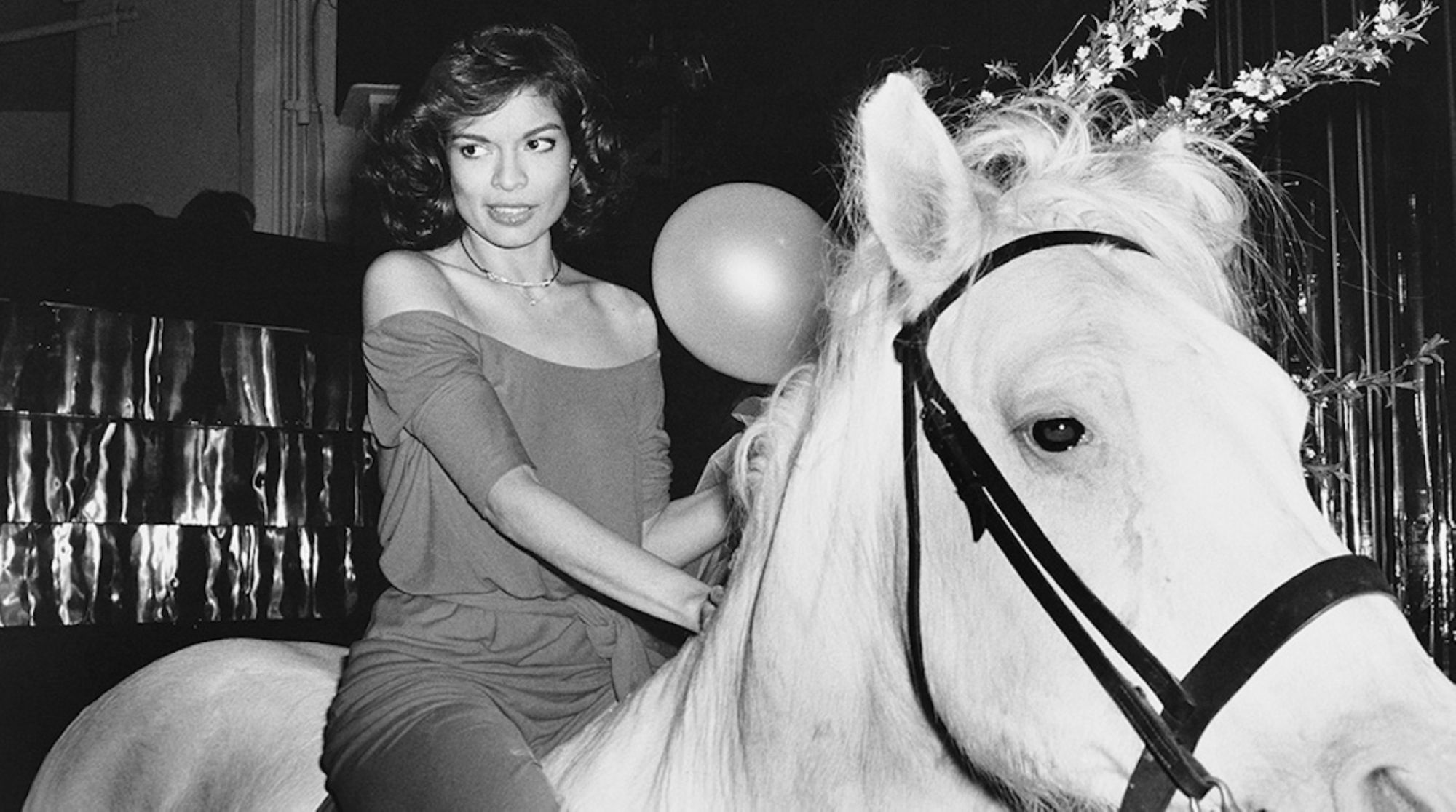 Bianca Jagger in Halston Atop a Horse, 1977
Bianca Jagger stunned clubgoers when, during her birthday party at Studio 54, she got atop a horse wearing Manolo Blahnik heels and a Halston gown. Jagger and Halston were both close friends and fixtures of Studio 54, with the designer often dressing Jagger in his iconic pieces that were the epitome of pared-down glamour. The image, which was captured by fashion photographer Rose Hartman, may just be one of the most memorable shots ever taken at the club, and has sparked a deluge of questions through the years: Where did Jagger get that horse? Did she ride it down 54th Street? Where was Mick during all of this? In 2015 Jagger finally set the record straight in a letter sent to The Financial Times. It confirmed that no, she did not ride the horse to the club — Rubell had instead brought the horse into the club himself as a way to pay homage to Jagger's love of horseback riding in her native Nicaragua.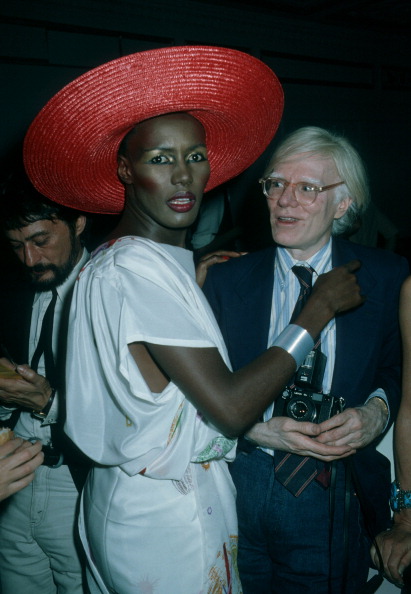 Grace Jones in a Red Straw Hat with Andy Warhol at the Premiere Party for Grease, 1978
During the Summer of 1978 Studio 54 was transformed into Rydell High, the setting of the hugely successful John Travolta/Olivia Newton-John fronted film, Grease. In attendance were two of nightlife's most beloved regulars — Grace Jones and Andy Warhol. Jones, dressed in a white painted dress, gold metallic eyeshadow, and a large red straw hat, often performed at the club. Warhol, wearing a slim-fitted suit, could usually be found at Studio 54 taking photos of club patrons. A fun fact about the duo? Jones and Warhol actually were each other's date years later while attending the wedding of Maria Shriver and Arnold Schwarzenegger in the Spring of 1986. During that wedding weekend the two had some more iconic style moments — Jones wore Kenzo, Norma Kamali, and Alaia and as for Warhol? A black biker jacket.
Dolly Parton During Her Farm-Themed Studio 54 Afterparty, 1978
In 1978, Dolly Parton, dressed in a black chiffon gown covered in crystals and beads, was captured by photographer Ron Galella posing in front of a larger-than-life portrait of herself during an afterparty she threw at Studio 54. In honor of the event, the club was elaborately redecorated to fit a country theme — Rubell converted the dancefloor into a mini farm, complete with bales of hay, barrels of corn, and plenty of horses, donkeys, and chickens. Throughout the club's 33-month run, Studio 54 had become known for its elaborate themed parties which Rubell, Schrager, and staff went above and beyond to prepare for. For instance, the space was once upon a time transformed into an 18th-century candlelit, powder-wigged soiree for Karl Lagerfeld, and Rockettes were brought in for Elizabeth Taylor's birthday party at the club.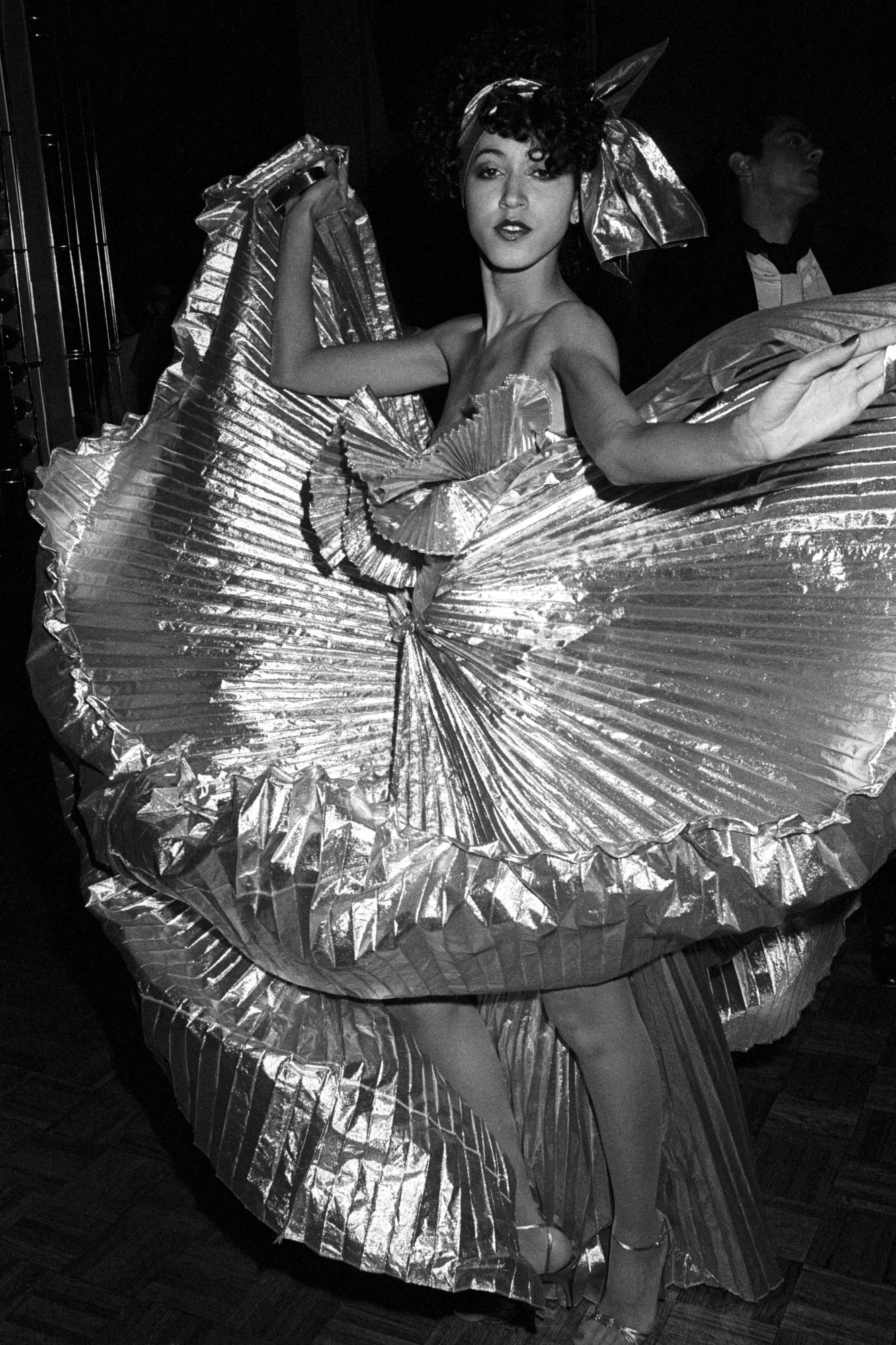 Pat Cleveland Wearing a Zandra Rhodes Gown, 1977
The iconic Pat Cleveland, also known as one of the world's first black supermodels, attended Halston's Disco Bash at Studio 54 in 1977 wearing a pleated lame gown made by British designer, Zandra Rhodes. Cleveland, who rose to supermodel stardom in the 60s and 70s, modeled for countless designers throughout her career including Yves Saint Laurent, Thierry Mugler, and Christian Dior. However, when Cleveland was home in her native New York City she could be found dancing at the midtown club alongside the likes of Halston, Anjelica Huston, Andre Leon Talley, Antonio Lopez, and Sterling St. Jacques.
David Bowie and Romy Haag, Late-70s
The Starman himself was photographed attending an event at the club in the late-70s alongside dancer, singer, and muse, Romy Haag. Haag showed up wearing a floor-length pink satin gown with a white fur stole. Meanwhile, in the midst of his Thin White Duke Era, Bowie came outfitted in a light gray three-piece suit with a striped shirt and slicked-back hair.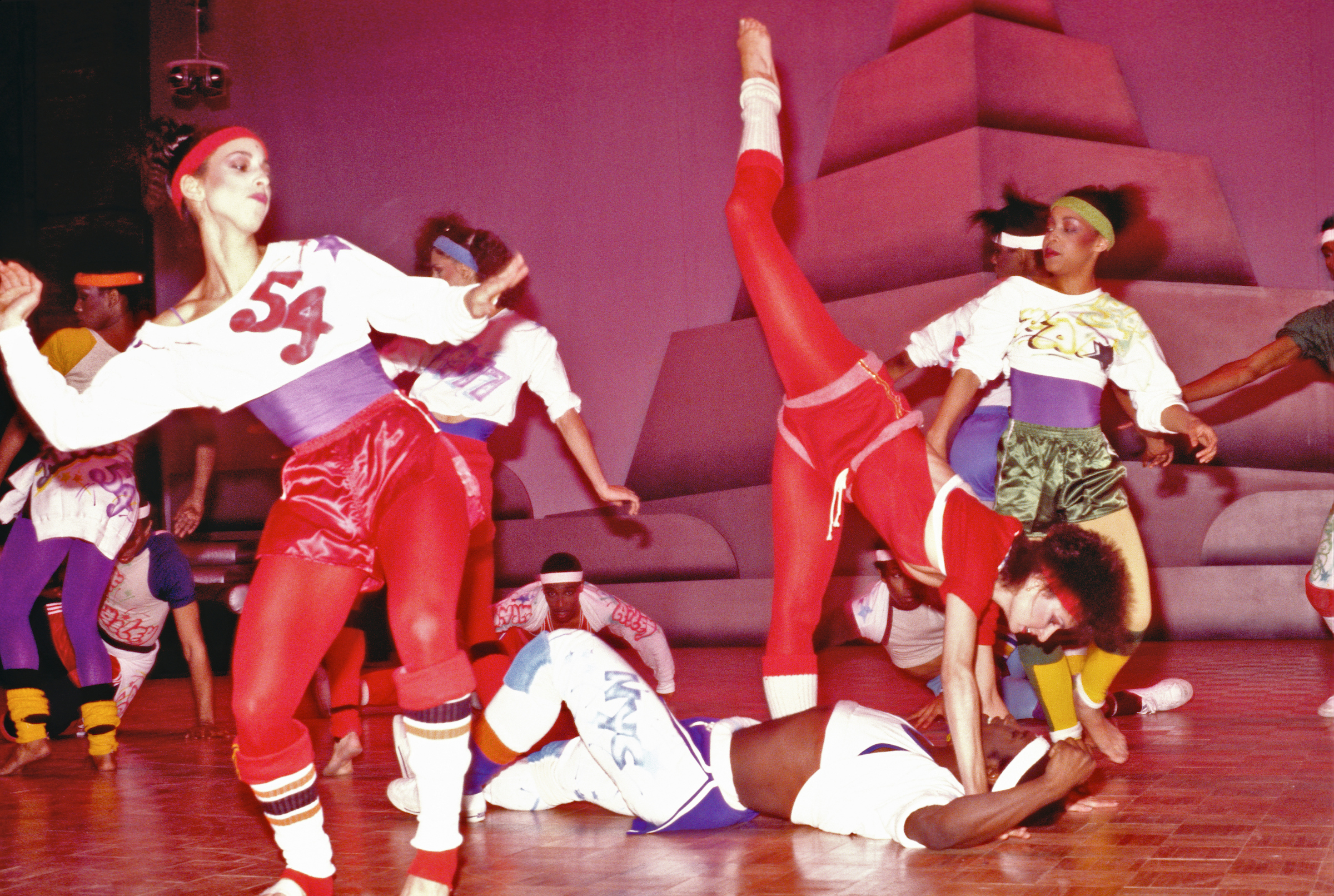 Fiorucci Dancers at Studio 54, 1977
In the late 70s, the Italian fashion label Fiorucci threw a party at Studio 54 featuring dancers clad in brightly colored leotards, tights, and athleticwear. When Italian-born designer, Elio Fiorucci, opened up his nearby shop of the eponymous name on East 59th Street in the spring of 1976 it quickly became a hit with the New York City art crowd because of its delightfully eccentric details. The shop, which was dubbed "the daytime Studio 54", featured models dancing in the windows, had DJs spinning records throughout the day, and free espresso was passed out to shoppers as they browsed gold cowboy boots and brightly colored vinyl jeans. The environment was lively and outrageous, and often attracted the likes of Marc Jacobs, Cher, and even Jackie Onassis.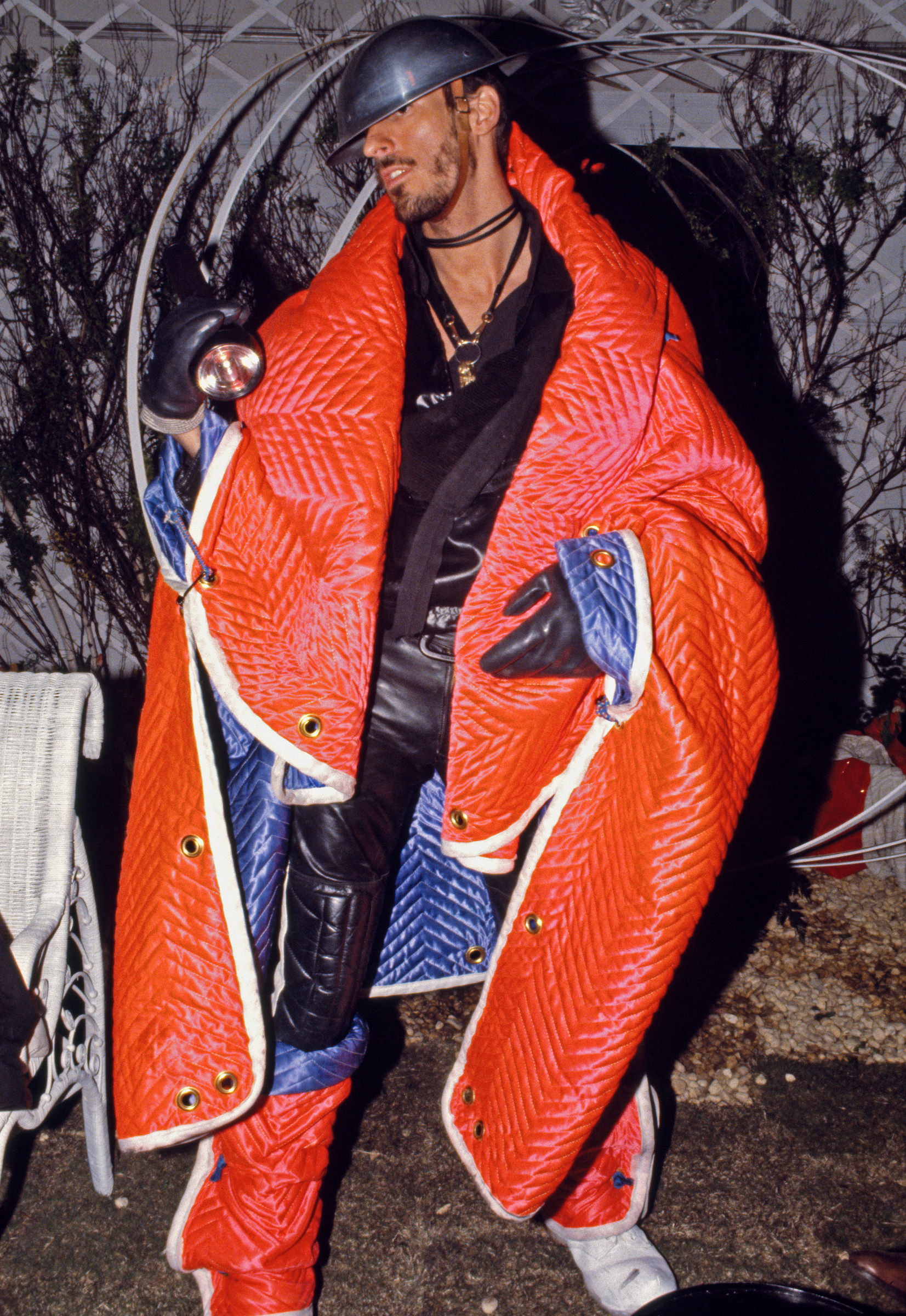 Performance Artist Richard Gallo Attending a Studio 54 Party, 1979
In 1979, New York City-based performance artist, Richard Gallo, was captured on camera by photographer Dustin Pittman wearing a quilted oversized coat, leather pants, and hardhat while out and about at Studio 54. Gallo was known to perform outside of luxury shops and buildings throughout the city, including Harry Winston, Tiffany & Co., and Van Cleef and Arpels. His art often broke down traditional ideas of sexuality, masculinity, and identity. Warhol, who was a friend and collaborator of the artist's, once said Gallo was "more glamorous than Marlene Dietrich".