North West made her rap debut at the Yeezy Season 8 show
Watch Kanye standing next to her, radiating huge proud dad energy.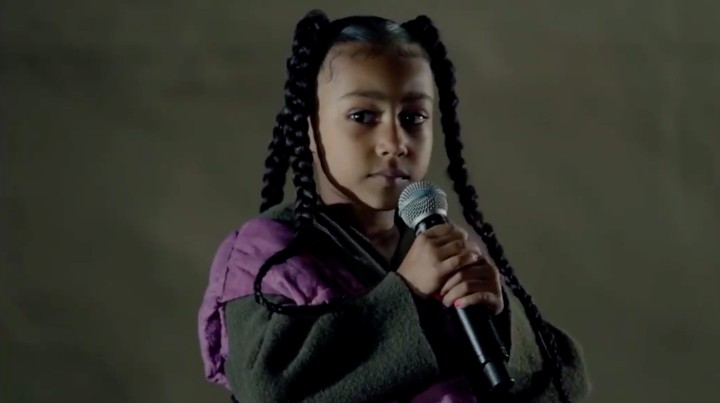 Yeezy Season 8 closed with a performance by a very special guest last night, tiny queen North West herself. While the models took their final walks at the surprise Paris show, the si-year-old rapped an original remix of ZaZa's "What I Do?", the product of another miniature star in the making.
Donning a bright purple gilet and some puffy beige Yeezy boots, North introduced herself: "You know my name, it's Northie," she sang, "Look at my shoes, they are cute and cool!" I mean, she made some points. The show's 18 looks were quintessential Kanye: simple, relaxed silhouettes in beige-adjacent neutrals.
But would North be a Kardashian-West if her actions didn't quickly become mired in controversy? "We admire Kanye West, and adore his journey. However, we don't wanna feel like our daughter's journey in the world of entertainment is being STIFLED," ZaZa's parents wrote in a post online, feeling slighted that their daughter's song had not been explicitly acknowledged in the performance.
Kim responded by commenting on the post: "Today's performance of North's remix of ZaZa's song was something she asked to do at the last minute and a complete surprise. I didn't mean to not give credit where credit was due," she explained, adding that she "would love for the girls to meet soon". Now that would be one ambitious crossover event.