What i-D editors around the world are doing during self-isolation
From Milan to Tokyo, we're all just trying to stay sane.
i-D's editors, like many of Earth's residents, are currently under government mandated quarantine or self-isolating. If you'd thought that wouldn't be so different from being on Slack all day with your headphones on, turns out it really is. Without idle gossip about the Hadids by the water cooler, do we even exist? Does it matter if my WFH outfit is pajamas? Does skincare even matter any more when we're scrubbing ourselves senseless with disinfectant every couple of hours?
Those are just some of the more minor freakouts we go through daily, either alone or with our families/flatmates, in between FaceTiming our interviews and asking people to do self-portraits at home. Here's how five i-D editors in different countries get through the day.
Amanda, i-D Italy Editor, Milan
When I open my eyes, the alarm hasn't gone off yet. It's 6AM and I can't get my body to go back to sleep. So I go to the kitchen and start my day as if nothing has changed in my life. Actually, everything has changed in the last four weeks. Life as I knew it doesn't exist anymore. I can't see my friends, my family, my partner, my colleagues. Every activity in my day requires a screen.
Five weeks have passed since Italy's lockdown and I go out every three days for my groceries. Apart from that, I spend all my time in my one bedroom apartment. And I consider myself amongst the luckiest: there's a place I can call home and I still have a job. It could be worse. It is worse for many.
Video calls and text messages are now the only way I have to communicate with others, so this is what I do all day long. I am constantly on Slack, Whatsapp, Hangouts, FaceTime. This helps me hold it together, because you can't cry in front of your worried parents. You can't lose your shit when you're talking to your employees. And sometimes, if you pretend that everything's okay long enough, then you start thinking everything is okay for real.
We're living in unprecedented times and we don't have the words to describe them yet. My fellow editors and I are doing our best to find those words as quick as possible, but for now we're using our platform to give a voice to other people. There are no journalists or editors or readers right now. It's us, human beings, trying to stay alive and healthy during a global pandemic. We're in this together.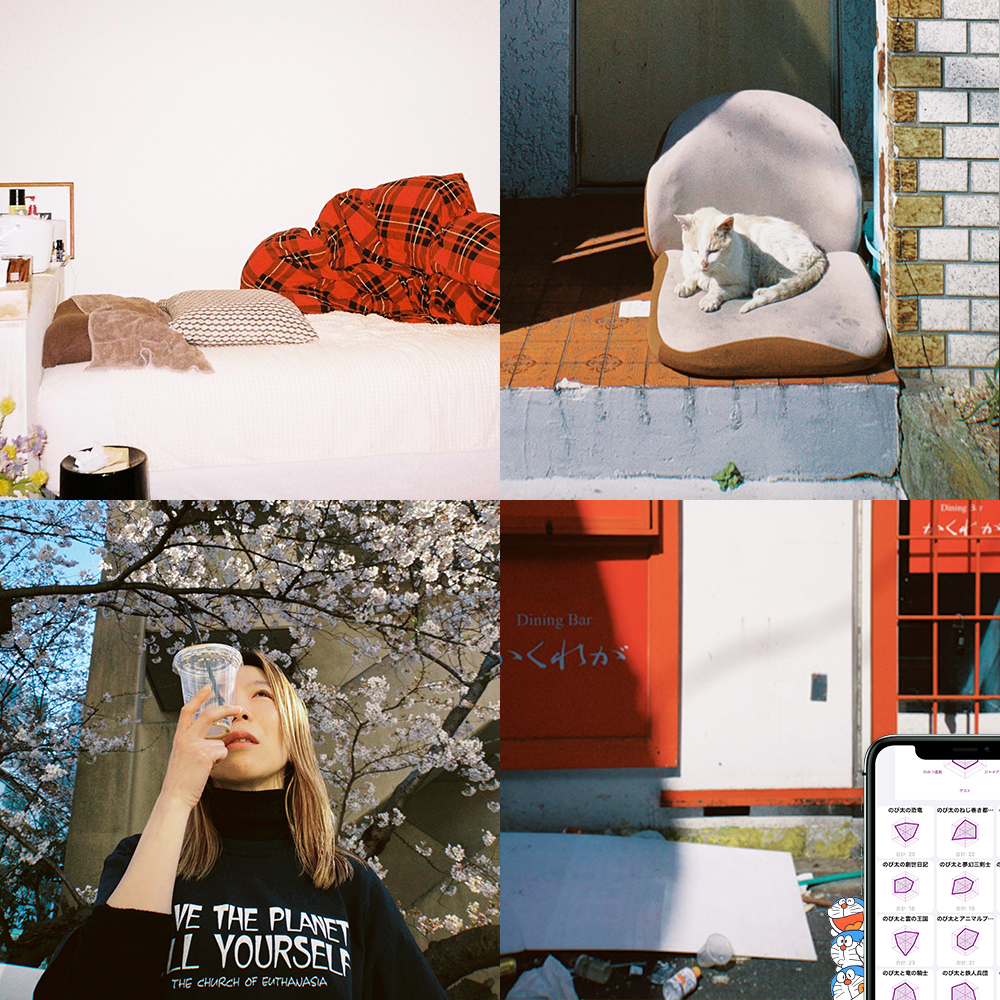 Ai Ito, i-D Japan Editor, Tokyo
We started working from home on the 27th of February. Although Tokyo is not in total lockdown yet, I'm staying at home as much as I can.
I wake up in the morning, get dressed, have a morning coffee, and go for a walk and say hello to the dirty cat I'm friends with -- that's my morning routine before I start work. I can get most of my work done via email, being on the phone or Slack, posting on socials and having many video calls at home.l
None of this was easy in the beginning. The hardest bit was sticking to our office hours, because I could work at my own pace. But didn't take that long before it became my new normal. Probably that's how many other Japanese people working from home feel too.
This whole experience made me realise how work-centric my life is. I'm happy that I have more time to unplug now. I watch movies and anime series on my watchlist, and read books I bought but never finished, and listen to the music I've been recommended. One of my greatest achievements so far was creating charts of DORAEMON movies from the 90s to the 00s. I really hope all of this can be useful at some point.
The impact of COVID-19 brings a new challenge every day. We are in this together, but I also know it's hard to have a one-size-fits-all solution. I'm doing my best and hope it helps to make a small change. Oh, I miss going out!
Jack, Acting Digital Editorial Director, New York
After years of fantasising about what Manhattan would look like after the Apocalypse, I can report that it's actually not that great. I live on the edge of Chinatown, and seeing the empty streets on my walk to buy groceries is unsettling. I miss restaurants. New York is an eating-out city -- I guess under normal circumstances you're supposed to work all the time, and the only way to do that is if you're not cooking for yourself. Since entering quarantine over a month ago (I was in Milan for fashion week), I've cooked every meal for myself, which has dispelled any notion I had about liking to cook. Cooking Sunday lunch is one thing -- cooking three times a day is drudgery.
I wake up in the morning at 6.30, because I'm used to going to the gym, and instead I bleach various surfaces in my house. I then spend most of the morning on conference calls, and the afternoon editing pieces. By the evening, I am ready for wine.
My husband and I live in a studio apartment, and with both of us working from home, I feel like I'm the meme of the woman who has discovered her apartment is uninhabitable. I can't believe I live in such a small space and didn't notice. Once this is all done, whenever that is, I think we'll be moving somewhere with a garden (I say that now). The best bit of the day is doing choreographer Ryan Heffington's dance class on Instagram Live -- throwing myself around and shouting seems to help. Our poor neighbours.
I know we're supposed to be starting a creative project but the thought of doing some watercolours or writing a screenplay makes me want to scream. Instead, I'm just reading Lord of the Rings for the seventh time and talking to the dogs my mum panic-adopted on FaceTime. When this is over, I am going out every night for the rest of my life.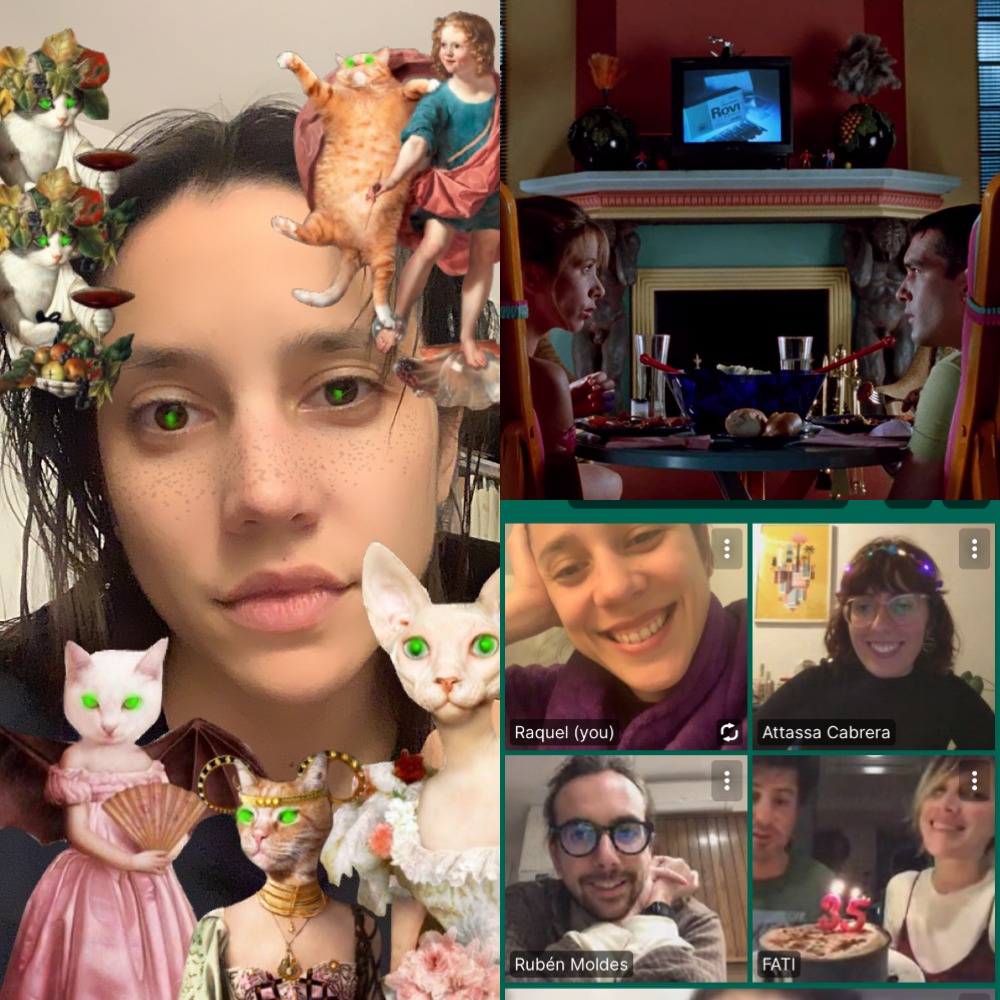 Raquel, Content Manager i-D Spain, Barcelona
Since the quarantine started in Barcelona, I wake up every morning thinking that all this is not real. Working from home may seem like fun, but the only fun thing about it is that you can do it in your pyjamas. I miss my colleagues, but we stay together talking all the time by chat. We send each other news to stay informed, but also many memes, because humour is now more necessary than ever. I feel very lucky to be able to work, work keeps me on schedule and keeps me active and busy. Publishing news and articles about the coronavirus makes me feel useful in some way. I'm also taking advantage of this moment to continue writing my novel. The fire escape stairs have become my reading corner and the rooftop has become my makeshift gym.
I have a small terrace with views of the Sagrada Familia, where I sunbathe and breathe fresh air (cleaner air than usual because there are no cars polluting the city anymore). I live with two girls, and I feel that all this has united us much more than before. We do yoga, meditate and watch a movie every day -- we love Almodovar's films.
In Spain, every day at 8PM we go out to the windows and balconies to applaud the health workers who fight in hospitals against the coronavirus. People applaud, cheer each other up, sing and play instruments. It's very emotional. Later, I talk to my boyfriend on Facetime because we live apart. I also talk to my friends, actually, a lot more than before. I feel that we would not survive this crisis if it were not for the Internet.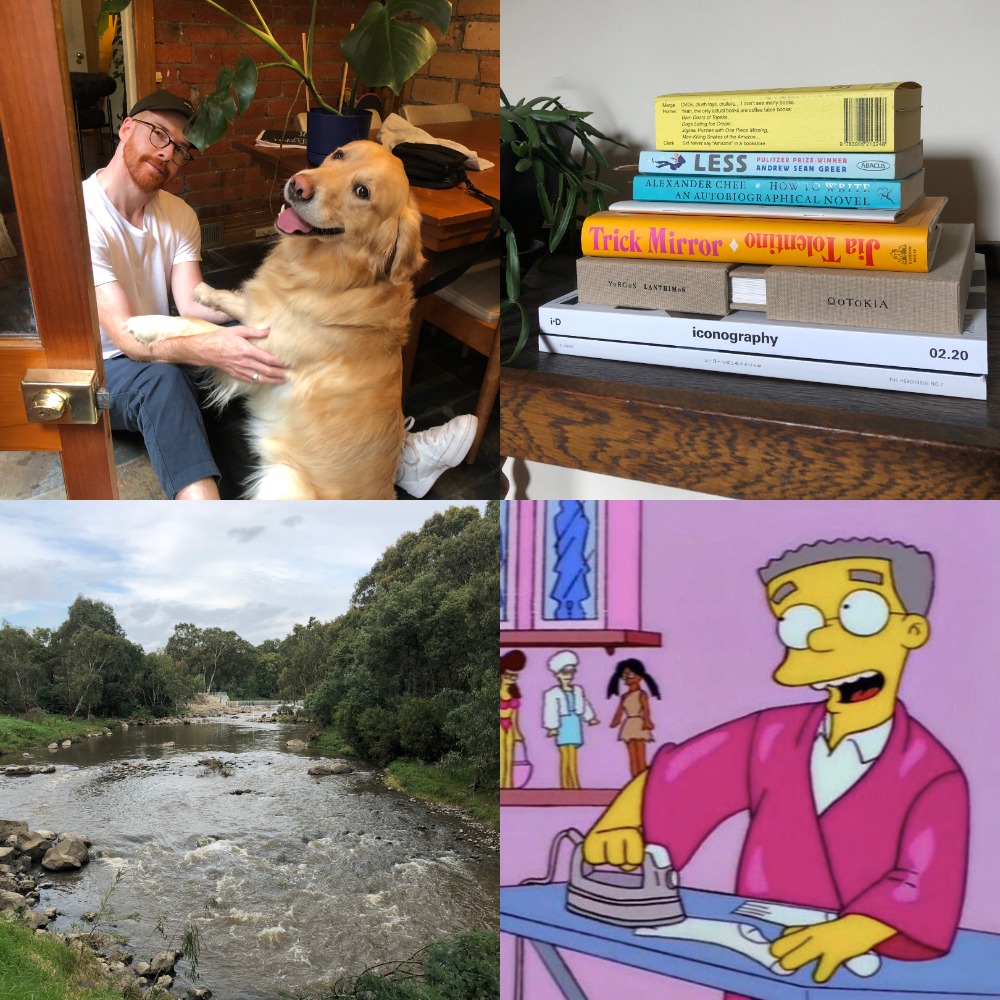 Mitch, Managing Editor for i-D Asia, Melbourne
I've been working from home for almost three weeks now. Australia's in lockdown, but the government's messaging has been terrible and inconsistent. I've been trying to stick to office hours, so I'll get up and get dressed as if it were a normal day. Instead of going to the office, I'll go for a walk through the nature reserve nearby. Then I settle into work at the kitchen table, where my roommates are also working from home. A hard thing is to not constantly look at social media for the latest news — but I still always look.
It's impossible to do any shoots at the moment so my work is mostly writing, editing, emailing and having video calls. (There are so many video calls these days. Way more than there ever were meetings). After work I've been trying to do a home bodyweight workout that I saw on Instagram but I usually give up after five minutes. So then I'll just pass the time by reading (Jia Tolentino's Trick Mirror, finally) or watching trash TV (Love is Blind). Somehow, life right now feels overwhelming but also boring. But being bored at a time like this is a huge privilege. Especially when I have friends that have already lost their jobs due to the economic downturn this is causing. Most of my thoughts go to them, along with all the healthcare and service workers — without them we'd be fucked.
Tagged: