Nicholas Daley takes us on a trip
Taking inspiration from Afrofuturism, psychedelic rock and painter Frank Bowling, the show was a trippy blend of experimentation and craftsmanship.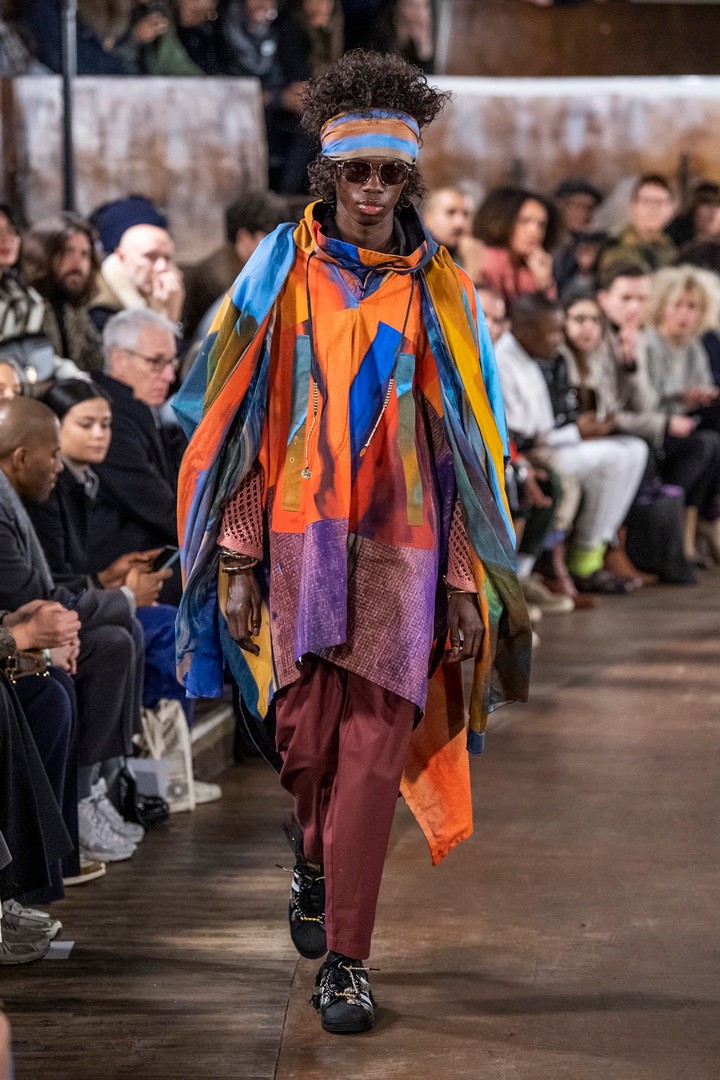 Photography Mitchell Sams
As we've previously noted, Nicholas Daley has quite a habit for making show attendees venture away from the London men's shows' Shoreditch hub. For AW20, it was to a cavernous concert hall in Dalston, inconspicuously tucked behind the Kingsland Road's humdrum blur of bar fronts and neon kebab shop signs. The physical journey taken could almost be considered a metaphor for the experiential one that lies ahead: Nicholas, after all, is one of a handful on the London schedule that has developed an enviable knack for transporting his audience to a world entirely of his own.
This season, we took a real trip. Drawing upon a pool of inspirations spanning Afrofuturism, the Black Abstraction art movement of the 70s, specifically Frank Bowling's Poured Paintings, and psychedelic rock, the collection -- entitled The Abstract Truth -- offered an artisanally-informed imagining of historicised archetypes of Black creative movements for today's wearer.
As ever with Nicholas, music was central to proceedings: a live original score was provided by Rago Foot and south London duo Kwake Bass & Wu-Lu, stoking the heady energy of the space. The clothes, however, demonstrated the same practicality and ease of wear that the designer has made cornerstones of his practice.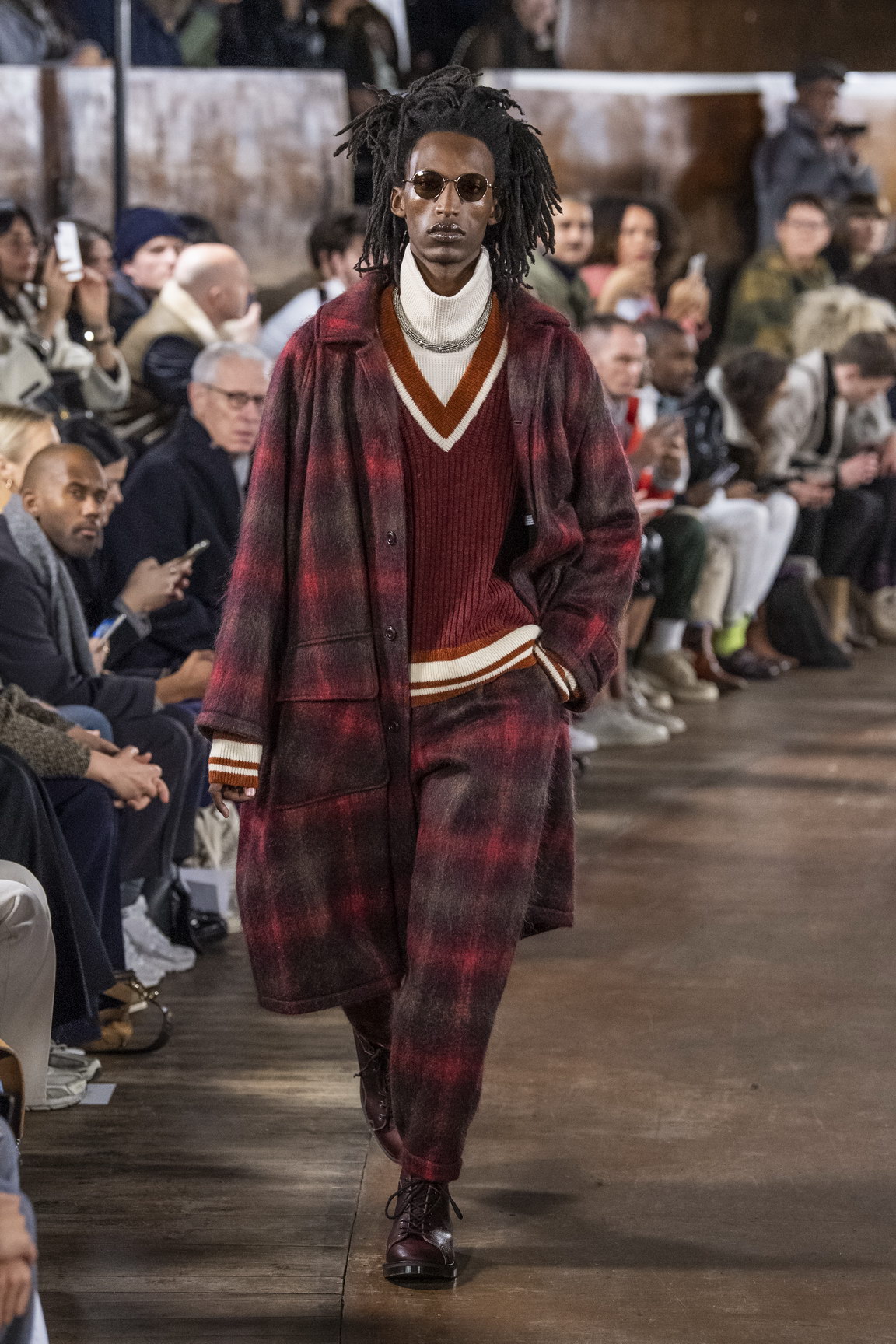 While the predominant silhouette, a slope-shouldered, comfort-first approach to tailoring, may be considered by some to err towards conservative, ambitious experimentation and a flair for recontextualising traditional crafts came through in the details. Take two of the opening looks, for example: a red and oxblood checked overcoat with matching cuffed trousers, and a car jacket. The mohair check, uncovered in the archive of esteemed tartan producers Loch Carron along with another in turquoise and indigo, gave a subtle nod to the designer's Scottish heritage, while seamlessly integrating into the cosmopolitan wardrobe of the Nicholas Daley man.
This process of mining and reinventing served as the collection's bassline, from the shoes, derbies by Northampton shoemaker Tricker's given a high shine, near-iridescent makeover, to the embellished oversized Baker Boy caps in the collection's signature fabrics. This season was also the second outing of Nicholas's collaboration with Fred Perry, focussing on the cross-pollination of the punk and reggae scenes in the late 70s, yielding sporty zippered jackets and a grain leather take on the iconic British brand's Monkey Boot. AW20 also marked the first chapter of a partnership with quilted outerwear specialists Lavenham, whose jackets, gilets and accessories in khaki and black leant a faintly militaristic air.
The narrative streams of experimentation and craftsmanship mingled to best effect in the exquisite jackets and trousers cut from bespoke Japanese textiles. Created alongside a team of Japanese dye specialists using an age-old marbling technique known as 'Suminagashi' or 'floating ink', the technique produces grey-to-silver swirls whose eddying almost seemed to continue with the wearer's walk. The palette, incidentally, ranged from earthen to inky, though bolder tones did emerge towards the show's end. In a clear homage to Jimi Hendrix, a founding father of psychedelic rock, models sporting headband-tied afros wore oversized knits and freeform draped pieces in kaleidoscopic hues, their prints transferred from the reactive dye paintings of visual artists Tllly Mint. Indeed, few can take you on a trip quite like Nicholas Daley.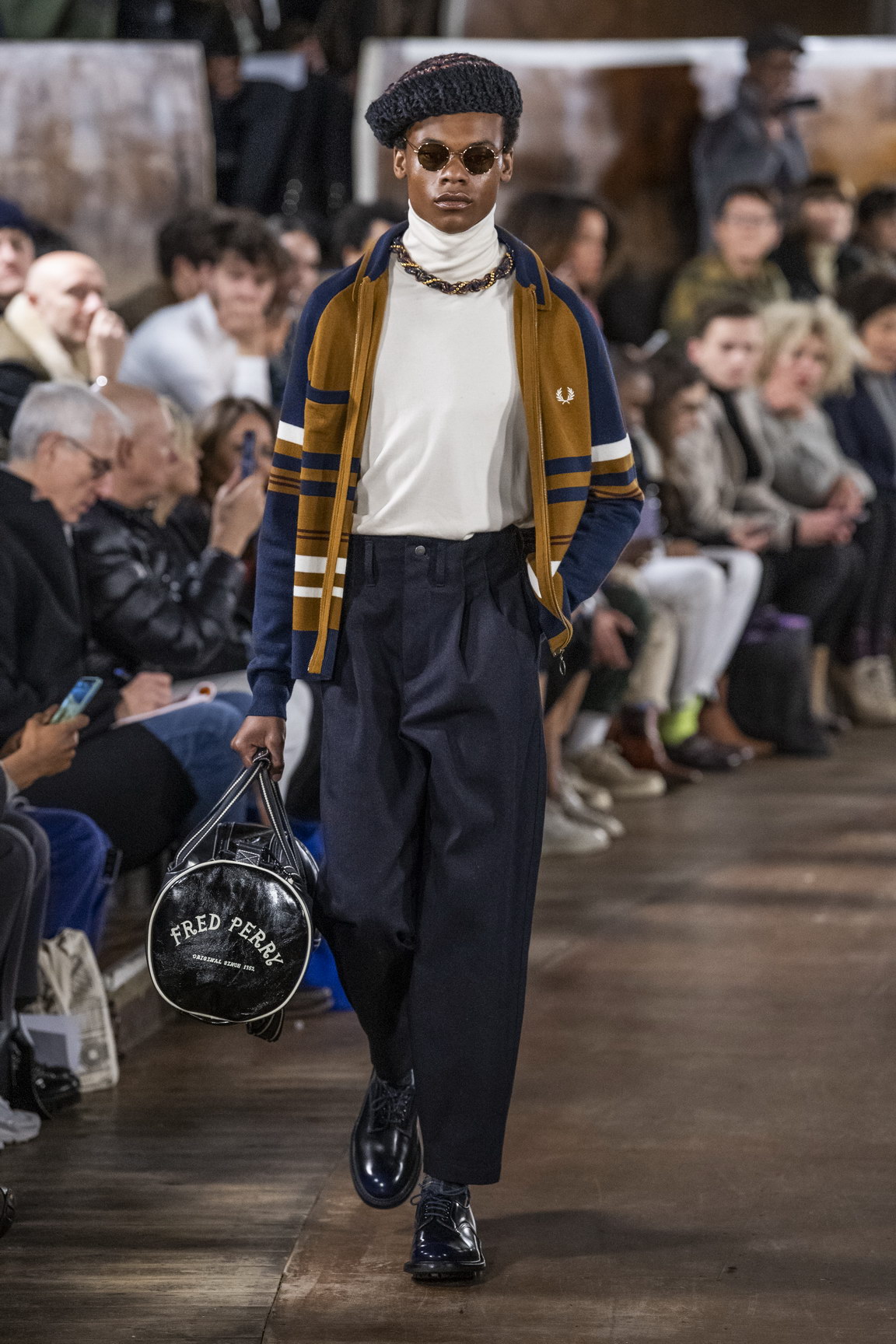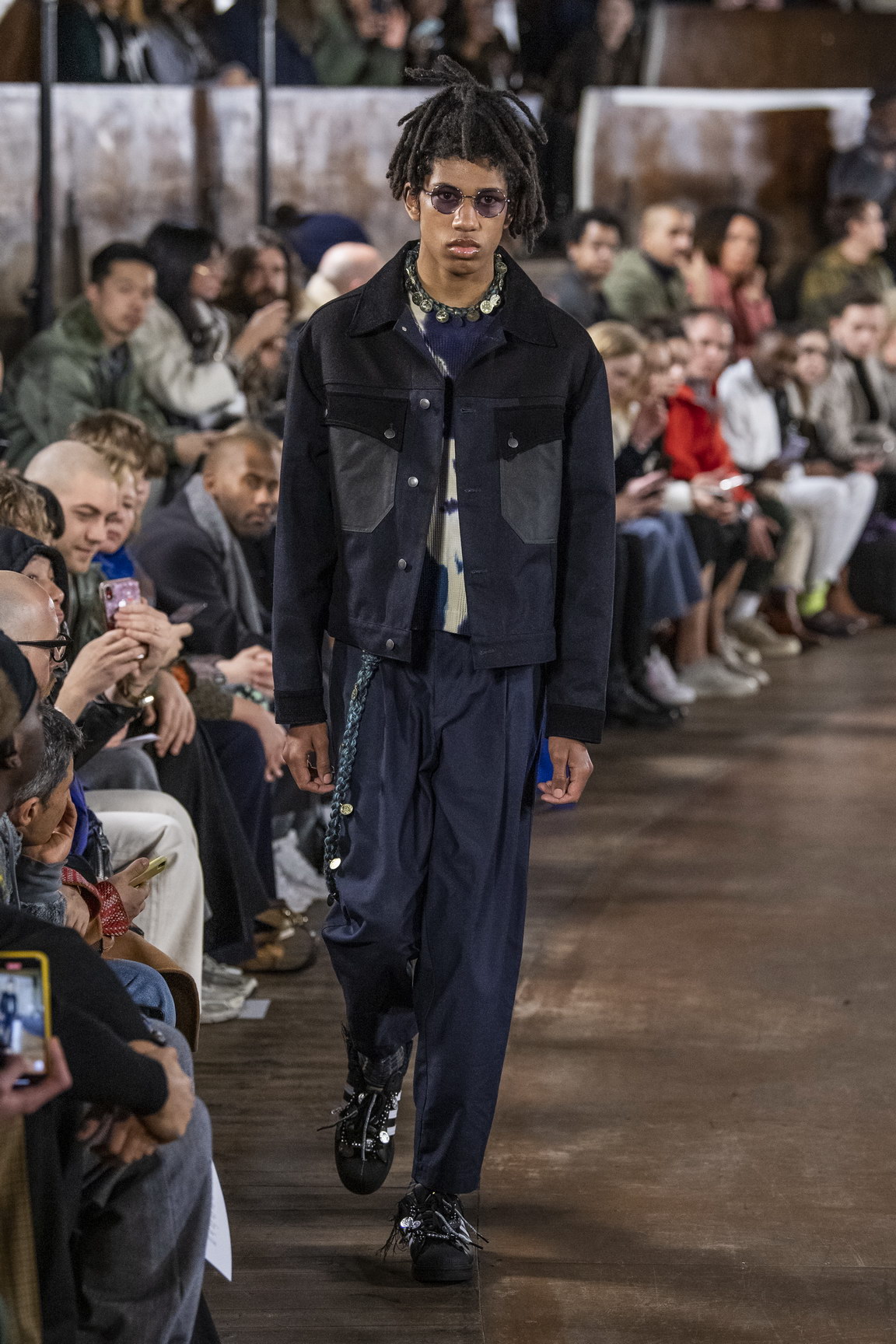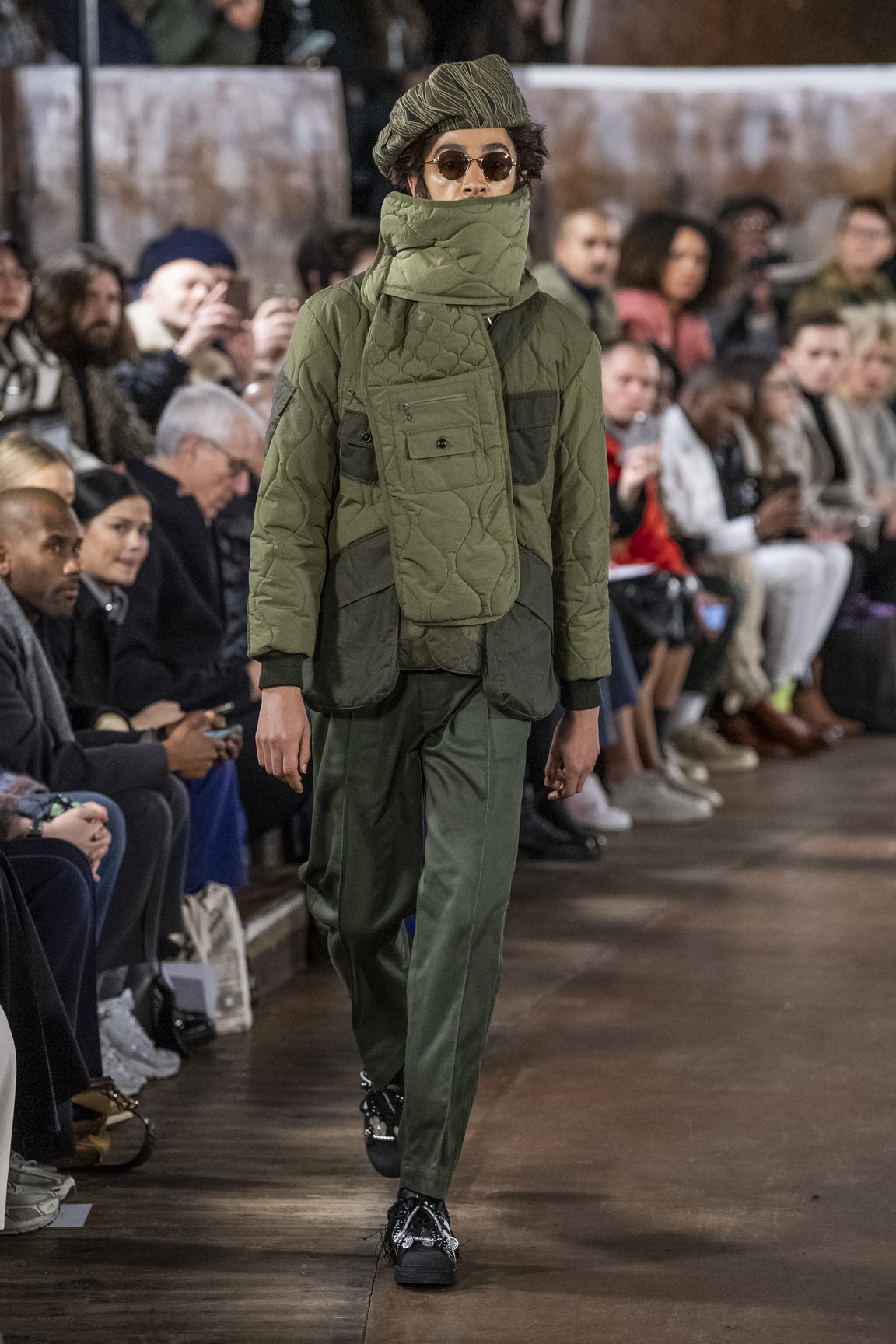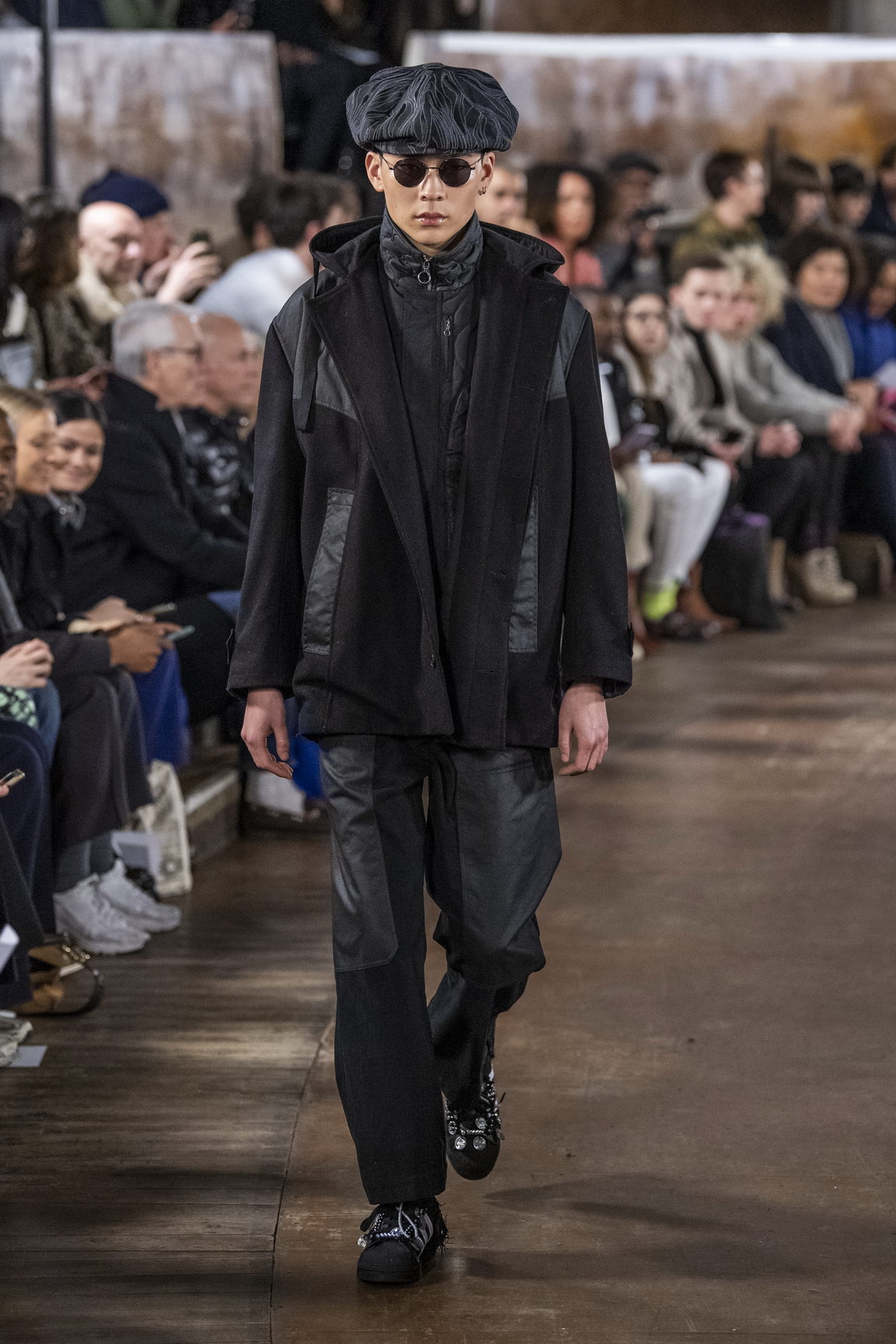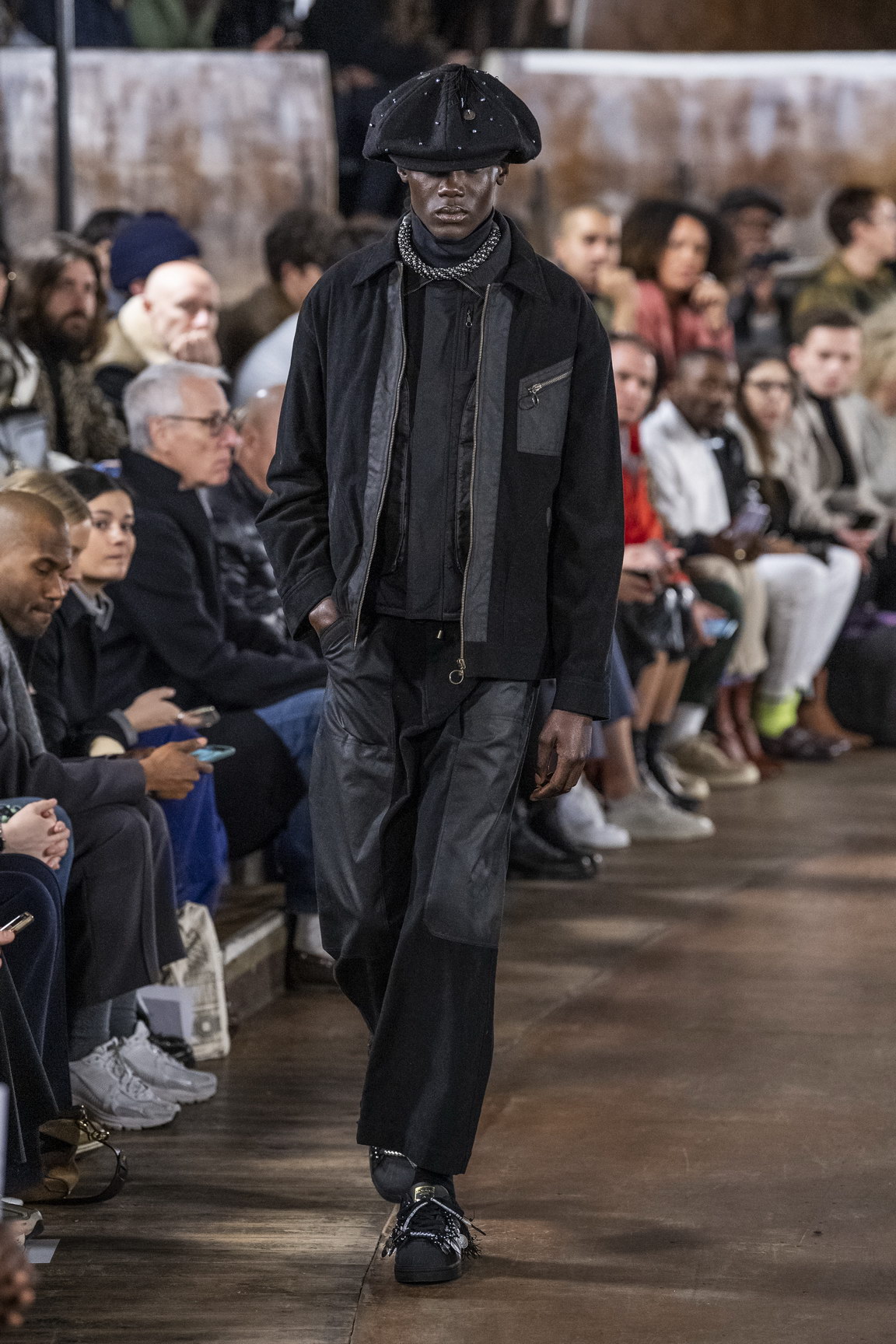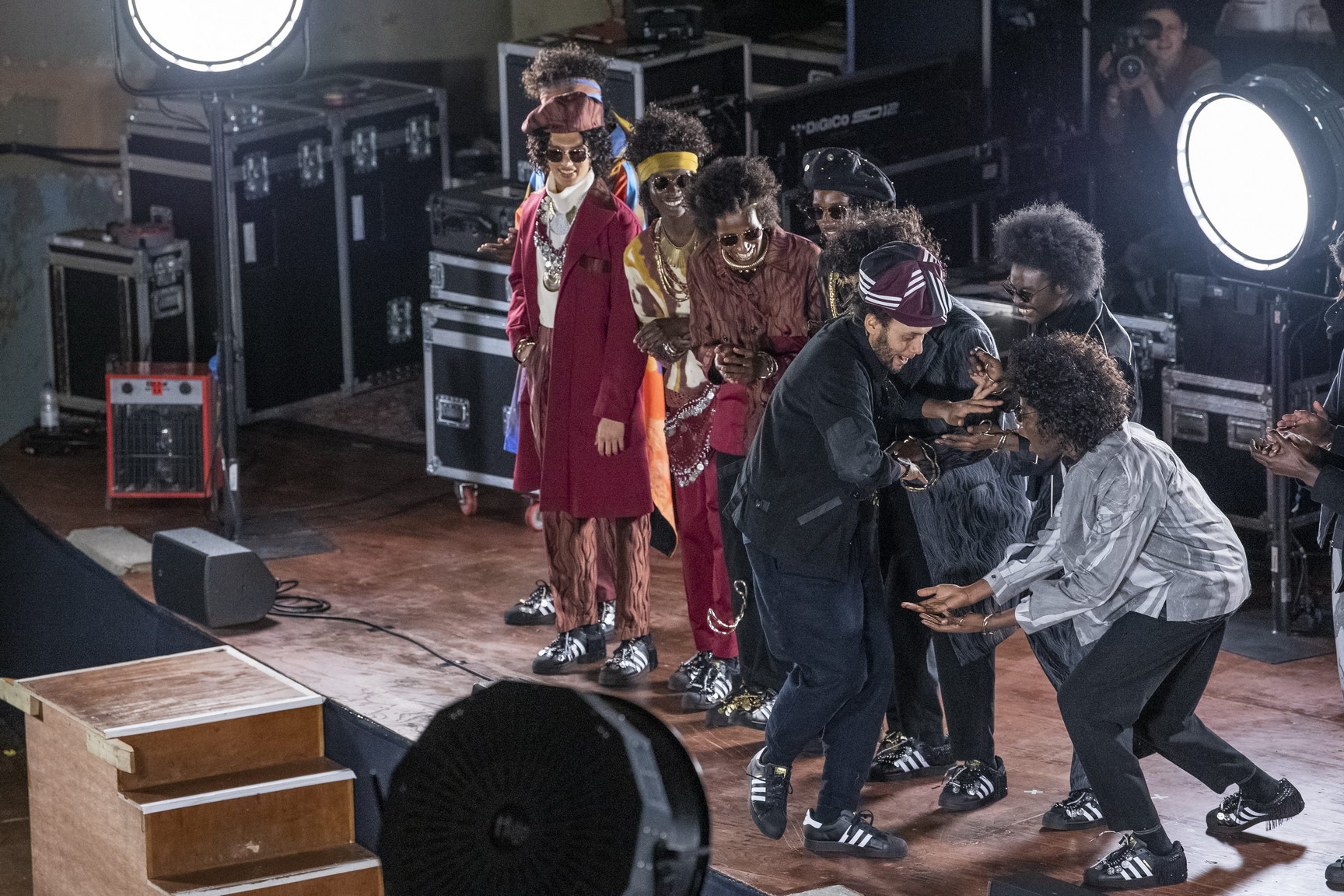 Credits
---
Photography Mitchell Sams