Photography Mitchell Sams
Loewe AW20 menswear was about forbidden glamour and femininity
Jonathan Anderson creates "a fantasy wardrobe for pretty boys".
|
19 January 2020, 11:27am
Photography Mitchell Sams
Most sexually-confused little boys can remember the first time they held a dress up to themselves and considered what it would be like to wear it, the exciting prospect of forbidden glamour and femininity. Jonathan Anderson tapped into that feeling for his Loewe menswear collection, opening the show with lamé prom dresses sewn onto the front otherwise straightforward black tailoring. Jonathan wanted his show to be playful, fun and optimistic — "a fantasy wardrobe," in his own words, "for pretty boys" — and so it was full of gestures like those apron-dresses that nodded to the childlike joy of dressing up in bright, shiny things.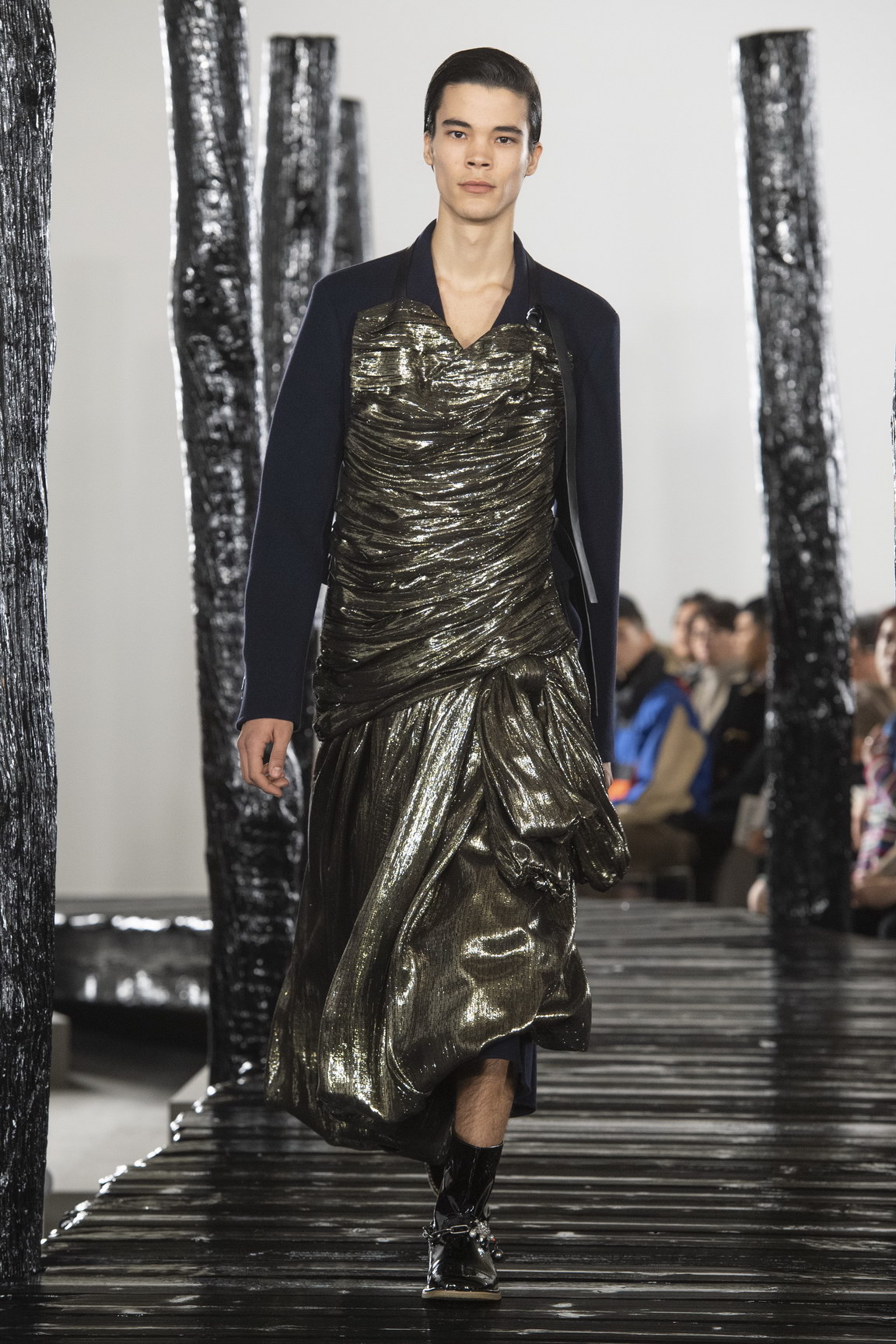 Felt buckets hats had cartoonish little feathers attached. A classic blue shirt has the silhouette of two geese. Cardigans had Jazz Age fringes of rolled organza. Slinky cable-knit sweaters came strewn in chunky rhinestones. A capelet came embellished with hundreds of mini mirrors, almost like an art-class mosaic.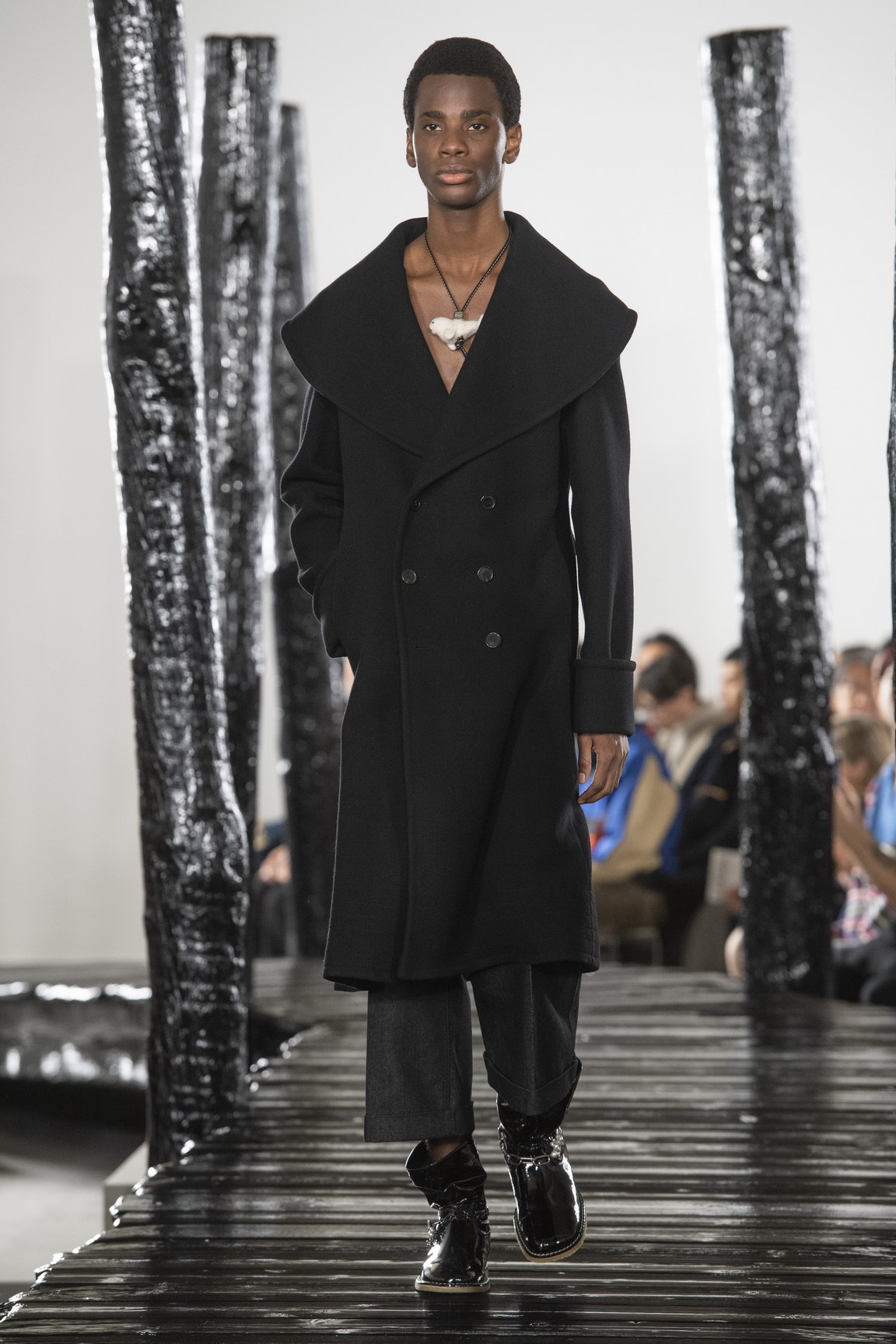 Of course Loewe is a luxury house known for its Spanish craftsmanship, which it takes very seriously in its galleries and annual craft prize. Yet there's also an irreverent side to the brand in the hands of Jonathan — the elephant-shaped bags, for instance, that have become an unexpected It Bags. This season they were blown up into jumbo-sized weekend bags, accompanied by patent leather booties with smatterings of embellishment.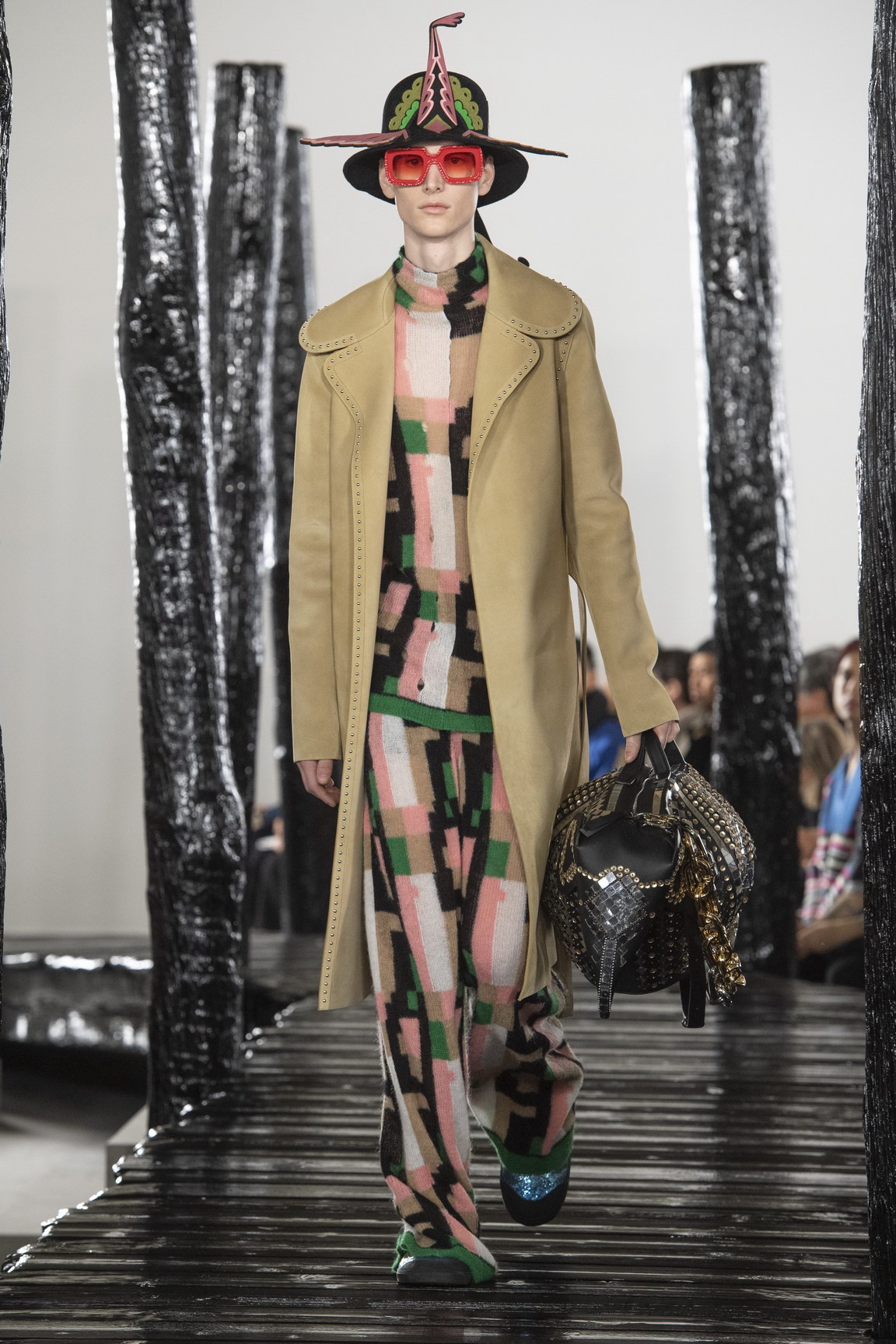 But for all those whimsical elements, there were also plenty of hardcore lux staples, like the number of double-faced cashmere coats in couture-ish balloon shapes — "interpreted as superheroes," as Jonathan pointed out. That's what can be picked apart and fly off the shop floor. Even better it could all swing both ways, gender-fluid in its appeal to anyone. It's a lesson in teetering between the desirable clothes and inspired ideas. It's why Jonathan is one of the most successful creative directors at a major luxury house today. There's something for everyone at Loewe.