Here's your first look at Timothée Chalamet in Dune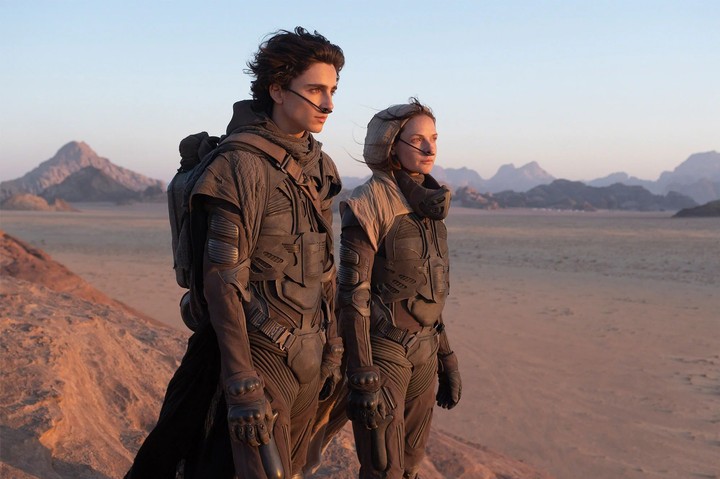 Photo by Chiabella James
Are you dead keen to say peace out to earth and blast yourself off to another planet right now? Same tbh. Shit's getting a bit too real here and we reckon some respite would be pretty sweet. Thankfully, we're starting to get glimmers of what life might look like on the other side. One thing that offers both interplanetary travel and whiffs of a life free of coronavirus' grip on us all? The release of Denis Villeneuve's Dune on 18 December, giving us our next offering of Timothée Chalamet in the shoes of a lead character.
Set on a planet in our solar system called Arrakis, Dune tells the tale of Prince Paul Atreides, a young man attempting to track down the source of the galaxy's most sought after compound, 'spice', said to have mind-altering properties. But he's not alone in his quest: a rival family is also looking for 'spice' too. Whoever finds it first will, naturally, reign over the planet as its more powerful entity.
The story, written by Frank Herbert in 1965 and famous for being gargantuan, convoluted and near impossible to adapt, and has been the subject of movie industry folklore for decades. Even the high priest of weird, David Lynch, couldn't do it justice in a sprawling, 3-hour 1984 attempt. But now, with Arrival director Denis Villeneuve behind the lens, a promising new version is about to arrive. And Vanity Fair have just given us a glimpse of the cast in action.
Starring alongside Timmy in the lead role? Zendaya, Oscar Isaac, Josh Brolin, Rebecca Ferguson, and Javier Bardem to name a few. This is a sci-fi epic and the cast list is, as expected, eye-wateringly big.
The shots, which mostly depict the House Atreides, take us to the deserts of Jordan which double up as the dusty landscape of Arrakis, as well as into the lairs of the battling clans. It's the first look into what's set to become a movie two-parter that fully dissects Frank Herbert's original source material. Know what that means? Another Timmy sequel to look forward to. Roll on December. We're ready.
Tagged: