5 artworks Phoebe Philo explored in her dissertation in 1995
From penis noses to headless humans… welcome to the weird world of the Chapman Brothers.
|
14 February 2020, 3:00pm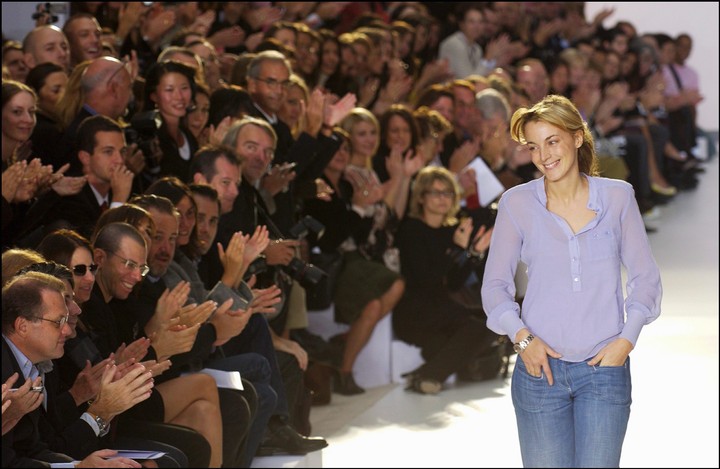 Two years after stepping down from Celine, rumours are still abound as to what Phoebe Philo will do next. Some said Chanel, others said Azzedine Alaïa. Just this week, news of a possible eco-friendly label began circulating. As ever, the lack of certainty seems only to be adding to people's curiosity. Which makes the fact Phoebe's dissertation -- from her days at Central Saint Martins -- going on display this week, even more intriguing.
Alongside the madness of creating a collection in the final year of a fashion degree at Central Saint Martins, students are also required to submit a written academic dissertation, which often informs themes they're keen to explore in their design practice. Though in Phoebe's case, not so much. Caroline Evans, the author and professor of CSM's Fashion History course, was Phoebe's tutor for this module, and remains at the college today. "Phoebe was a very motivated, focused student," she says. "She was interested in what was happening around her."
The influence of Phoebe's time at Chloé and Céline on style this side of 2000 barely needs mentioning. But looking back at her work as a student, the origins of her ascent as queen of chic are somewhat surprising.
Phoebe chose to study the work of Jake and Dinos Chapman for her dissertation, whose severed heads and siamese sculptures feel worlds away from her sleekness. The brothers grew up in Hastings in southern England and both studied in London separately before reuniting at The Royal College of Art where they began to work collaboratively in 1988. They intend for their work to shock while evoking both laughter and disgust -- tips and tricks they may have learned from Gilbert and George, who they both assisted before becoming an artistic duo in their own right. They became part of the Young British Art Movement, artists that, as Caroline says "filled the stage at the time."
Here, we take a look at the dissertation and examine five works by the brothers that Phoebe explored in 1995.
Disasters of War (1994)
Disasters of War was considered the Chapman brothers' first major piece of work -- a remake of Francisco's Goya's 1810-1820 etchings of the same name. The brothers aimed to recreate the scenes of brutality in the etchings -- bayonetting, mutilation and decapitation -- but in 3-D form. They added a splash of satirical humour by hiding inappropriate, ridiculous items within the sculpture, like a cannon made of a pen's ink tube. In her dissertation, Phoebe compared the 3D creation to Goya's original etchings while exploring its deformed mannequins.
Five Easy Pissers (1995)
This was one of the duo's most controversial works. Unsurprisingly, seeing as it depicts five child mannequins with penises for noses. Phoebe compared this piece to the Disasters of War sculpture, concluding that these Frankenstein-esque creatures were far more shocking and provocative than the Goya-inspired sculpture. She applied some good old-fashioned Freudian theory to Five Easy Pissers -- mentioning Freud's distinction between anal and oral zones of pleasure. Not for the faint hearted. The Chapmans often criticised modern consumer culture -- most famously in their miniature Ronald McDonald sculptures, where the ubiquitous symbol of capitalism is hung on crosses traditionally occupied by Jesus Christ. Five Easy Pissers is no exception is this, and of course, Phoebe being a fashion student at the time must have noticed that the mutant children had slick hair-cuts while wearing crisp new white tees and box-fresh Nike trainers.
Mummy and Daddy Chapman (1993)
Throughout her thesis, Phoebe questioned whether all the Chapman brothers simply intended to do was shock the viewer, and Mummy and Daddy Chapman became key to this debate. The work depicts two fibre glasses mannequins: the male figure is covered in anuses and the female is growing vaginas and penises from her head down to her stomach. This piece was a satirical reproduction of their own parents, saying "we made them in a manner that meant reproductive sex was impossible -- hence us impossible." Phoebe looked at whether works such as Mummy and Daddy Chapman represented the brothers inability to come to terms with reality in the 1990s.
Bring Me the Head of (1995)
"Off with his head" was not just said by the Queen of Hearts. In 1995, after a gallerist from the Italian Franco Toselli Gallery refused to exhibit Mummy and Daddy Chapman, the brothers reacted by beheading Daddy Chapman, turning his nose into a penis (what else) and renaming the work Bring me the head of Franco Toselli!. Its accompanying pornographic film, Bring Me the Head of, starred two actresses and the beheaded Daddy Chapman. Here, Phoebe explored the idea of art for art's sake -- which is perhaps aligned with the Chapman brothers' view that "Art is intended to tease the middle classes because nobody else wants or needs art."
Ubermensch (1995)
Yes, well spotted, that is the late celebrity astrophysicist Stephen Hawking who was sculpted, given rhinestone-encrusted teeth and then plonked on top of a giant rocky structure made from fibreglass, resin and paint. The title, Ubermensch, which was lifted from the writings of the German philosopher Friedrich Nietzsche and translates as 'superhuman' -- a compliment from them (or so they thought). Although this work received lots of criticism, with publications such as The Guardian questioning whether it was "the most repellent work" of modern art, Phoebe viewed it as a positive move away from their sexually explicit, deformed mannequins.
Phoebe Philo's Dissertation is on display as part of the Central Saint Martins' exhibition 'YES' at The Lethaby Gallery, 1 Granary Square, N1C 4AA until 10th March