7 of the most iconic celebrity twinning outfits
From the Beckhams in head-to-toe leather to Laura Dern and Kyle MacLachlan in matching aquamarine – celebrity twinning is a timeless fashion power move.
|
14 February 2020, 4:00pm
It's Valentine's day and even though we don't consider ourselves the sentimental type, we love scrolling through photos of bygone celebrity couples, preferably from the 90s -- and who can blame us. A grungy Johnny Depp holding hands with a doe-eyed, androgynous Winona Ryder, Johnny Depp on the red carpet with a young and otherworldly Kate Moss, Johnny Depp posing with… basically any 90s couples fashion moment involving Johnny Depp tbh.
But there's more to celebrity twinning than both wearing weathered leather jackets. Some romantic duos clearly make a conscious effort, instead of than just echoing each other's style or colour scheme. We've compiled a list of some of the more unexpected fashionably-synched duos, from the 1980s all the way to the 2010s.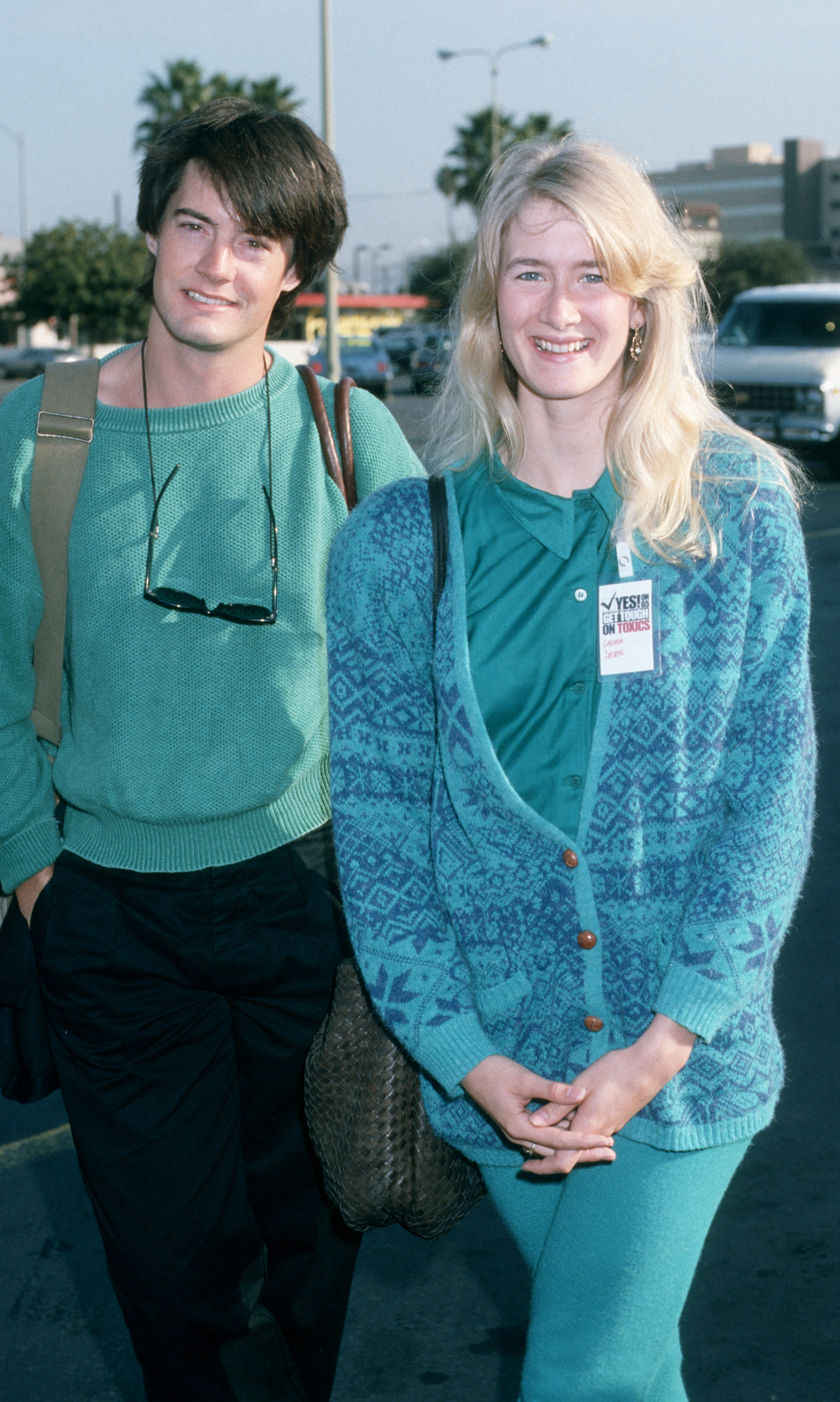 1. Laura Dern and Kyle MacLachlan
With Laura Dern experiencing something of a revival – sweeping up awards for Marriage Story and Little Women left, right and centre – we felt like paying a little homage to the iconic actress. Remember her infamous limp-run in Jurassic Park? The smouldering dance scene with Nicolas Cage in Wild at Heart? Her iconic cry-face in basically every movie? Laura Dern is cinema's underappreciated darling, and we love her and her quirky beauty all the more for it.
But let us not forget the film that truly launched Laura to fame: David Lynch's Blue Velvet from 1985. We are eternally grateful for the director's casting choices, because off-screen it would produce one of Hollywood's favourite couples: Laura Dern and Kyle MacLachlan. The two dated from 1985 to 1989, throughout which they were often photographed sporting twinning looks that sat somewhere between old school cool and grunge. Think oversized denim jackets, dapper suits and lumberjack shirts, combined with baseball caps, 50s glasses and boho shoulder bags. The two had a real thing for coloured-coded outfits too -- just look at the aquamarine blue ensemble above!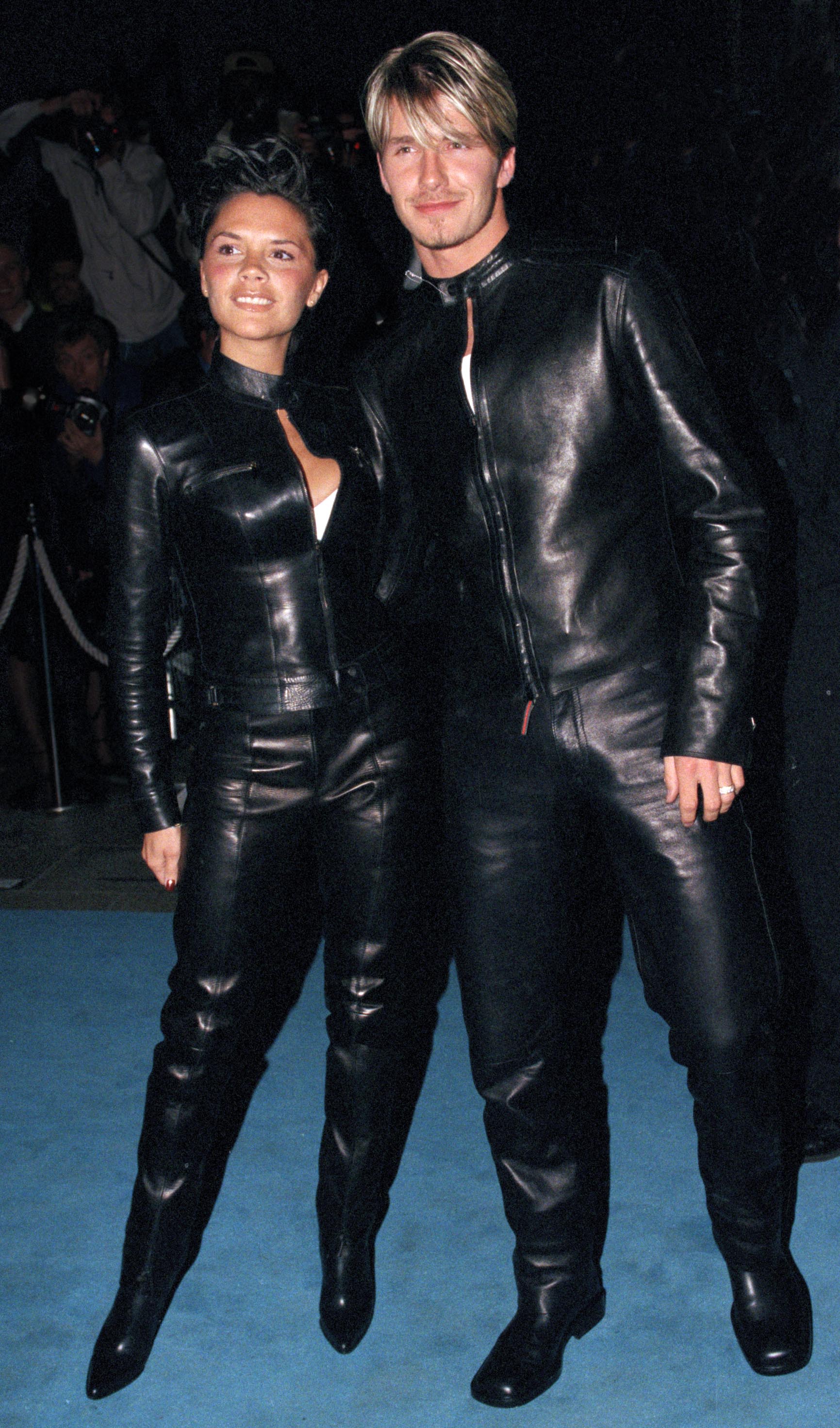 2. Victoria and David Beckham
It's doubtful that a couple has ever pulled off an all-leather look -- apart from Neo and Trinity in The Matrix of course -- as well as David Beckham and Posh Spice did back in 1999. The two had recently got married and were seen frolicking about town in matching black Versace jumpsuits -- which in our opinion is an indicator of blissful matrimony if we ever saw one. Posh and Becks would make headlines with their twinning looks for decades to come, in which their famed matching hairstyles, such as the iconic peroxide look, played a supporting role.
Nowadays Victoria is the renowned designer behind her namesake label and that comes with certain stylistic responsibilities. Her looks -- consisting of sharply tailored suits, pencil skirts and silky shirts -- clearly communicate that she's a businesswoman now, and a working mum, for that matter. Judging by recent paparazzi shots, David has clearly followed suit.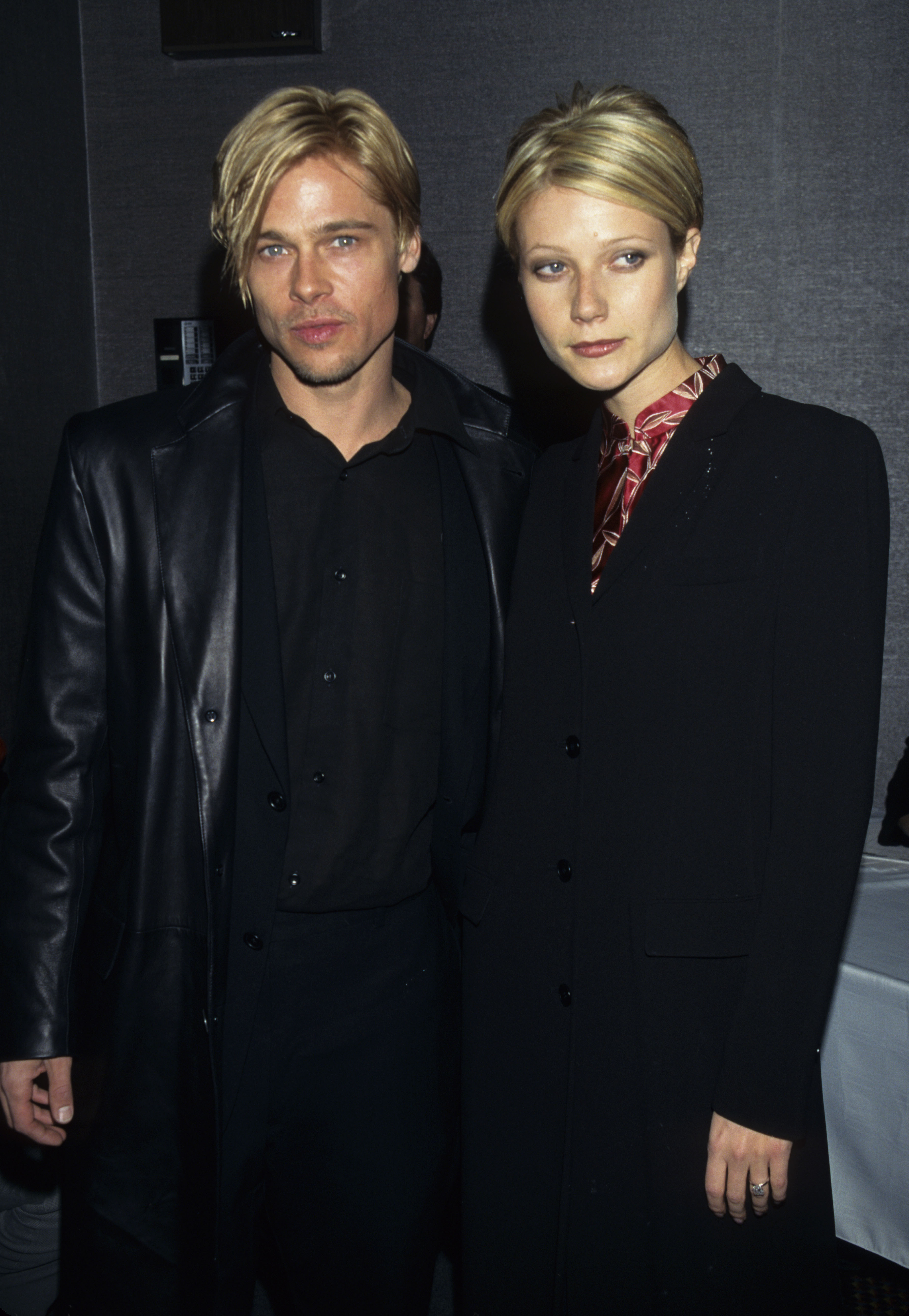 3. Brad Pitt and Gwyneth Paltrow
Are they blonde vampires? Models in a Tommy Hilfiger campaign? Aliens from a fashion-friendly planet? Blue-eyed and sleek-haired Brad Pitt and Gwyneth Paltrow were one of the most talked about couples of the late 90s. The two met on the set of crime thriller Seven, in which they played husband and wife, and began dating in 1994. By 1996, the couple were engaged to be married. But however matchy-matchy they might have looked on the red carpet, things were apparently not so harmonious in their private life. Not long after the famed pixie side-parting hair moment at the premiere of Brad's 1997 action-thriller The Devil's Own, the Hollywood stars decided to call off their engagement. Pretty sad for the rest of us too -- we wouldn't have minded feasting our eyes on their Tom Ford for Gucci meets Ralph Lauren goes golfing looks a little longer.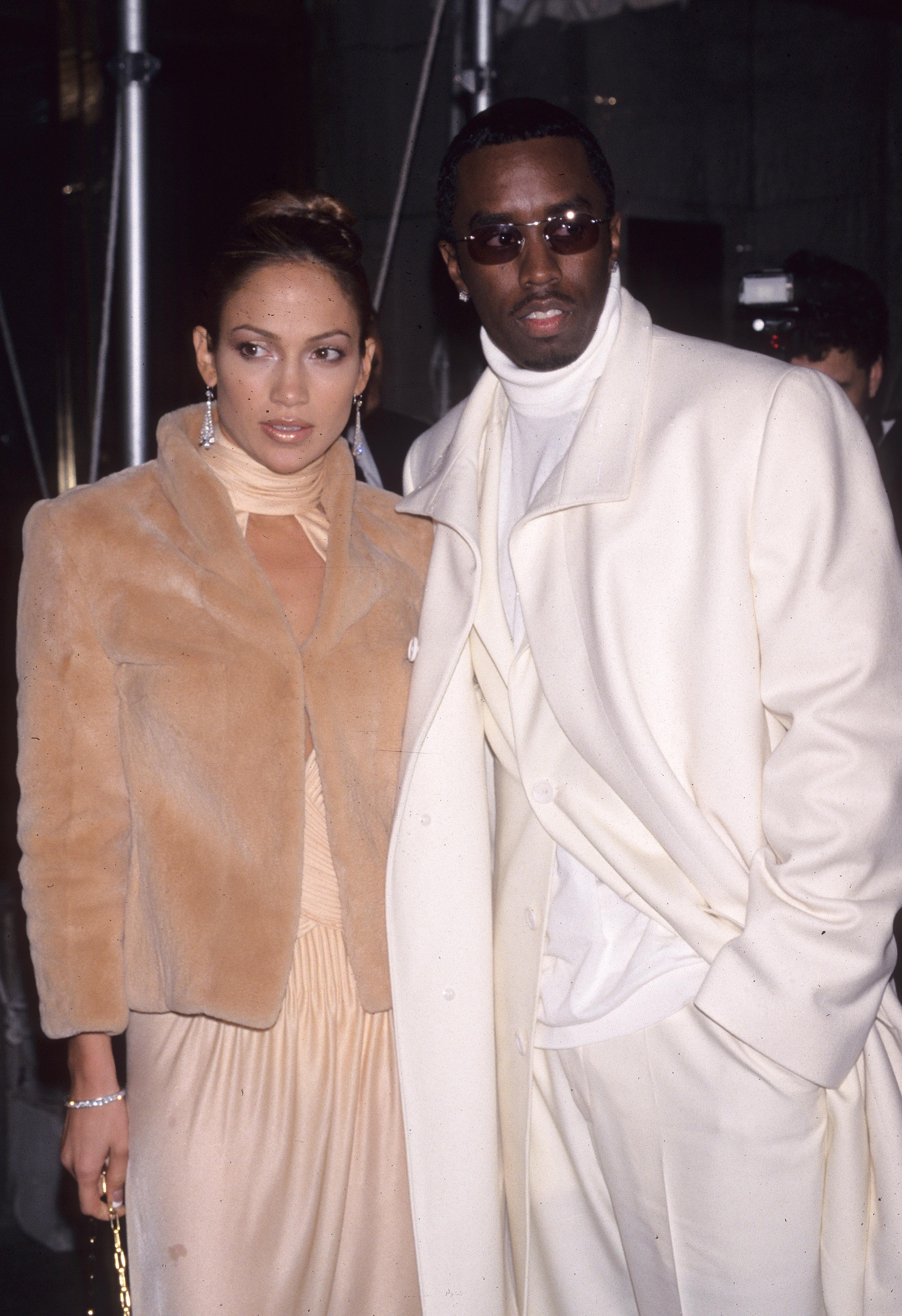 4. Jennifer Lopez and P. Diddy
It might seem like the 90s was the era for peak celebrity twinning, but make no mistake: the 00s have a strong claim to the throne too. One of our favourite couples to date must be J-Lo and P. Diddy, who were only in a relationship from September 1999 to February 2001, but made a seismic fashion impact nonetheless. Two words: Versace dress.
The singer first debuted the low-cut green dress that would break the internet on the red carpet of the 2000 Grammy Awards, which she attended with her then-boyf P. Diddy. Unfortunately their relationship wouldn't last nearly as long as the legacy of the dress, but we'll never forget the eclectic looks they pulled off together: dressed in uber chic head-to-toe camel and white ensembles one day, and looking like they'd walked straight out of one Puff's music videos the next. We stan a couple whose style is impossible to pigeonhole.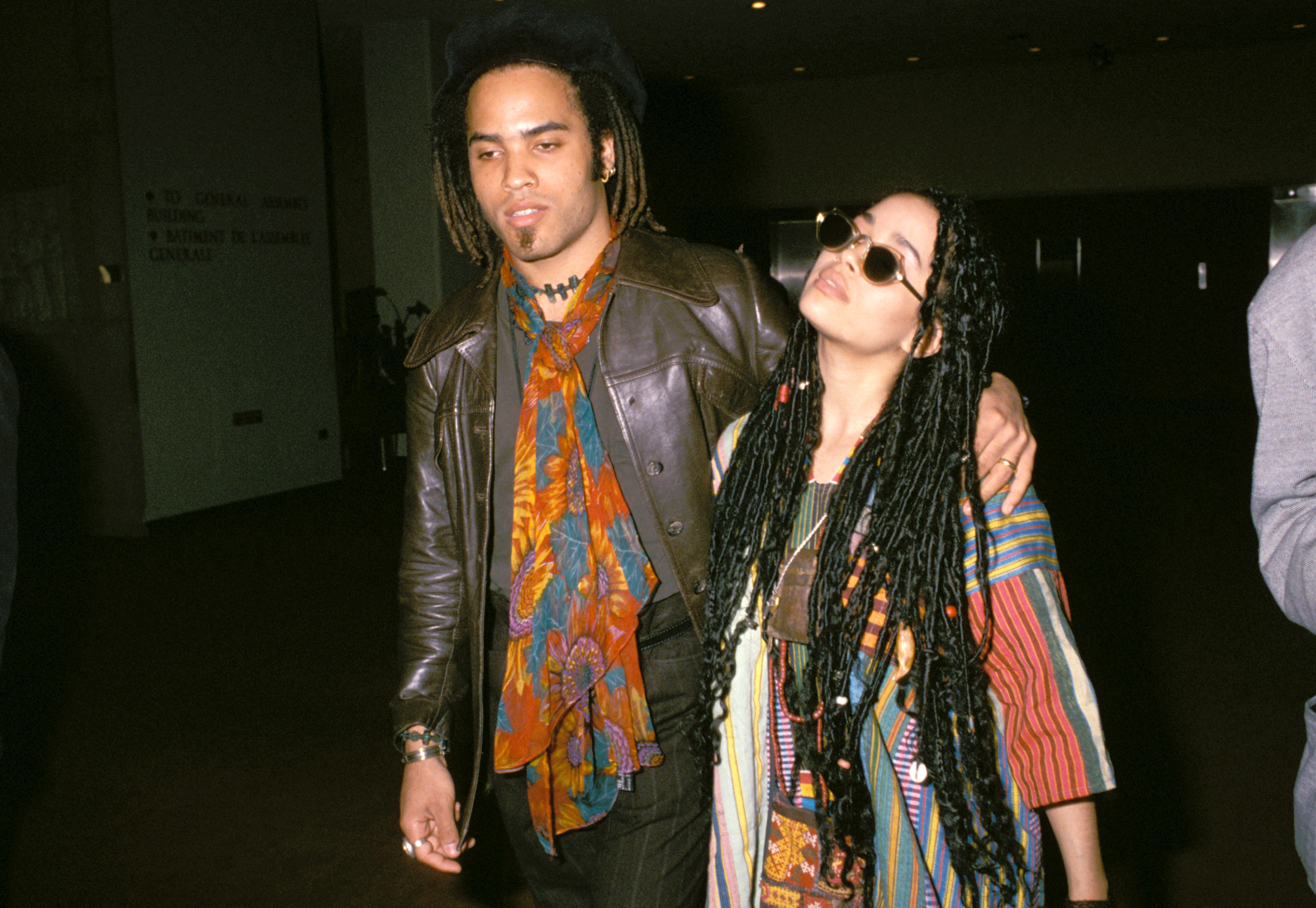 5. Lenny Kravitz and Lisa Bonet
We still mourn the 1993 divorce of the world's favourite boho couple Lenny Kravitz and Lisa Bonet. The two first crossed paths in the late 1980s, when Lisa was already a bonafide superstar due to her role on The Cosby Show and Lenny an unknown struggling musician whom the press often called, "Mr. Bonet". In 1987, the duo decided to elope and not long after that they welcomed their daughter Zoë into the world.
Looking through the couple's fashion moments you can't help but get nostalgic: the round sunglasses, the top hats, the bright coloured floral shirts, the matching nose rings. Luckily for us, the two have maintained a close relationship to this day and are even occasionally still spotted on the red carpet together -- with an ever-so-slightly updated version of their former style. Divorce goals, that's for sure.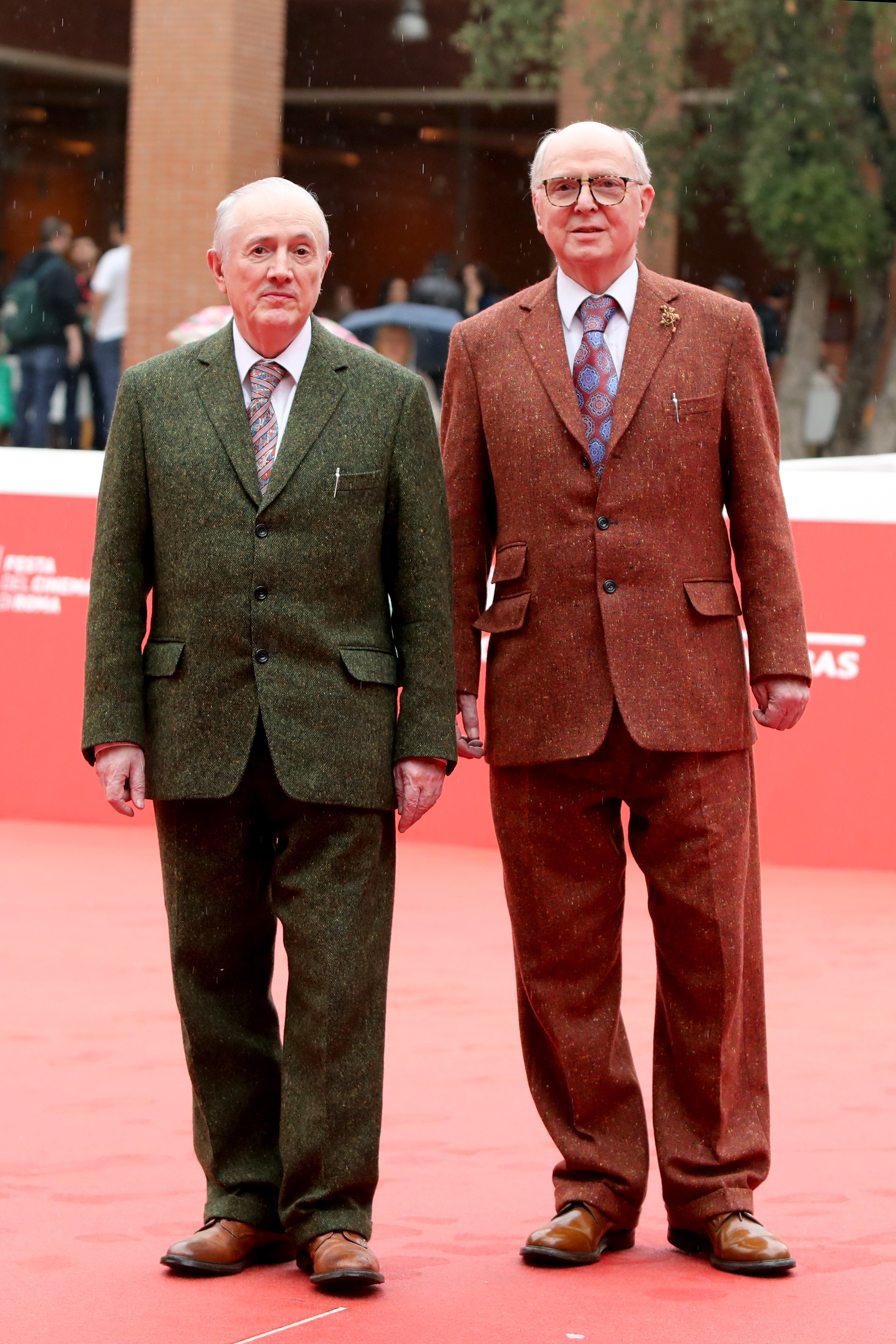 6. Gilbert and George
Artist duo Gilbert Prousch and George Passmore first met on 25 September 1967 while studying sculpture at Saint Martin's School of Art (like the Pulp song!) and instantly hit it off. Creatively they also turned out to be an instant match and together they created brightly coloured graphic-style photo-based artworks that would propel them to fame.
While their art is extremely colourful, their dress sense is highly formal -- a juxtaposition which is undoubtedly intentional. It is now more than five decades since the two have been creating art, and they still can be seen walking around East London, dressed in near-matching and impeccably well-pressed suits, of course.
7. Kristen Stewart and Stella Maxwell
If matching hot pants, striped tube socks and exposed midriffs doesn't scream 'romantic couple', then what in heaven's name does? Said ensemble was spotted on former girlfriends Kristen Stewart and Stella Maxwell while strolling around New Orleans in 2017. The actress and Victoria's Secret model were together for two years, but officially broke up last summer. The hotpants moment was definitely not the first time the two were seen in coordinated outfits – the couple almost seemed to be making a sport out of it: matching white tees, matching leather jackets, matching Vans, matching sweatshirts, matching ripped jeans -- in fact, try finding a photo of them not matching. We challenge you.