Photography Hanna Moon. Styling Max Clark. From L to R: Yasmin Le Bon wears Maison Martin Margiela courtesy Jane How, Comme des Garcons courtesy Mandi Lennard.
know your fashion history
We step inside some of the most important archives to discover the pieces that changed and remade fashion.
Photography Hanna Moon. Styling Max Clark. From L to R: Yasmin Le Bon wears Maison Martin Margiela courtesy Jane How, Comme des Garcons courtesy Mandi Lennard.
This article originally appeared on i-D UK.
What we collect is an extension of ourselves, it says something about what we value, where we see beauty, and what's worth protecting. For those who collect fashion, it's an outward expression of identity. All of the collectors featured here are preserver of vital fashion narratives, that offer up plenty of lessons for today.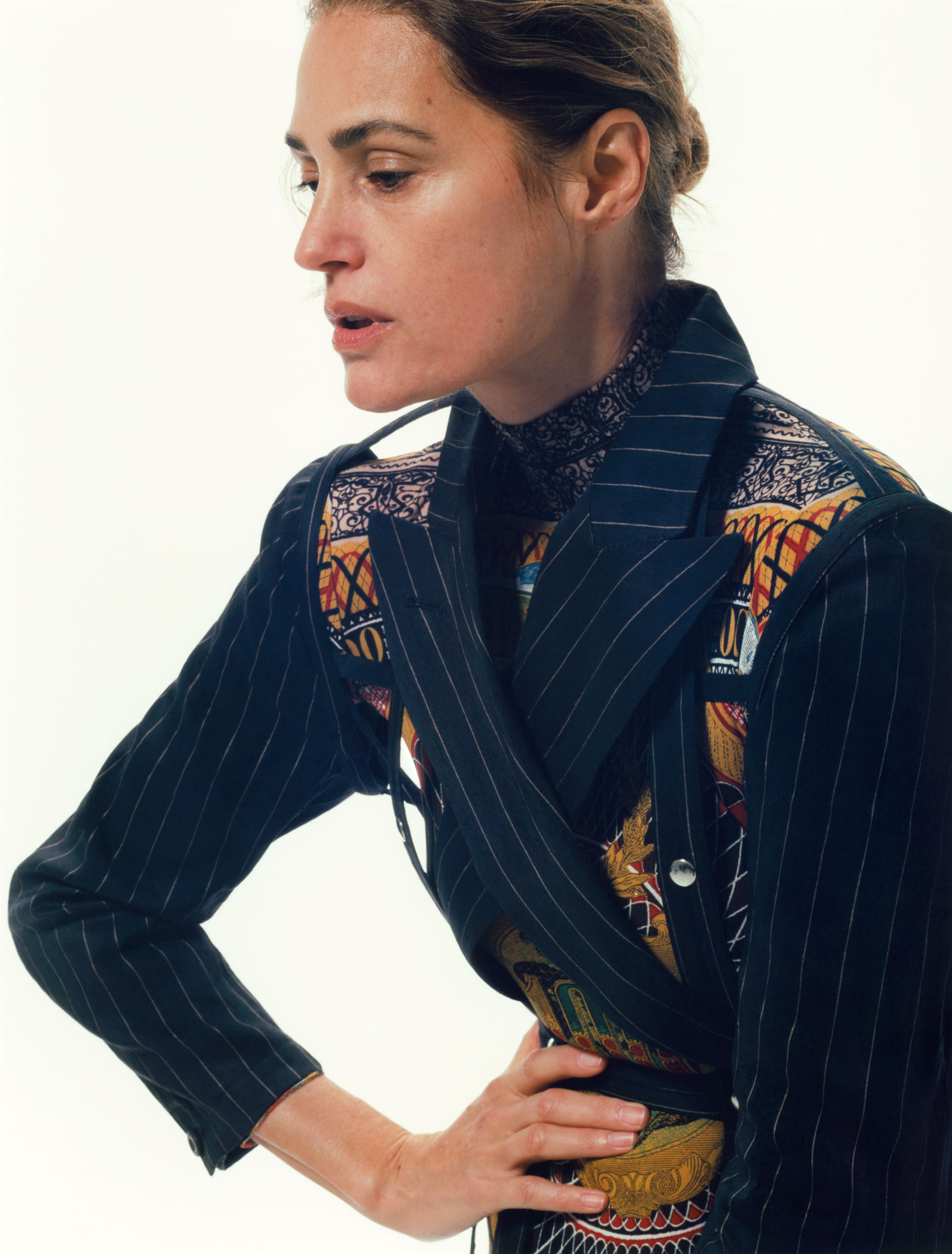 Jean Paul Gaultier from the archive of Goncalo Velosa, House of liza
If you want something rare, something extra, something really gorge, head to Goncalo Velosa's archive, House of Liza. Goncalo collects pieces by Dior, Junya Watanabe, Alaïa and Yohji Yamamoto, but his obsession is Jean Paul Gaultier. "I bought my first Gaultier in 1989, a Junior Gaultier cage jacket, and I've been collecting ever since," he reveals. If what we choose to collect is an extension of our identity, a manifestation of how we understand ourselves, then JPG is the designer to obsess over for anyone who, in the 80s, needed to see bold expressions of sexuality that defied the norm. "I found out about Gaultier in my late teens, when he was doing his first collections, his work had a big impact on me. I was so impressed by the power of fashion to confront gender and sexuality. He was a transgressor, breaking all rules concerning taste. Gaultier was always playing with the idea of gender, but with a humorous twist, it was like a political statement. But the level of sophistication and craftsmanship was so strong."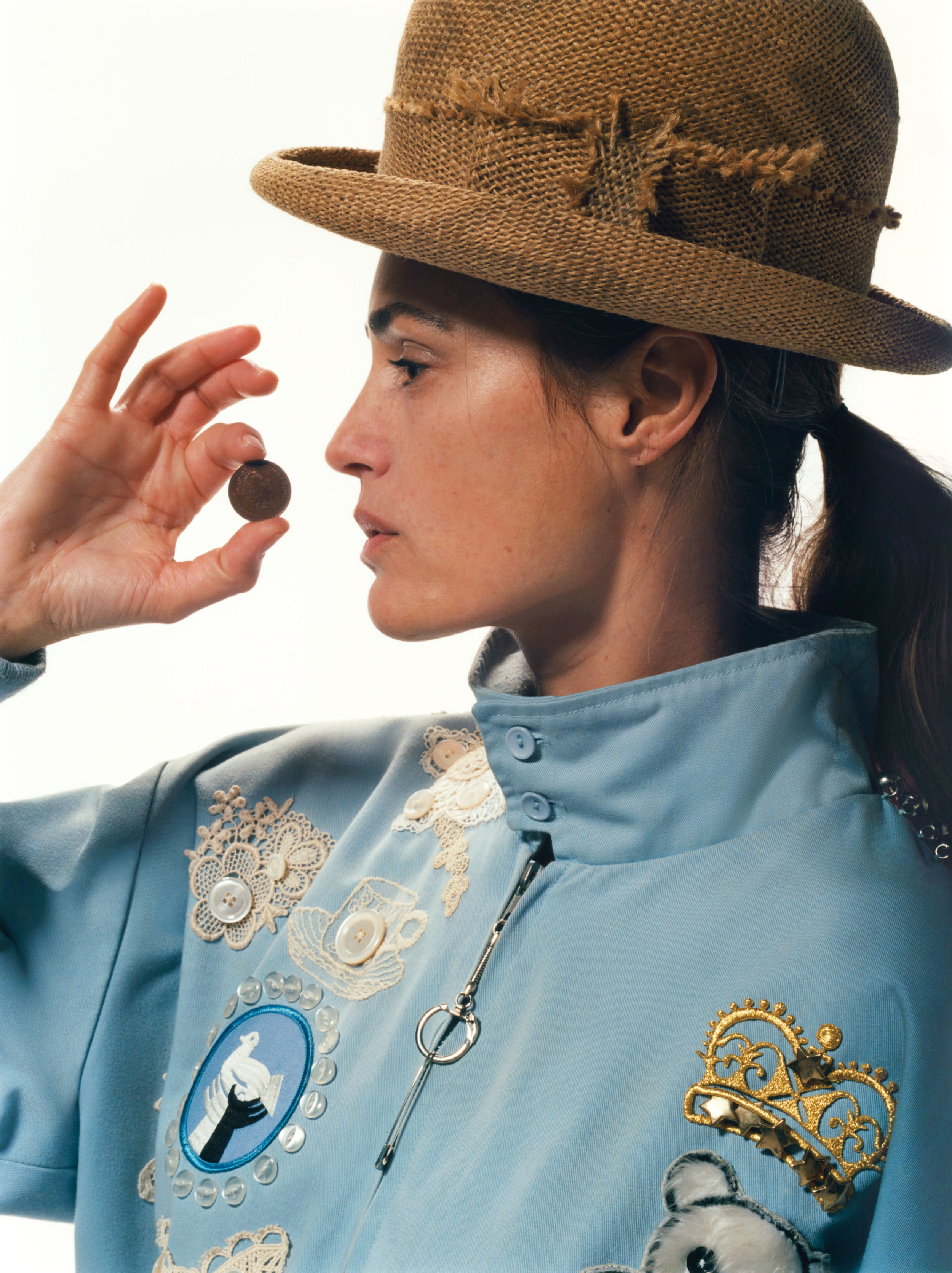 Judy Blame from the archive of Stephanie Nash
Just as you can't pin Judy Blame down to one job title – designer, stylist, artist, grown-up club kid, renegade visionary – you can't pin Judy Blame down to one object. But everything he made has something of his singular wizardry in it. He could transform trash into treasure, and he saw the potential in things that others didn't even see. His ability for invention seemed to have no bounds. "Because all of Judy's pieces were handmade, each of them is an individual work of art," says Stephanie Nash, a close friend and collaborator of Judy's. "Anyone who has a piece of his jewellery or a customised garment understands this. What is particularly special about his work is the way that he created beautiful objects from the ephemera of his life." The hat and jacket in this shoot were in Judy's wardrobe until last year, when London lost one of its best. They aren't items collected by someone else, but are pieces he wore, things he lived his life in. The hat was made for Judy by milliner Philip Treacy – "he loved the idea of a bowler made with sacking material" – and the jacket was made about ten years ago, adorned with various patches, swatches of lace, and Judy's signature button decorations. "Judy was the ultimate collector of random objects, trinkets and the tools of his trade," Stephanie explains, "which he would then combine into a fantastical bricolage of wearable sculpture." When Judy died he was still in possession of much of what he created. That archive is now being cared for by Trust Judy Blame, an organisation set up by those close to him. In the years to come, Judy's collection will continue to offer up proof of what can be done with a few bits and bobs if you're in possession of sheer genius.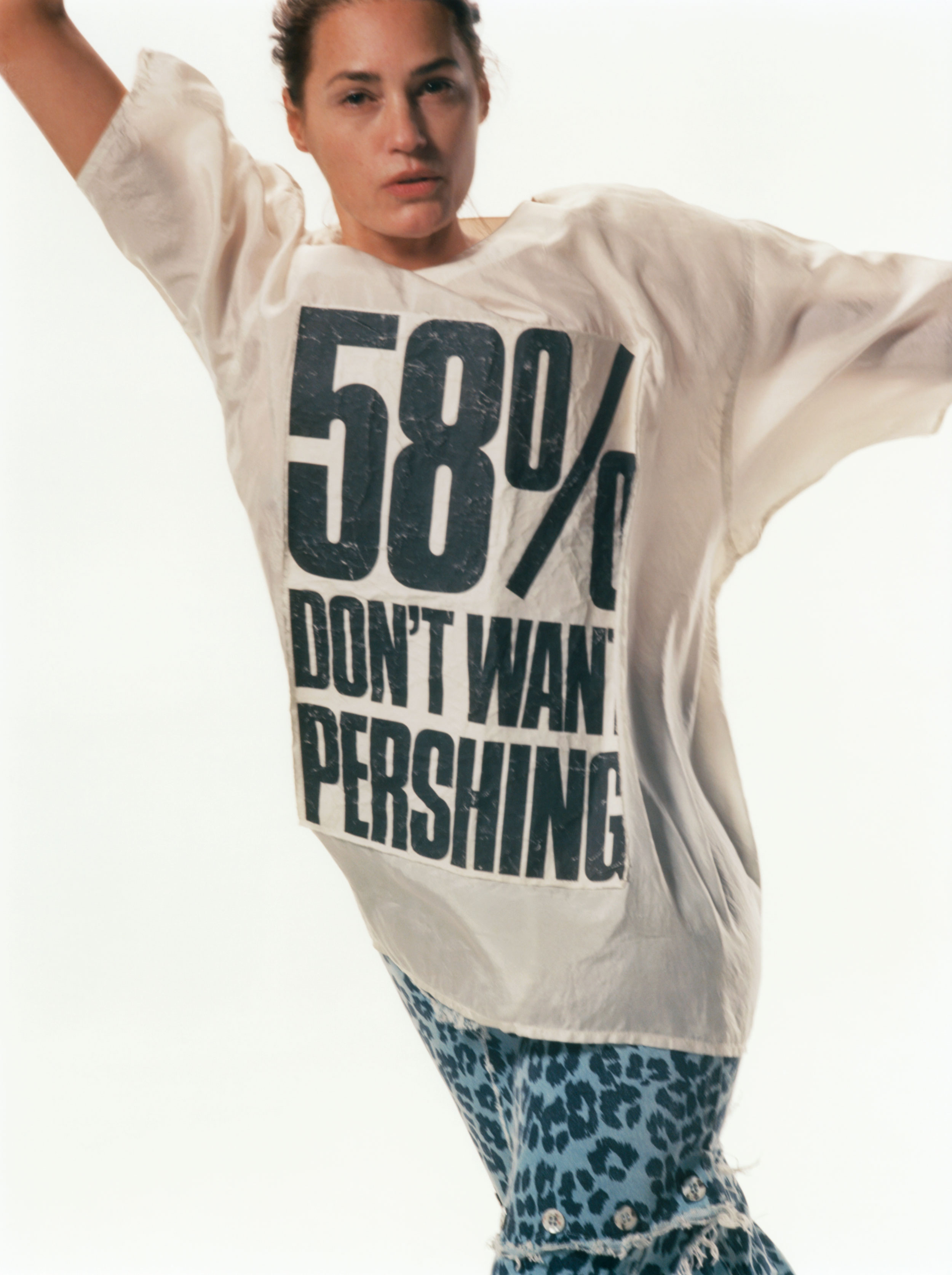 Katharine Hamnett from the archive of Katharine Hamnett
"The museums are all after this T-shirt," Katharine Hamnett says. "MoMa is after it, the Metropolitan Museum is after it, the Imperial War Museum is after it. I'd be loath to part with it. It's a hideous looking thing valued at a million quid!" Mixing fashion with politics from the moment she set up her label in 1979, Katharine used slogan T-shirts to draw eyeballs to important causes. She shared this particular message at Downing Street in 1984, and in doing so created her own piece of history. "That was about democracy. Under Thatcher we had no voice. Cruise and Pershing missiles were to be stationed across Europe and the UK without any consultation with the electorate." It was a career-defining moment that nearly didn't happen. Katharine only decided last minute that she would attend a fashion week event at Downing Street. She knew it was a potentially good photo opportunity, a chance to cause some havoc and use the press to say something that needed to be said. She "knocked up the T-shirt that afternoon in the studio," and she threw it over some work clothes, then covered it with a jacket. "I shook Thatcher's hand and then opened my jacket to the cameras. You've got one shot at it, you've got to get your body right, you've got to get it so they can read it, you've got to get your face right so you're looking like a winner – smile! And the camera's went mad."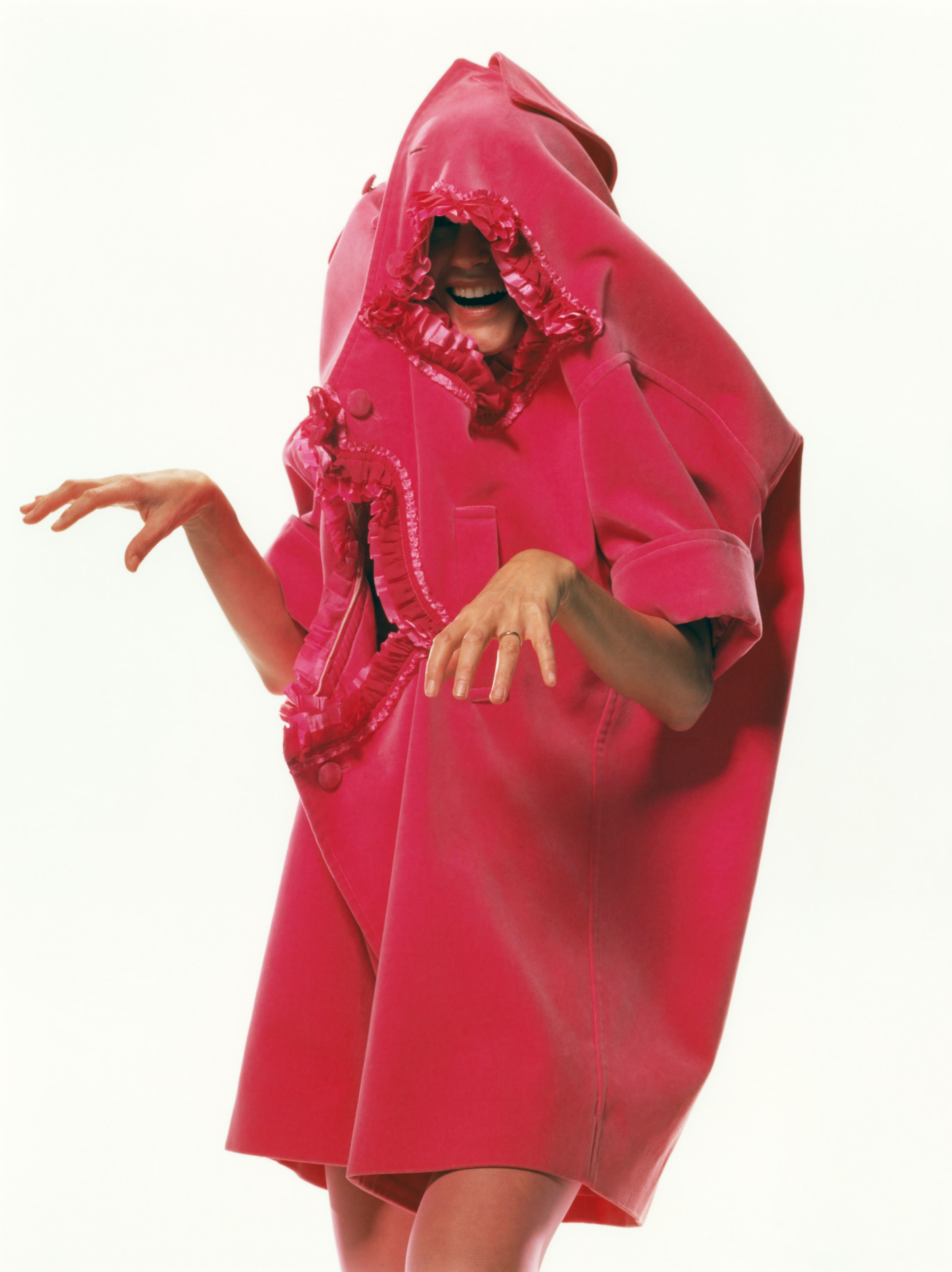 Comme des Garçons from the archive of Mandi Lennard
Rei Kawakubo has been using negative space in her work since she started her career. For her autumn/winter 08 collection, she played with the boundaries of taste to brilliant effect in a pink velvet double-breasted coat with cut out lips, offering a peak of the undergarments beneath. "The void is important," Rei once told Interview magazine. Fashion PR and consultant Mandi Lennard is the proud owner of this coat and something of an anti-collector. She buys to wear, and wears to death. She's not sentimental either. This Comme coat, however, has been in her wardrobe for a decade. "As soon as I saw the show, I loved that piece and I very impulsively wanted it," she says. "I have a handful of pieces I've kept a long time, and this is one of them." Mandi brings it out a few times a year, which goes against her usual wear whatever's on rotation ethos – but this is the kind of piece you can count on when you need a bit of show-stopping action. "It's a beautifully made piece of clothing, when you wear it you can feel it. And it's just cute. The dream shade of pink, not too sugary. The buttons don't go all the way up the front because of the lip cutouts, it's so cleverly made, even in the way it fastens. It really is fabulous."
Christopher Nemeth from the archive of Mark Lebon
London in the 80s was a nerve centre of raw fashion genius, the spirit of just doing what excited you, getting together with your mates and taking what you found and turning it into something brilliantly unfamiliar, beautiful in its newness. You really can't talk about that time and place without talking about the photographer and filmmaker Mark Lebon and the late designer and artist Christopher Nemeth, who has come to be regarded as one of the greats. They met in "1983 ish, in Covent Garden. I met him through my camera lens," Mark explains. "He was wearing amazing clothes. I asked him where I could get some. He said he had a rail in Kensington Market. I found the rail and took it all away… so he had to contact me. We shared a fascination for the deconstructed in between art and fashion." Lebon is less a collector than a safe-keeper, someone entrusted with precious ornaments of the past. But Nemeth, who created clothing from discarded post sacks, bits of canvas, rope and second-hand clothing, continues to offer up lessons in artistry, inventiveness and the tactile joy of making. "His process of deconstruction and reconstruction is still relevant today. As well as being beautiful, they told stories, they challenged you. There was an element of upcycling before consumption was the issue it is today. They revealed their process, they were humourous, daring, challenging. Full of feeling." In these artifacts of Christopher Nemeth's life and work are reverberations of the community he was a part of, and other personal histories, like that of his close collaborator Judy Blame. They've left us a lot. But the most vital take away a young designer can draw from Nemeth's work? According to Mark: "You can do it by doing it."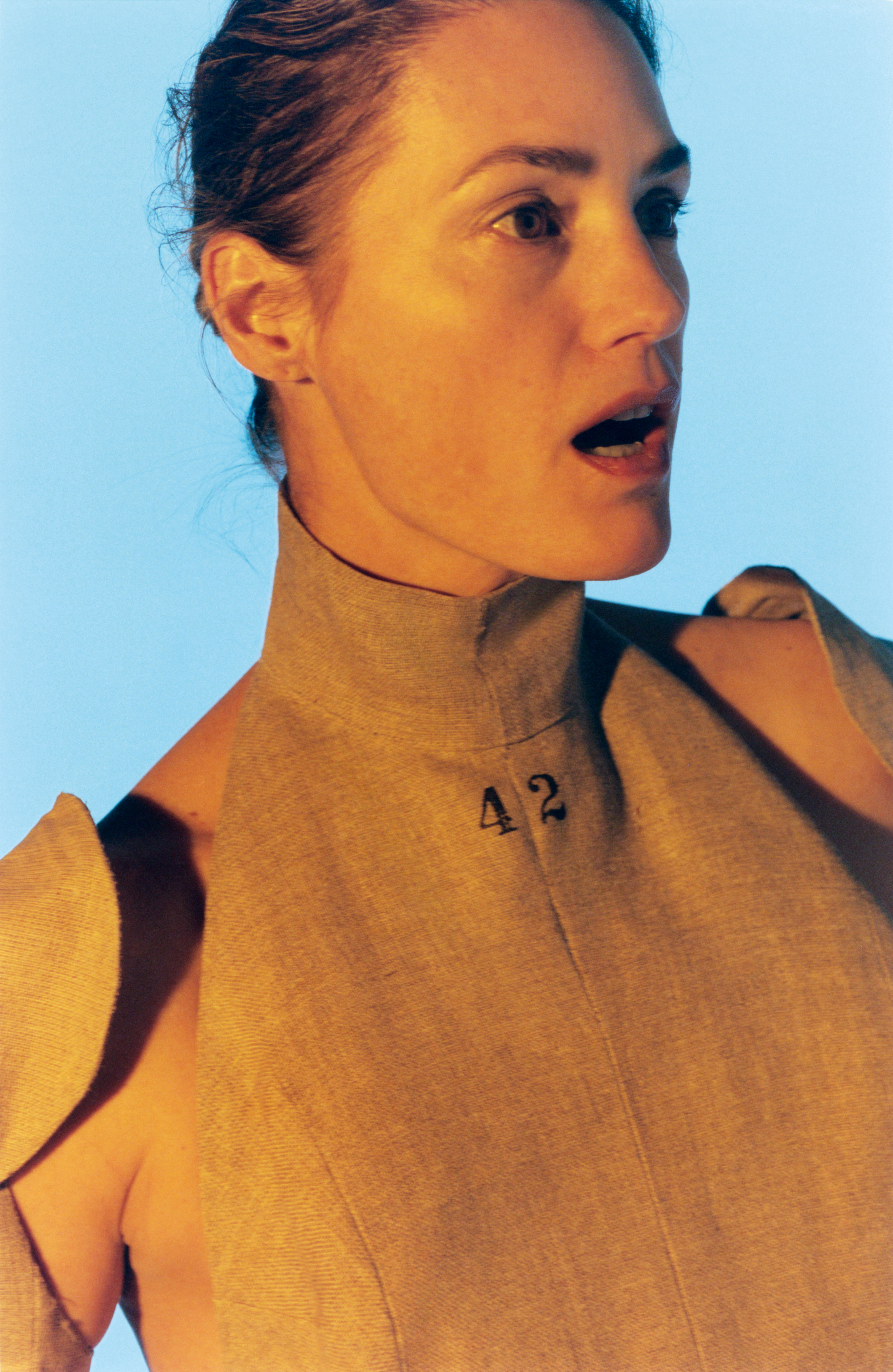 Maison Martin Margiela from the archive of Jane How
Stylist Jane How has a considerable archive of around 6000 pieces of fashion history. Imagine spending a day in that treasure trove. It would be hard to go past this Maison Martin Margiela piece though. "I acquired this directly from Martin in return for working on a show for him in 1997," Jane says. "It was the base layer for most of the looks from that collection so it was made to fit the body with an adjustable tape at the back." Significant archival pieces tend to recall a powerful moment, are symbolic of an important collection, a look in a photo that's been burned into fashion's collective consciousness. "If a designer captures an audience at a certain time for their originality and or craftsmanship, some pieces often become more valuable as the years go on. Sometimes the wealth comes from the idea, and that in itself is what makes something valuable, but a different type of wealth is something quite timeless, which is impeccably made. For me, it's not so much about the time it's from, it's more about something standing the test of time." In the case of this Margiela top it's not a single moment, it's not how the piece was constructed – though it was done brilliantly – or what it meant then. It's a representation of the ripples that Martin's designs sent through the industry because of his vision, the way he remade fashion from the inside out. "As a designer you look at a mannequin almost every day, and I always found Martin's ability to find inspiration in the most obvious of places one of his greatest strengths."
John Galliano from the archive of Mr Steven Philip
"As you know, it's a very early Galliano look. I've collected Galliano for as long as I can remember. I've had the shop for 20 years, I had a stall on Portobello Market for 10 years before that... no one ever comes along and give you a full outfit, so I take great pleasure in building them." Steven, co-founder of legendary west London vintage store Rellik, is a collector to his core. "I'm a hunter, a gatherer, as it says on my business card. That's what I do." It sounds simple enough. But seeking out the history-marking designs that make up Steven's archive can be a decades-long process, as it was with this Galliano look. "These are pieces that I collected over the last 20 years. Then I put them together, which is the exciting bit for me. It's like a jigsaw." John Galliano was still a promising newcomer when he presented the collection Afghanistan Repudiates Western Ideals at the very first London Fashion Week, but the strength of his vision was already on full display. "I love the oversized shoulder on the jacket, the cut, the shape. When you put it all together it's a whole story." The narrative is not just of Galliano's talent, it's of a time when designers had an experimental, hands-on artistry. "They were all dyed in his bath and things like that. It was about sourcing your own fabrics and cutting your own fabrics and you're playing with shapes. No one is saying to you 'you need to do a white shirt because that's what's selling'. People need that time for real creativity."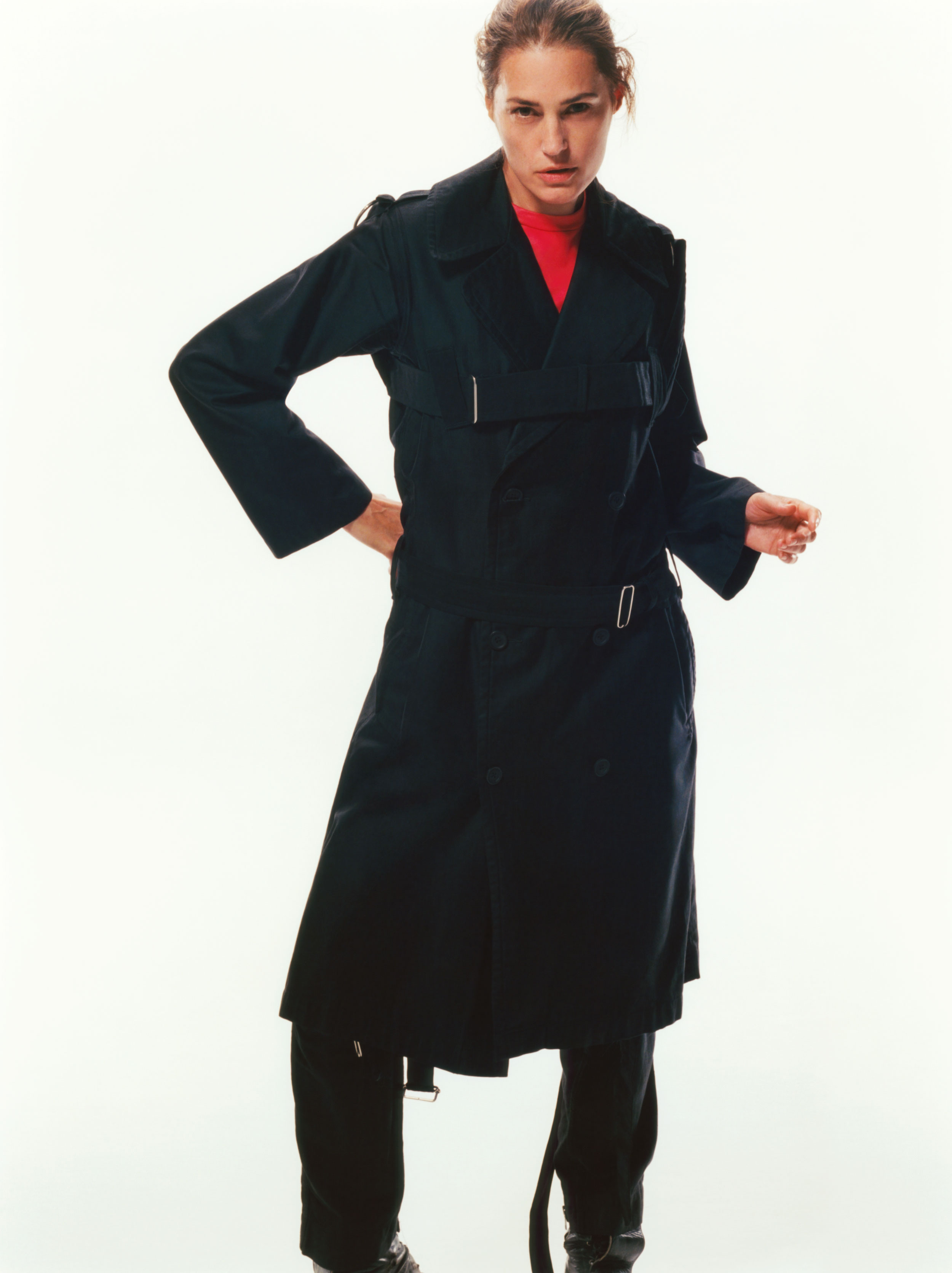 Malcolm McLaren and Vivienne Westwood, Sex, from the archive of Roger K. Burton, The Contemporary Wardrobe
Roger Burton, who runs archival fashion hire company The Contemporary Wardrobe, has been collecting vintage clothing for well over 50 years. He left school at 15 to work on a farm, but his clothing preoccupation led to him working as a costume designer, a stylist, and an art director. What does he look for in a piece of clothing? "It has to have a voice. It doesn't matter how loud. It could be the cheapest piece of rubbish ever, but if it says something and has attitude then I'm interested in it. I've never been big on designer clothing. I much prefer street clothing and stuff the kids wear." He was given these Vivienne Westwood and Malcolm McLaren pieces when he was designing shops for them. They have plenty to say about the potential for clothing to be subversive, about taking new ideas into conservative spaces, about sex and fashion and how together they can push boundaries. "It's a plain black mac with two straps around it. Malcolm and Vivienne, when they did that collection for their Sex shop, they always talked about wanting to design sexual clothes that would be worn in the office. With the mac, you can't really move in it once you've pulled the straps tight. That's it, you are locked into that raincoat. It changes the way you move, which all their bondage stuff did. It was very new and very brave and said way more about punk than rips and safety pins. You are bondaged up... and then going to work like that! It's the incongruity of it. Similar with the pink top. That is not an item to go to work in. It's too sexual, it fits every contour of your body. I loved that about it. These are pieces of history."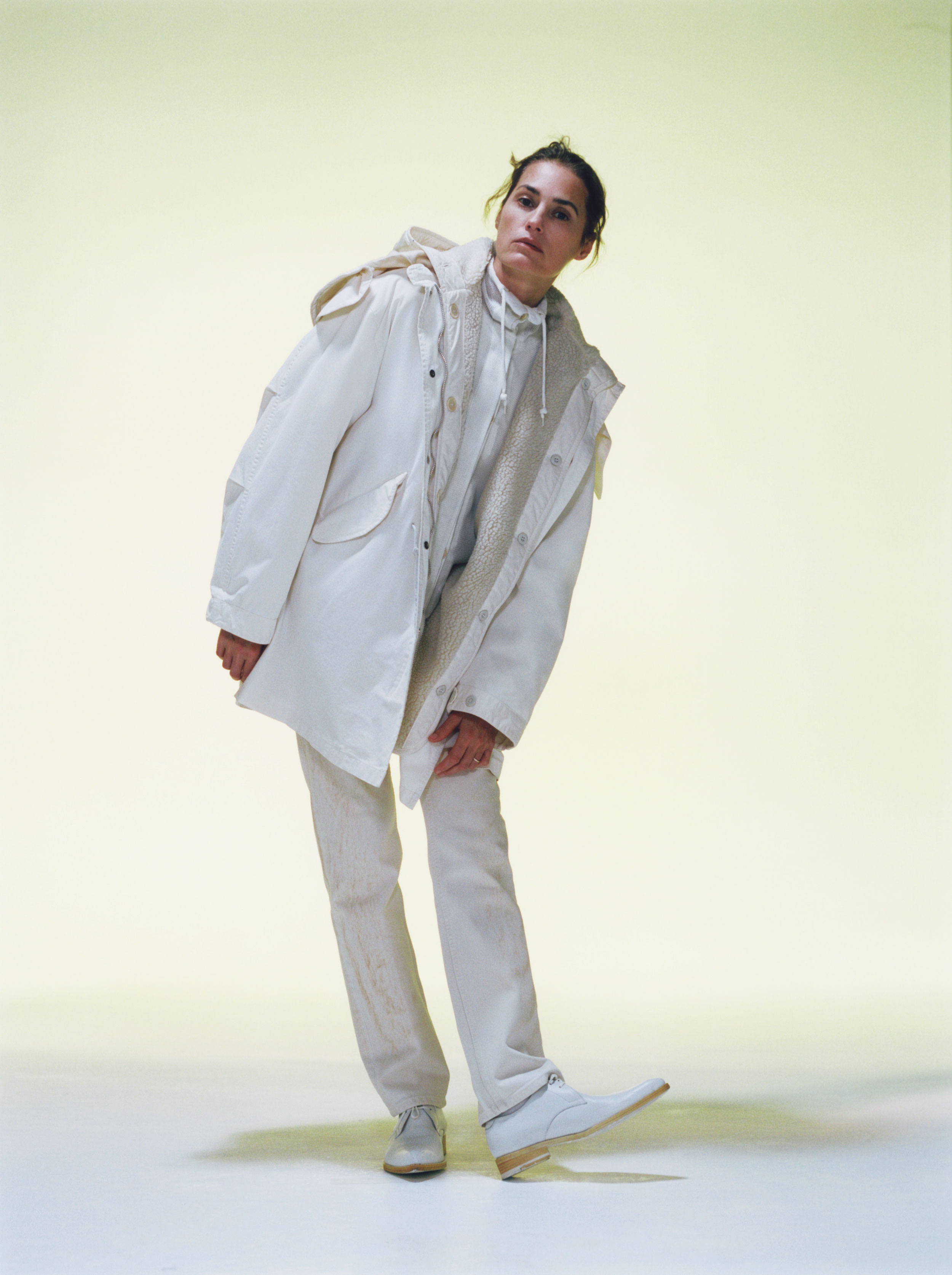 Helmut Lang from the archive of Michael Kardamakis, Endyma
Michael Kardamakis was an art history student at the University of East Anglia in 2011 when he first started buying vintage Helmut Lang. What started as a side project is now Michael's life. When faced with selecting just one look for this shoot, Michael knew it had to be this. "I tried to think about it historically, the impact of Helmut Lang as a designer, not just for fashion nerds, but also his wider impact. His autumn/winter 98 collection was very influential because it was the first collection presented online and via CD-ROM, they didn't do a conventional runway show." Lang's capacity for presenting the future has been proved in the decades since. From being the first designer to take the internet seriously, at a time when that was seen as the antithesis of luxury fashion, to his vision for gender-fluid dressing. "The thing about Helmut is that a lot of this stuff has redeemed itself in terms of relevance. No matter what the trends are, there are always a few things from the archive that directly hit on it. It's almost not there, it's not loud. We're talking about garments that are barely designed, most of them are military garments. You have this American army parka, you have the jeans which are shaped like 501s but they have been sprayed with a flamethrower and it's left a rust-like mark. It's kind of hilarious. Then it just looks really cool. Ultimately that's what it comes down to."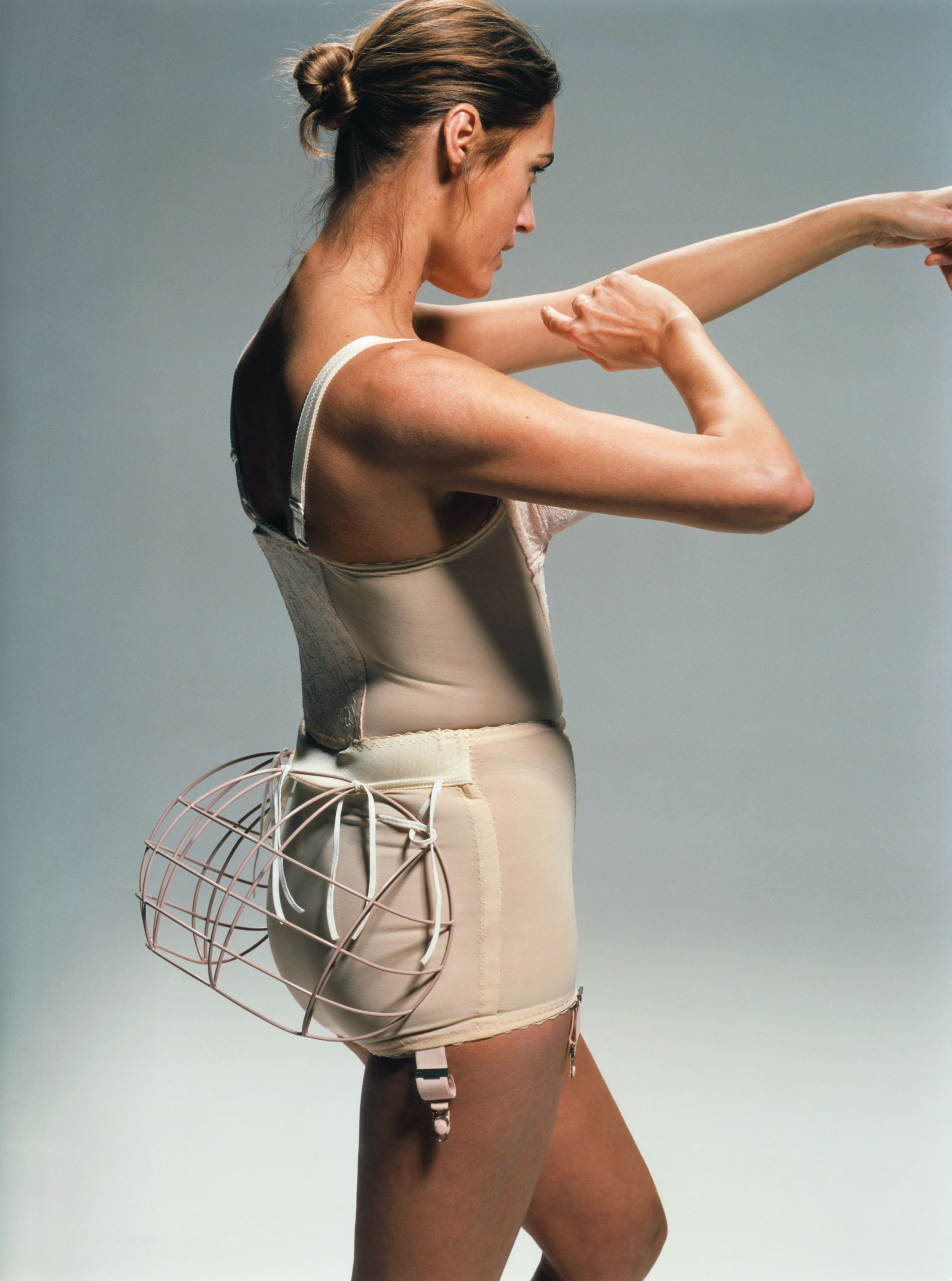 Vivienne Westwood from the archive of Alex Fury, Covert Archives
Fashion journalist and critic Alex Fury is a living, breathing, deeply passionate encyclopedia of fashion. His archive, which has its own bedroom, has been lent to museums around the world. Alex acquired this Vivienne Westwood piece last year in Japan from a woman he found on eBay. He'd never seen one for sale before. "It's soldered metal, the original ones were made by Andreas Kronthaler's father, who was a blacksmith. The hemispheres that they put on graves – the bit where you put the flowers through – that's what it was based on, as well as late-19th century bustles. There's a specific model called the strap-on pin, which was a model of bustle in the 1880s." Collecting tends to be a commitment to desire, rather than a fleeting want, and often connects to earlier years. "I grew up in the 90s, that's when I started to get interested in fashion and I remember seeing these things when I was 12 or 13, and thinking I'll never be able to own them. So now it's wish fulfillment." Alex's archive tells intricate stories about design process, materials and invention, the very things that drive his fascination with fashion. This piece speaks of layered history, of 1995 and of a centenary ago – Dame Viv herself is a history buff – and of Vivienne's great legacy. "A lot of the time, Vivienne did it before anyone else did it. She's running ahead of the pack."
Credits
---
Photography Hanna Moon
Styling Max Clark
Hair Soichi Inagaki at Art Partner
Make-up Mathias Van Hooff at Management Artists USING SEVEN HAIRCARE
Nail Technician Jenny Longworth at CLM using Sally Hansen
Set Design Suzanne Beirne at D&V
Photography Assistance Chris Bromley and Mark Simpson
Styling assistance Louis Prier Tisdall and Joe Palmer
Hair assistance Taeko Suda. Production Kirsty Wilson at MAP
Casting Adam Hindle at Streeters
Model Yasmin Le Bon at Models 1
This article originally appeared in The Homegrown Issue of i-D.
This article originally appeared on i-D UK.