kris van assche crafts a new luxury for his rebellious cross-generational berluti man
Freed from historic ready-to-wear archives, artistic director Kris Van Assche's first catwalk collection for the house was driven by a sense of freedom.
|
19 January 2019, 11:25am
Photograpy Mitchell Sams
"It was way overdue but it feels so nice," Kris Van Assche laughed when i-D asked how he felt after finally giving birth to his Berluti catwalk vision, ten months after he replaced Haider Ackermann as creative director. "Luxury needs a certain amount of time, you can't just walk through the door and learn all you need to in a matter of weeks, I needed these months to understand the know-how of Berluti, to get to know the teams. It takes some time to turn the page and today, I was ready, this is the baby."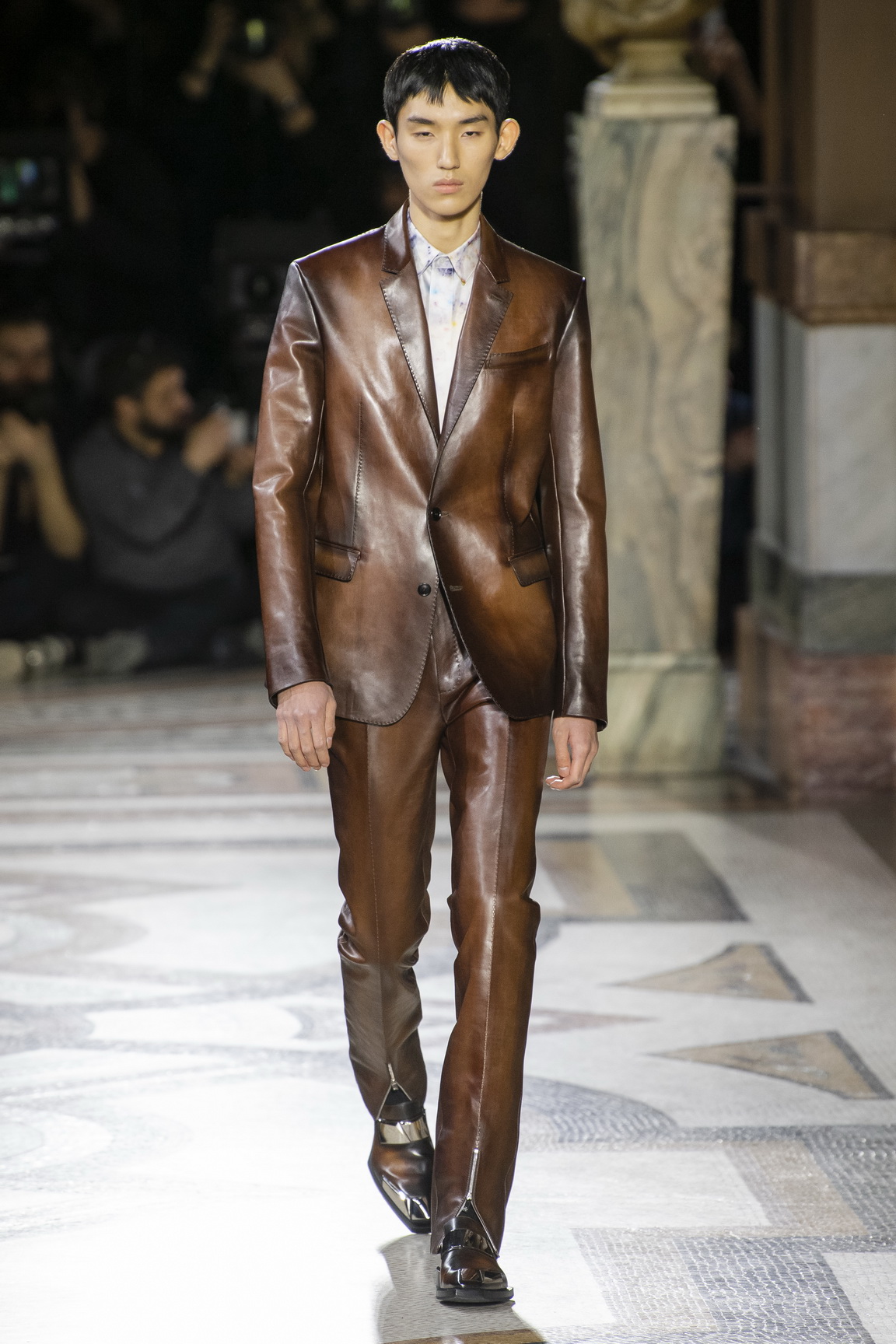 Now, it feels strange to begin the discussion of a new chapter in the narrative of one house, by talking about another but we have to here because of the contrast between the two, and its effects on Kris Van Assche. After spending more than a decade as creative director at Dior Homme -- and a further four years before that working with Hedi Slimane -- the boundaries between Kris and the luxury house that Monsieur Dior built blurred. He was a custodian who continually pushed the house forward with his well-tailored renovations as manipulated the archive and placed it in the here and now.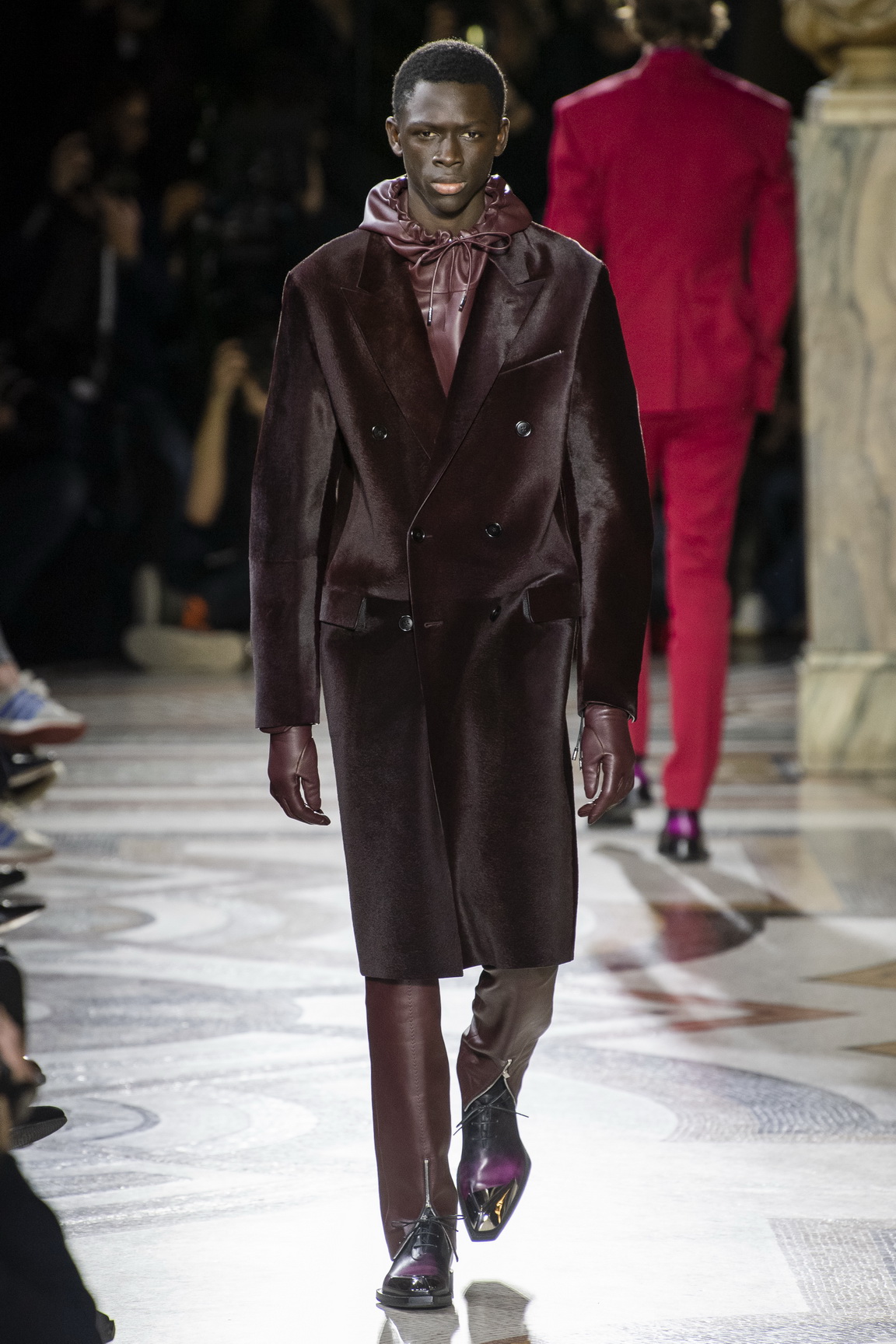 At Berluti, although he didn't quite begin with a blank page, he had none of that. So, he began with a pair of shoes. He signalled his new era at the LVMH-owned menswear leather specialists last year with a Jamie Hawkesworth-shot campaign that featured new faces wearing just one staple, the archive "Alessandro" shoe, dating back to 1895 -- the year the house's founder Alessandro Berluti established himself as a shoemaker. It was something he returned to for his debut collection but he pushed it so much further, reimagined as sculptural caps that topped off a complete wardrobe of new era elegance.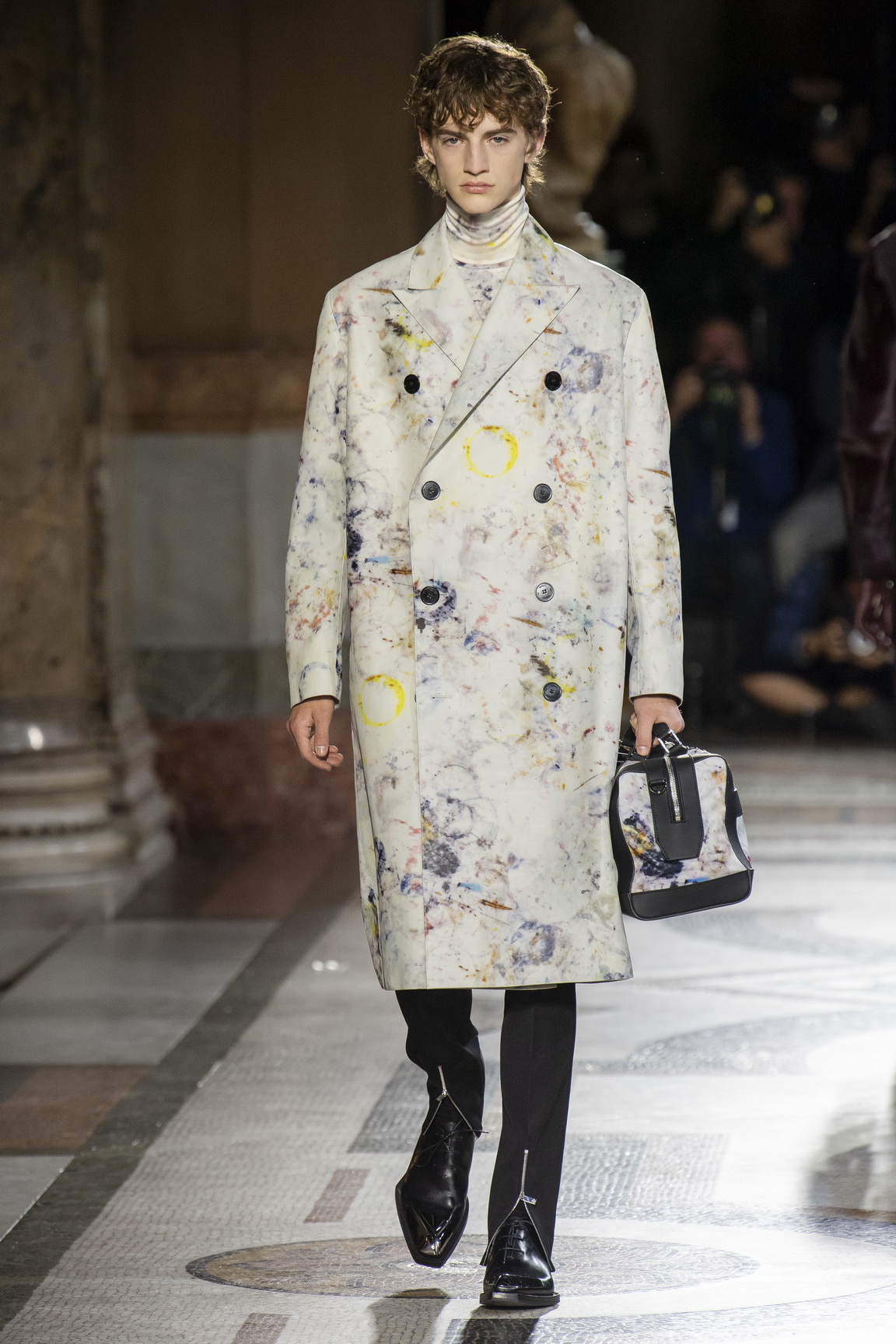 "It's a totally different know-how here," Van Assche explained. "I come from a luxury house background but this is a different type of luxury," Van Assche explained. Without historic archives and well-established codes, he approached his first collection for the house driven by a sense of freedom that informed a contemporary wardrobe rooted in the privilege of choice. "This is a man who likes the best of all worlds," he added. So, this was a complete wardrobe, from chic leather coats to Motocross-inspired trousers and sharp-shouldered suiting, for a new, adventurous Berluti man. However, his starting point was a trip to the Ferrara-based factory and the contrasting sight of old marble tables transformed by the craftsman and their hand-dying patina. Van Assche's meta take on this sight saw him paint his collection in the multi-hued stains of their surfaces. No two red, yellow, blue and green in his spectrum the same, while the dye-splattered marble itself was repurposed and printed on silk shirts and nylon bags structured in exotic leather.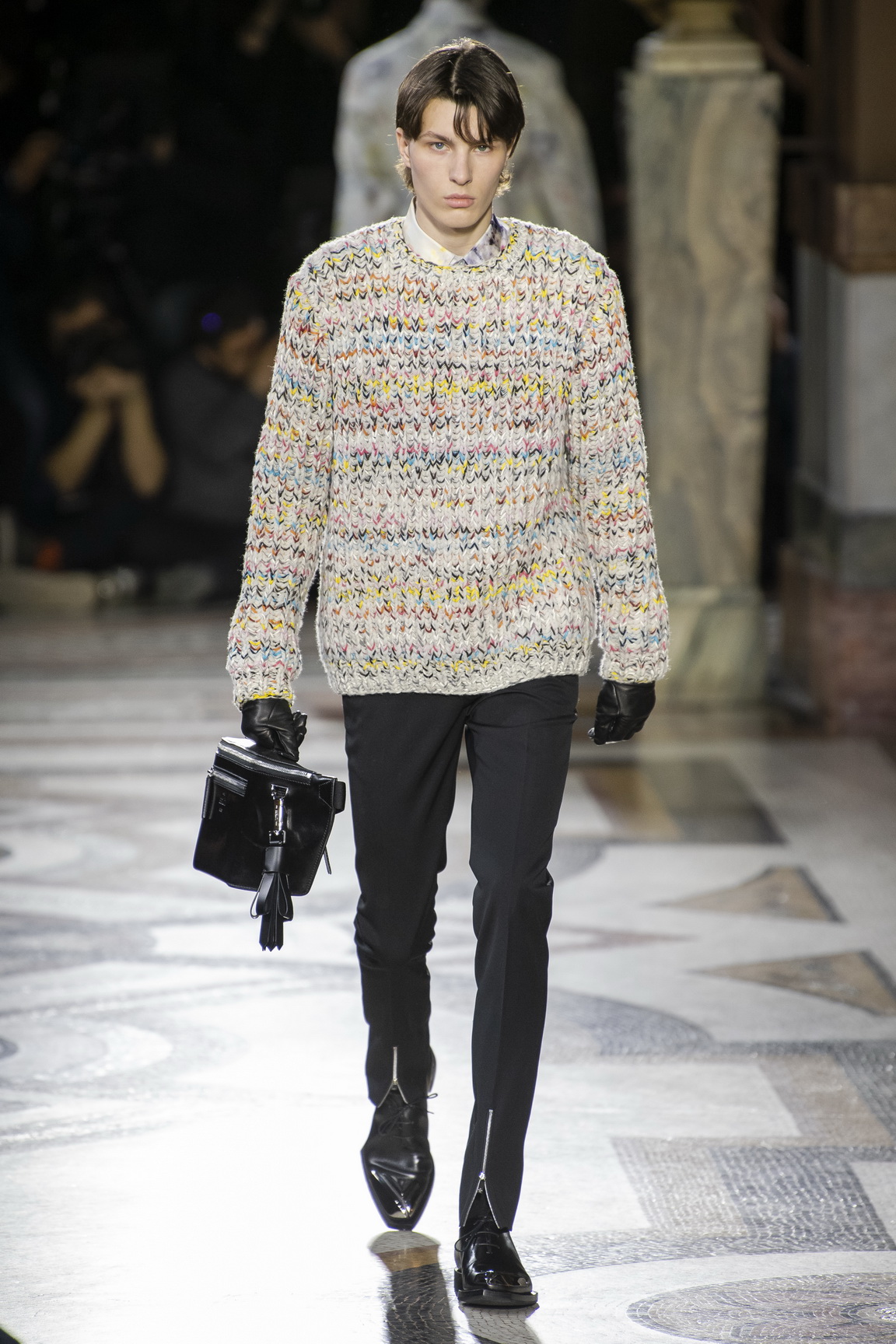 Throughout, Van Assche was delighting in the duality between old and new worlds, the expected and the unexpected, the traditional and the unknown. It orbited luxury but in 2019, in his hands and powered by the master craftsmen of Berluti, anything could be luxury. "It can go in all manner of directions," he explained. "This adventurous man will explore various lifestyles, it's a man that takes the best out of all worlds. It's about freedom. It's about knowing the rules and messing them up a little, it's about broken suits, leather pants and wools knits. The Berluti man is a rebellious free-spirited man, he does things his own way.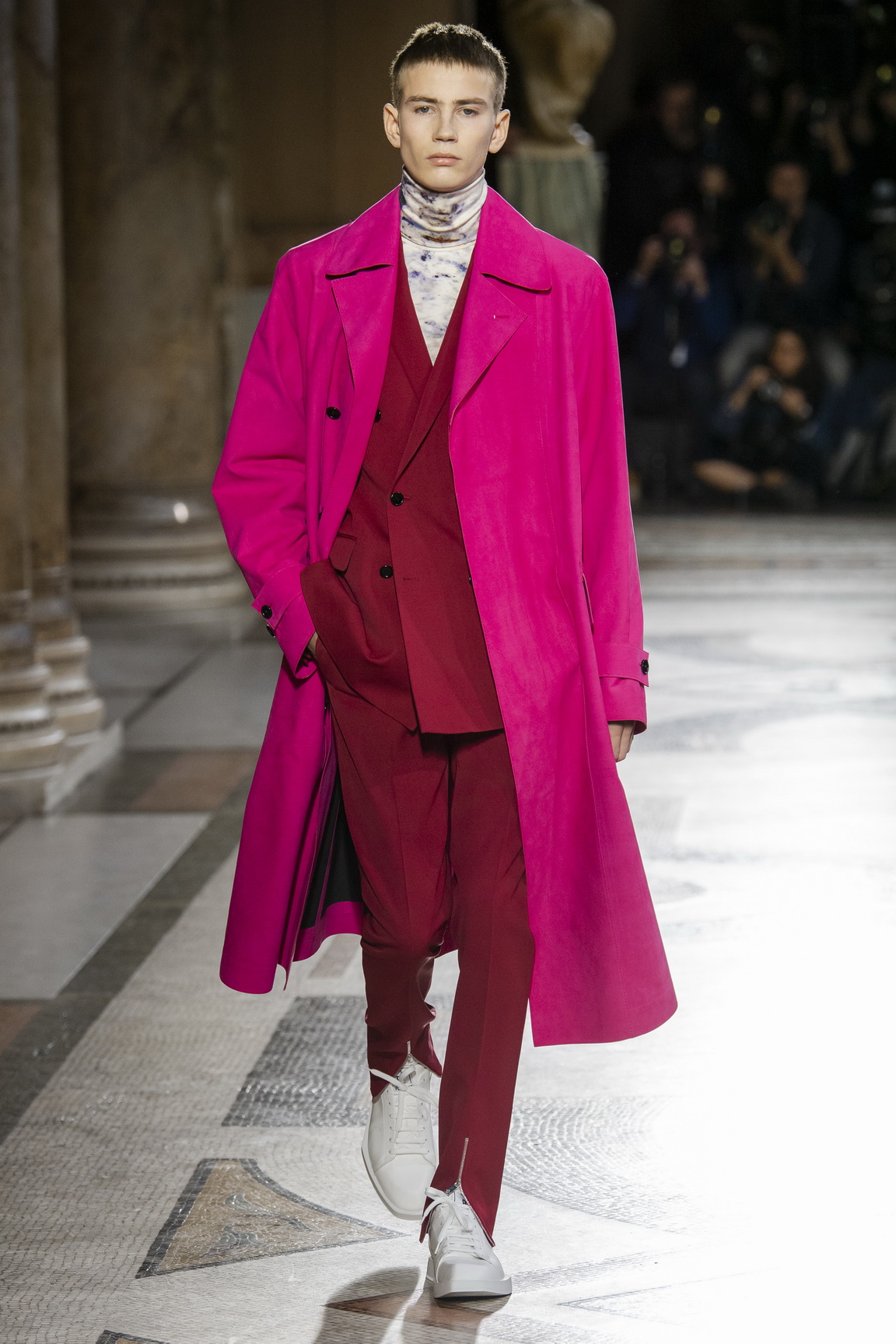 Post show, he was asked why the show soundtrack was Je t'aime. "As a response to the lack of love in the world," he replied in a flash. "Also, it's about a love for a new Berluti man, who is more interested in seduction than my previous men." He might be a newcomer to the party but Van Assche's Berluti man is set to have many new admirers.