beyoncé was the first black woman to headline coachella
Here's all the history making you missed.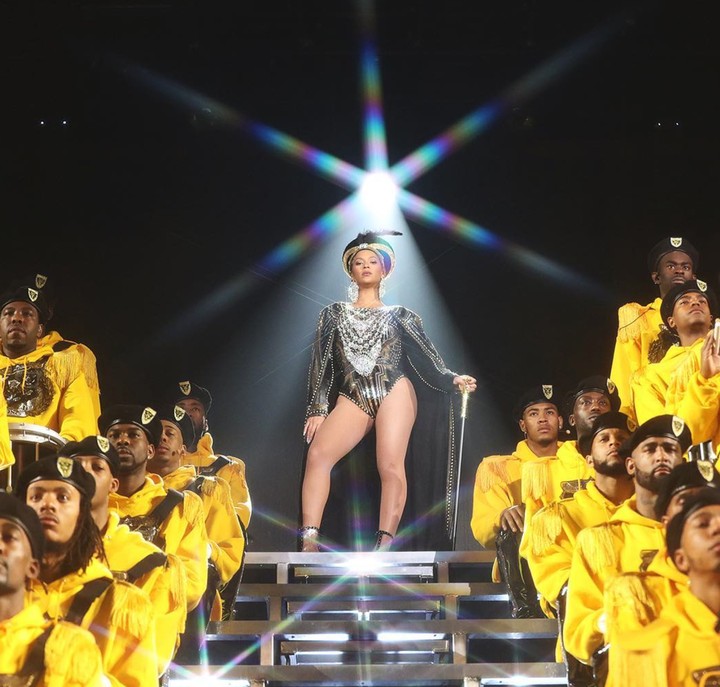 Queen B ruled over the California festival now widely dubbed Beychella this weekend. Storming the stage with a hundred-strong marching band dance troupe led by a Black Panther mascot, an announcement boomed out of the speakers and across the polo field of dreams: "Welcome to Beyoncé homecoming 2018." Less than a year since she gave birth to twins Rumi and Sir, the world's greatest popstar was back in the game with a two-hour history-making headline performance. With five outfit changes (inc. a Gen Z yellow custom BK x Coachella college sweatshirt, a regal Cleopatra look and one super speedy dry nail varnish switch up) plus guest appearances from sister Solange, hubby Jay-Z and the long-awaited reunion of Destiny's Child -- she slayed.
Playing music from across her 20-year discography (flown by, hasn't it?), Beyoncé was joined by Poor Michelle and Kelly Rowland for a DC medley including Lose My Breath, Say My Name and Soldier. A sister-sister dance-off with Solange -- that we like to think they've been doing for decades since they came up with it in their teen bedroom -- soon followed and was awesome. Deja Vu featured Mr Carter himself and got viewers pretty hyped for the forthcoming On The Run 2 tour, but gutted that rumours of a joint album release this weekend were false.
Highlights included; Bey shouting out daughter Blue in the middle of a song, the moment everyone realised Riri was down the front having the time of her life and when Beyoncé pointed out just how white and male Coachella headliners usually are with the to-the-point line: "Thank you for allowing me to be the first black woman to headline Coachella." Which brings us to this, the real round-up of Beyoncé's culturally important Coachella takeover, courtesy of Roxane Gay on Twitter:
Elsewhere, ultimate 2018 boyband Brockhampton performed tracks from Saturation III with added live strings, Timotheé Chalamet watched Tyler, The Creator from the side of stage, Bieber had a jolly old time dancing about in a floral two-piece and Walmart Yodel Boy's dreams came true. The internet is a strange place, but Beychella was a great one.