10 of the most genius 'catholic' looks from the met gala
Hell is open and all the devils are here!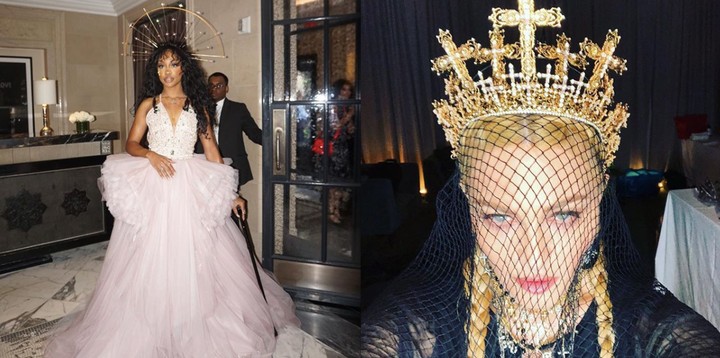 The theme of this year's exhibition at The Costume Institute, Heavenly Bodies: Fashion And The Catholic Imagination, was apt, as nowhere in the physical realm hosts a wider array of angels and demons than the fashion industry. It was an easy year to interpret on the red carpet, (easier than last year's Comme des Garcons exhibition, which left most wildly confused), and thus we were given a veritable Halloween of options. What other occasion of the year do sex and religion so colorfully collide? Though nobody explicitly dressed as the Holy Virgin, we had an array of veils, halos and crowns, one actual Pope, and a whole lot of gold trim.

Here, we tally our favorite looks from both ends of the spectrum, and rate them either totally demonic or fabulously angelic. Not that one is better than the other, per se. Hell just has different amenities.
Cardi B.
This is what they mean by immaculate conception, in that only God could have conceived of Bartier Cardi and sent her to our planet to save music, fashion, and late night talk shows hosted by old men. She is pulling off pregnancy better than anyone since the Blessed Virgin herself, her wild locks giving us 'fresh out the manger' glam. This goes to show that one Queen is better than three Kings, anytime.
Verdict: Angel. Our Cardi, who art in heaven.
Solange.
She heard your prayers, Twitter, and she wore the durag everyone was here for. Somehow she's paired it with a halo made from bleached braids, combining the best of both worls, which makes the look even more fantastic, and some sort of shiny outfit that looks like the remnants from one of the ships in Alien. From this photo it also appears that she may have traveled to the Gala in a space ship too. Honestly we hope that post-durag, more stars take to Twitter to poll their fans — it might be the thing that finally restores faith in democracy in our shattered realm.
Verdict: Angel in a durag.
Donatella Versace.
Obviously, as one of the co-chairs of the exhibition, and possibly one of the most Italian and fabulous people we can think of, Donatella comes out top. She came to give you life, and if that doesn't sound vaguely religious we don't know what does. She also gets bonus points for combining both a mini-dress and a gown in this Versace Couture outfit, and the fact that as hostess she probably has to say hello to absolutely everyone, which must mean more air kissing than a mere mortal could fathom.
Verdict: Angel. Donatella basically put the pearly gates onto a dress.
Rihanna.
She's dressed as the actual Pope! Pope, but make it hoe, with that outstretched leg and Louboutin. Obviously the Bad Gal had to outdo the competition, and in this getup by John Galliano for Maison Margiela she really did. Honestly nobody else was brave enough to wear an outfit that's already practically in the exhibition — a Galliano men's look is the focal point of the main room. In coming millennia, the people will bow down in front of stone carvings of Rihanna's Met Gala looks, a remnant of the civilization we once knew before hairspray singed a hole in the ozone layer and we all died.
Verdict: Popemobile.
Madonna.
Nobody has mined her Catholic faith more for her art, whether it be french-kissing black Jesus in "Like A Prayer," or the thousand other times she's offended the Vatican. We weren't surprised then to see her Madgesty turn up in a veiled number by her old co-conspirator Jean-Paul Gaultier. It's a veritable Mary Magdalene of an outfit, replete with a crown befitting her title of Queen of Pop. We're also obsessed with the plethora of selfies she felt obliged to take, with incredible captions such as "I am Here to Serve." That sound you hear is a thousand cherubs screaming "Yaaaas."
Verdict: Demon. Public enemy number one of the Holy See strikes again, this time in mesh.
SZA.
In pink tulle Versace Couture, SZA looks truly heavenly. I mean, she's actually wearing a halo, which very much sums up how we feel about her after she appeared in Childish Gambino's "This Is America." She's the good witch of R&B, replete with Pre-Raphaelite curls, here to save us from the gaudier religious getups with a swish of her wand, which in this case is a walking cane.
Verdict: Angel. We knew Jesus was a black woman.
Lana Del Rey.
This look is actually inspired by Our Lady of Sorrows, which as far as hardcore Catholic fashions go is pretty high up on the list —it's everything Mary suffered in her life. Lana has suffered almost as much (she needs something to sing about), so it's apt they took this literally divine inspiration, and turned tears into a divine tableau featuring diving birds, swords piercing her heavenly bosom, and opera glasses, so she can see other pop stars who quite simply didn't try as hard, or simply look for fucks. Thank you Alessandro Michele for this.
Verdict: Sisters of mercy.
Bella Hadid
In the novel
A Tale Of Two Sisters
, aka
The Gigi & Bella Hadid Story,
Bella plays the role of the sister drawn to the dark side, because she's just too snatched to stay on the path of the light. This is based purely on the fact that she's wearing Gareth Pugh x Chrome Hearts and is a brunette, but whatever. This look is very angel of death/Cher, both of which we approve of wholeheartedly. Maybe Bella's path will take her to the Cher side, and she'll shortly start an incomprehensible, yet wise Twitter account.
Verdict: Demon.
Frances Mcdormand.
Saving the best till last — Frances Mcdormand having one last cigarette with Pierpaolo Piccioli in front of the Met,like anyone normal would if they were going to spend countless hours with the most terrifying people you could ever meet at a museum after dark. Frances looks incredible in Valentino Haute Couture, modeling a feather headdress like nobody has since Isabella Blow. The shade of green is absolutely divine, as is the decision to rope in some friendly NYC cops. This year actually looks like it could have been quite good fun, in between the sexy Pope, pregnant Virgin Mary, and Frances doing the Grinch who stole fashion, and also your pet chicken.
Verdict: Angel.
Katy Perry.
Okay one more. It's quite a lot isn't it. Not sure what to say. We'll leave it to the nun — "Katy Perry, please stop."