5 black designers who aren't virgil abloh
Because fashion still has a "black people problem."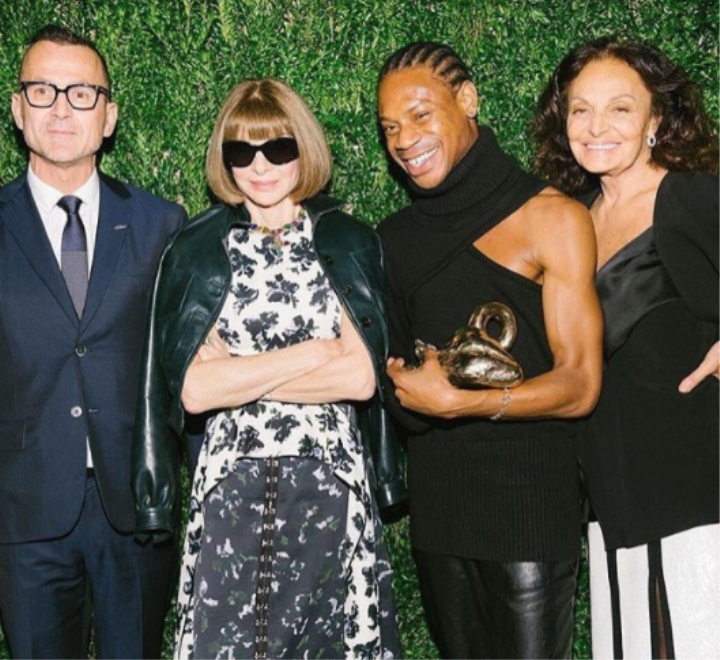 Image via Instagram
Virgil Abloh made fashion history this month when he became Louis Vuitton's first black artistic director. Yes, the move is an important step forward for black designers, but we would be remiss to act as if fashion's "black people problem" has been solved with one position. There is still a host of black designers working tirelessly and not receiving the attention, credit, and, most importantly, financial support they deserve. In 2018, there should not just be one black designer spearheading a luxury heritage house (especially when black fashion trends so frequently become global trends). We should have multiple Virgil Ablohs.
In an effort to foster diversity, i-D shines a light on six black designers we feel should be much bigger than they are now. From the wearable tech jackets of DYNE's Christopher Bevans to the White Castle merch crafted by HBA alum Telfar Clemens, these emerging designers are setting new trends for black and white shoppers. We could easily imagine any one of them breathing fresh air into a luxury heritage brand. Here are five black designers who aren't Virgil Abloh.
Recho Omondi of Omondi
The best fashion moment in season two of Insecure , hands down , is when Issa casually wears an oversized sweater with "Niggas" embroidered in the right hand corner. The sweater reclaims a word with centuries of powerful connotations behind it and, somehow, makes it everyday attire. Viewers immediately began asking on Twitter where they could purchase the piece. The designer behind it? Recho Omondi. The Kenyan-American crafts playful clothes that feel pulled from Nickelodeon cartoons like Rugrats and Hey Arnold! She experiments with colors seemingly pulled from the decor of a kindergarten class and has an affinity for tulle. "The black experience is always a common thread of inspiration no matter where, or in what culture it's happening," the Bed-Stuy raised designer told i-D last year. "The brand is auto-biographical. I'm talking about me. It's the story of a black girl trying to navigate herself through white supremacy, ultimately."
Christopher Bevans of DYNE
Let's be honest: few wearable tech products have managed to be as trendy and stylish as, say, a pair of Triple S sneakers. Christopher Bevans is changing that. The designer includes NFC technology in everything from bomber jackets to chino pants, allowing wearers to listen to unique playlists and shop DYNE's catalogue on their phones. By blurring together predominantly black models in these high-tech piece, DYNE's vision feels like a minimalist take on afrofuturism. The former Nike employee runs his studio out of the fast-emerging tech capital of Portland, ignoring trends and wholly placing his emphasis on the athletic side of athleisure. This functionality-meets-technology aesthetic has paid off. He's already won the Woolmark Innovation Award, and was a CFDA/Vogue Fashion Fund finalist last year.
Maxwell Osborne of Public School
Maxwell Osborne acts as one-half of the Anna Wintour-approved brand Public School. Together with Asian-American designer Dao-Yi Chow, Maxwell has curated a uniform for men that includes skirts, baggy linen shorts, and "Make America New York" baseball caps. The Queens-raised duo standout from others on this list for managing to achieve mainstream success in the luxury market, getting stocked at Barneys and collabing with J. Crew. Maxwell has challenged the fashion industry to improve its relationship to the black community. He penned an open letter in 2016 urging those in fashion to voice their support for the Black Lives Matter movement. "Encourage diversity on your runways and campaigns," he urged. "Empower your social media fans to raise their voices. Use your designs for the public good. Attend a protest and see change in action. Raise awareness – it's not as empty a gesture as it may seem – and others will follow your lead."
Telfar Clemens of TELFAR
Telfar Clemens is arguably one of the most unapologetically black designers in the industry right now. What other designer could call on powerhouse singers like Kehlani, Starchild, and 070 Shake and stage a stirring gospel concert for their fall/winter 2018 show? And let's not forget the Queens-raised artist designing White Castle's new uniforms, sewing up ever-so-slightly oversized polos for the fast food chain's employees. With his namesake brand, Telfar has continually blurred gender lines with his feminine-meets-masculine silhouettes and reimagined 90s hip hop wear for Gen-Z shoppers. Telfar earned a major seal of approval from the industry last year when he won the CFDA/Vogue Fashion Fund award, receiving $400,000 to put towards his brand. Telfar turned to the black vernacular for his acceptance speech, opening with, "I just want to thank everybody for being down."
Read More:
Kerby Jean-Raymond of Pyer Moss
With his street-ready brand Pyer Moss, Kerby Jean-Raymond boldly made the fashion industry acknowledge the Black Lives Matter movement. For his spring/summer 16 show, he screened a 15-minute documentary that highlighted the prevalence of police brutality. Heartbreaking and infuriating clips of police officers kicking unarmed black men in the face played. Afterwards, models walked out wearing military-inspired trench coats with "Black Lives Matter" spray painted on the back. Kerby has been a vocal activist in interviews too. He shared his own traumatic experiences with the police in an honest interview, saying, "We were all put down on our knees, face down. The cop had his hand on his gun the whole time and was threatening us with it, kind of like flexing for it." Pyer is quickly become an influential player in the streetwear scene. He debuted a collaboration with Reebok last year, his tennis shows featuring laces meant to be tied around the ankle and shoe. And for his most recent collection he focused on how black culture and Americana should be synonymous with each other. "as usa as u," a white jacket said (Which, to be fair, was kind of the point Raven-Symone was trying to make in her "I'm not black, I'm American" line but embarrassingly botched). It becomes clear the artistic point Pyer is sewing in his clothes: that black people should be looked at as Americans, not enemies of the state.