Photography Mitchell Sams
matthew miller threw a gig for rebels, rule-breakers and the outspoken youth
A world away from your regular fashion show, the Stoke-born, London-based designer broke all the rules with live performances from Ekeno, Whiteroom & Strange Cages alongside his autumn/winter 18 menswear collection.
|
07 January 2018, 12:32pm
Photography Mitchell Sams
"The militant youth brigades will rise up and reclaim consent." The first line of Matthew Miller's autumn/winter 18 press release, for a presentation he aptly title Riot, read like an ambiguous prediction of how the future of our society might pan out. Good or bad, you can't knock this designer's conviction: Miller's latest collection is tailor-made for rebels, rule-breakers and the outspoken youth.
Since debuting on London's catwalk six years ago, Miller has shaped himself as a designer who translates socio-political affairs into wearable, utilitarian menswear. This time around, his inspiration stemmed from the militant nature of creative young people, particularly those who use music as a roguish form of self-expression. This season, rather than showcasing this work on the runway, he's taken his concept a step further, presenting his latest collection as a live concert; the musicians becoming his models in the dingy setting of a railway arch-turned-music venue in east London. "It didn't feel relevant to present these clothes on the runway," Miller explains, "so I thought I'd try putting on a gig and getting the artists down here. Get some clothes, get some beers and see what happens!"
The musicians he selected -– Tottenham-hailing rapper Ekeno, Brighton five piece White Room and the psych-rock group Strange Cages -– each had to snake through the audience to reach the stage. It's a far cry from the strict runway setting, but Matthew Miller, still the anti-establishment designer we know him as, was aware of that in the hours leading up to it. "A lot of people just think I'm mad," he shrugs.
The collection itself is in keeping with his slick and infinitely wearable style: military-style trench coats, banded at the waist by heavy-buckle utility belts, are paired with classic, slouchy tailored trousers. His technical, compartment-heavy vests, layered over lightweight bombers, look like uniforms for the front lines.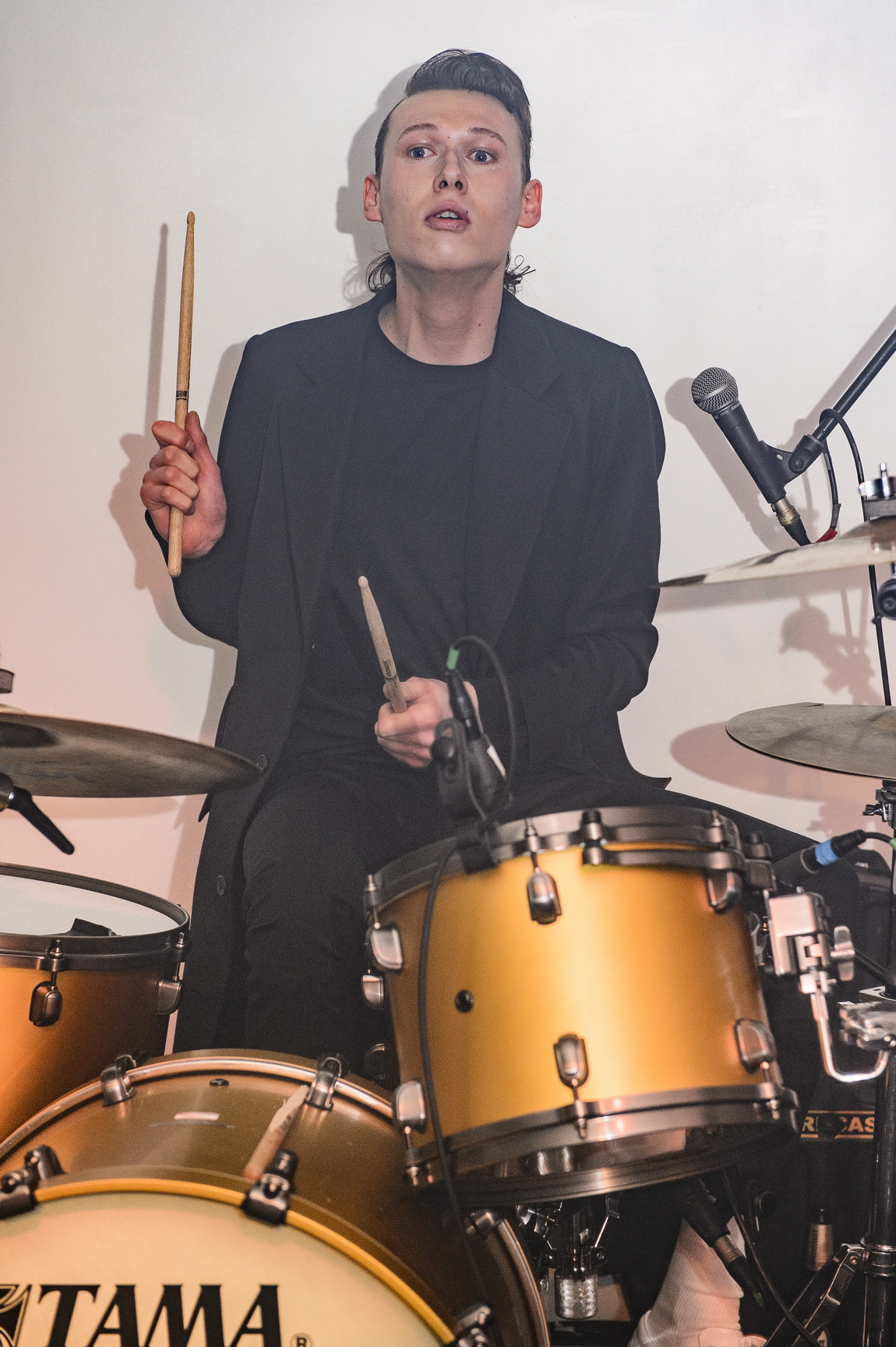 On the accessories front, a series of stark flags that double up as scarves allow Miller to explore the concept of words and communication, one that's been integral to his research process in the past. "The black flags are printed with words that I feel are [omnipresent] in the British press today," he tells me. "Words like "consent" –- there's a lot of discussion around the idea of what consent is right now, and it felt relevant to put that on a [military-style] flag."
The flags dominate the fashion film Miller has made to accompany this collection, which premieres exclusively on i-D below. Strobe heavy and with a scuzzy, ominous score, it sees his musicians-turned-muses brandish them like protest banners, fearlessly eyeballing the lens.
You can't knock Miller's love for cohesion. The colour palate here is scarce, so darkness dominates; by turns foreboding and beautiful, it's as if he's predicting something euphoric to stem from the uprising on the horizon.
As you deconstruct it, you realise how closely Miller has stuck to his Riot title here, too. The pieces, striking on their own, come together to create a sense of impending violence and uproar. Miller dubs the collection "army-esque", but his understanding of practicality as well as concept will make their transition from stage to street much easier.
Last season, there was a fragility to the model's black smudged lipstick, and the way some shirts and jackets were styled to fall off their shoulders like kids. This season, his band of musicians –- energetic and ferocious in practise -- had their long hair slicked back, perfect complexions and a cheekbone highlight so iridescent it could summon gods. Beneath the anger of it all; a bit of beauty.
Credits
---
Photography Mitchell Sams