the rick owens birkenstock is the first ugly-chic shoe of 2018
To be worn with socks, of course.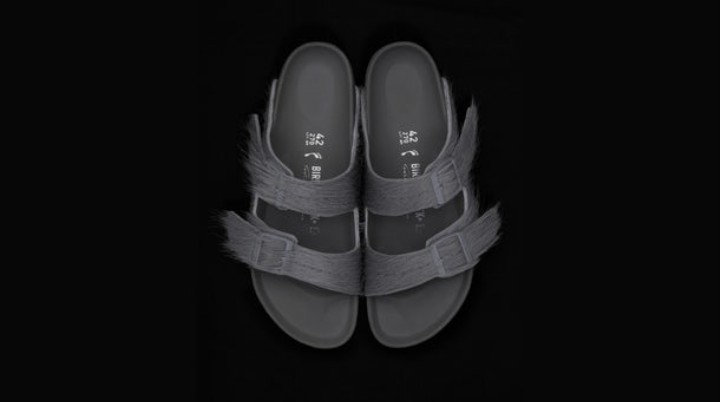 Courtesy of Birkenstock
The cliché "suburban dad" wardrobe continues to receive a luxury fashion revamp. Last year, Balenciaga turned the "ugly sneaker" into a $900 must-have item constructed from recycled shoe soles. And now, Birkenstock, creator of the original anti-fashion shoe, is restaking its claim as the ultimate purveyor of "so uncool it's cool" footwear. The historic shoe brand has announced a collaboration with Rick Owens, launching this spring. The techno-loving Rick Owens has added his subversive touch to Birkenstocks's classic two-strap sandals — crafting them with darkly opulent fabrics like cow hair, felt, and full-grain leather. Yeah, you know, what every dad wears to his kid's soccer game.
Rick told Business of Fashion that he's a fan of Birkenstock because the brand promotes "steady longevity and personal well being." And considering this is the same person who once said "no outfit is going to make you look or feel as good as a fit body," the attraction makes total sense.
Birkenstock x Rick Owens will be released to the public April 18-21. Our next ugly-chic shoe of 2018 prediction? Tide pod Nike Shox. You're welcome.