rodarte's new campaign stars a definitely pregnant kirsten dunst
Grimes, Rowan Blanchard, and Chloe x Halle also star in the ethereal new ads.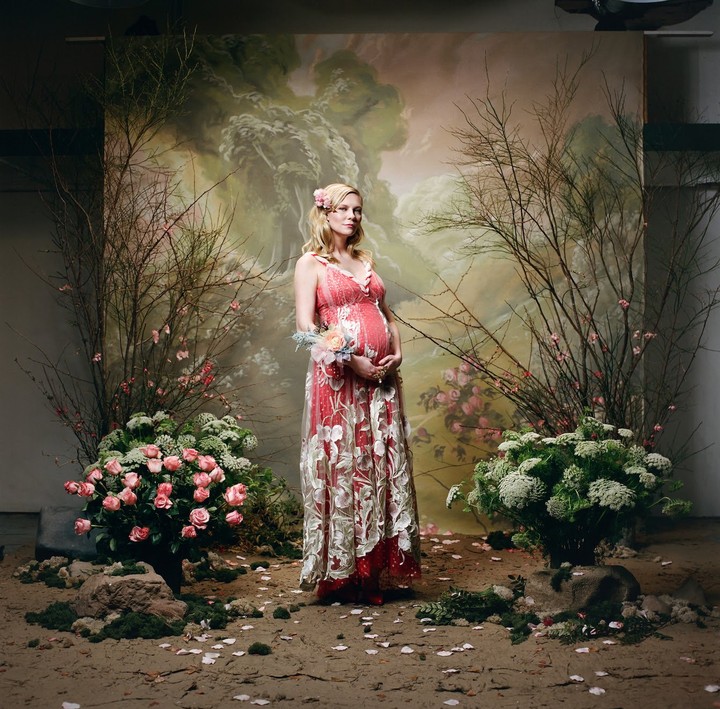 Photography Autumn de Wilde for Rodarte
Rodarte isn't even showing at fashion month this season, but the brand is still managing to attract plenty of eyeballs. Kate and Laura Mulleavy have opted to unveil their fall/winter 18 collection via a portrait series celebrating inspirational women. Posted to Rodarte's Instagram today, the exquisite new ads star a mix of the sisters' new friends and longtime homegirls — including Grimes, Kim Gordon, Danai Gurira, Chloe x Halle, Rowan Blanchard, and Gia Coppola. Oh, and a definitely pregnant Kirsten Dunst. Rodarte's ads double as confirmation that Kirsten is expecting an extremely fashionable baby with her fiancé Jesse Plemons. Congrats, guys!
Rodarte tapped Autumn de Wilde to shoot the portrait series. "It was hard not to cry as I took these photos," the photographer wrote on Twitter today. "Such a beautiful mother. Such a beautiful friend." Kirsten has been linked to Rodarte since the brand's inception, while Grimes is also a longtime fan of the brand. Last year the IRL elfin angel rocked a lacy Rodarte dress with chunky black combat boots and wraparound sci-fi sunglasses, as one is apparently wont to do at high tea cocktail parties. In the fall/winter 18 campaign, Grimes looks literally out of this world in a floral tulle ensemble. Other outfits of note include Chloe x Halle's icy draped gowns with matching ornate umbrellas, Kim's leopard print chiffon number, and Gia in plaid wool. See all the ads below.