the magic of michelle obama in conversation with chimamanda ngozi adichie
Journalist and author Yomi Adegoke reports on what went down.
|
04 December 2018, 3:51pm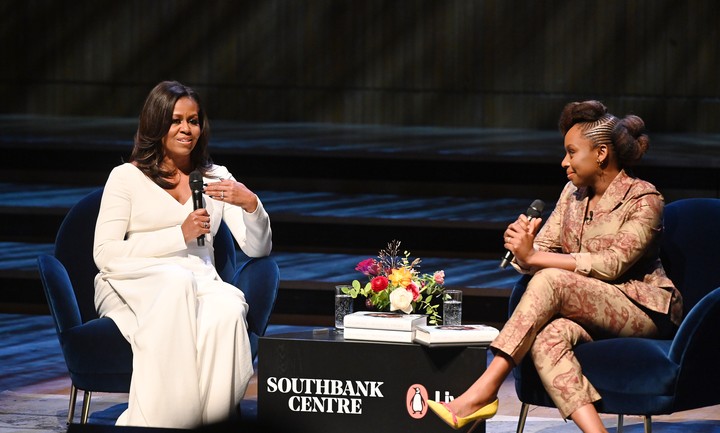 Michelle Obama discusses her memoir BECOMING with Chimamanda Ngozi Adichie at Southbank Centre's Royal Festival Hall in collaboration with Penguin Live. Photo by Mark Allan/Southbank Centre.
It's a slightly disconcerting feeling, attending something that you know is going to be life-changing. There's a pressure to drink in every detail, to truly to bear witness -- blink for a touch too long and you're literally missing out on history.
While that may sound slightly dramatic, when it comes to both Michelle Obama and Chimamanda Ngozi Adichie, who were in conversation last night at London's Southbank Centre discussing the former's memoir Becoming, black women are dramatic. Because no matter what they may mean to everyone else, they -- like the other patron saints of Black Girl Magic Oprah, Serena Williams and Beyoncé -- have a special place in our collective hearts worldwide. For many years they have been a conduit for many black girl feels: their visibility made us feel seen too, their flawlessness we know comes from a world that rewards us half as much for being twice as good. They are reflections of us, but also the manifestations of what black women can be, when given the opportunities. For us, this Q&A was more than life-changing. It was the literary equivalent of a Beyoncé concert, if the supporting act was the angel apparition of Dr Maya Angelou.
Obama is a certified superstar, it goes without saying. She's the celebrity for celebrities -- the audience was made up of actors Chiwetel Ejiofor and Riz Ahmed and Adwoa Aboah among others -- and Chimamanda, a living legend herself, was one of us as she subtly fangirled over possibly the most beloved woman on the planet. The talk drew stadium numbers, as over 60,000 people reportedly tried to get tickets for the event taking place at the Royal Festival hall, which had a capacity of 2,700. Michelle's star power and otherworldly charm stole the show certainly, but what really spoke to me personally was how human she was.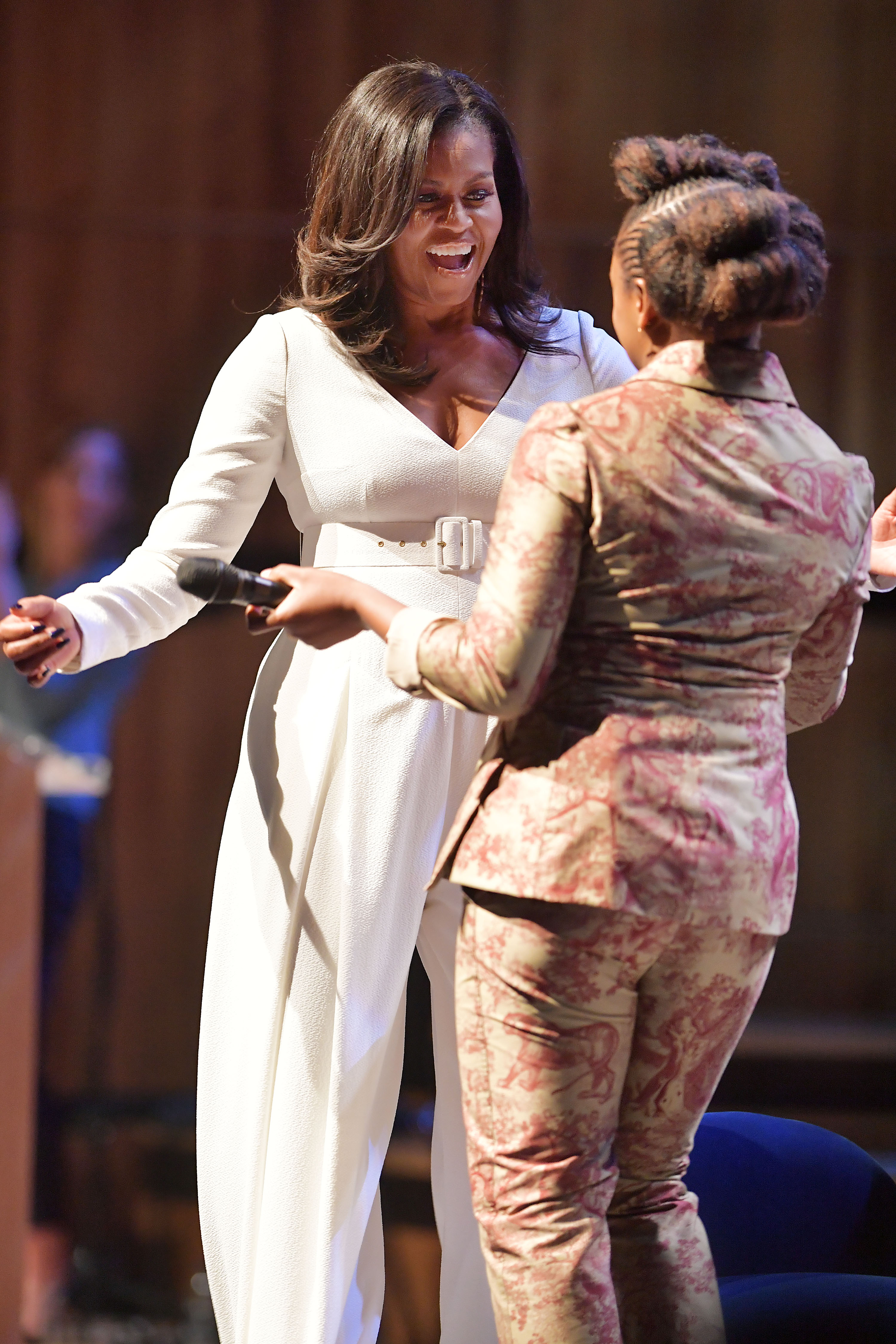 It might not sound particularly groundbreaking, but what underscores so many prominent black women is perfection. We simply can't afford to be any other way, which leaves very little room for candor. But Obama managed to be honest about her journey, something so few of us have the freedom to do without compromising a carefully crafted image.
Take for instance, when she recalled a faux pas during a previous visit to the UK in 2009, when she touched the Queen's back within minutes of meeting her -- a breach of protocol. "After all those protocol lessons, I was human!" Michelle shrugged.
"If you're thinking about my thoughts when I come out on stage, it's 'don't fall'", she said part way through the night. "One of my primary goals for the eight years was to never become a meme."
This honesty was at its most arresting when she spoke specifically about and to black women. 'What happens to black women, you become a caricature…the size of our hips, our style, our swag." she said, pointedly. "Then you are demonized. We are too angry, too loud, too everything." The honest words of both Obama and Chimamanda have continued to validate the lived experiences of black women across the globe. But what their presence in conversation does to combat the "danger of a single story" Chimamanda famously spoke of in her four-year-old TedX talk, is unparalleled. Despite the gloss and composure, authenticity was never compromised.
The importance of the evening didn't just lie in wise words and sage advice, of which there were ample amounts. For me, it was Michelle Obama and Chimamanda simultaneously embodying two benevolent demi-goddesses as well as your no-filter favorite auntie. It was the marrying of 'black excellence' with the real talk about what it takes to get there. By the end of the evening, we were under no illusions that Michelle Obama truly 'became' who she is today, as opposed to having sprouted from the earth fully formed and flawless like a modern day Venus, as we are often inclined to believe.
As the evening drew to a close, she spoke about the advice she gives young women hoping to emulate her and Barack's enviable marriage. "I tell young people there are going to be huge chunks of time where you want to push him out of the window!" she said with a laugh. "It's never the other way around. He never wants to push me out of the window because I'm perfect!"
She says this with her tongue wedged firmly in her cheek, and the audience are laughing not at her being faux-vain, but because she kind of isn't, which is why she totally is.
---
watch this
This article originally appeared on i-D UK.