jeff goldblum dropped some band merch
And it's already sold out.
|
08 November 2018, 9:24pm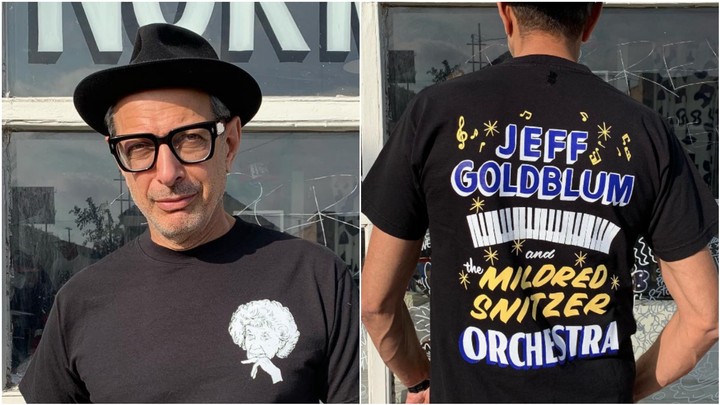 If you didn't know, Jeff Goldblum is not only the Internet's favorite fashion icon and the cause of many sexual awakenings. He is also the frontman of a jazz band suitably named Jeff Goldblum and the Mildred Snitzer Orchestra. And like any proper band, they now have merch, so you can make your body a shrine to the Daddy himself (and his musical group).
The merch is a collaboration with very cool menswear shop in L.A., Virgil Normal. The East Hollywood space is home to brands like Rodarte and Brain Dead, and as of today, band merch for Mr. Goldblum. You don't have to be a fan of his music, let alone jazz, to appreciate a memento of a wholesome hobby.
The t-shirts come in two colors: black and white with an illustration of the leader of the Mildred Snitzer Orchestra, Mildred Snitzer herself, on the front. The back of the shirt reads "Jeff Goldblum and the Mildred Snitzer Orchestra" and is stylized like a poster from the 50s/60s — or a by CHLOE menu. As of the drop announcement on Instagram, the shirts are sold out, so stay tuned for a restock.
We give the merch 10/10 Goldblums.