nicholas daley recreated his parents' reggae club for spring/summer 2019
To showcase his work for spring/summer 2019, he gave Nabihah Iqbal and Cosmo Pyke a ring and asked them to perform.
It might've taken place in Swiss Church in the heart of Soho, but Nicholas Daley's presentation for spring/summer 2019 lifted us spiritually to the dingy, poorly-lit clubs of Scotland in the late 70s. It was a time when his parents, Jeffrey and Maureen, were hosting the country's seminal reggae nights, bringing together ethnic minorities in a political era that was notorious for fuelling the far-right vitriol directed towards them.
At the time, Daley's parents had created something nobody had seen before in Scotland: a safe space for people of colour that welcomed everybody with respect for the craft -- and the community -- with open arms. It opened in 1978, it ran under the name Reggae Klub for four years. 40 years on and their son brought it back again for his new collection, presented on the final day of London Fashion Week Men's.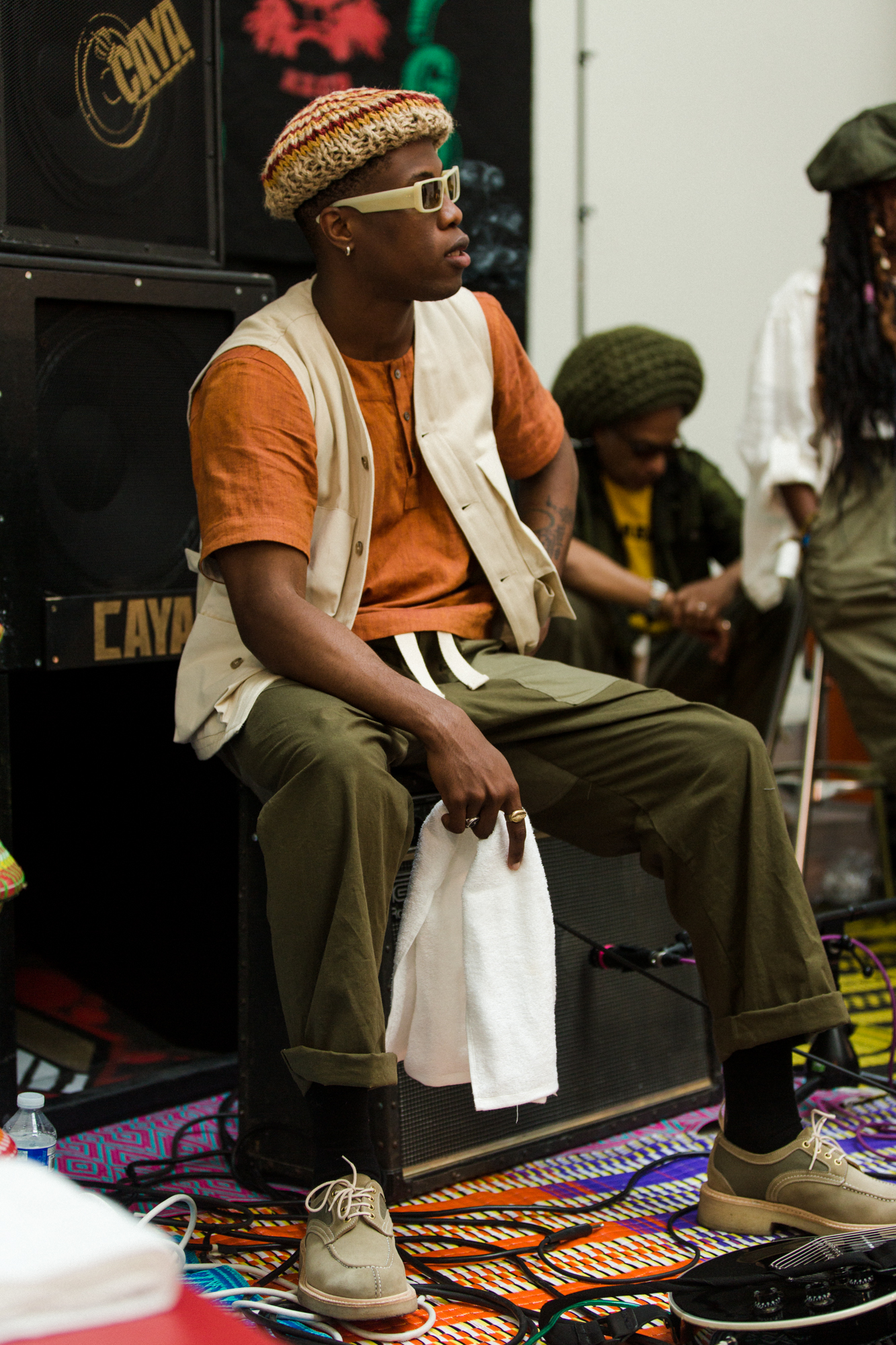 The concept of unity was pivotal to the collection, titled SLYGO, and the presentation too, deconstructing the ways in which we can band together and exchange cultural experiences. After using jazz musicians to model his collection in a more modest manner for autumn/winter 2018, this time around, Daley went superscale: Swiss Church had been decked out with a full band set-up, designed to replicate the look of Reggae Klub's stage; patterned rugs, incense and all.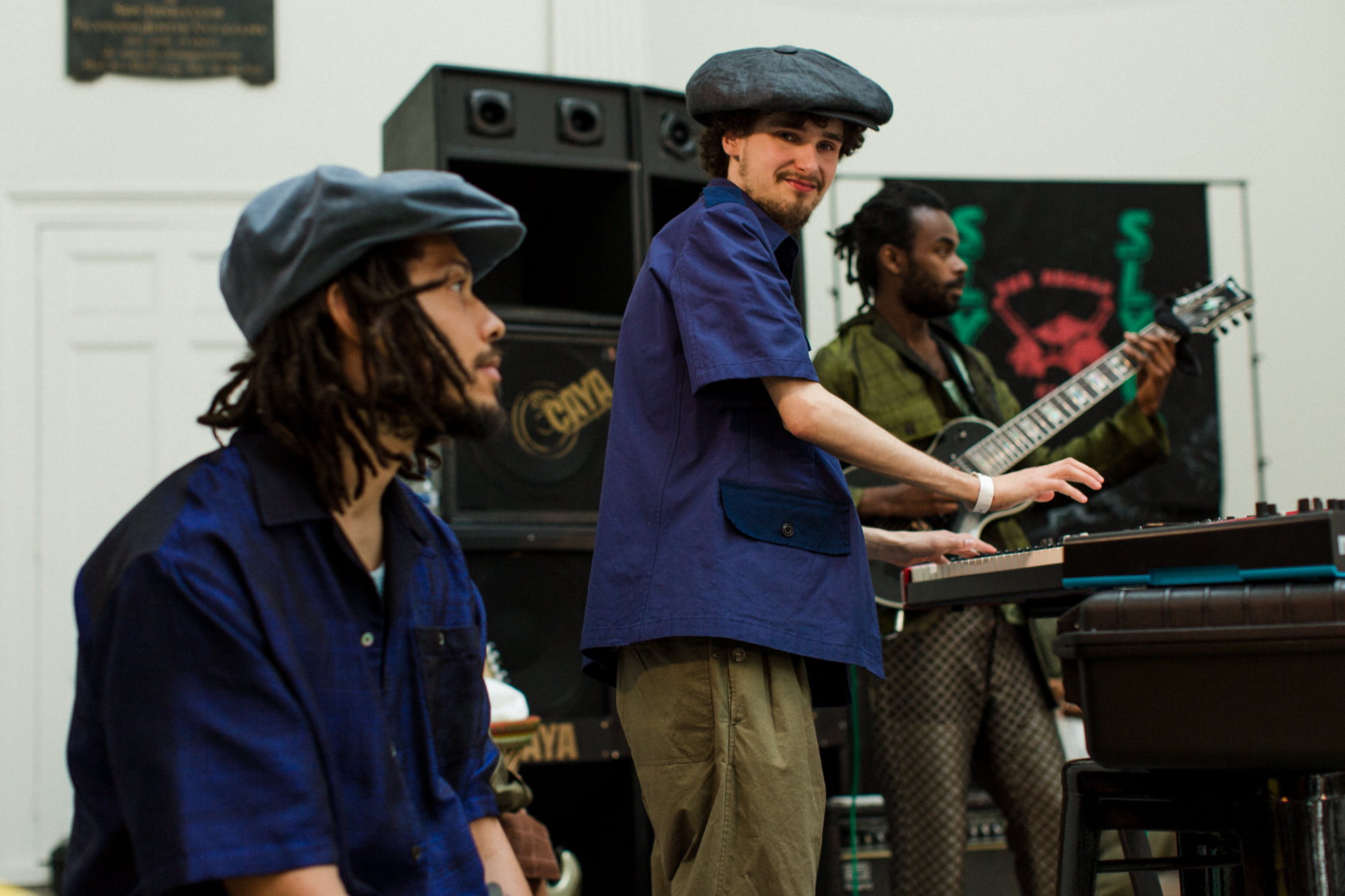 Daley again enlisted some of Britain's most exciting voices in music, art and performance to become his models, including the ever-brilliant Nabiha Iqbal and Cosmo Pyke, who both graced the mic in a series of scheduled performances, alongside artists like DJ Don Letts, drummer Yussef Dayes and spoken word artist Obongjayar.
The clothes paid homage to his parents' past, while taking reference from the way once underground subcultures have started to inform today's zeitgeist. Daley's work has always played with his half-Jamaican, half-Scottish heritage. For this collection, 'Reggae Klub' t-shirts originally designed by his parents were given a reboot in a selection of 70s-spun colourways, like mustards and khaki shades -- Cosmo rocked his with a pleated kilt. Elsewhere on stage, crocheted vests and bags felt like traditional Jamaican fashion staples, but were layered and paired with hunting and military-style jackets and shirts. But Daley's versions were casual in comparison: unpretentious, cool, and as welcome in reggae club as they would be at a shooting range on Sunday. His relaxed jacquard suits -- particularly a bright, boldly-patterned one worn by Nabihah -- were another standout moment in a collection that was consistently rich, presented in an appropriate and high-spirited way.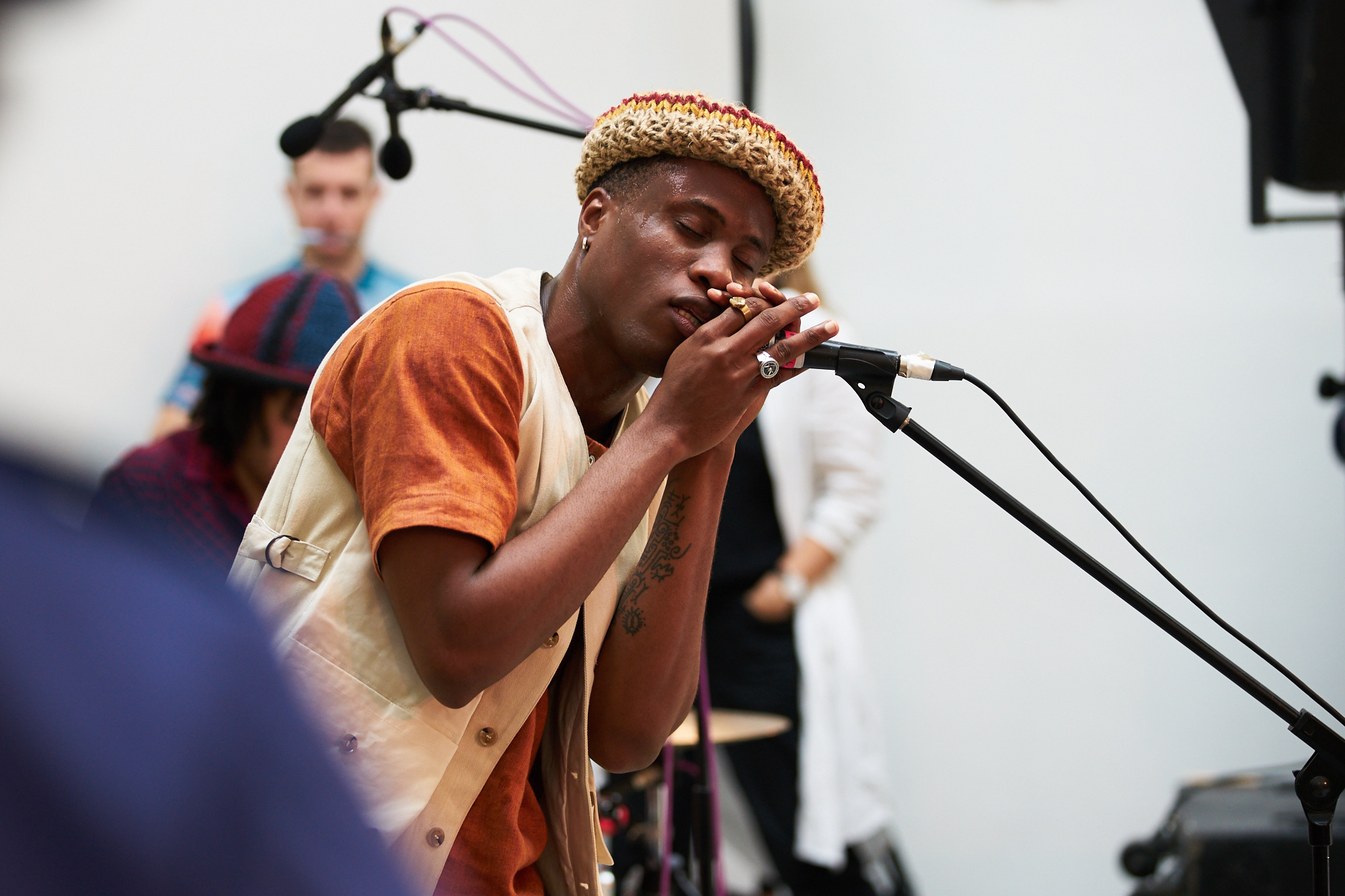 For a designer like Daley, a collection like this that's so satisfying from both a creative and cultural standpoint is proof that his future is bright. "The club was an extension of our beliefs that music is a unifying force," Daley's parents said, in regards to the night that helped champion black British culture, if only in a modest manner; the latest work of their son proved that fashion has the power to do the same.