prada finally gets sexy as it offers 'miniskirts for men'
Is Miuccia Prada as obsessed with 'Love Island' as you? Probably not, but her hypersexualized, top-heavy take on the catwalk's shortest-ever short shorts and psychedelic prints hint at a new revolution.
Who?
Miuccia Prada has always been more than a designer. She's a thinker, a nonconformist, a challenger of convention and norms. Before taking over the family business and revolutionizing not only the company but the wider fashion industry too, Miuccia famously completed her PhD in political sciences. She might have left academia to work at her parent's leather goods company in the late 70s but her passion for politics never left her. Instead, it has propelled her to persistently probe relationships between dress, gender and power. From introducing the notion of ugly chic in the 90s as a rebuttal to Milan's seemingly one-dimensional presentation of luxury beauty, to showing men's and womenswear side-by-side on the runway, she systematically shifts aesthetics and the system itself. After declaring that "we have to change the world -- especially for women, because there's so much against us still," after her cross-generational female artist-fueled spring/summer 18 collection and the autumn/winter 18 call-to-arms that "women should be free of harassment however they dress," Prada subverted the same sartorial sexual revolution to spring/summer 19 men's. "You know I'm a bit contrarian," she explained backstage while surrounded by a crowd of iPhone and dictaphone wielding editors. "I never use this word in my life... but now, it's sexy," With the finale music of Air's "Sexy Boy" ringing in our ears, there was no escaping the newly revealed sex appeal of Prada's out-of-office ugly chic.
What?
The top-heavy looks -- puffed and padded nylon trapper hats, new logo tweaked roll necks and blazers, and the shortest shorts we've ever seen -- left some of us daydreaming about everyone's must-watch tv obsession, Love Island. Has Miuccia watched it? Probably not but this collection touched upon a reality of how people dress and played with the subjectivity of sexiness. "Sometimes we hide our work from the outside world," she explained. "But sometimes it's good to go to see how people actually dress, and the freedom they should have." Hmm, maybe Miuccia has watched the odd episode on catch-up. Regardless, this men's collection was all about freedom. "Sexy will always exist -- whatever company you choose -- it's one of the reasons people dress but of course, it's not the only one," she noted. Even when Prada do-sexy, everything was consciously mismatched in true Prada fashion. From the nylon track tops and 90s bleached bootcut denim to the brown blazers and revolving kaleidoscope of prints, this was sex Pradafied.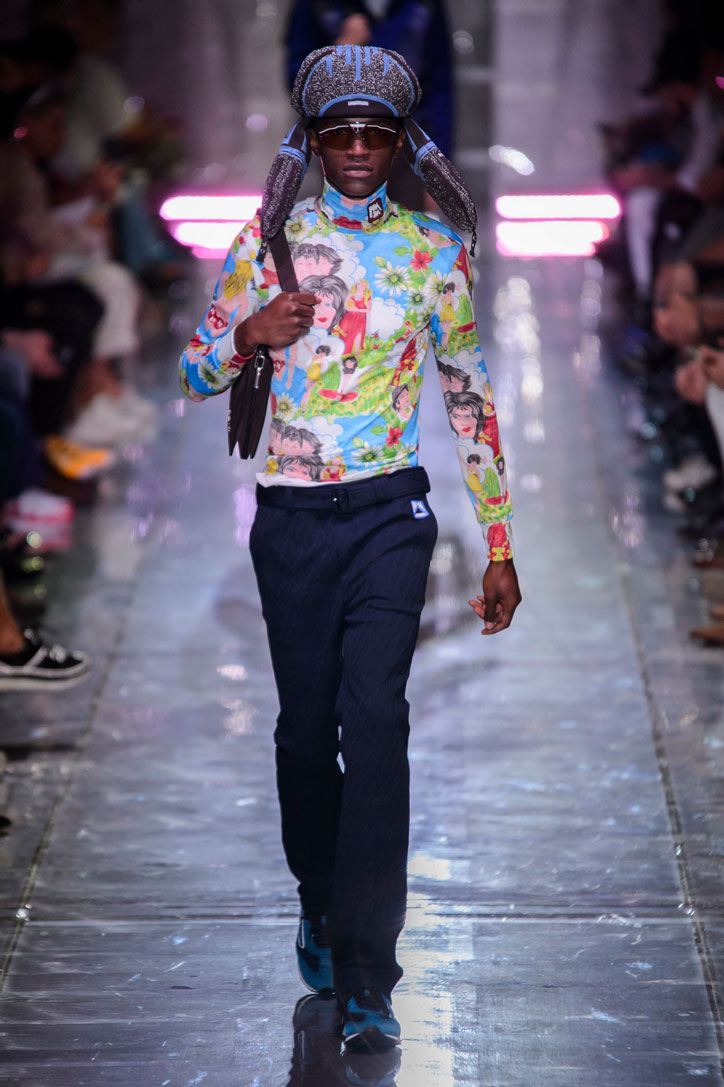 Where?
A PVC palace. Prada's industrial press office HQ was lined in vinyl sheeting as guests sat on reproductions of Danish designer Verner Panton's iconic inflatable stools. With the whiff of formaldehyde in the air (possibly imagined), this was Prada taking us back to the sci-fi future-gazing 1960s to set set the scene for a 2018 update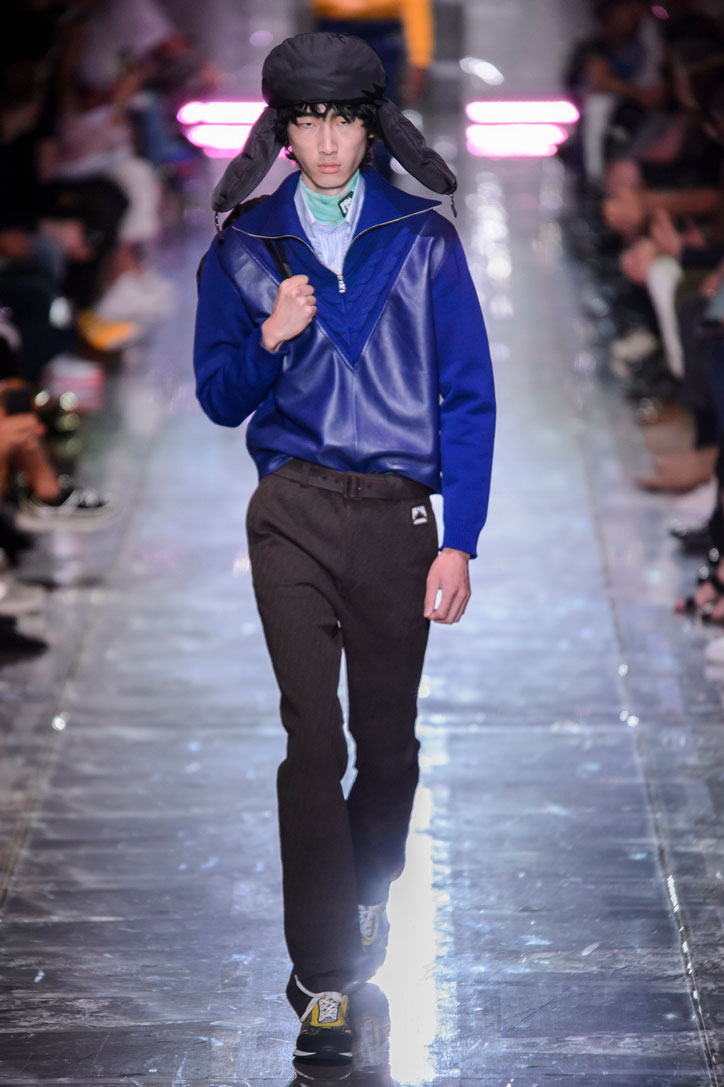 Wow?
Prada described the thighs-for-days short shorts as her "miniskirts for men". We didn't have our ruler with us backstage but they have to be the shortest shorts the men's catwalk has ever seen. Alongside the hippy trip psychedelic florals and Beat poet-worthy roll necks and blazers, these men's miniskirts offered a playful reminder of the swinging 60s sexual revolution. For Mary Quant, it was the girls on the street who invented the miniskirt. For Prada, did the boys of 2018 demand her version? Well, the top-heavy hunks of Love Island would definitely try to squeeze themselves into them. Post-show, as some of the models covered their previously bare thighs in cloaks, questions around objectification of men's bodies and the freedom to dress how we all want to in a post #metoo world, whirled backstage. These are just some of the questions the thinker, nonconformist, and challenger of convention wants us to ask
Away from the flesh-on-show, Prada continued her logo play but while many of her contemporaries go big, she went small. "Logos are such a trend, I joke with them," she explained. Her tongue might be in her cheek but her jokes leave us wanting to spend money. Continuing the micro-trend, each look was worn with a small buckled bag or teeny tiny duffle. A miniskirt needs a manbag.