how to celebrate pride without actually going to pride
These are some other options if disco balls and angel wings aren't your up your straße.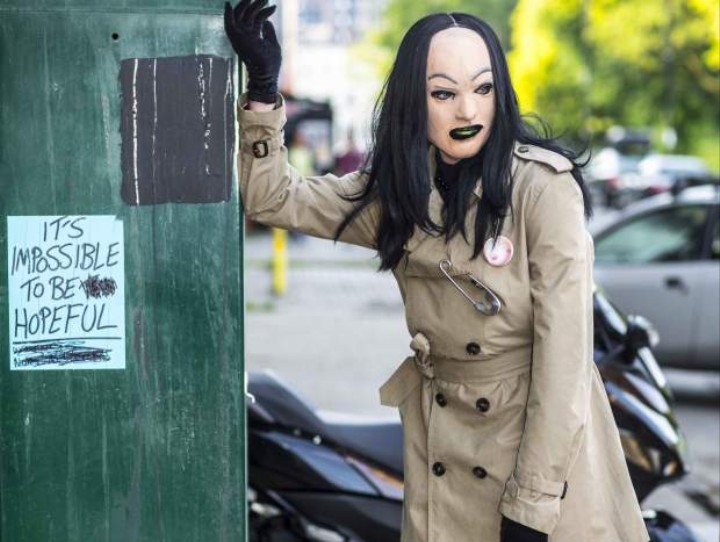 Jay Cloth at Gay Shame
We all know what's wrong with Pride in London -- it's increasingly corporate, plays down its political roots, and often feels dominated by ciswhitegays. Thousands will attend anyway this Saturday, but if you just can't face it this year, here are 10 other ways to celebrate your queer pride.
1. Check out Queer Picnic 2K18
Held in south London's Burgess Park, Queer Picnic is a more inclusive and much less corporate alternative to Pride. It's an event led by queer, trans and intersex people of colour -- white allies are welcome as guests -- that focuses on "healing, skill-sharing and good vibes" rather than rainbow frappucinos and Pride floats advertising Tesco Metro. If you've seen too many tanned torsos wearing angel wings over the years, Queer Picnic could be the antidote.
2. Wallow in Gay Shame
Now in its 23rd year, the Duckie crew's annual Gay Shame performance art party is an irreverent and rebellious way to spend Pride night. Taking place inside and outside the iconic Royal Vauxhall Tavern, and in a nearby railway arch, this year's event looks kind of wild. The organisers have teased tap dancers, contemporary dance, punk and poetry, "plus a fat bloke peeling potatoes and a real-life lesbian rolling fags". Consider yourselves warned.
3. Go see the new Whitney doc
Whitney Houston is a queer icon because she had the voice of the millennium and served superstar without seeming like a dickhead -- a really hard thing to pull off. She's also a queer icon because society denied her the chance to embrace her own complex sexuality (she clearly loved husband Bobby Brown, but also had a long-term romantic relationship with best friend Robyn Crawford). Simply titled Whitney, this film opening in cinemas Friday sometimes feels a little pre-occupied with her tragic death in a Beverly Hills hotel room in 2012. But it still offers a fascinating and heartbreaking insight into a woman whose music moves millions.
4. Head down to Gay's The Word bookshop
London's only LGBT+ bookshop is a treasure trove with a politically-charged past -- in the 80s, it served as HQ for the Lesbians and Gays Support the Miners activist group. If you want to engage with the queer agenda but find the crowds and rowdiness of Pride off-putting, this cute Bloomsbury store offers a much calmer safe space.
5. Volunteer for an LGBTQ charity
Sometimes the best way to celebrate and connect with the community is to give something back. Stonewall are always looking for volunteers -- as are mental health and wellbeing charity London Friend and HIV and sexual health organisation THT. Of course, there are loads of local LGBTQ charities looking for volunteers too, so just find one that matches your skill set and queer interests.
6. Binge-watch Pose
Co-created by TV genius Ryan Murphy, this epic new drama centres on New York City's super-influential '80s ball culture scene. It features the largest cast of trans actors ever to appear as series regulars on a scripted TV show. And it's really, really good -- sharp, poignant and surprising. Give it a go if you want to immerse yourself in queerness without leaving the flat.
7. Or stream Paris Is Burning and I Am Divine on Netflix
Jennie Livingston's 1991 ball scene doc remains riveting, and reminds us where so much of the culture came from. Whenever we say "you better werk!" or call "shade!", we're quite literally speaking these queer pioneers' language. Released in 2013, I Am Divine is a glorious portrait of one of history's fiercest and most fearless drag queens. If Divine were around today and entered Drag Race, she'd either win it, or break the whole fucking show.
8. Get your life from some amazing drag kings
On the night before Pride, the Pecs drag king collective are hosting a cabaret-infused club night designed to "say a big fuck you to corporate pride". It's a radical antidote to some of Pride weekend's more antiseptic and sexless celebrations.
9. Go to UK Black Pride
Held Sunday in Vauxhall Pleasure Gardens, this is Europe's largest celebration for African, Asian, Middle Eastern, Latin American and Caribbean-heritage LGBTQ people. Sure, UK Black Pride partly funded by corporate sponsors, but it's a more inclusive and less pageanty affair than Pride in London -- and everyone's welcome as long as they remember whose house they're in. Recent Stonewall research found that around half of BAME LGBT people face discrimination from within the community; attending UK Black Pride is a crucial collective clap back against bigotry and racial prejudice.
10. Hook up with someone
Yes, everyone from Amazon to ASOS wants a slice of the Pride pie in 2018, but how much queer fucking do we see in the mainstream? Be truly radical this Pride weekend by spending some time in bed with whoever the hell you want.