childish gambino's new video stars kanye west and michelle obama
The animated visual has divided opinion.
|
03 September 2018, 10:37am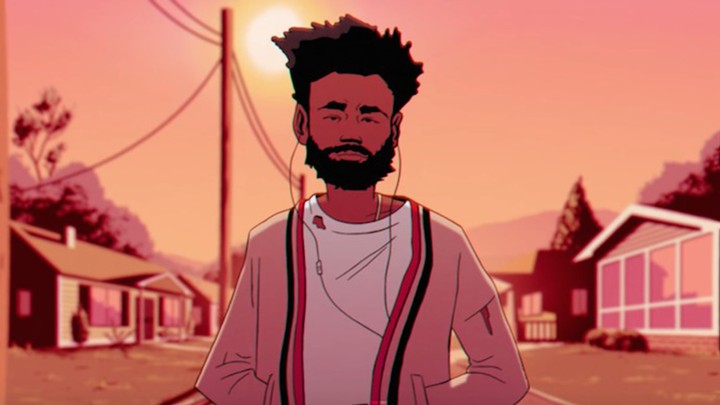 Still from Childish Gambino Feels Like Summer.
He broke internet back in May with his incredible music video for This Is America. Now Donald Glover has done it again, with the latest release under his Childish Gambino moniker, " Feels Like Summer."
Co-directed by Donald himself, alongside Ivan Dixon and Greg Sharp, the animated video for the ambient track depicts a cartoon version of the singer walking through a neighborhood dotted with hip-hop royalty. Made in collaboration with visual artist Justin Richburg, the short clip features (wait for it): Drake, Future, Migos, J.Cole, Snoop Dogg, Lil Pump, Gucci Mane, Lil Yachty, Travis Scott playing with Nicki Minaj (which Nicki favorited a tweet about), and a crying, MAGA hat-wearing Kanye West being comforted by Michelle Obama. Presumably it's easier to score the high-profile names when you just have to draw them.
Of all the images in the video it's this last one, of the former First Lady comforting Kanye, that's divided the internet most. Many people took the image as reference to Donald telling Kanye that he needs a black woman to save him, and were affronted by the savior narrative it was trying to convey. "Waiting [for] y'all to stop this nonsense that it's black women's job to fix black men", one person tweeted, while another wrote "this message is both confusing and irritating. Black women have our own issues yet we're supposed to fix everyone else's. Who's there to save us?" Others, however, took the image as sending out a positive message, with one fan calling the animation "another representation of black women standing with black men through their toughest time and still able to lift them up."
See if you can spot all the cameos in the video below.
This article originally appeared on i-D UK.