the soundtrack to gaga: the music of her documentary reveals a lot about the star
The Netflix doc about the pop superstar has noticeable holes, but the music she chose to lay against the narrative speaks volumes about her – and the experience of fame.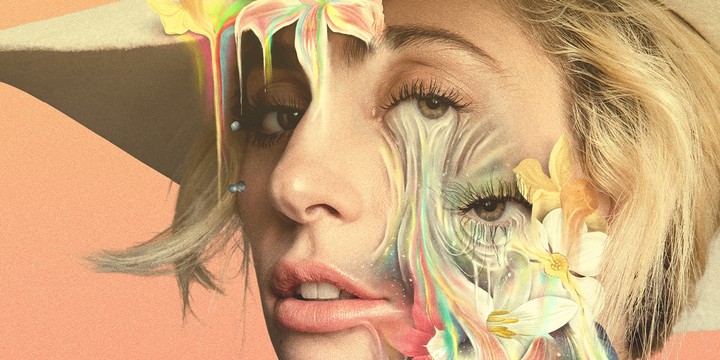 To watch Netflix's Gaga: Five Foot Two is to either be fan enough to happily plug the holes in its hull, or to stand back and wonder whether Lady Gaga's role as producer steers viewers away from the whole truth. The silence can be loud in an effective way -- there's a haunting moment when Gaga is unable or unwilling to breathe Amy Winehouse's name when discussing fame's destruction of its female stars -- but otherwise, why don't we hear Gaga name her agonising condition, fibromyalgia, or expand on her breakup with ex-fiancé Taylor Kinney. Indeed, it's only at the end of the credits, where Gaga thanks pastors Chad and Julia Veach ahead of even her parents, that the tenacious can discover she receives spiritual assistance from these occasional preachers at Hillsong, the "trendy" church that Justin Bieber is immersed in.
But as a treat for those who still don't get Joanne's spit and sawdust grit, or feel let down by Mark Ronson's refusal to shoehorn Gaga into a one-size-fits-all boogie hit, there is the soundtrack. With a little help from Patrick Belaga, who is credited as the creator of the original score, the soundtrack doesn't only showcase the recording and release of Gaga's most recent album, but her musical tastes. We've always known Gaga to be eclectic, and her professions of artistry date back way further than 2013's Art Pop, but the musical direction of the soundtrack isn't just good, it gives viewers some clues about fame, paranoia, hard work and big, pompous beauty. Maybe Gaga's truth is in these depths.
A juxtaposition introduces the documentary: we hear the Bulgarian folk song Kaval Sviri yelled by an all-woman choir as a bejewelled Gaga rises above that most all-macho all-American of arenas, the NRG Stadium in Houston, Texas. She's about to be watched by 100 million people as she plays the 2017 Super Bowl halftime show, yet all we hear is a Balkan choir trill about a village flautist. The antecedents of this song are recognisable; 2009's Bad Romance turns Gaga's very name into a cross between a hymn and a battle cry.
The flashback begins, so that the rest of the documentary leads up to this event, the biggest in Gaga's career. Driving a vintage muscle car through dusty Los Angeles to the studio where Mark Ronson awaits, Gaga introduces to the soundtrack Colin Stetson, an experimental bass saxophonist. The surname is at odds with his music -- atmospheric instrumental jazz couldn't be further from country twang. We'll hear from him later.
Throughout the first two thirds, the atmosphere is complemented by Gaga's song choices. We either hear her performing her own tracks for promo, or, beautifully, for Tony Bennett's 90th birthday. Or we hear the thrumming euphoria of Sonnymoon's Just Before Dawn, which plays as she boards a helicopter from a Democratic fundraiser back home to New York. Then there's the eerie eastern-European honky-tonk of Chilly Gonzales's Gogo lightly mocking Gaga as she, in witch mode for American Horror Story, gets grumpy about her accent. The louche-guitared Desert Raven, a song which literally closed out 2016's Burning Man, is Gaga at her most relaxed, topless and poolside at her LA oasis, sincerely discussing with her creative team how best to "strip back" her image's previous glamour. The intentionally irritating and syncopated Clapping (Trailer Music) by Julius Block and Nicholas Prout illustrates Gaga's panic as she puts the final touches to the record and its promo, while paparazzi and fans clamour at the door. Matadora, by Sofi Tukker, works similarly, a buzzing bee over a montage of Gaga's whistle-stop promo tour. Darker, though, are Patrick Belaga's creaking strings, which arrive to accompany Gaga's recuperations following numerous painful and incapacitating flare ups of her chronic pain.
These songs all drift far from the mainstream, but Gaga balances this chin-stroking Pitchfork-listening sophistication with nods to her Italian-American heritage. A stunningly kitsch shot of her god-daughter's Catholic baptism is accompanied by the retro soul of (Spanish-American) Richard Swift's Would You? At the reception, Guy Lombardo's 1949 recording of jazz number Has Anybody Seen My Gal? begins playing within the world of the film -- in the scene itself -- before becoming non-diegetic, louder, for the viewer to enjoy. This song, about a beautiful woman missing in the crowd, lends its lyrics to the documentary's title, and in the scene, unnoticed by few but baby Sistillia, Gaga blends into a cosy world of marshmallow pastels and familial tradition.
But Gaga is famous. And fame spikes through that joy like the carnivalesque psychedelia of Bobby Beausoleil. Fifteen seconds of his fairground-creepy organ-electronica plays as Gaga briefly waves to a litter of paparazzi as she walks from a car to her record label's New York offices. Beausoleil makes his music in prison, where he has been ever since he was convicted of the 1969 murder of music teacher Gary Hinman. He killed Hinman on the orders of Charles Manson, a cult leader who promised fame and success and vowed to carry his loyal young acolytes beyond the impending apocalypse. Perhaps Gaga is just fond of the sounds. Beausoleil created them for Lucifer Rising, a 1972 film by Kenneth Anger, whose homoerotic and religious imagery were referenced by Gaga in the 2010 Alejandro promo video. But if Gaga liked Beausoleil's noises so much, why only use 15 seconds of them? Is it to give Bobby his Warholised 15-something of fame? Or is it because, unlike Manson, who just happens to be half an inch taller than Gaga (both are actually 5'1, rather than the film's promised 5'2), she recognises the danger celebrity can accrue?
Because when we hear Beausoleil again, it's when Gaga gets her make-up done at a doctor's surgery and she grins wryly: "Who gets their make-up done while they're getting, like, a major body check out? While this is all occurring, my album is haemorrhaging all over the internet." The feeling is -- as much as Gaga adores her fans, their expectations are weighing down on her. She doesn't have to perform while injured, no. But who breaks their hip aged 26? Belaga's strings play sharp feedback, a knitting needle to the ear.
This sequence slots into the last and saddest third of the documentary. When the funereal-techno of Anders Trentemøller's remix to Chimes & Bells' The Mole begins, we see Gaga name the demons of five years past. Agreeing with radio DJ Zane Lowe that it's been a time of "paranoia, fear, alcohol, drugs, anxiety, body pain", the throb of the bass implies Gaga is gearing up to something great. But speaking her pain doesn't kill it. The bass falls out, and in the dark silence, we hear one giant sob.
Stetson's saxophone returns, and you can practically hear him gasping through its reeds as Gaga explains to her stylist Brandon, off camera and presumably in tears, that Gaga as we knew her is over, because she has to be over: "My love life's imploded… I'm trying to elevate everything, but I can't elevate it to a point where I become Lady Gaga again." The song segues into Stetson's Won't Be a Thing to Become as we see montages of Gaga at a photo shoot, mounting a horse and a quad bike, submerging into a pool, playing at joy. Over the sad minor-key jazz, Gaga's voice relates her success to subsequent heartbreaks, and fame to its emotional cost: "I'm alone, Brandon, every night. All these people will leave, they will leave and I'll be alone and I go from everyone touching me all day and talking at me all day, to total silence".
The film could end here. But it continues, because the Super Bowl is coming, and it's Gaga's moment to make one last stab at the big time.
Schubert's Symphony No 8 in B Minor is, to the casual classical listener, pure majesty. It illustrates Stefani Germanotta's readiness to be a celebrity again, as she slaps hands with her fans, signs autographs and chats to these Little Monsters, before clambering up to a balcony and looking down to her followers, much like Madonna in Evita. But Schubert died aged 32 -- Gaga's age right now -- leaving this symphony unfinished.
Rehearsals to Gaga's own music bring us back to the beginning, at the NRG Stadium. Kaval Sviri returns, but now the juxtaposition makes sense: these new-pagan rituals of excited teenagers wielding faux-flame torches, joined by dancers in pearls and bandages. Sound effects amp up the screams of the fans and explosions of pyrotechnic fireballs. The stressful, bombastic horns of Anna Meredith's Nautilus burst in as big as the structures Gaga must now topple -- industrial stages, swimming pool-sized crash mats, the time-honoured tradition of a spectacular halftime show.
After the dress rehearsal? We get the most well-known, accessible and vocal song of the entire soundtrack -- beyond, of course, Gaga's own music. Stand on the Word by The Joubert Singers is a gospel bridge between disco and house, written in 1982. Off-key and off-beat at times, it sounds like a bunch of ragtag kids surrounding a past-its-best piano atop a gleaming wooden parquet floor. Its simple blues chord progression seemingly goes nowhere, but in the last 40 seconds, for the patient, it crescendos, then drops into ecstatic praise of god. Though the lyrics throughout are earnest religiousness: "That's how he works / That's how / The good lord / He works", the track has long been secularised by disco fans, who perhaps needed to find god in places other than organised religion. This song is a homecoming for Gaga -- it's not just that she's from New York too, and used to be like one of those kids at stage school, hollering in a hall and getting it wrong before she got it right. She's letting us know, above and beyond anything, that this is why and how hard she works. Now, if only fame could stop hurting so bad.