comme does kawaii for spring/summer 18
Come into this Comme candy shop and stuff yourself silly with flowers, fruit and faces!
|
01 October 2017, 12:25pm
This article was originally published by i-D UK.
There was something incongruous about the beginnings of Rei Kawakubo's latest Comme des Garcons show. The opening look? A suit jacket and exploding skirt of Victorian proportions featuring lush printed velvet, rendered with the floral arrangements of Dutch master Abraham Mignon. The music? FKA Twigs's "Two Weeks" on the soundtrack. The place? This stately gold-flecked room inside a brutalist shell that is the Russian Embassy in Paris. Then the music skitted. And so did the art.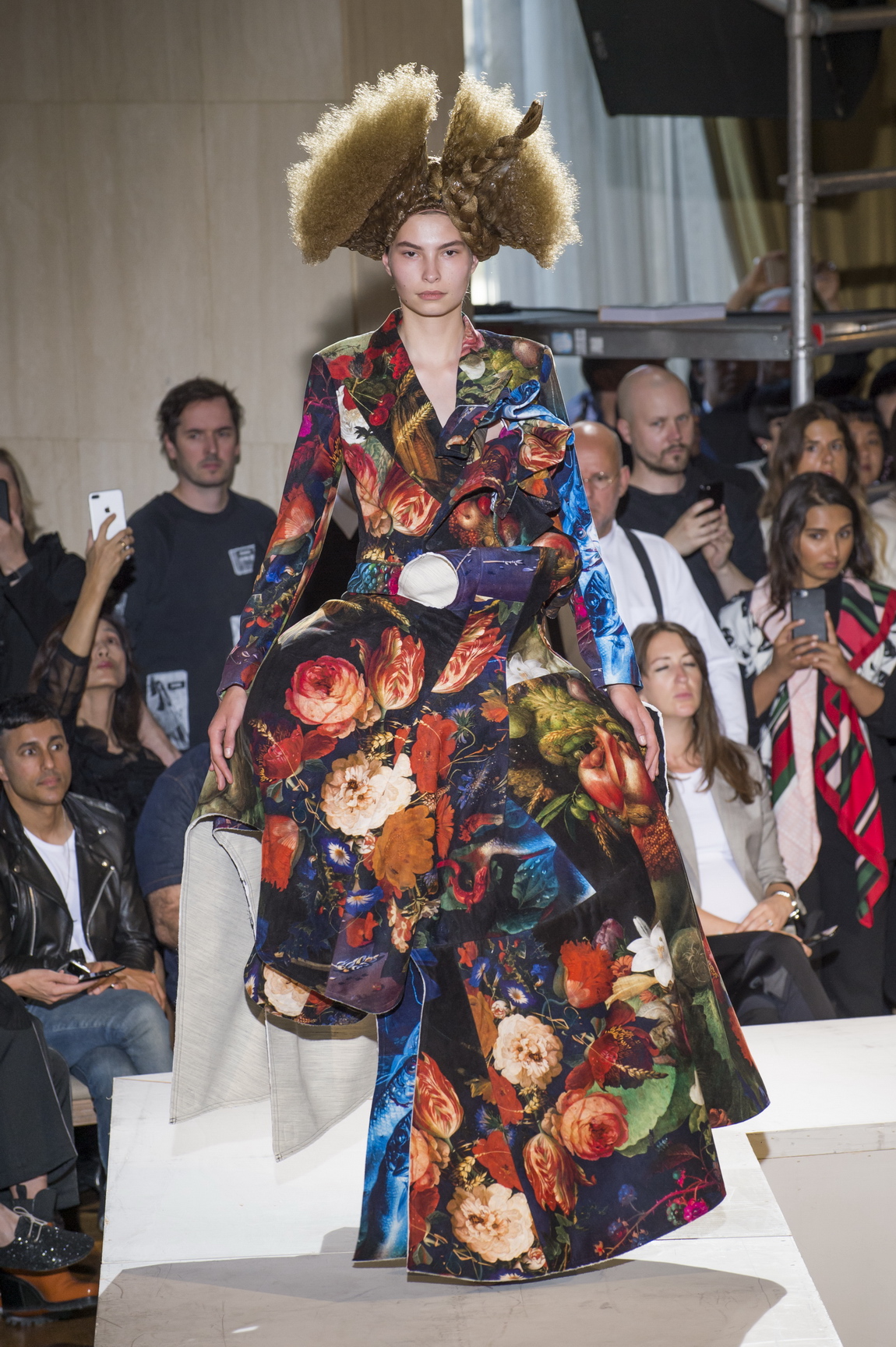 The season has been peppered with artist collaborations, but Kawakubo's appropriation of nine artists seemed to reflect the jumpy attention spans of today. From the contemplative gentility of Mignon's floral still lifes and the subtle ink strokes of sixteenth century Japanese monk Sessun Shukei, we jump to E-Boy's Sims-esque pixel landscapes glitched up with skate culture art of Stefan Marx. The cartoonish faces of Serge Vollin stare back at you like colorful emojis. Even the 16th century fruit and veg portraiture by Guiseppe Arcimboldo has a kitschy quality to it. Kawakubo was visually baiting us with her "multi-dimensional graffiti," the cryptic phrase proffered up this season. "It's as if the graffiti on the wall has come alive," added Adrian Joffe backstage.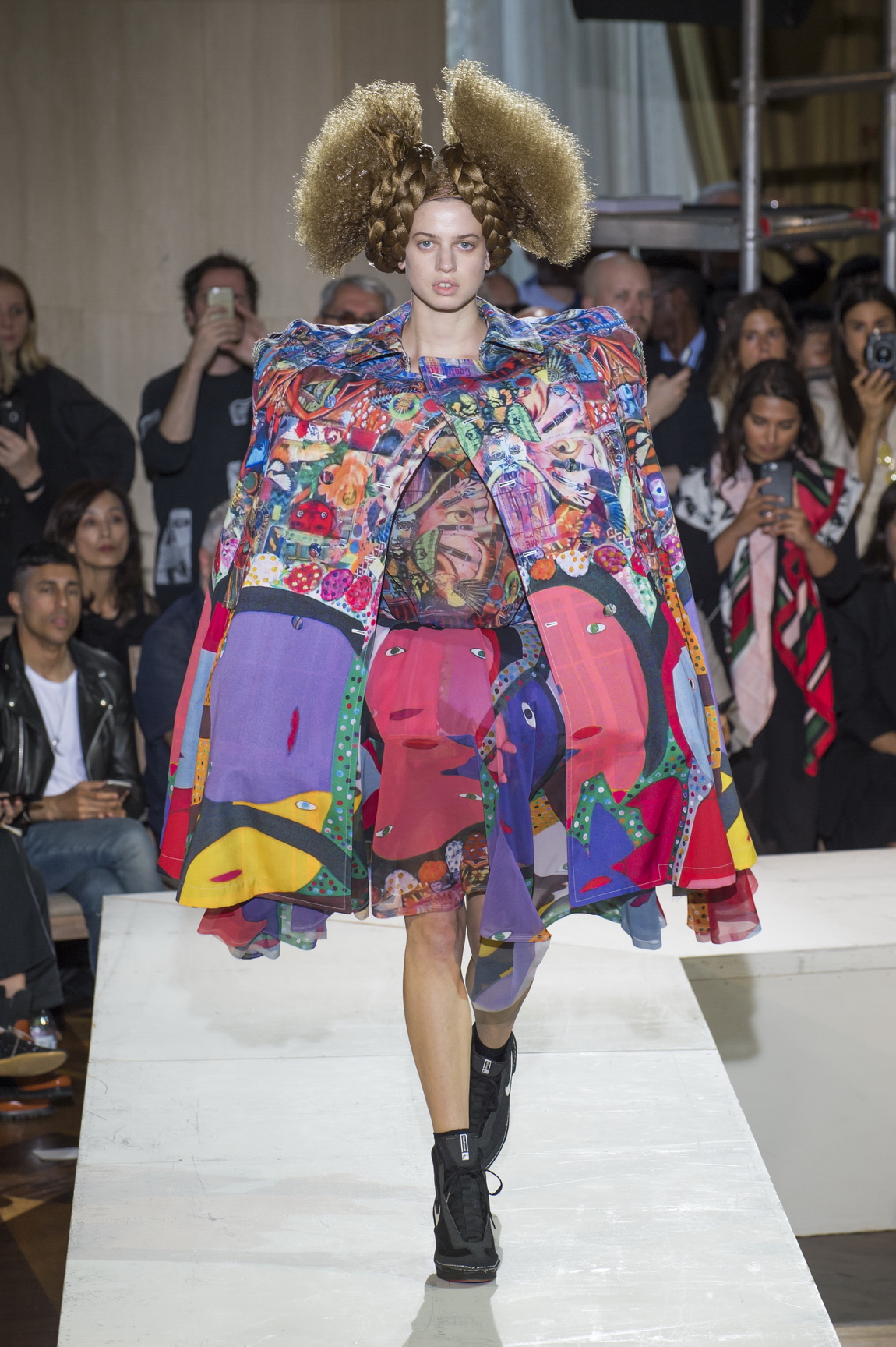 Kawakubo's prolific act of rebellion, welding fashion's graffiti spray has of course been consecrated by the Comme des Garçons: Art of the In-Between exhibition at the Metropolitan Museum in New York. If the exhibition at the Met allowed Kawakubo to parse her work through fundamental themes, then this collection felt like a giddy respite to that process of heavy curation. It's as though Kawakubo had stepped into the minds of the many young fashion fiends, who passed through the exhibition, and extracted that thrill of seeing Comme for the first time into a collection that was instantly delectable. Come into this Comme candy shop and stuff yourself silly with flowers, fruit, and faces!


As Kawakubo takes stock of Comme Des Garçons's post-Met entrenchment in popular culture, so too do the popular concepts of Japanese kawaii and obsessive otaku (geek) culture come into play. They're notions that define our perception of Japanese style but Kawakubo adds shades of depth to those oft-used words, for a newly hyper-obsessed fanbase that she has no doubt acquired through the exhibition. The trinkets of Harajuku's Takeshita Dori were piled up on Julien d'Ys' sculpted shock of crimped hair, like a tribute to the now defunct Fruits magazine. Twinkle-eyed dreamer girls of Makoto Takahashi staring at you on trailing robes, exuding optimism and affection. Those aforementioned artists collaged and piled up together in an amorphous melange, sometimes with angel wings, like an Akihabara mascot swooping down to save the world from banal commercialism. Colors of teenage innocence – red, flesh, and white were tufted into patchwork like remnants of a girl's trousseau. And on the feet? Nike swooshed boxing boots that will get the hypebaes frothing at the mouth.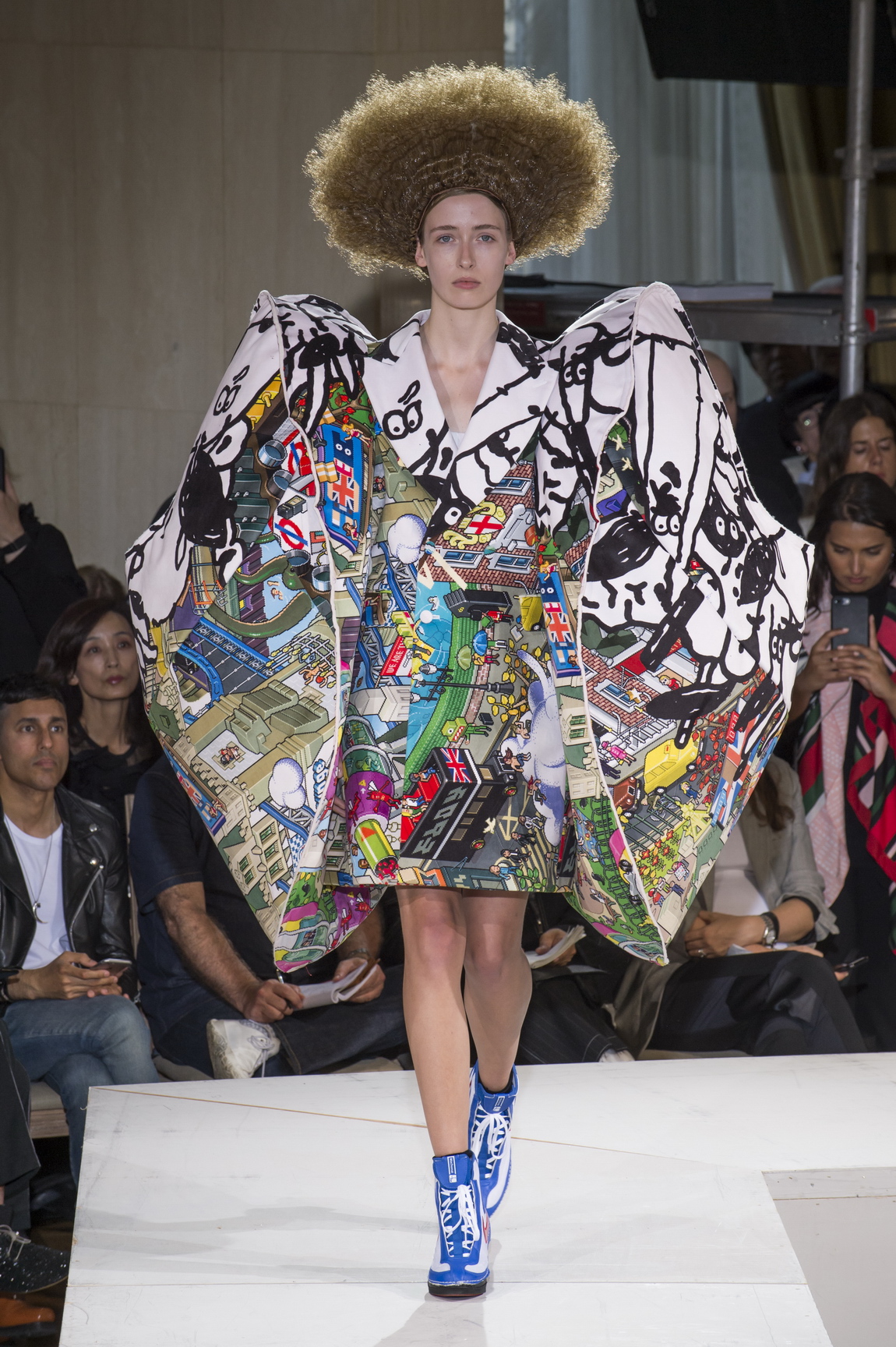 But as celebratory and exuberant as the clothes were, Kawakubo opting to end it all with a final walk-out parade, soundtracked to Andre Previn's sombre " Adagio for Strings" was unavoidably telling. What happens after you emerge from an otaku teenager's bedroom of a cho kawaii girly existence? Self, other. Order, chaos. Life, loss. They're all those big, significant ideas articulated at the Met that you can't quite escape. Even with the presence of Hello Kitty paraphernalia, bolshy painted flowers and a manga girl pleading at you with her big blue eyes.