louis vuitton made a 'stranger things' t-shirt and it will probably sell out
Nicolas Ghesquière is still fashion's greatest science fiction geek.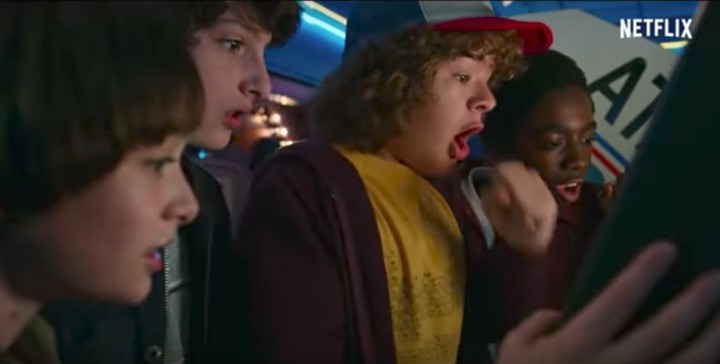 Captura de pantalla vía YouTube
The Stranger Things kids are no longer strangers at the house of Louis Vuitton. Bonafide sci-fi nerd Nicolas Ghesquière has been hanging out with the cast of Netflix's hottest 80s web series since last September, when Millie Bobby Brown, Caleb McLaughlin, and Gaten Matarazzo — who play Eleven, Lucas, and Dustin on the breakout series — took a field trip to Louis Vuitton headquarters. Stranger Things Season 2 airs at the end of the month, and Ghesquière clearly hasn't fallen off the fan wagon since last year. The designer's spring/summer 18 collection for Louis Vuitton included a T-shirt printed with a Stranger Things promo poster.
The shirt features a small chain at the collar and came layered over a Barb-approved peach blouse. Its print appears to be the Stand By Me-inspired version of the Stranger Things poster, from which Eleven is sadly absent, having been sucked into the Upside Down after doing battle with the demogorgon. Millie Bobby Brown herself was absent from Vuitton's runway today — perhaps because of her partnership with Calvin Klein designer Raf Simons. She was the face of Simons's exclusive by-appointment service in January, and has shown up everywhere from New York Fashion Week to The xx videos wearing exclusively Calvin Klein.
We're still holding out for a Louis Vuitton x Stranger Things ad campaign. Until then, it's fun to think of Ghesquière being glued to the screen with the rest of us when Season 2 comes back on October 27.