the world's most divisive sneakers are finally here
Balenciaga release the TRIPLE S sneakers.
|
21 September 2017, 10:55am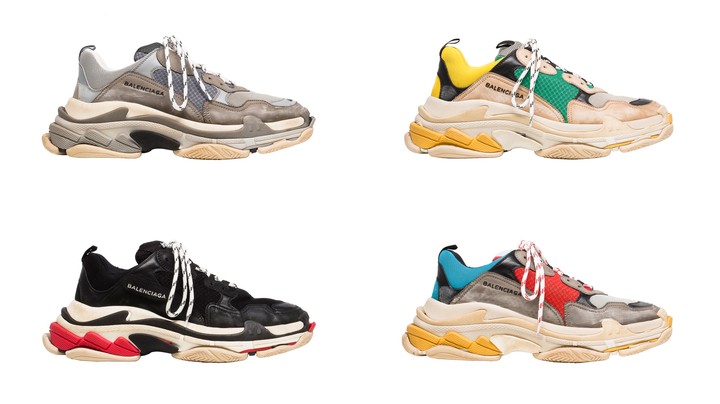 This article was originally published by i-D UK.
"We wanted to take away the rigidity and the coldness of the corporate suit," artistic director Demna Gvasalia explained after presenting his sophomore Balenciaga men's collection in Paris back in January. "That's why the collection had a lot of elements of padding and comfort. Most of the guys were wearing sneakers. It's warm and cozy, actually something that's not really a characteristic of the corporate." Inside the Kering corporation, this was Gvasalia softening the working world and the TRIPLE S sneakers were its grounding.
Walking the tightrope of taste, the provocatively designed TRIPLE S has been a conversation starter ever since it was unveiled on the fall/winter 17. With its triptych of superimposed soles from three different sporting disciplines — running, basketball and track — its profile is look-at-me stacked and loudly boasts bulk and comfort. The construction suggests a handmade collage built from components from previously worn and loved sneakers. The reconfiguration allows both the Balenciaga logo and the embroidered size of the shoe to appear on the uppers. Ultimately, the sneakers did not quite look of this world — "If anything they felt like shoes picked out of an early noughties anime," declared i-D contributor Douglas Greenwood. As shocked outsiders of the fashion sect scoffed at them, the pre-sale run sold out instantly. Now, as they become available in stores worldwide, the conversations will begin all over again. Whose side are you on?
The TRIPLE S sneaker will be available in stores worldwide on September 21.