"it's about soul, sensitivity, humanity": the maiers revive jil sander
As Luke and Lucie Maier breathed fresh life into Jil Sander, Angela Missoni celebrated 20 years at Missoni, Marni served a shake-up of the senses, and MSGM prescribed chromotherapy to weary showgoers.
|
25 September 2017, 9:25am
This article was originally published by i-D UK.
What is Jil Sander in 2017? On the day Frankfurt's Museum Angewandte Kunst revealed further details about its upcoming exhibition dedicated to Jil Sander — promising to explore the designer's passion for architecture and gardens alongside her fashion archive — Luke and Lucie Maier offered their own take on the great German designer's aesthetic legacy and position in the industry today, as they presented their debut Jil Sander collection.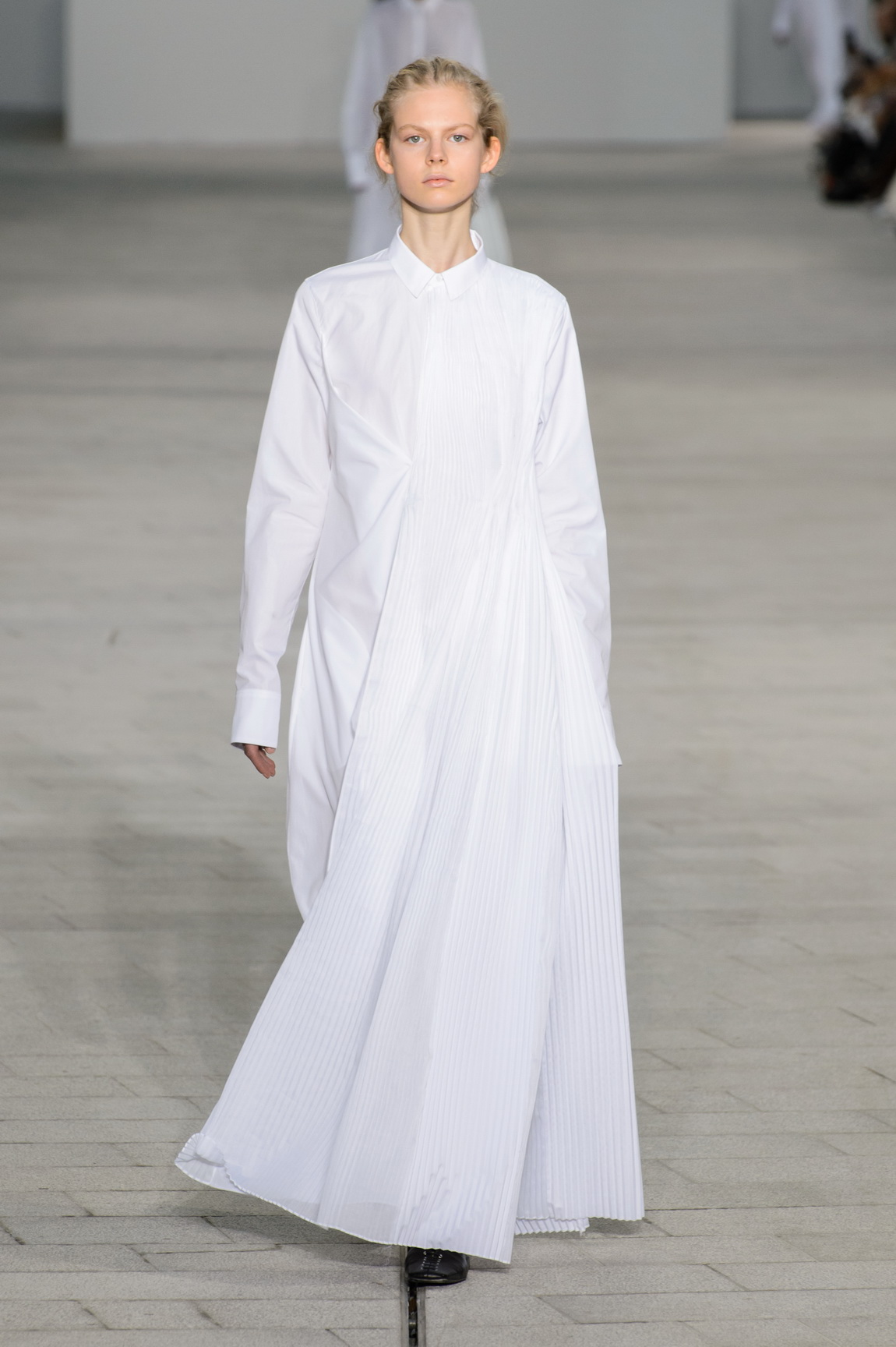 With a hint of the tongue-in-cheek for a soundtrack, Nina Simone's Be My Husband opened and closed the husband-and-wife designed collection, but from Luke and Lucie's design backgrounds — Luke at Supreme and OAMC, Lucie at Louis Vuitton, Balenciaga, and Dior — to the past and present of the label itself, the debut was truly a marriage of worlds and a forging of new partnerships.
"My aesthetic ideas develop out of what I have appreciated and learned in my life and what I sense of the zeitgeist," Jil Sander herself reminded us in recent weeks. It is something that the Maiers wish to replicate themselves. Pushing beyond the starkly minimalist aesthetic that has followed this troubled label in recent years, the Maiers explored the house's past while crafting their own future for it. "The very first opinion or image people have of Jil Sander, the feeling they get from it, is very rigid, minimal but if you really go deeper..." Luke began in a recent interview with Vogue, "it's really soulful," finished Lucie. "Jil Sander is about soul, sensitivity, humanity," Lucie reiterated after the show.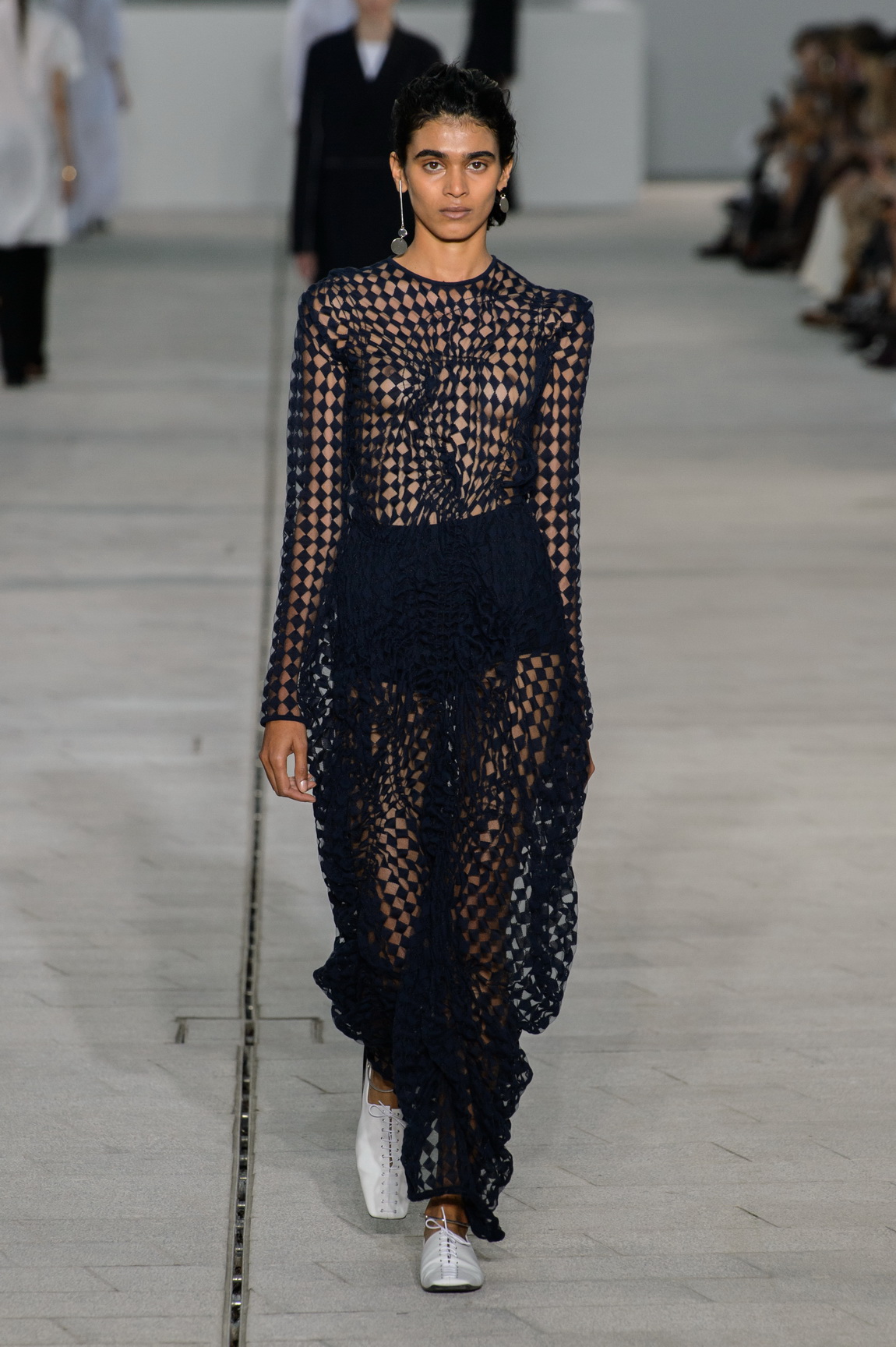 "My mother is a big Jil Sander fan, those were the only designer clothes she would buy," Lucie confessed after the appointment was first revealed. "That was my introduction to fashion. She would dress super chic in Jil Sander clothes and I liked their impact, how they would transform her." Inspired, the Maiers stitched these sentiments into the seams of their debut. The pair struck a balance between sensitivity and purity in combination with modern construction and innovation. This contrast is fundamental to what the Maiers wish to maintain within their work at the brand, celebrating nature and the human touch while embracing progressive ingenuity. This is precisely why the show venue — CityLife at Galleria Castelli Ferrieri — was selected: a work of human creation that frames the magnificence of nature. As the sun set over the future shopping mall space, the scene confirmed the sense that it was the ending of one chapter and the beginning of a new one.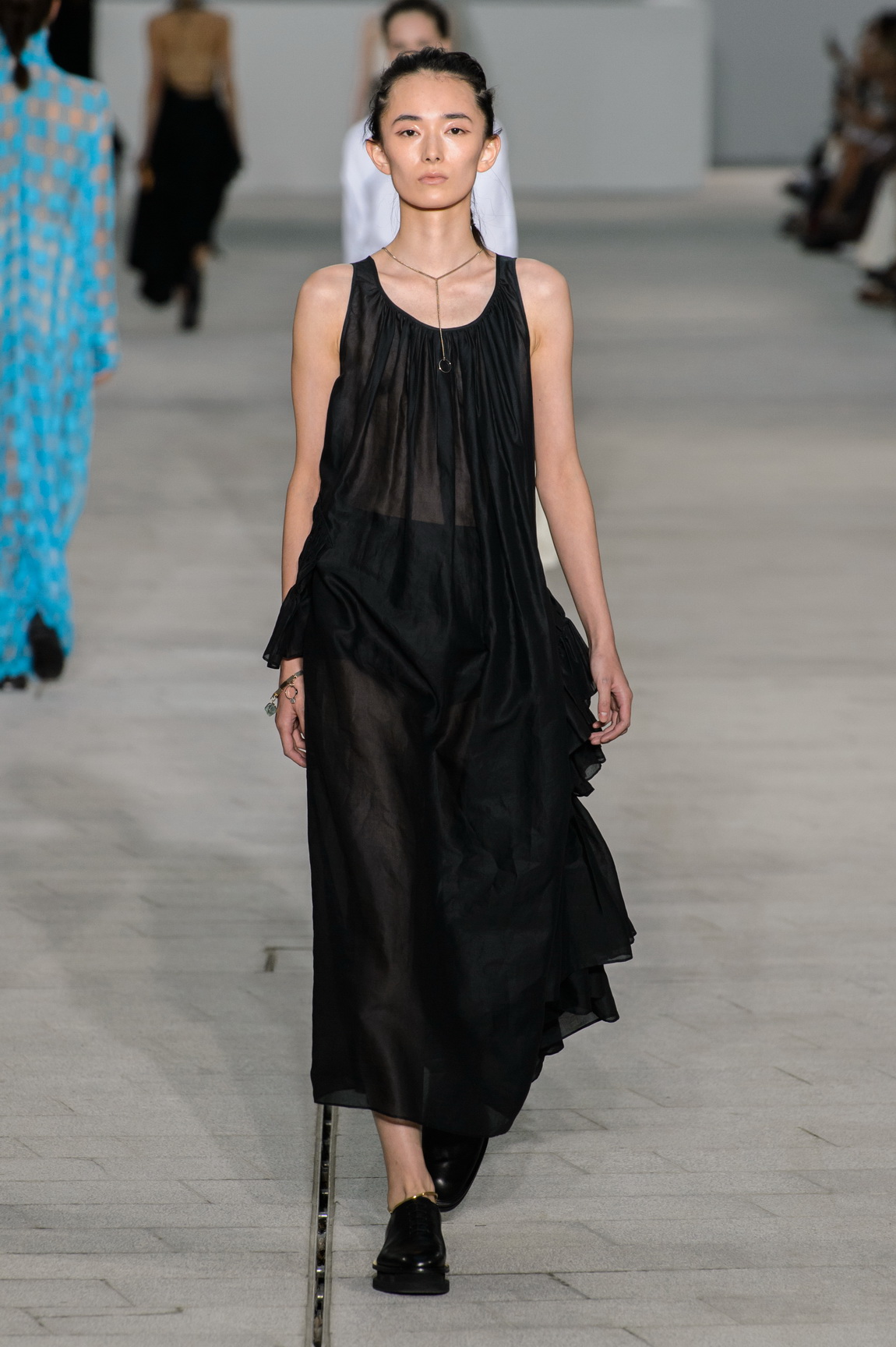 While simple on the surface, the collection unravelled itself as an extremely complex set of contrasts and nuances. A pure palette of whites with navy, camel, and black recalling the house codes, while bright colors gave added strength to voluminous knits. The signature white poplin shirt was revisited in several iterations; new proposals of tailoring construction were demonstrated against light, airy drapes; traditional and functional smock and elastic distortion connected masculine functionality with feminine volumes; handwork was essential to the preciousness of the macramé and embroidered detailing. The aim was to create an emotion within the clothes, to bring sensual warmth to cold minimalism. A soulful, sensitive approach that was the heartbeat of their debut. Jil Sander had been revived.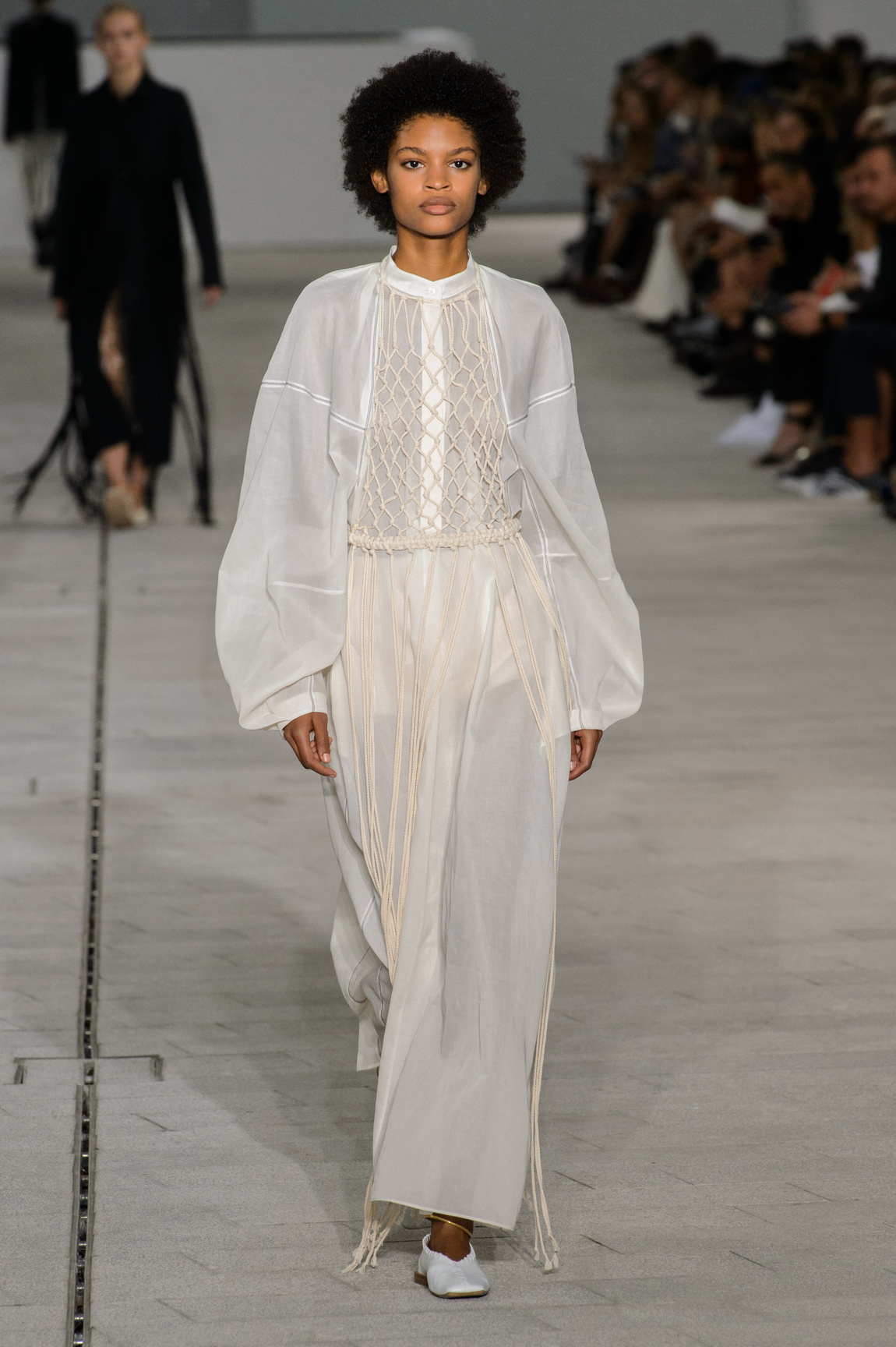 While Jil Sander marked a new beginning, Missoni toasted a milestone. Under a gigantic patchwork rainbow canopy conceived by American artist Rachel Hayes, Angela Missoni celebrated her 20th anniversary as creative director with a garden party of texture, juxtaposition and layering which combined Missoni men's and women's collections for the first time. Ahead of the house's own 65-not-out retrospective next year, Missoni wanted to drink to the past while inviting us to dance in the here and now. Eager to echo iconic patterns and the house's signature motifs, she reinterpreted the archives with an added lightness of touch. While jacquards were revived and reworked, the kaleidoscopic patterns of 80s Missoni collections were translated and transformed into a festive array of possibilities. As the Frédéric Sanchez designed soundtrack mixed an ultimate party album's worth of cross-generational dancefloor favorites into just a few minutes, our eyes followed stripes, lines, and zigzags as we all fell deeper under the spell of Angela Missoni.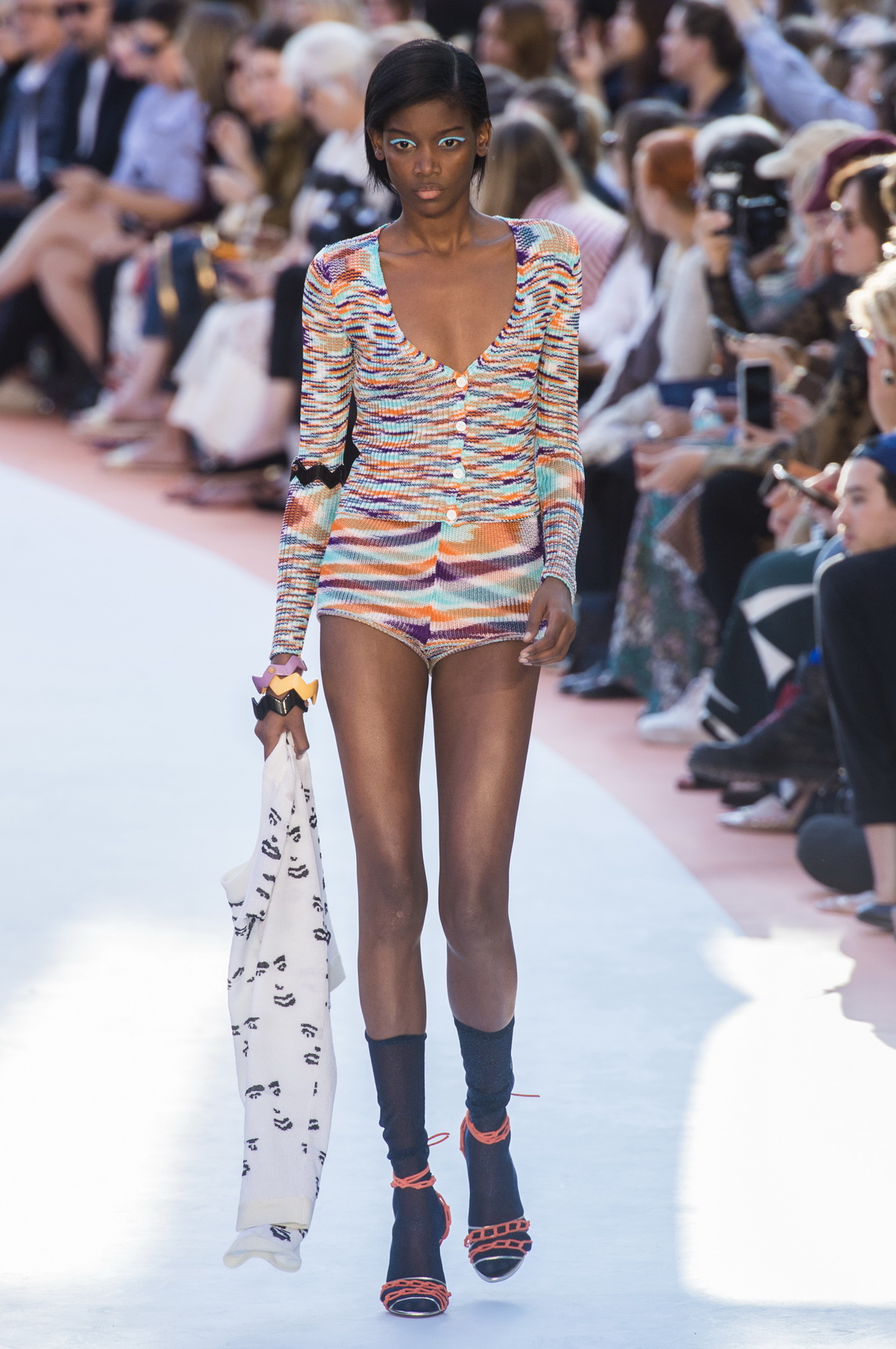 At Salvatore Ferragamo, Fulvio Rigoni was also in celebratory mood. Inspired by the uniqueness of the women who wore Salvatore Ferragamo shoes — the likes of Greta Garbo, Carmen Miranda, Brigitte Bardot, Eva Peron, and Marilyn Monroe to name but a few — the design director for the Salvatore Ferragamo women's ready-to-wear collections applauded the diversity and individuality of women. "No two women are the same — I wanted to celebrate women's individuality and style, vivid colors, their ever-evolving femininity," he explained. With the house's consumers as muses, Rigoni took us on a time traveling tour through women's style —taking in 20s pencil silhouettes and 30s fringing to 50s full skirts and 70s flares — each look explored a different narrative of femininity while quality and color was the thread that bound them. But this was not a costume party. Each look was infused with a surprise element, a modernist twist, and a highly-detailed touch that underlined Ferragamo's idea of "high tech, high craft." Quintessentially Ferragamo, the color palette featured shots of geranium pink, emerald green, bright red and plum, tempered by pastels and white.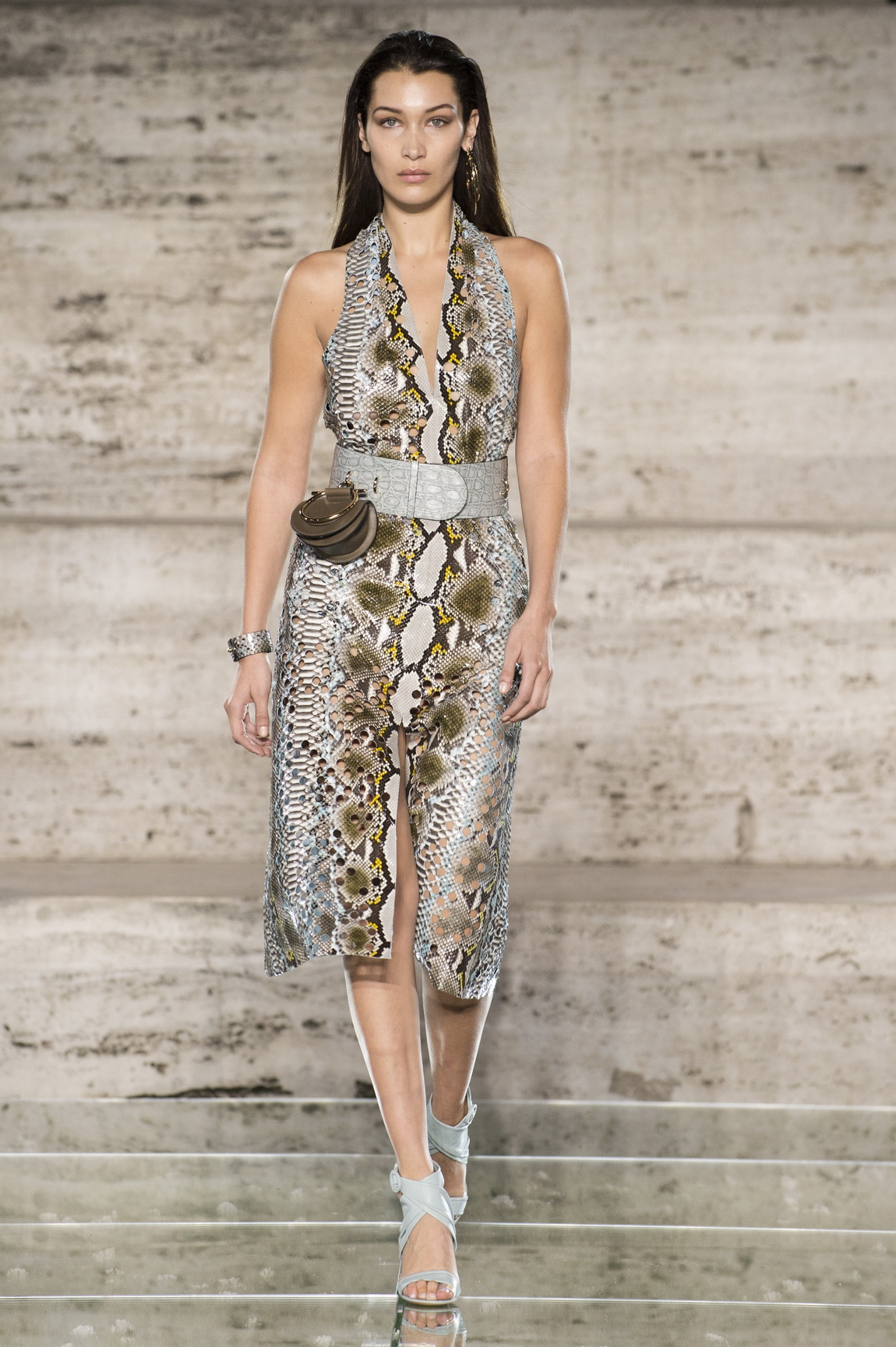 Mirroring the collection's exploration of female beauty, the Palazzo Mezzanotte reflected the influence of Botticelli. From the daisy-covered lawn that carpeted the runway to the exclusive light show created by Ingo Maurer, the influence of the Renaissance's master reverberates throughout. The latter envisioned bursts of Botticellian flowers projected against the façade, floating around gently and vividly, swirling and disappearing before a more graphic lighting effect evoked the triangular shape of the Amo Ferragamo bottle — the new women's fragrance that was unveiled in conjunction with the show. From head-to-toe and garment-to-skin, this was all about catering to the desires of each and every woman.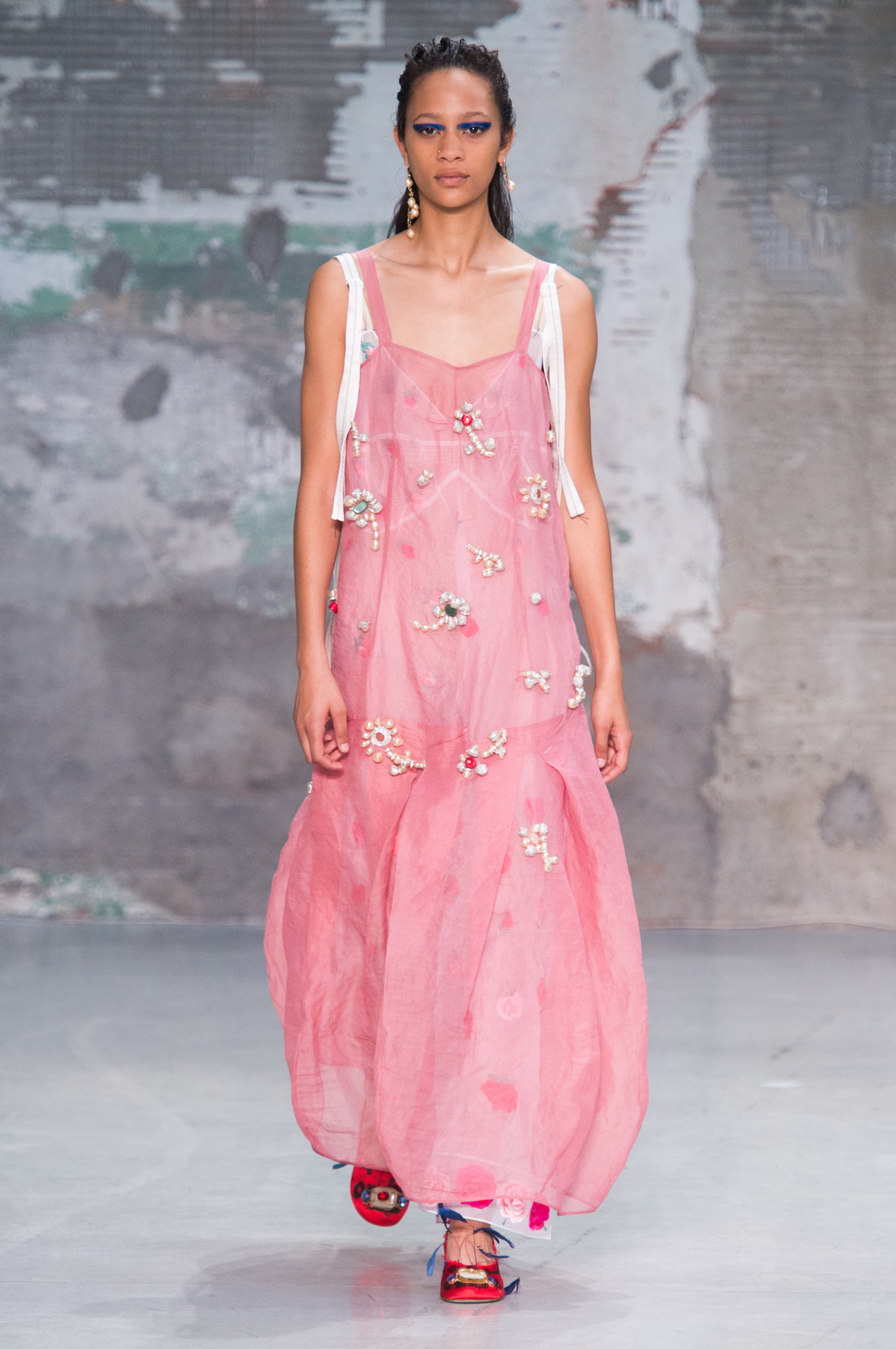 Marni also contemplated the beauty of women but proposed a very different viewpoint. Marni's creative director Francesco Risso collaged print and texture as a multitude of women shapeshifted through a multitude of worlds. It was a heady cocktail — wildly shaken, not stirred — with ingredients that ranged from couture nods to 20s languors and 50s bathing suits, balloon poises and skaters' slouches to ravers and flappers. Risso was playful throughout, exposing seams and toiles, fraying hems, distorting prints, inverting proportions, and distressing fabrics. Down in one, it delivered the shakeup of the senses that we all needed. In the hands of many, such experimentation would result in a sore head but Risso was able to somehow find harmony in the clashes and cacophonies. Demure furry shoes and sturdy Wellingtons, fragile silks, and compact knits, utilitarian checks and elitist flowers, were surprisingly quaffable. "Beauty as a playful act. And as such, as a subversive one," he explained.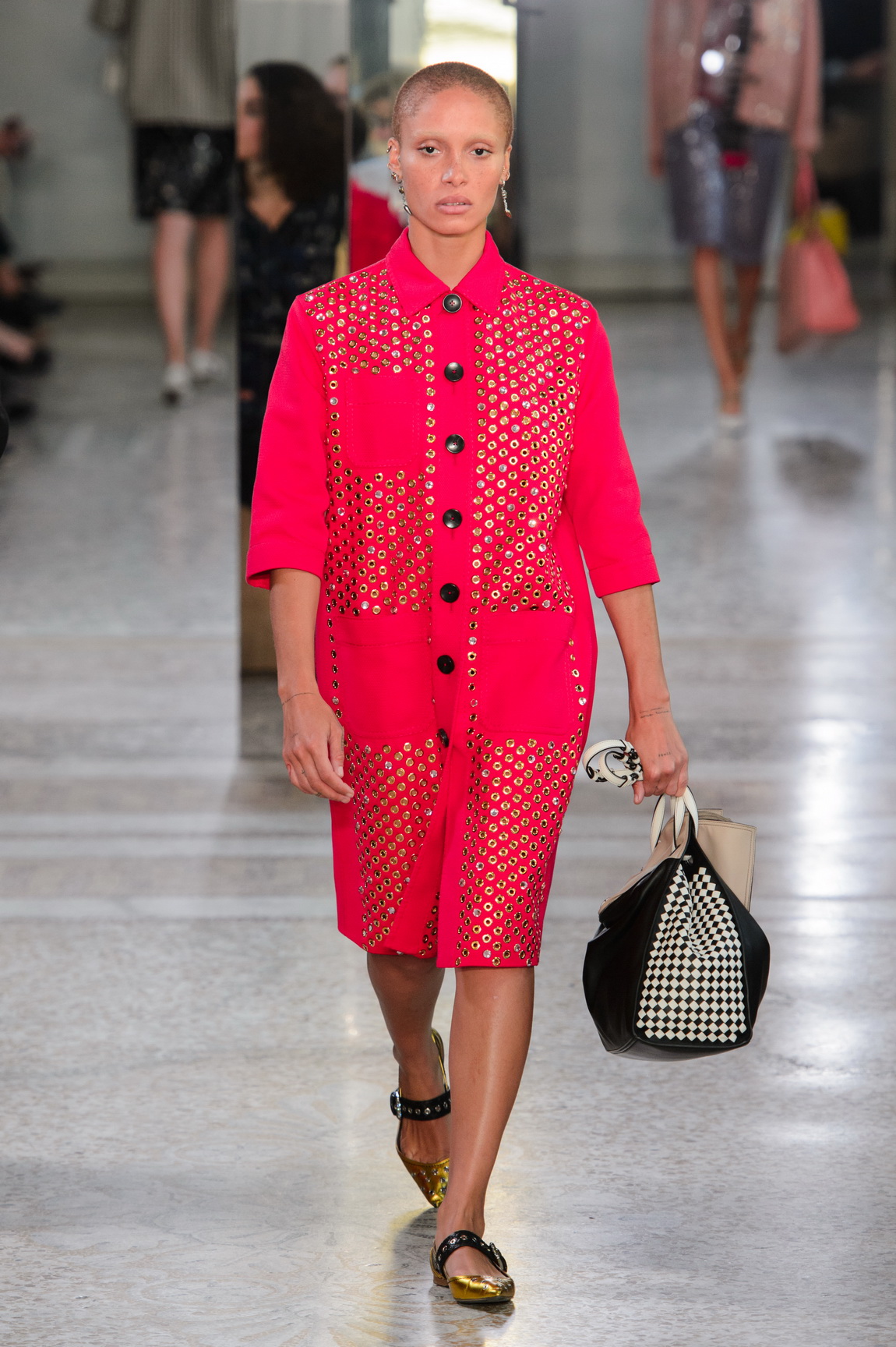 At Bottega Veneta, Tomas Maier was also in playful mood. Against the seemingly incongruous early 00s soundtrack of 50 Cent's "In Da Club" and Nelly's "Hot In Herre," Maier presented a fun-filled, supermodel-stuffed — from Adwoa to Yasmin, Jonas to Presley, Kendall to Kaia — show of modern luxury. While silhouettes remained relatively simple and the craftsmanship peerless, the German-born, New York-based creative director embellished and adorned. With color as its driving force, the optimism of it all was as infectious as the soundtrack.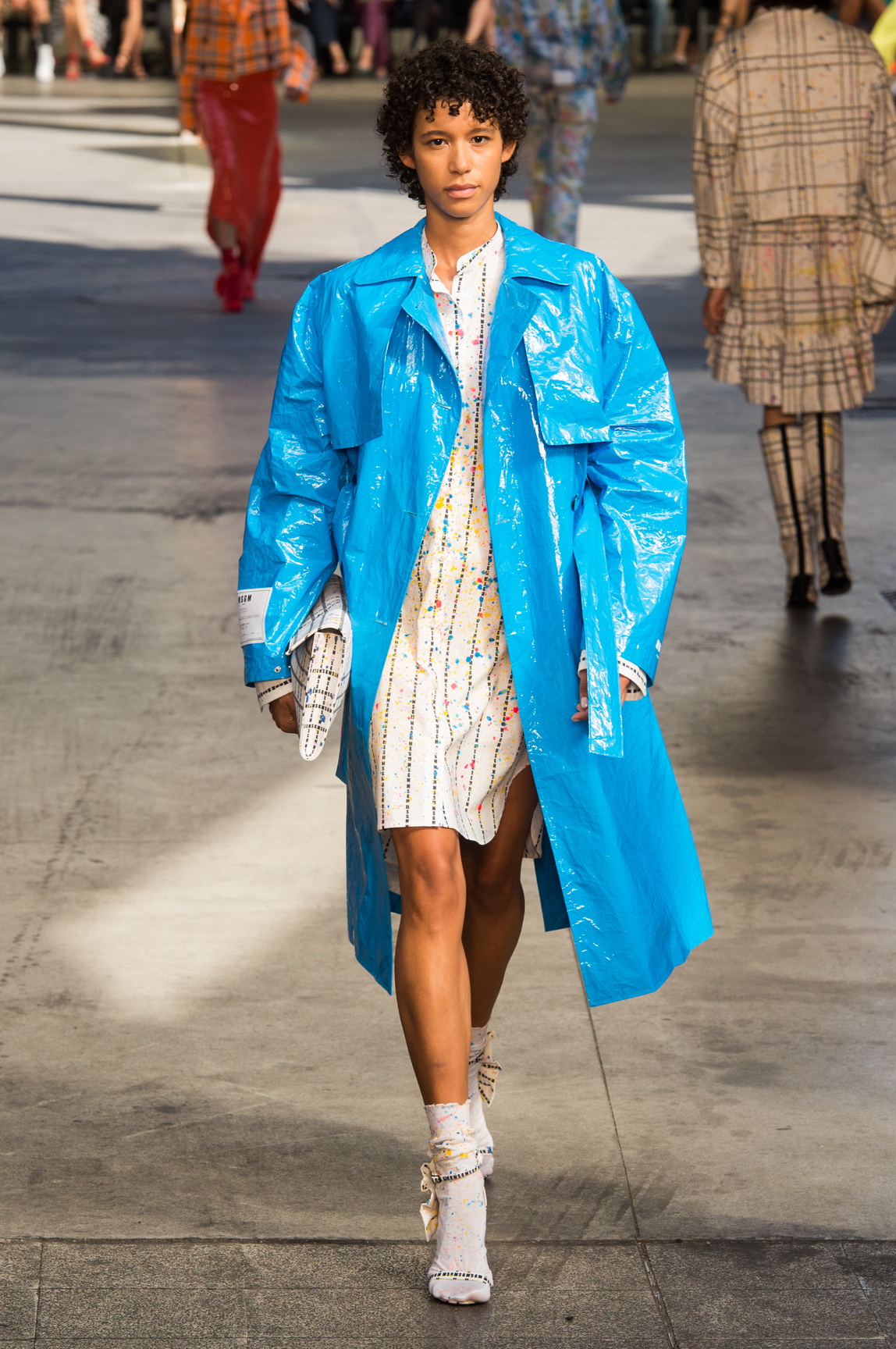 MSGM turned to color, too. "Colors are perceived by our eyes in all possible shades and intensities, and they affect our entire body," the opening line of MSGM's show notes proclaimed. If the assembled editors appeared fashion weary or Spritz hungover at the end of Milan Fashion Week, Massimo Giorgetti's prescribed treatment of chromotherapy soon restored their health. Thanks to head-to-toe looks in the universal stimulant of red and mood cheering yellow, suffering soothing blue and emotional stress reducing violet, this was a rainbow for recovery.