dilara findikoglu's occult revolt
Can't wait to hear what Infowars has to say about this one.
|
15 September 2019, 1:51pm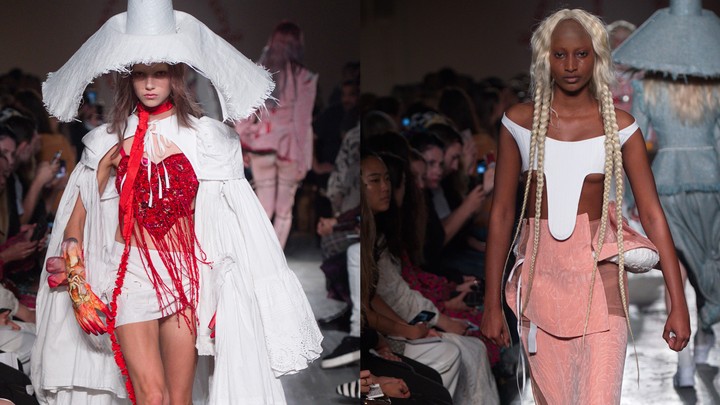 Dilara Findikoglu has never shied away from making big statements. From her guerrilla Central Saint Martins graduate demonstration -- EncoreCSM -- to her spring/summer 18 collection -- labelled a "satanist orgy" by InfoWars's Alex Jones -- there's always a healthy dose of controversy with a wry smile and a knowing wink.
This season was no exception. For spring/summer 20, Dilara took aim at consumption. Never an easy or straightforward conversation as a fashion designer, but one that is, with Extinction Rebellion staging "die-ins" and gluing themselves to the entrance of show venues, increasingly necessary to not only acknowledge but enact. Dilara's statement here was to work far more sustainably, using environmentally friendly and deadstock fabrics, with natural dyes and embroidery produced by local women in her native Turkey.
This message was, naturally, distilled through her signature occult themes. Models wore a hybrid of witch-like, royal, ghostly, zombified styles. Off-kilter, asymmetric, cinched, enlarged -- it had moments that felt like it could've been a Matty Bovan show had he shown in a graveyard and found inspiration in the dead. Matched with shoes by scientist-turned-shoemaker Alim Latif AKA Roker and body-jewellery spelling out "Dilara".
Splitting the show into four chapters -- Earth, Air, Fire, Water -- which manifested themselves in literal colours of the elements and metaphorical shapes, the message culminated with the idea of a mass ritual of these elements would bring Mother Earth back to health. A (real) baby designed into a witch-hat wearing model's billowing black cloak was perhaps the most literal nod to this idea of all. The words "Vivienne says buy less" was also a true Dilara-ism if we ever saw one.