Merce Cunningham Piece, 1982, courtesy of MoMA.
this documentary explores the life of pioneering dancer merce cunningham
Alongside his life partner, composer John Cage, he changed the worlds of dance, music, and visual arts.
Merce Cunningham Piece, 1982, courtesy of MoMA.
The New York Film Festival is well underway. One film that's much unlike the rest is Cunningham, the new film on one of America's greatest dancers, Merce Cunningham. It's the first major documentary in 3D on the modern dance pioneer, who brought together the art world, contemporary dance, and avant-garde sound art into revelatory shows on stage.
The film, in theaters December 13, coincides with Cunningham's centennial in 2019. It combines archival footage (old TV interviews, behind-the-scenes shots and live performances), with his dance pieces performed against luscious scenery, which can be seen through a set of 3D glasses.
Cunningham's career spanned over seven decades, from the 1940s, and up until his death in 2009. The film, directed by Alla Kovgan, also details Cunningham's ties to the art world, which brought some of his most memorable modern dance pieces to life.
"For me, it seems enough that dancing is a spiritual exercise in physical form, and that what is seen, is what it is," Cunningham wrote in 1952.
"And I do not believe it is possible to be 'too simple,'" he added. "What the dancer does is the most realistic of all possible things, and to pretend that a man standing on a hill could be doing everything except just standing is simply divorce—divorce from life, from the sun coming up and going down, from clouds in front of the sun , from the rain that comes from the clouds and sends you into the drugstore for a cup of coffee, from each thing that succeeds each thing. Dancing is a visible action of life."
There are countless highlights from the film tracing the life of modern dance pioneer; one being Cunningham's relationship to John Cage, the composer he first started working together with in 1942, and who he became lovers with in 1943, at a time when Cage was married to a woman.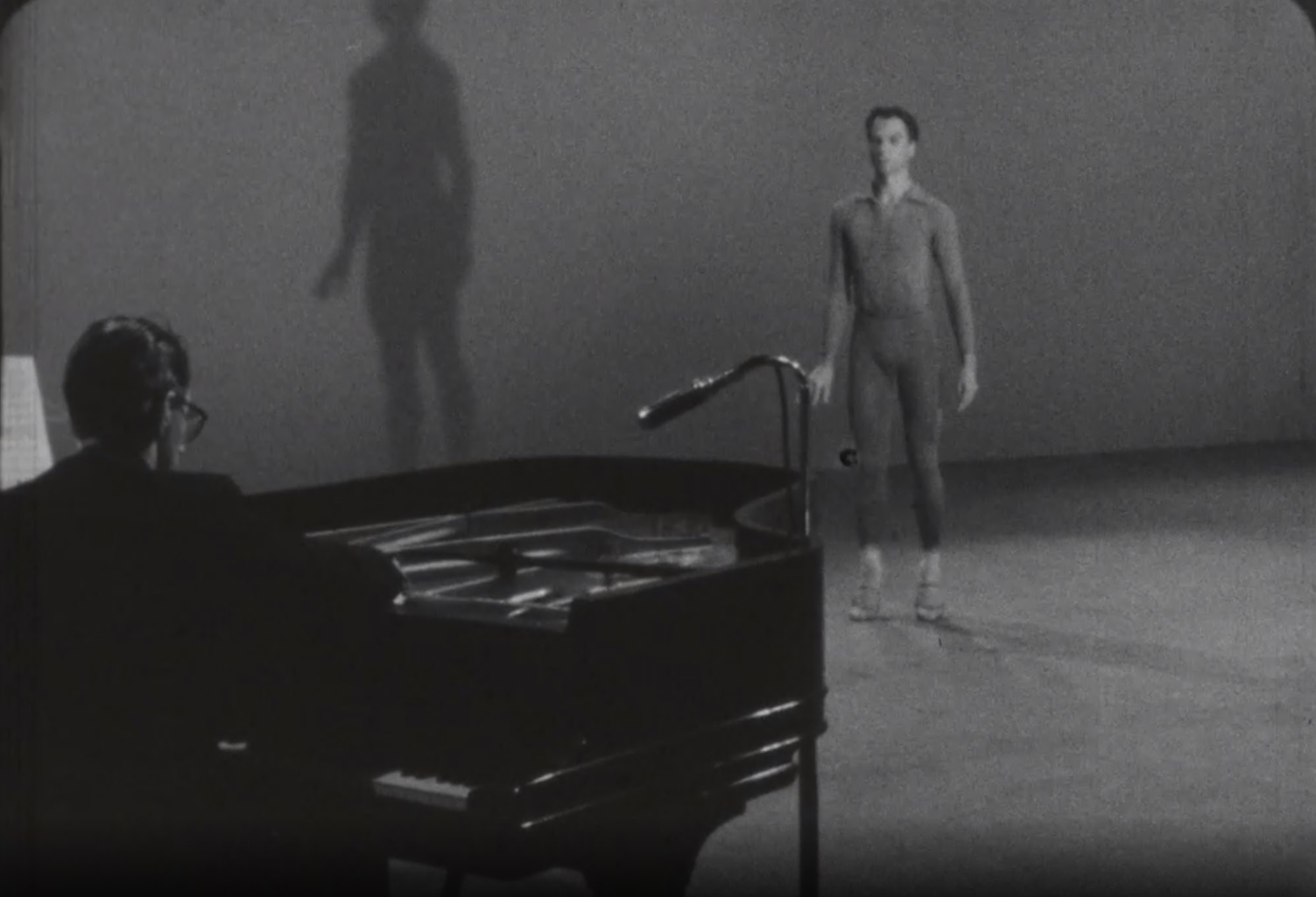 Their collaboration, combining sound with dance, lasted a lifetime, with sets, lighting and costumes by Robert Rauschenberg, who worked with Cunningham on 22 performances during the 1950s and 1960s, until Jasper Johns became the company's designer in the 1960s. Artists like Frank Stella, Robert Morris and Andy Warhol collaborated with Cunningham, as well.
The documentary features clips from Summerspace, a performance Cunningham co-created alongside Morton Feldman in 1958, where Rauschenberg made polka-dotted costumes that called to mind the ben-day dots of Roy Lichtenstein. It also features Rain Forest, which was performed alongside inflatable silver mylar pillows made by Warhol, which the artist called "silver clouds."
But queer art wasn't what it is today, and a lot of it was hush hush in the 1940s and 50s. While Cage, Cunningham and Rauschenberg worked together in unison for many years, they were at the core of the New York queer community in the arts, which mostly was either underground or publicly silenced.
Rauschenberg, too, was married to a woman, but started sleeping with men, including Cy Twombly, and then Jasper Johns, in the 1950s. It wasn't a time when queer art wasn't as recognized or appreciated as it is today, and it was coded in their art and writing.
Be it Cage's love letters to Cunningham (Cage once wrote "I would like to measure my breath in relation to the air between us") to his musical pieces, like Amores, it has been called "queer silence" by the historian Jonathan Katz, who cites Cage's writing in 1976:
"The goal is thus not to challenge power, but to escape it. Active opposition would mean that we would only 'change prisons.' Through identifying 'ourselves with noises instead'—which are themselves, of course, only audible when the music quiets down—we will free ourselves from our prisons."
But it wasn't all so drab. Cunningham collaborated with artists to bring new energy to the dance stage. "Old habits die hard in the theatre; new ways of doing things are suspect, naturally costly, and too difficult," Cunningham once said. "I have at times worked with artists for whom the theatre was unfamiliar, but also for whom new methods or techniques of construction were familiar and welcome, even if sometimes difficult to solve, certainly on theatre terms. They have always solved them, often taking up to the last minute, and sometimes at the expense of the dancers' inner calm."
These collaborations sometimes came together quickly, like the time Cunningham and Johns asked Bruce Nauman to collaborate on the dance piece, Tread.
"We had done a dance called Tread with fans across the front of the stage," Cunningham recalls. "Johns phoned to Bruce Nauman to ask if he would do something for us. He said 'yes.' Later another phone call. What would it be? 'Well, I'd like to have fans.' 'OK.' Another phone call: 'How many and where?' 'Oh, about a dozen and across the front of the stage. The kind that swivel.' Collaboration in the electronic age."
It became a new way to tread into unknown territory. "We are not expressing a particular idea or feeling, but rather asking a question," said Cunningham. "Not to refurbish what we already know but to wonder about areas we don't."
Cunningham felt a strong connection to artists. "A prevalent feeling among many painters that lets them make a space in which anything can happen is a feeling that dancers may have too," Cunningham wrote in 1952. "Imitating the way nature makes a space and puts lots of things in it, heavy and light, little and big, all related, yet each affecting all the others."
Cage and Cunningham's offstage relationship was like an 'open secret' among their community until 1989, when the duo answered a question at a public talk, where Cage declared: "I do the cooking, and Merce does the dishes."
It wasn't until John Cage died at 80 in 1992 that Cunningham started to present more same sex couples for his dances. Even still, Cunningham personified New York deadpan to a T—which was reflected in his dance, too. He once wrote how crescendos can be overrated;
"And since our lives, both by nature by the newspapers, are so full of crisis that one is no longer aware of it, then it is clear that life goes on regardless, and further that each thing can be and is separate from each and every other, viz: the continuity of the newspaper headlines," he wrote.
"Climax is for those who are swept by New Year's Eve."