talking revolution with racerage, one of 2018's most exciting rappers
Meet the Naarm based performer who's built a devoted following without a public social media profile or a single track online.
|
06 February 2018, 6:27am
Photography Rowan Oliver. Racerage wears hoodie and skirt Untitled McCausland, top stylist's own, tracksuit pants Baserange.
Racerage is one of those unique and unforgettable artists who prioritises politics and creativity over coolness, but still ends up being the coolest person you've ever met. Playing their first show in 2016, Racerage has since supported Miss Blanks and Coco Solid, starred in and co-composed a hip-hop musical called The Change, and performed to a sold-out crowd at Transgenre Festival alongside Ah Mer Ah Su and Habits. Listening to a Racerage track feels like a visit from a true friend; there to make you sparkle inside, to tell you their deep dark secrets without shame, while simultaneously calling you out on your shit and dragging you out of your depression hole to go start a revolution.
Lyrically, they have the ability to deliver complex, beautiful and painful truths about themselves and their world. Their voice is playful, melodic but powerful; floating on a waterbed of textural electronic beats. Watching a Racerage performance, you can see the craft, humour, consideration and intellect that permeates every aspect of the work.
On the eve of the release of their debut track Diamonds and Sapphires, a collaboration with producer YUMGOD, we spoke to Racerage about creative rituals, channeling vulnerability and rage into songs and building community through art.
Congratulations on the release of your first single and a year of non stop shows. The first time I saw you play was over a year ago now. How did it all begin?
I'd been performing spoken word since around 2010 at queer, feminist and QTPOC performance nights, dabbling in occasional parody song pieces, but otherwise hadn't really thought about expressing myself musically. I come from a really talented musical family - my Dad is an amazing musician who can play any instrument he touches. My teen sis is an upcoming musical prodigy too, so without any instruments up my sleeve, I never felt like music was my realm to shine in.
That's interesting because you really do shine.
It was actually after doing karaoke with you that I gained more confidence in my voice and considered broadening my performance tools to include vocals. Once I felt more vocally confident, I shifted my focus from spoken word to writing rap and posted online call-outs for QTPOC beatmakers to collaborate with. From the beginning I had a very clear vision of what I wanted the project to be: a space to intentionally prioritise collaborations with other QTPOC artists.
We recently had a conversation about this at a show. You mentioned it's been more difficult to actualise than you'd anticipated.
This goal has proven surprisingly challenging, perhaps because white folks have more leisure time and resources to pursue side projects, so my collaborations have been pretty mixed. I'm hoping to foster more connections with artists of colour to co-create future songs, and learn my own beatmaking skills.
Could you describe the process of creating a Racerage track?
My songs usually kick off with a line just coming to me. I handwrite everything because I'm a total technophobe. I'll jot down the first part and either a chunk will flow straight to me or I'll move onto my beat-matching process. I'll listen to beats that another artist has sent me to find what fits the vibe of my rhymes and try to hear a melody jump out at me. Once that hits me, I do this weird squiggle and dash code to represent the flow I want, with each syllable visually represented. I'll draw the code for what I already have, then figure which sections of the beat will be a chorus, verse or bridge and code that. This really helps when I'm stuck writing because the rest turns into a puzzle I have to crack to finish the song; just match words with corresponding syllables to the code and voila! I'm such a visual nerd, but it works for me.
You recently worked on a hip hop musical called The Change with United Struggle Project and I was lucky enough to be around while that was in development. I felt like I got to witness a creative process that was 'D.I.Y' on a way deeper, complex and more epic scale than anything I've seen for a long time. What it was like to work on?
The United Struggle Project was a collaboration that completely redefined my ideas of what DIY and community building projects could be! The Change was a culmination of the skills and creative energies of such a mixed crew of people from so many intersecting communities; First Nations mob, West Papuans, a local seniors' choir, refugee singers, punk techies, kids from our public housing estate. All pouring so much energy and sharing skills to create an interactive showcase of stories about our peoples' struggles.
Our director, Izzy Brown, was an amazing conductor of chaos who was so flexible in how she worked with us all in our comfort zones, whether running lines at the West Papuans' church or baby-clad, teaching dance choreography to kids at our estate's neighbourhood house. It was such a nourishing experience for me. Without funding, we totally relied on everybody contributing our skills and time to bring it to life. By the end we'd built beautiful bonds, it was an honour creating with people who I wouldn't normally get to share space and stories with and we're excited to develop it further for Fringe 2018! It inspired me to build community in this way with my future projects, to see whose skill-sets from outside my bubble I could add. I was able to ask myself, whose voices could enrich this project? Who could I lift up alongside me by sharing performance opportunities?
Even in really hectic environments or with challenging sound or stage set ups, you seem to completely captivate the audience. Do you have an onstage persona? Or does it just feel like you?
I feel like Racerage is just my usual self but elevated. My aesthetic is more intentionally curated, but other than that it's just me expressing myself and trying to engage with honesty.
Your lyrical style and flow, especially in combination with your beats is super unique. Definitely unlike anything I've heard at the shows I've seen you play, which tend to be more along the lines of punk, noise or experimental electronic. Did it kind of develop organically or are there particular rappers and styles you're influenced by?
Yeah, it basically just developed out of my poetry writing style. There's lotsa rappers I adore, like Mykki Blanco, Kelela, Le1f and Kelis, but I don't think my style really reflects any of theirs. I think Lauren Hill has been a big influence in terms of how she addresses political themes alongside personal and emotional storytelling elements.
I feel like your songs contain so much anger, power, survival, struggle but also vulnerability, sexuality, love, anxiety and self reflection. What drives you to write?
I've witnessed a definite shift over the last year in what drives me. It was usually rage or frustration with injustice that would be the catalyst for me to sit down and pour that energy into songwriting or other art forms, hence my name. But more recently, I feel other emotions or experiences inspire me to express myself lyrically. For example, with Black Girl Magic, a song I wrote for my little sister about body image and white supremacist beauty standards, it was more a sense of deep sadness in seeing patterns from my own teenage, racially-based painful experiences playing out in their life. That song came from wanting to package all the self love and wisdom about blackness and beauty that I'd gathered over my years and wanting to spill that out into a sibling love song that celebrated our skin and ancestors, but still with an energy of mourning it's necessity. That emotion is more nuanced than anger, but still cathartically inspiring.
Have they heard the song yet?
Yeah, I gave it to them for Christmas! They're an apathetic teenager now, so it wasn't the huge meaningful black bonding moment I'd hoped for, but that's teen siblings for you, haha.
Recently there's been more public pressure on promoters, bookers, publications and other music industry gatekeepers to 'diversify' their line ups. You and I often talk about how complicated it can feel as an artist, when you know or suspect this was the predominant reason behind you getting booked. In your experience what differentiates meaningful action towards de-centring whiteness from tokenisation?
This is a great question, because as someone with a lot of intersecting marginalised identities in being queer, non-binary, Black, disabled, poor etc., I've often felt like the token that people will chuck in to spice up a line up, to guard against being called out, regardless of whether my music even fits that context. For example, being coincidentally the only POC and the only hiphop artist in an all white noise band line up or being asked to DJ a gig, when I've never DJ'd in my life, because the booker had not bothered to look into what I actually do (outside of what my identities could contribute to the event's social capital).
There's a lot of red flags.
If you're approaching 'diversity' and 'inclusion' as a tickbox/afterthought to ensure that your event can't be accused of being exclusionary, whatever steps you take to remedy the situation after that are already going to be tokenistic and surface-level bandaids.
Totally. I don't think some people realise that artists can feel that shit.
Absolutely, and it makes you question the merit of your work if the opportunities coming your way have that vibe to them. The intention of de-centring whiteness, and other dominant identities, needs to be core and a focus at every step and level. There need to be QTPOCs in multiple seats at the gatekeepers' decision making table, not just as consultants or a few support acts on your books, opening for white headliners. I don't think there are specific steps I can tell y'all to take to magically fix the white supremacy of the industry but the most important difference I can outline is the focus; not sprinkling a bit of diversity in at the end to fix decades of exclusion, it's decolonising your practices, your language and your spaces continuously.
What are your dreams and visions for Racerage?
This year is going to be huge for me! As well as a bunch of local gigs, I'm hoping to tour interstate in the middle of the year. I'm also working on my first EP, which is going to be self-titled, featuring collaborations with incredible beatmakers including YUMGOD and Ness1010. I've just dropped my first single on Soundcloud, Diamonds and Sapphires, which I'm really excited about! It's one of my favourites that I've been performing for a year and a half now. It's a banger that came out of a really dev part of my life when I was really mentally ill and physically effed. Diamonds and Sapphires talks about alchemising pain and negativity into positive elements, like a hot single lol, and regaining control when you've hit rock bottom. I think it's a really apt new beginning for me.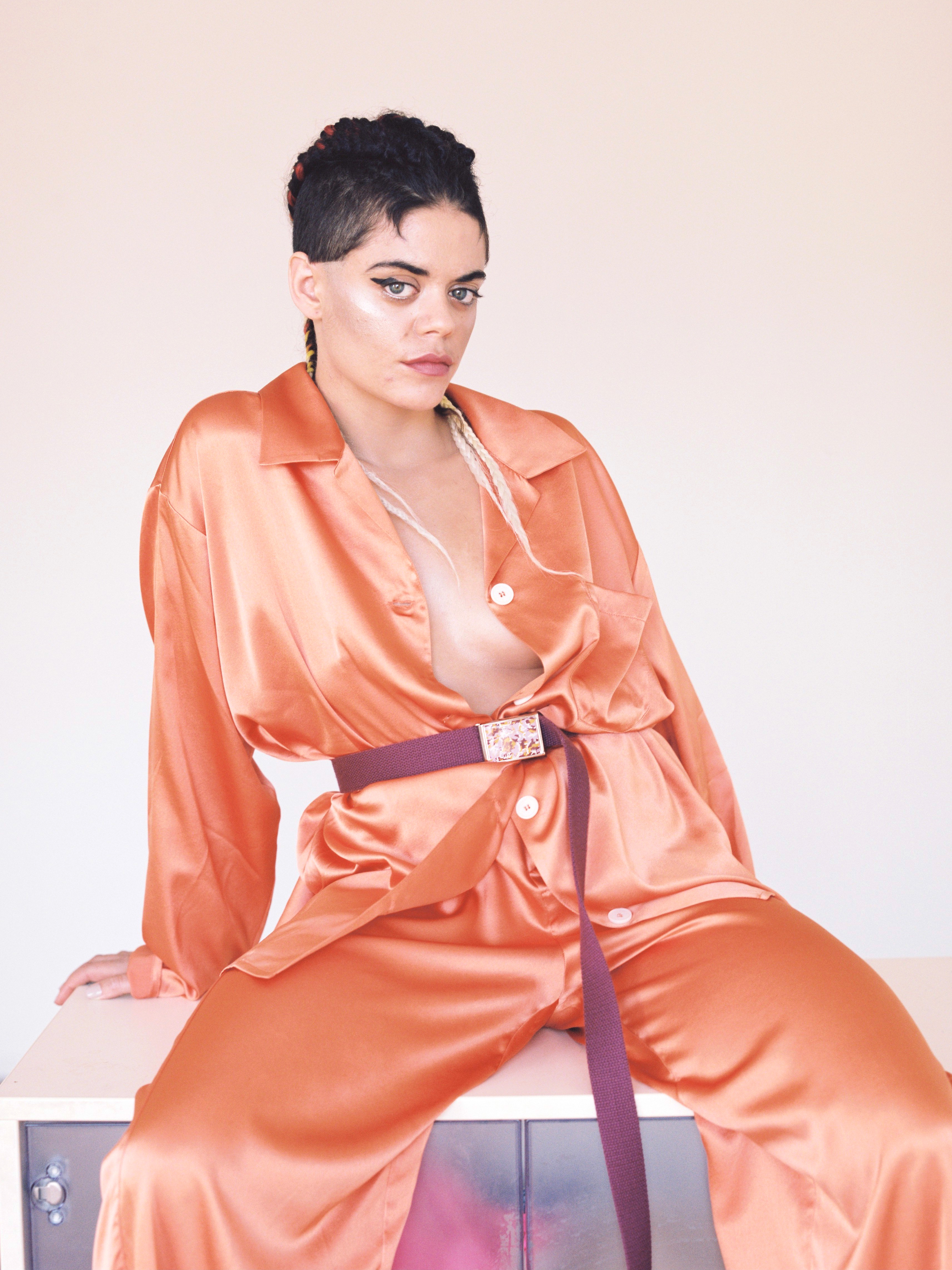 Racerage plays at YES RAVE with a bunch of other brilliant queer MCs at Howler on Feb 9th, a fundraiser for Malaysian trans organisation Seed Foundation the following night on Feb 10th @ Schoolhouse Studios, Wet Lips' EP launch WETFEST IV on April 21st, also at Howler.
Credits
---
Text KT Spit
Photography and Styling Rowan Oliver
Makeup Nadja Mott
Special thanks Second Space Projects