fenty beauty's new commercial celebrates men wearing lipstick
The ad starring BlameItOnKway is very queer and very black.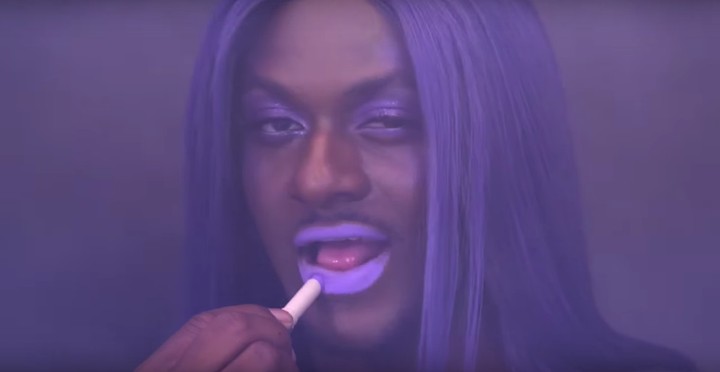 Screenshot via YouTube
Rihanna's Fenty Beauty works for all skin tones — and genders. The brand illustrated this in a fabulously off-kilter commercial released on Instagram today. The comedic clip features Instagram star BlameItOnKway rocking different shades of RiRi's Mattemoiselle lipstick and adopting different personas for each color. The bubble-gum pink "Candy Venom" shade sees him turn into an 80s fitness instructor, yelling "squeeze those booty cheeks." The social media sensation, best known for recording short clips as sassy, wig-wearing alter egos, then rocks a Foxy Brown afro for the brown "Shawty" lipstick. The entire clip is a campy, gender-bending delight.
Rihanna gave a special shoutout to BlameItOnKway on Instagram when she shared the commercial. "You got too much time on your hands," BadGirlRiRi wrote. "Give us lip sis!!!! I love this, thank you!!!!"
Fenty Beauty gets more popular with the boys everyday. Get Out star Daniel Kaluuya proudly wore Pro'Filtr Foundation on the Oscars red carpet. Starring in the upcoming Flashpoint film, Ezra Miller is arguably one of the biggest Fenty fans. He carried his tube of Galaxy lip gloss with him during the red carpet carpet premiere of Justice League. He even made sure a reporter knew he was repping Fenty during one interview, pointing at his lips and yelling out "This is Fenty, Fenty Beauty!"
It's great to see a makeup brand take a light-hearted, inclusive approach to beauty. The move represents a shift away from presenting overly glamorized (and edited) images of women. As countless YouTube tutorial videos have showed us recently, it emphasizes that makeup can be fun and creative. Most importantly, it can be used by everyone.
Watch Fenty Beauty's hilarious new commercial below.