at collina strada fall/winter 18, an artist gets married — to her higher self
Officiated by mindfulness meme queen Bunny Michael.
|
09 February 2018, 4:35pm
Photography Soraya Zaman
You might not know Bunny Michael's name, but you've certainly seen their face. The New York-based artist, musician, and author is perhaps best known by the memes they craft. Nearly 50,000 Instagrammers subscribe to Michael's breed of selfie-help: digital dialogues with their Higher Self ("an eternal, omnipotent, conscious, and intelligent being, who is one's real self").
Designer Hillary Taymour was motivated by the artist's empathetic exchanges between their states of consciousness. So Taymour decided to present her new Collina Strada collection in a special union — a wedding, to her Higher Self.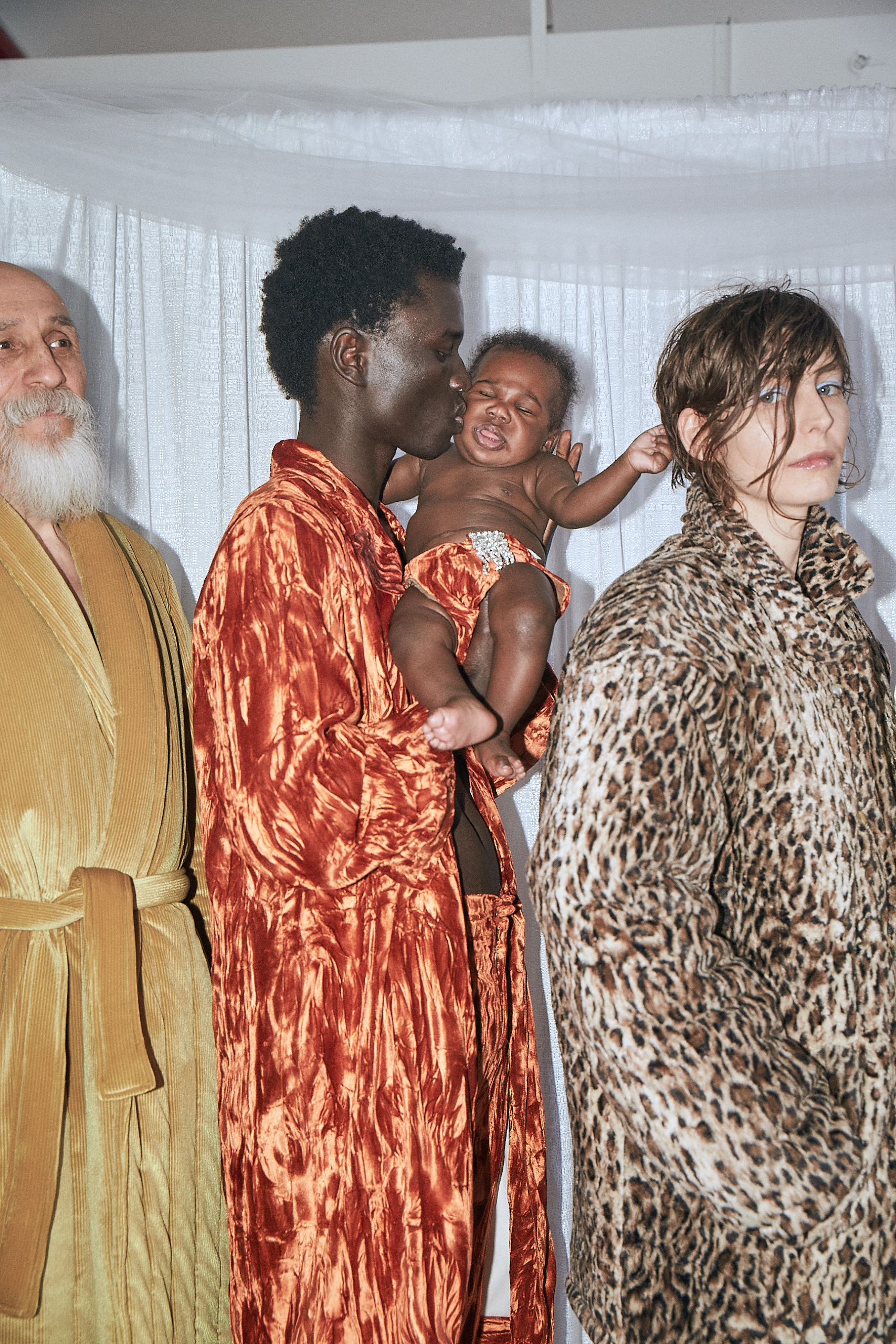 "With so much bad happening in the world, I wanted to encourage people to stop propelling hate, and really look inward," Taymour explained. "On social media, you can be whoever you want. But, really, do you know yourself? Do you love yourself? Look inside, figure things out, and take that into the world."
The ceremony (which took place on Centre St. in that is-it-SoHo-or-Chinatown zone) reinterpreted traditional wedding elements through the future-forward, gender-irreverent perspective Taymour has developed over nearly a decade helming Collina Strada. There was an organist (Brad Oberhofer on keys) and flower girls (Insta-famous twins Reese and Molly Blutstein, who were serving Shining realness as they stoically sprinkled rose petals).
In a way, a wedding was a perfect vehicle to express what Taymour's clothing really addresses: that everyone should feel safe to wear what they want, how they want. "There's a kind of come-one-come-all thing happening at a wedding — all your friends and family being brought together. You've got your gay cousin, grandpa, the flower girls, babies!" (This eclectic bunch was represented in Taymour's casting, perhaps the best she's ever assembled). Unmoored by societal expectations, and in celebration of self-love, what do they wear?
Well: mini-dresses named in honor of Anna Nicole Smith and tracksuits made from 70s tie fabrics. Deadstock faux-fur leopard à la Scary Spice paired with orange crushed velvets, mustardy corduroys, and gold satins. Lots of Tevas.
Unsurprisingly, organza was the day's winner. Taymour created full, translucent looks with the sheer fabric in shades of sand and fuschia. She enveloped heavier garments (faux fur overcoats, trousers) in it, too — creating a protective, ethereal shield. The standout pieces? Gloves. Tightly fitted at the fingers, they floated up models' arms, adding volume and texture. Taymour should make more in the future.
Naturally, Michael officiated the proceedings, delivering a spoken word piece about consciousness and connectivity. "They were the perfect person — the only person," Taymour explained. "I was looking to them as someone who could really communicate what loving your Higher Self meant. Someone who could be very clear, who could deliver that knowledge in an impactful way."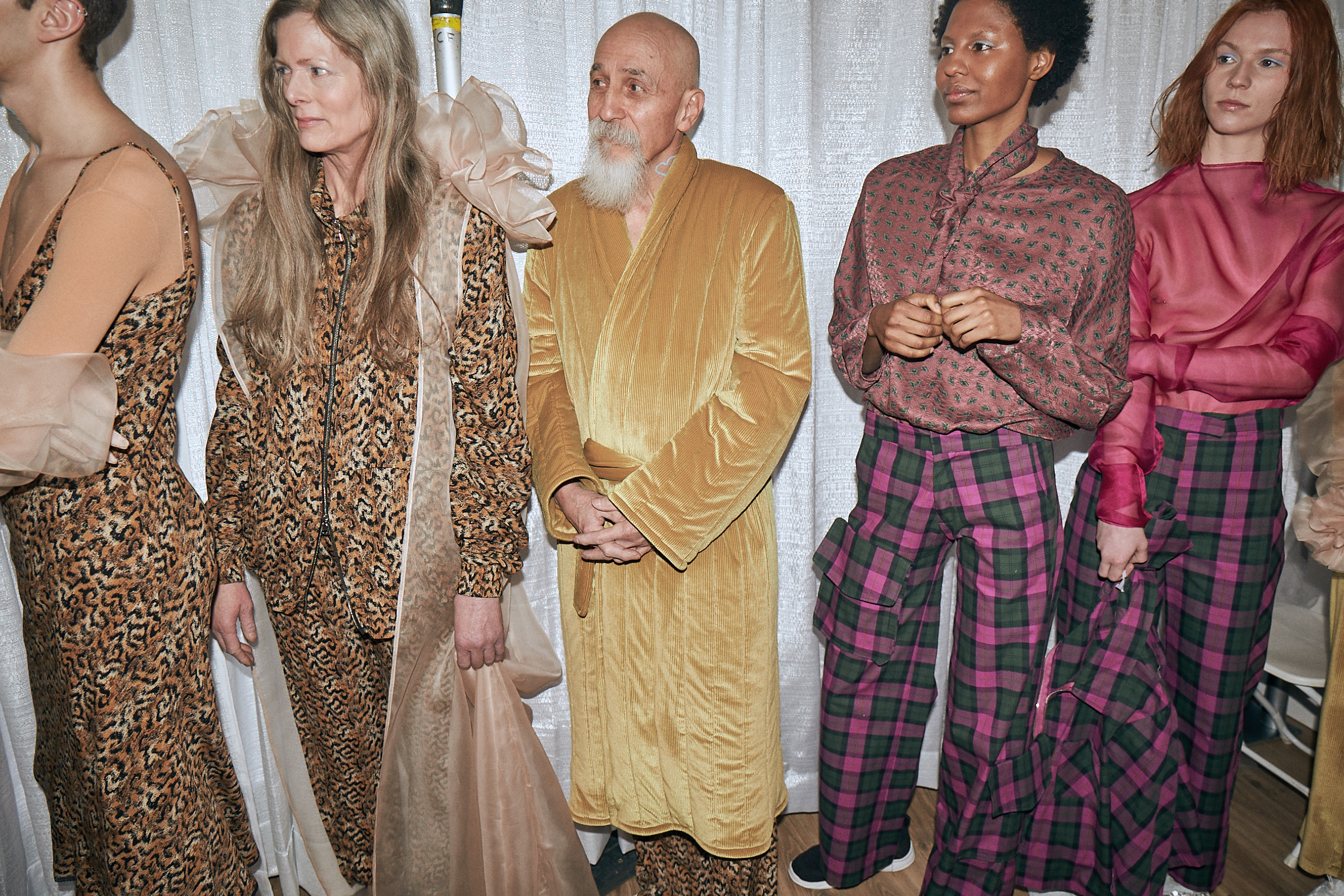 Actress and photographer Sasha Frolova — who appears in Red Sparrow, a forthcoming thriller starring Jennifer Lawrence and Mary Louise Parker — was equally well-suited as the outing's bride. "Sasha totally fell into place," said Taymour. "I saw her at a party, we started talking, and she told me she'd love to work with me. I was like, 'Well, I need a bride!'. I needed an actress who felt real — who could really feel that moment. She killed it."
Frolova was magnetic. She wore a t-shirt studded with nipple piercings, and white denim cargo pants paired with a chaps-skirt situation made from soft ivory silk. She proceeded down the aisle to Vanessa Carlton's "A Thousand Miles," and extracted her vows from the largest cargo pocket. Afterwards, she doled out slices of a two-tier, Collina Strada-frosted wedding cake, and popped a bottle of bubbly. Taymour's friends and family (real ones) looked on with love.