Photography Mitchell Sams
stranger things' sadie sink opened undercover's ode to youth
It was the ultimate coming-of-age fashion coming together.
Photography Mitchell Sams
Who?
Throughout its 27-year-history, Undercover's motto of "We Make Noise, Not Clothes" has led Jun Takahasi to create sinister yet playful collections. After he unnerved us all with his warped re-imagination of The Shining for his spring/summer 18 womenswear collection, Takahashi applied his singularly theatrical vision to another Stanley Kubrick classic, 2001: A Space Odyssey for autumn/winter 18 men's. Two months on and the dark dystopian warnings made way for youthful optimism as Undercover's elegant punk saw hope in Stephen Chbosky's epistolary coming-of-age novel-turned-film, The Perks of Being a Wallflower. Takahashi honed in on the cycle of youth and found comfort in the possibilities that the next generations will fulfil. Phrases like "We Are Infinite" and "Total Youth" were emblazoned across vintage-inspired sportswear and reworked collegiate classics, the hopeful mood was infectious.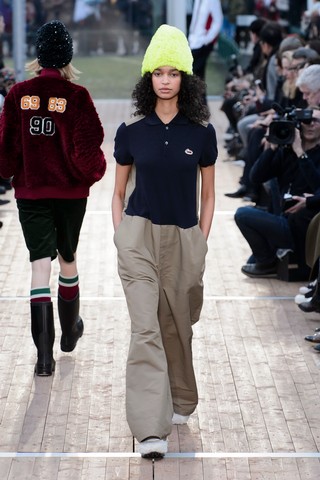 What?
After the Stranger Things series two breakout star showed off her ASMR skills in Miu Miu's Whispers campaign, Sadie Sink walked her first catwalk show. Clad in a red monochromatic version of every teen uniform -- beanie, hoodie, tracksuit and trainers -- the 15-year-old actress set the scene as Takahashi presented his twisted fantasy of youth. From fairy tales to stuffed animals and school uniforms, everything was seen through the filter of a child's eye as a naivety was applied to wardrobe staples of adolescence. We're used to Takahashi transforming the familiar into the otherworldly but there was something quite reassuring here. However, there's always magic at Undercover. Amongst the denim, T-shirts, stadium jackets and school blazers, tracksuits were reconstructed from tuxedos, tweed tailoring fused with dressing gowns, prom dresses crafted from towelling, sweatshirt jersey dyed to look like faded denim and polos and chinos combined to become a single jumpsuit, not everything was quite was it seemed.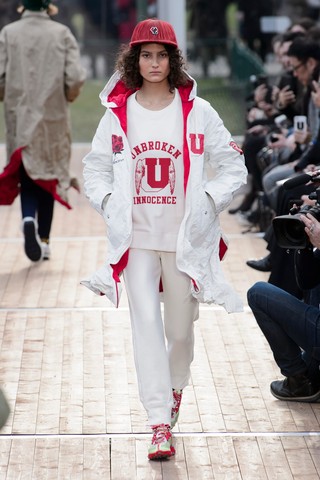 Wow!
The closing looks were soundtracked by the final lines of The Perks of Being a Wallflower: "I know these will all be stories someday. And our pictures will become old photographs. We'll all become somebody's mom or dad. But right now these moments are not stories. This is happening. I am here and I am looking at her. And she is so beautiful. I can see it. This one moment when you know you're not a sad story. You are alive, and you stand up and see the lights on the buildings and everything that makes you wonder. And you're listening to that song and that drive with the people you love most in this world. And in this moment I swear, we are infinite."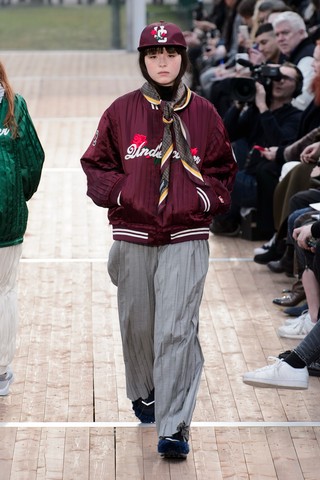 Credits
---
Photography Mitchell Sams