watch saoirse ronan practice her losing face for the oscars
The breakout star doesn't really think she'll win "Best Actress," but we're rooting for her.
|
16 February 2018, 8:56pm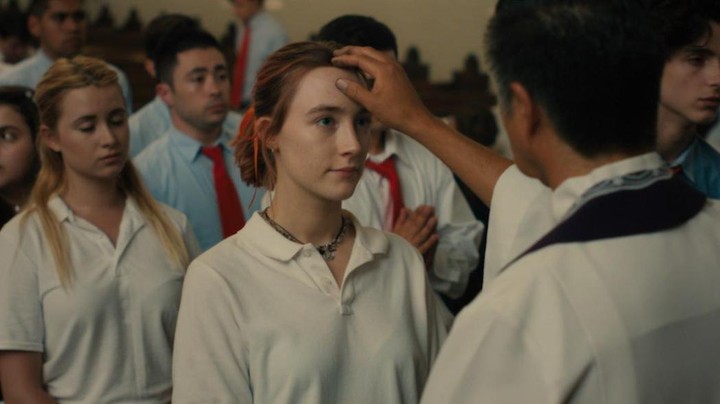 Screenshot via YouTube
The Oscars are right around the corner and, conquestenly, nominees are beginning to prep for the big night. First-timers like Lady Bird's Saoirse Ronan have a lot to learn: building up endurance for the four-hour event, finding the perfect outfit, and, most importantly, mastering a convincing losing face. Saoirse did a quick practice session during a recent interview, preparing for when the winner of "Best Actress" is announced. She performed one of those cliché half-hearted handclaps losers give. We've all done it. However, unlike Saoirse, we weren't being broadcast on live television.
Saoirse said potentially having to do a loser face is why she's skipping out on bringing a romantic date to the Oscars. Saoirse had some stellar dating advice when asked, hypothetically, how many dates a nominee should go on before they bring their flame. "It depends on how the dates are going, I suppose," Saoirse answered, her Irish accent on full display. "Like if you do the first date you can go, "Oh! I've met the love of my life!' Then maybe second or third date you kinda go, 'You know what, I'm gonna go to the Oscars next week. Do you wanna come? Should we just do this?'' After thinking about it for a while, Saoirse came up with a serious, absolute number. Ten dates.
She explained the big number with this: "I've gotta do this loser face with this person I don't know that well and did they do the loser face with you? If they don't know you that well, how are they gonna comfort you when you lose?"
Saoirse said that's the reason why she always bring her mom as a date. (Although mom couldn't make the Golden Globes for some reason — leading to an adorable FaceTime call on stage.) Saoirse also looks to her best friend for support during awards. "She'll always hold my hand," Saoirse explains, saying it's the best thing someone can do in the moment. "Some people will just overcompensate and be like, 'You should've had it. You should've won!'"
Saoirse seems to have a humble and poised approach to the Oscars. She said she was pretty sure someone other than her was going to win the "Best Actress" award. "And she deserves it," Saoirse said, a genuine smile on her face.