harvard is giving solange a very important award
The visionary 'Seat at the Table' artist is The Harvard Foundation's 2018 'Artist of the Year.'
|
16 February 2018, 7:51pm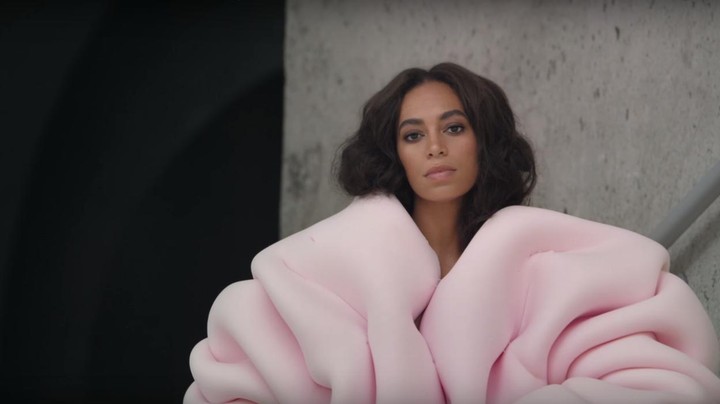 Still via youTube
Solange has no need for shiny statues from fancy establishments. "Create your own committees, build your own institutions, give your friends awards, award yourself, and be the gold you wanna hold, my Gs," she tweeted after the Grammys failed to recognize Beyoncé's Lemonade last year. (Even Solange's own Grammy win months later only elicited a thanks to her fans.) But the groundbreaking Seat at the Table artist's latest win is precisely because of her commitment to championing black women. Solange has been named the 2018 Artist of the Year by the Harvard Foundation — an organization dedicated to exploring intercultural and race relations.
Solange's 2016 Seat at the Table album was a personal opus about taking pride in blackness — the artist turning oppression into defiant anthems like "Don't Touch My Hair." Solange has since taken her empowering message to London's Tate Modern, curating an interactive art project on black womanhood staged in conjunction with the gallery's exhibition Soul Of A Nation: Art In The Age Of Black Power. Harvard isn't even Solange's first Ivy League rodeo. Last year she dropped by Yale to talk Prince and protest at a symposium about activism in pop music.
"I definitely created this album as protest music," the visionary artist said in her keynote speech. "I am resisting, I am objecting, I am refusing. And in its most simple way, protest is a statement of objection. There were so many things that I fought against through this album, in hopes really for me to find healing and solace."
Harvard's 2017 Artist of the Year was the indefatigable Viola Davis, fresh off a best supporting actress Oscar win for her role in Fences. Other past winners of Harvard's Artist of the Year include Queen Latifah, Halle Berry, LL Cool J, and Jackie Chan. Harvard's award panel might actually be more with it than the Grammys's these days — the University has also saluted Rihanna for her tireless approach to humanitarianism. Meanwhile, the Grammys are still doing this.